We have gathered a complete Santa's list of Christmas crafts for kids to have crafty fun with!
Christmas decoration crafts to hang and display for years to come. Home-made Christmas cards for friends and family. Santa, elves, reindeer, snowmen and all the fun and festive Christmas characters that make this holiday season so special.
There are art and crafts for children of all ages and abilities; kindergarten, pre-school and EYFS.
Christmas Crafts – Table of Contents
Get into the festive spirit with these DIY Christmas decorations for kids to make and enjoy throughout the holiday season!
We have compiled some of our favourite and most loved Christmas decoration crafts for your Arty Crafty Kids to make at home, or in the classroom.
Home-made Christmas decorations and ornaments add that extra bit of sparkle and little bit of magic to any home.
Make Beaded Candy Cane Ornaments with the kids this Christmas!
This easy Christmas Craft is made with just pipe cleaners and beads; perfect for little hands to make all by themselves.
The Candy Cane Ornaments will look beautiful hung upon the Christmas tree, attached to Christmas gifts or even gifted as a cute kid-made Christmas Ornament for Grandparents and family members, simply personalise with a small name tag with a festive fingerprint.
Homemade is best-made at Christmas time and with three festive designs to choose from, this colour and create bauble Christmas crafts for kids will add some individual gorgeousness to the Christmas Tree!
This simple and effective Christmas Ornament Art for Kids is perfect for the festive season. With a choice of four templates to download and print, kids can play with colour to create the illusion of ornaments glistening on the Christmas Tree.
This is a fun and interesting way for Arty Crafty Kids to play and explore negative space.
With the aide of a handy printable template, Arty Crafty Kids can easily recreate this gorgeous Fingerprint Christmas Tree Art project. Painted with fingerprints alone, their art will double up as a treasured keepsake for years to come and will be loved by parents and family.
This Christmas, it's been raining glitter. Armed with their shaker pots, my Arty Crafty Kids have loved adding a little sparkle to most of their crafts (who doesn't love a bit of sparkle?) and these cute glittery clay Christmas ornaments have definitely been a favourite this season.
Super simple, with no baking necessary, these Christmas Ornaments are designed for kids to make themselves.
It's simple. It's fun and will look great hanging on the christmas tree or simply displayed within the kiddies room.
Using pre-made air dry clay, this glitter bombshell of a Handprint Ornament is for keeps and you will not have to worry about it absorbing moisture and crumbling within a few years (I've learnt this lesson the hard way).
An easy 3D Printable Christmas Tree Craft for Kids. Using the template as a creative prompt, Arty Crafty Kids will need to use their arty crafty imaginations to complete the trees.
For best results, gather a variety of loose parts (including and not limited too): buttons, sequins, scrap paper or tissue paper, items for printing and splatting – the options are endless! and simply hand over to the Arty Crafty Kids and let them take care of the creative process.
If you're looking for an easy, cute and fun Christmas Craft for your preschooler, then you're in the right place! This Popsicle Stick Christmas Tree Craft is perfect for little hands and great for encouraging creativity. Using scrap paper and loose parts, kids will love cutting and sticking to create unique and colourful Christmas Trees.
Quilling is the wonderful art form of rolled strips of paper, glued together to create a decorative design. We applied this technique within a simple paper tube frame to create a stunning Quilled Paper Tube Snowflake Craft, that's simple, fun and perfect for kids who fancy trying something a little different and learning a new skill.
This baby footprints Christmas tree is designed to be an everlasting keepsake to mark that special first Christmas. Isn't it gorgeous?
The good news is that you don't need to attend an expensive workshop or pay someone else to capture your baby's footprints.
Using inexpensive air dry clay, you can easily make your own ornament.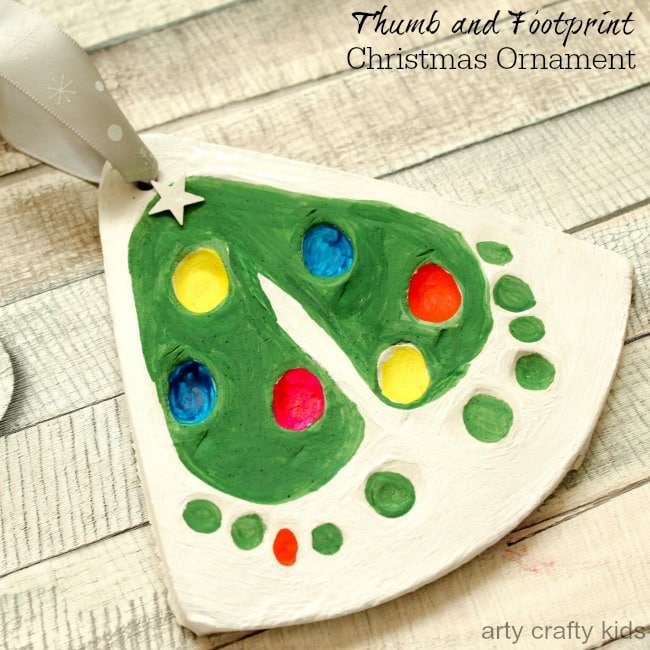 Add this adorable paper plate handprint Christmas Wreath craft to the to-do list this Christmas – A fun and easy Christmas Wreath Craft that kids will love to make!
Homemade Christmas Cards for Kids
Have fun and give friends and family homemade Christmas cards from your Arty Crafty Kids this festive season!
Looking for a quick and easy Christmas card to make with the kids this Christmas? With an added photo element, this adorable Photo Christmas Tree Card is fun and easy to make, and doubles up a special keepsake for parents, grandparents and loved ones.
This Easy Santa Christmas Card design is the perfect choice for anyone making homemade Christmas Cards with the kids this festive season.
Its simple design will encourage children from preschool to kindergarten and children within early years education to make the crafts independently, which is exactly what you want from a DIY Christmas card!
These Winter Animal Printable Christmas Cards are so easy to make and are a little different to your usual Christmas Card too!
The charming polar bear, penguin and reindeer designs are great fun for children to colour and assemble all by themselves.
Looking for quick and easy Printable Christmas Cards to make with the kids this festive season? Look no further, these adorable present cards are perfect for kids to make and decorate themselves, and are ideal if your children have to make lots of cards for different family members.
The Christmas cards have ample space for children to write their own Christmas messages and add a drawing OR photograph.
These Handprint Christmas Cards are adorable and a perfect keepsake for kids to make and give at Christmas.
We've created printable elements to transform your childs handprint into a Christmas Tree, Reindeer and Santa, making this a super easy Christmas craft for kids.
Festive Christmas Characters
We have them all! Santa Claus, Elves, Reindeer, Snowmen, Angels, winter animals, even Christmas Unicorns!
3D Printable Christmas Characters – Here's a super easy Christmas craft to try with the kids this festive season.
Children have a choice of making a 3D Santa Claus, Rudolph or a cheeky little Elf. The printable templates are available to download in both full colour and black & white, making this a great choice for at home or within the classroom.
As well as fun, this craft offers children a brilliant fine motor workout, and with just a few materials, this is a great Christmas craft to try at home or within a preschool/ school setting.
Throughout the entire Christmas period I have agonized (a little dramatic I know) over how to put together the BEST paper plate Santa. I wanted to make it simple, so kids can actually make it without too much (if any) interference.
With our Christmas crafting in full swing, we've been making paper plate Santa's, Rudolph's and even Elves. However, in my search for further inspiration, I noticed that Mrs Claus is hugely unrepresented and virtually non-existent within the kids' crafts arena. Today, I have the pleasure of changing that, with a super cute Paper Plate Mrs Claus Christmas Craft!
This adorable Craft Stick Reindeer Ornament deserves top spot on the Kids Christmas Craft to-do list!
I adore the string of Christmas lights entwined within its antlers and here's some good news, this is an incredibly easy Christmas craft to replicate and one the kids will love making.
I absolutely adore how this Christmas Elf craft turned out.
Cute with a pinch of cheekiness; exactly how an Elf should look!
As always, I like to keep crafts simple and our elf craft is definitely simple, using materials you're likely to already have stashed away in the recycling or craft box.
Every Santa needs some little helpers and this Paper Plate Christmas Elf Craft can be perfectly paired with any Santa Claus craft you might be planning over the Christmas season.
It's super easy, using minimal supplies and can be set-up in no time at all…
Perfect for eager Arty Crafty Kids wanting to get their craft on!
Musical Christmas Crafts
"Jingle Bells, Jingle Bells…"
The festive season is a time for joy and a time for music, and we have some lovely crafts to incorporate with Christmas hymns and songs!
Children can add a musical element to their Christmas Ornament with this adorable Musical Popsicle Stick Christmas Tree craft.
This is a super easy craft to try with your child at home or within the classroom. The jingles bells add a fun and engaging dynamic to the craft, which can be used with your child's favourite Christmas carols.
A Jingle Bells Rudolph Reindeer craft with a difference. It bounces and jingle jangles, encouraging playful movement and interaction!
The focus of this craft is playful creativity.
Arty Crafty Kids need to use their problem solving skills to assemble the circular shapes into a reindeer, considering measurement and space during the creative process.
Arty Crafty Kids will love jingling along to their favourite Christmas song with these adorable Musical Rudolph Reindeer Puppets.
Download and print these cute Rudolph the Red Nosed Reindeer Puppets and transform them into a musical prop for a general sing song, Christmas carols or for a class Christmas performance!
Christmas Colouring Pages
The Arty Crafty Kids club is jam-packed with adorable colouring pages to keep your Arty Crafty Kids colouring for hours! New hand-drawn pages are added weekly and members' can enjoy the benefit of a constant source of creative and fun printable colouring pages. With Christmas just around the corner, we're filling up our library with a gorgeous collection of Children's Christmas Colouring Pages.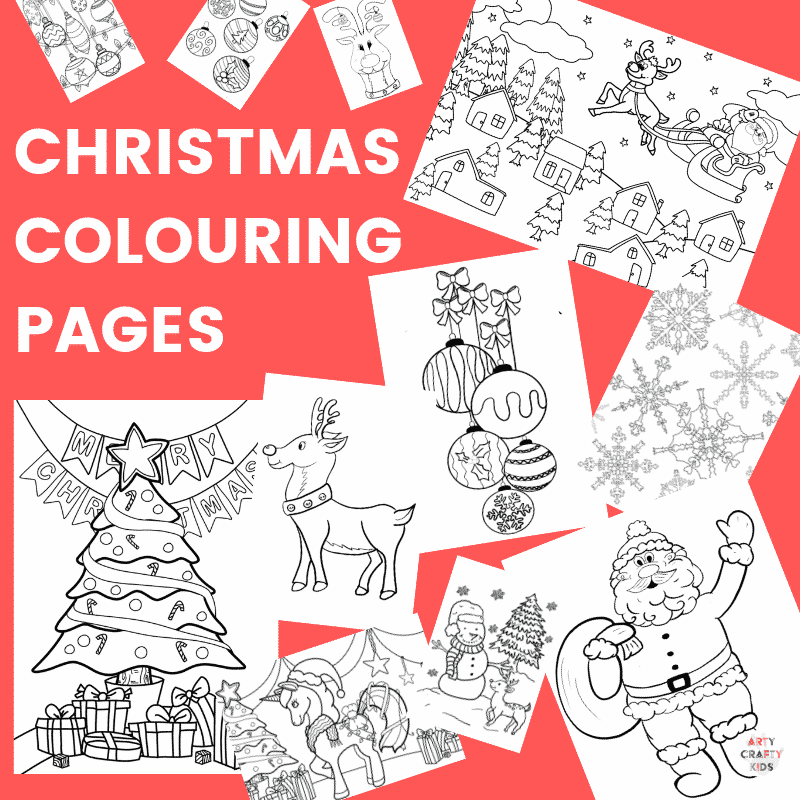 These NO-PREP 5 Dot to Dot Christmas Colouring Pages are designed to reinforce basic counting (1-20) in preschoolers and children up to KS1 (Early Years Education).
Kids will love colouring our hand-drawn and playfully crafted Christmas colouring pages and will have no idea they're learning at the same time!
These NO-PREP 5 Christmas Colour by Number Worksheets are designed to reinforce basic number and colour recognition in preschoolers.
Kids will love colouring our hand-drawn and playfully crafted Christmas worksheets. They're so cute, kids will have fun while they're learning and the completed colouring pages will look great on display!