Looking for quick and easy Printable Christmas Cards to make with the kids this festive season? Look no further, these adorable present cards are perfect for kids to make and decorate themselves, and are ideal if your children have to make lots of cards for different family members.
The Christmas cards have ample space for children to write their own Christmas messages and add a drawing OR photograph.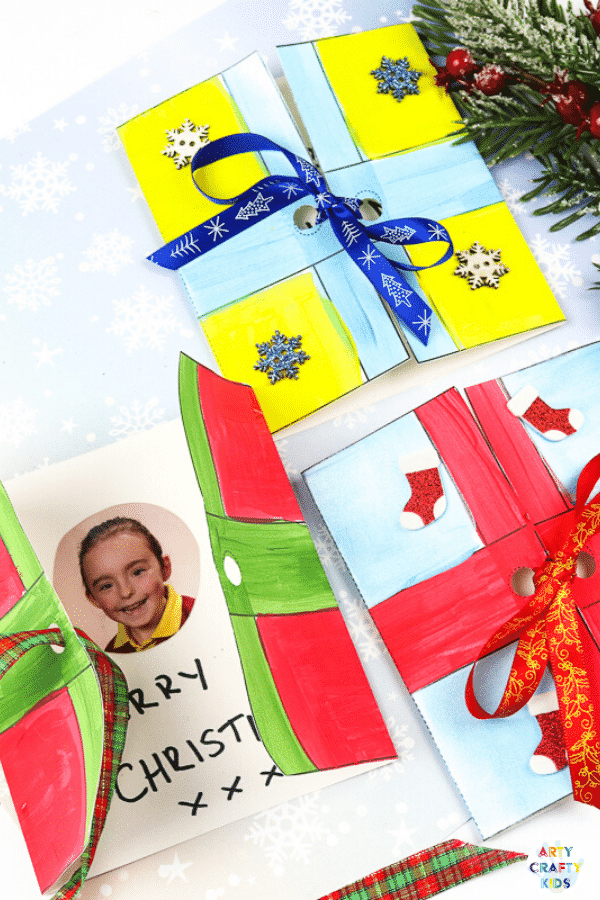 How to Make the Easy Present Printable Christmas Cards
This Christmas craft is perfect for children of all ages, from toddler to preschooler and children in early years education. Many kids will be able to decorate and assemble the card independently, which is exactly what you need if you're trying this craft with a small group or class of children.
What you need to make the Printable Christmas Cards
White Cardstock
Paint, Colouring Pens/Pencils
Ribbon
Decorative Extras!
Hole Puncher
Scissors
Maker Pen
Download the Printable Christmas Card Template
The Christmas Card Template is available to members of the Arty Crafty Kids club. The template can be accessed via the link following link : https://www.artycraftykids.com/product/simple-present-christmas-cards/
Members will need to log in to access the template!
Not A Member?
Let's Make a Present Christmas Card!
Paint the Christmas Card Template
Step 1: Colour in the template with a medium of your Arty Crafty Kids choice.
Children can use the white space within the template to create their own patterns.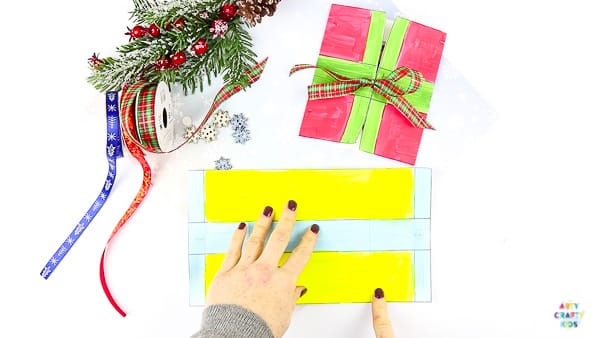 Cut Out the Template
Step 2: Cut out the coloured template.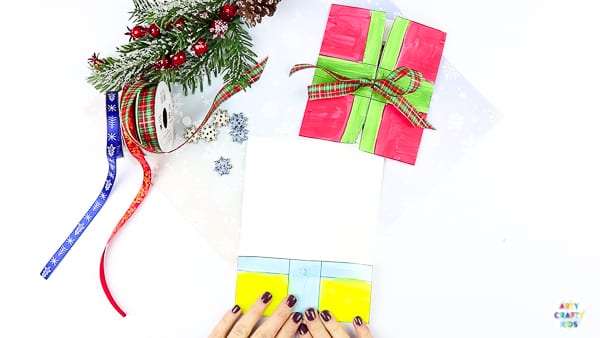 Fold Along the Dotted Lines
Step 3: Find the dotted lines and create a fold.

Turn the template over and fold towards the white space.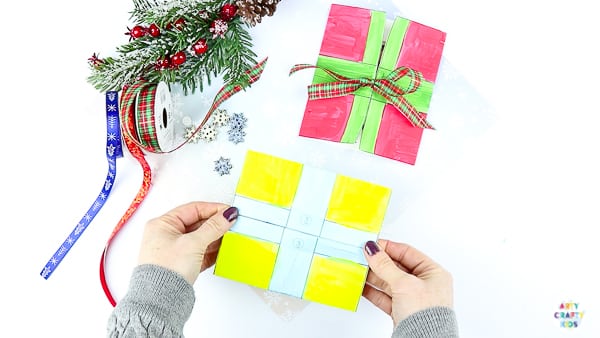 Step 4: Fold both sides to create a present that opens and closes (as shown above).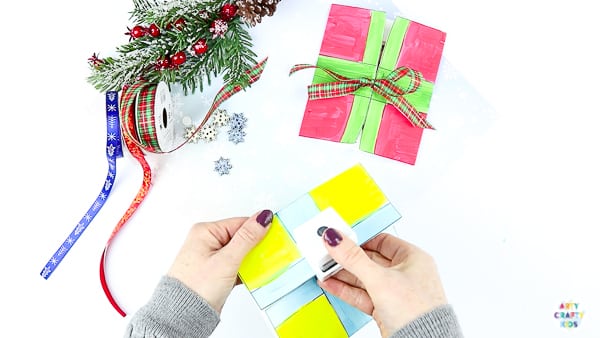 Create Threading Holes
Step 5: Use a hole puncher to create two threading holes; one on each side of the opening 'doors'.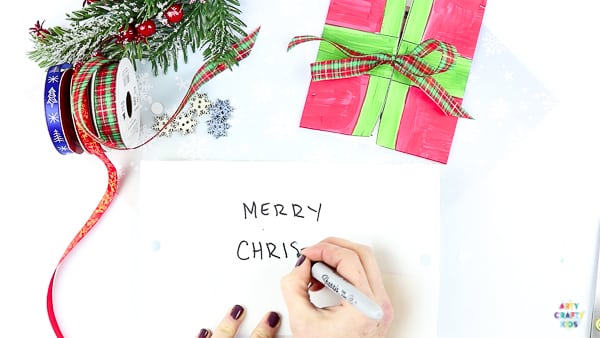 Write a Message
Step 6: Open the card and write a Christmas greeting.
Children may also enjoy drawing a picture or adding a photo within the present.
Thread the Ribbon
Step 7: Thread a single piece of ribbon through both holes and pull the ends together.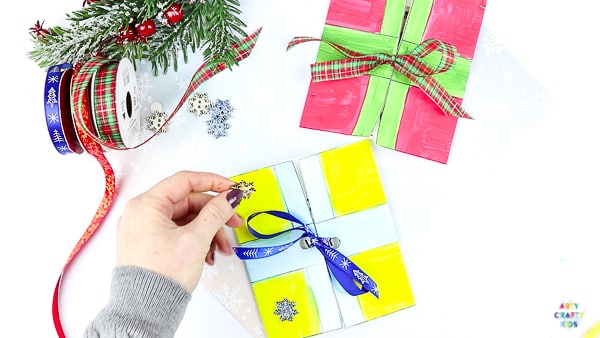 Complete with Decorative Extras!
Step 8: Tie the ribbon into a bow and add decorative extras to the completed printable Christmas card.
More Easy Christmas Card Ideas for Kids:
When it comes to Christmas crafting with kids, I follow one rule: Keep It Simple! Here are a few tried and tested easy printable Christmas cards for kids to make this festive season.
Handprint Christmas Cards
These Handprint Christmas Cards are adorable and a perfect keepsake for kids to make and give at Christmas.

https://www.artycraftykids.com/christmas/handprint-christmas-cards/
Fingerpint Christmas Tree Card
Arty Crafty Kids can easily recreate this gorgeous Fingerprint Christmas Tree Card project. Painted with fingerprints alone, their art will double up as a treasured keepsake for years to come and will be loved by parents and family.

https://www.artycraftykids.com/craft/diy-fingerprint-christmas-tree-card/
Handprint Santa Christmas Card
A charming printable Santa Handprint Craft for kids to make and gift to loved ones this Christmas.

Simply open Santa's handprint beard to reveal your Arty Crafty Kids festive greeting and photo. A gorgeous keepsake craft that will be treasured for years to come.

https://www.artycraftykids.com/craft/santa-handprint-craft/
Happy Crafting!