This craft stick snowman ornament is so easy and fun to make. So if you're looking for an easy Christmas craft to try with the kids this festive season, then give this adorable snowman craft a go.
Once the snowman is complete, children can then hang their snowman ornament on the tree!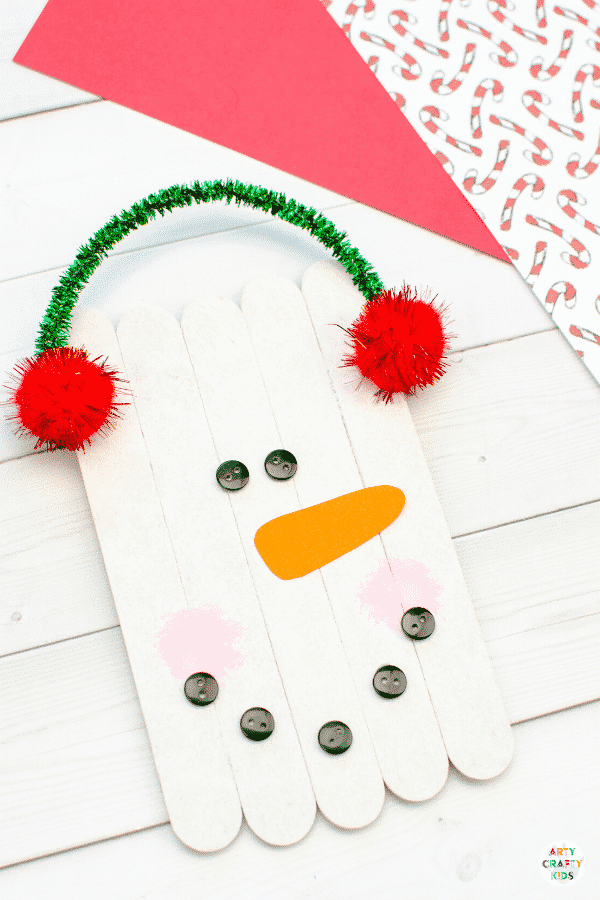 How to Make a Craft Stick Snowman Ornament
What you Need to Make a Popsicle Snowman
5 jumbo sized popsicle sticks
2 regular sized popsicle sticks
White and pink paints and paint brush
Two large red pom poms
1 green pipe cleaner
7 small black buttons
All-purpose glue or glue gun
Small piece of orange paper
Scissors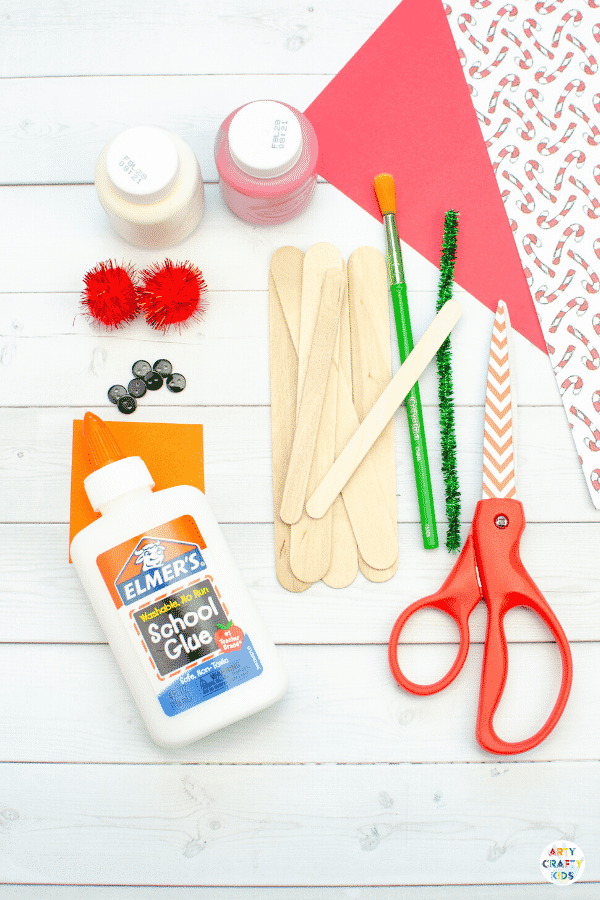 Let's Make a Snowman Craft!
Align and Secure the Jumbo Craft Sticks
Step 1: Align the 5 jumbo popsicle sticks in a row. Secure them by gluingtwo regular sized popsicle sticks to the back in a diagonal pattern.
You can use all-purpose glue with a longer dry time or if you need/want to make it quickly, use a glue gun.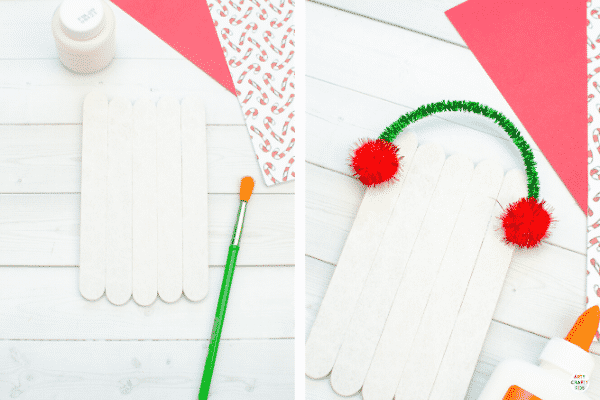 Paint the Craft Sticks and Make an Ear Muff
Step 2: Flip the popsicle sticks over and paint the snowman white.

Allow time to dry.
Step 3: Next, glue two pom poms to each side of the snowman's head.Then take the pipe cleaner, bend it in half, and twist both pieces together.
Glue each end of the pipe cleaner to a pom pom to create earmuffs.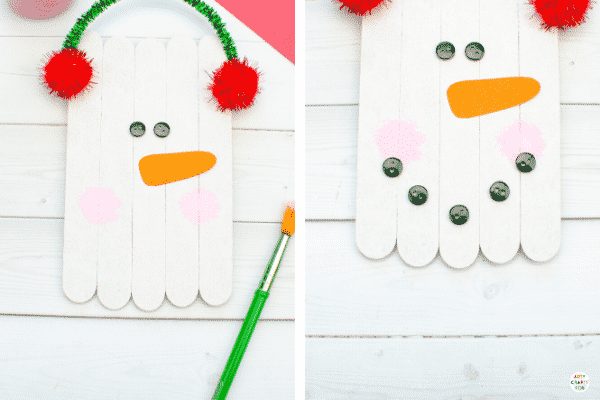 Make a Snowman Face
Step 4: Now use the scissors and cut out a carrot nose. Glue it to the snowman's face. Add two button eyes as well.
Step 5: Now, paint two rosy cheeks on the snowman's face.
Step 6: Lastly, glue on the remaining buttons to create the snowman's smile.
The Craft Stick Snowman Ornament is Complete
To hang the craft stick snowman on the tree, create a hanging loop with string or twine and secure to the back of the snowman.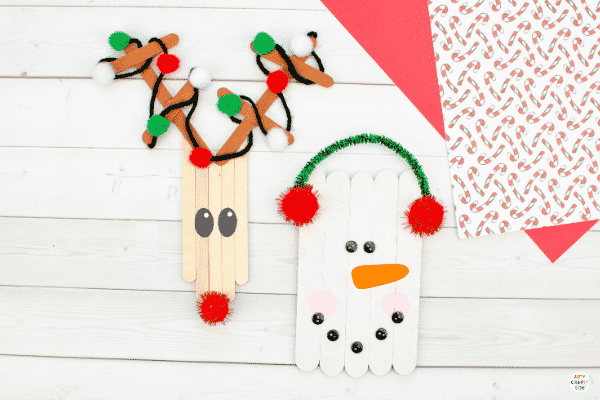 I hope your Arty Crafty Kids enjoy creating their very own Snowman Ornament! While you have the materials out, why not make a festive reindeer too!
More Easy Christmas Ornament Crafts for Kids to Make
Egg Carton Reindeer Ornament
Cute, fun and super easy to make! This adorable egg carton reindeer ornament is the prefect Christmas craft for kids both big and small.

https://www.artycraftykids.com/craft/egg-carton-reindeer-ornament-easy-kids-christmas-craft/
Beaded Candy Cane Ornament
This easy Christmas Craft is made with just pipe cleaners and beads; perfect for little hands to make all by themselves.

https://www.artycraftykids.com/christmas/beaded-candy-cane-ornaments/
Angel Ornament for Kids – Template Available
La La la the Angels have arrived at Arty Crafty Kids! Transform your little darling into a Paper Angel Christmas Ornament with our adorable downloadable template. The angel can be coloured in, left as it is or even embellished with your child's artistic design.

https://www.artycraftykids.com/christmas/paper-angel-christmas-ornament/
Happy Crafting!