Paper Angel Christmas Ornament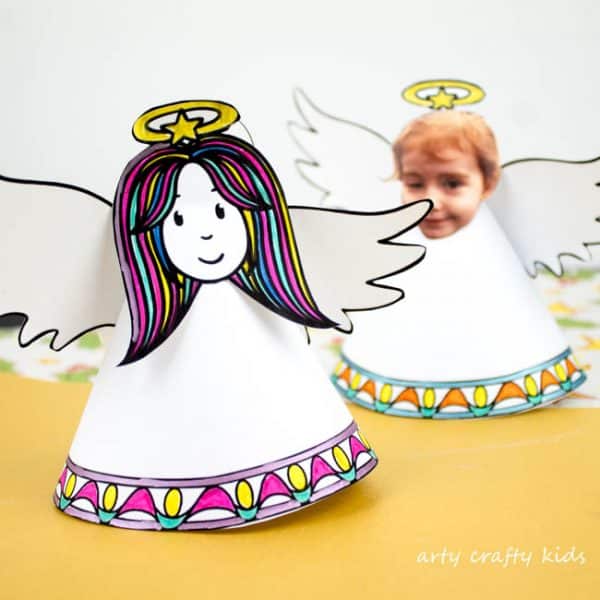 La La la the Angels have arrived at Arty Crafty Kids! Transform your little darling into a Paper Angel Christmas Ornament with our adorable free downloadable template. The angel can be coloured in, left as it is or even embellished with your child's artistic design.
The simplicity of the craft allows for your Arty Crafty Kids imaginations to take over.
Personalised and unique, the Christmas Ornaments will look charming displayed on the Christmas Tree and will become a treasured keepsake for years to come.
To download our sweet Angel Template, simply fill in our newsletter sign-up form (found towards the end of this post) and you will be redirected to the download.
Paper Angel Christmas Ornament: Materials and Tutorial 
This post may contain affiliate links to recommended products.
Arty Crafty Kids receive a few pennies for every purchase made via these links at no extra cost to you.
Thank you for your support!
Download the Template
A4 White Paper
Felt Tips, Colouring Pencils
Glue Stick
Scissors
Ribbon/String
Sticky Tape
A Photo of your Arty Crafty Kid!
Printer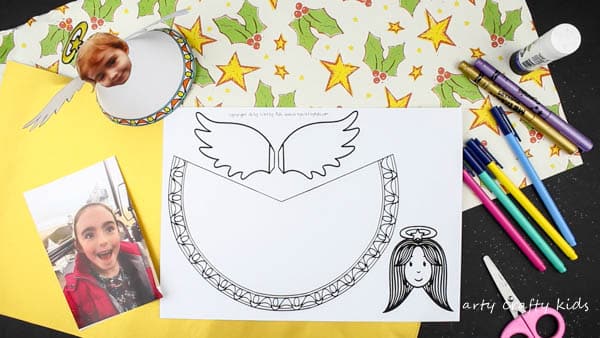 Step 1: To begin, download the template and gather your materials.
With our template, your Arty Crafty Kids have the choice of coloring in an Angel's face or/and using their own photo!
Once you have downloaded the template, make sure you select 'fit-to-page' in the printing options!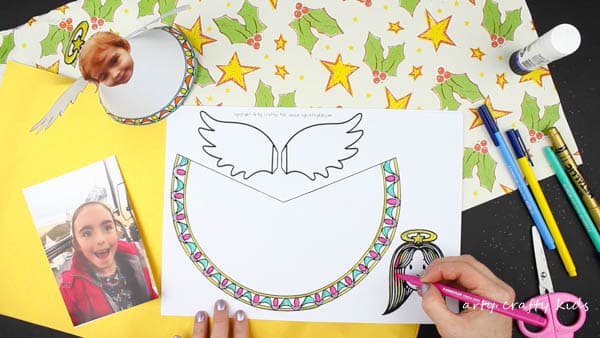 Step 2: Colour in the template with your Arty Crafty Kids choice of medium.
We used coloured felt tips and metallic pens.
With the blank wings and body, your Arty Crafty Kids have free reign to create their own designs – encourage them to get creative!
Perhaps add glitter or sequins for some extra sparkle.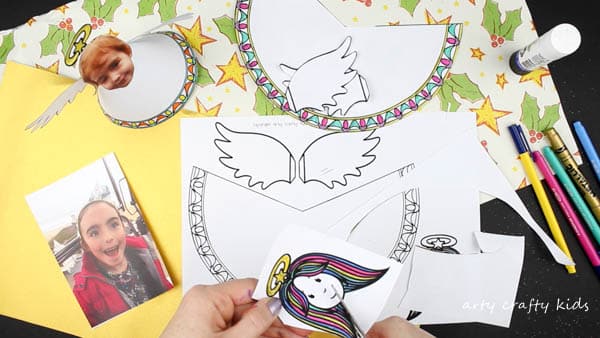 Step 3: Once the Angel is coloured in and decorated, cut out the individual parts.
Step 4: Curl the body into a cone shape and secure with glue.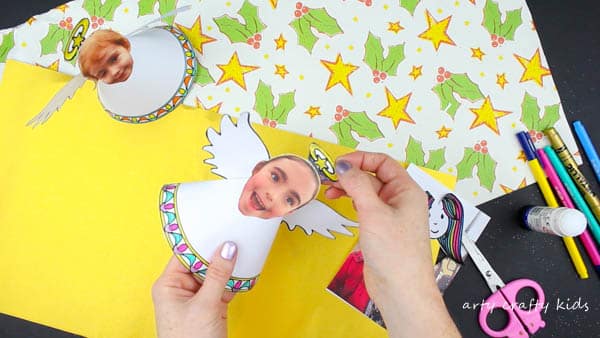 Step 5: Add your Arty Crafty Kids choice of face (a photo or template) and wings.
Add a hanging hoop using ribbon or string to the back of the Angel Ornament.
Paper Angel Christmas Ornament Template
To access the template, sign up to our Arty Crafty Kids Club newsletter, and we'll also keep you posted about other crafts, free templates and offers for the Arty Crafty Box!
This template, and many others, is also available in our Arty Crafty Kids Club Members Area Free 10-Day Trial – Sign Up Here
Our Paper Angel Christmas Ornament forms part of our growing 'colour and create' series, which also includes some gorgeous Paper Baubles.
Pin for Later!