Get into the festive spirit with these DIY Christmas decorations for kids to make and enjoy throughout the holiday season!
We have compiled some of our favourite and most loved Christmas decoration crafts for your Arty Crafty Kids to make at home, or in the classroom.
Home-made Christmas decorations and ornaments add that extra bit sparkle and little bit of magic to any decorated home.
Home-made Christmas Decoration Ideas
This adorable Craft Stick Reindeer Ornament deserves top spot on the Kids Christmas Craft to-do list!
I adore the string of Christmas lights entwined within its antlers and here's some good news, this is an incredibly easy Christmas craft to replicate and one the kids will love making.
This craft stick snowman ornament is so easy and fun to make. So if you're looking for an easy Christmas craft to try with the kids this festive season, then give this adorable snowman craft a go.
Once the snowman is complete, children can then hang their snowman ornament on the tree!
Cute, fun and super easy to make! This adorable egg carton reindeer ornament is the prefect Christmas craft for kids both big and small.
We love crafts that use up everyday recyclable materials and this simple Christmas craft is a fab re-use of an egg carton, in fact from one box, Santa's entire team could be made!
Every Christmas tree needs an angel ornament. Ideally one that's recycled, homemade and created by kids! This lovely singing Toilet Paper Roll Angel Christmas Ornament will look glorious hanging from the tree and will be an absolute joy to make.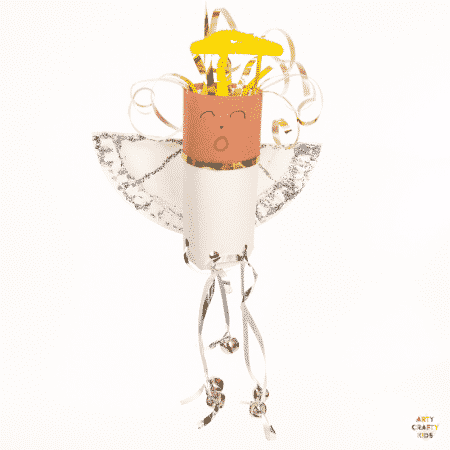 Make Beaded Candy Cane Ornaments with the kids this Christmas!
This easy Christmas Craft is made with just pipe cleaners and beads; perfect for little hands to make all by themselves.
The Candy Cane Ornaments will look beautiful hung upon the Christmas tree, attached to Christmas gifts or even gifted as a cute kid-made Christmas Ornament for Grandparents and family members, simply personalise with a small name tag with a festive fingerprint.
Wood Slice Christmas Ornaments are cute, fun and easy to make – perfect for kids! This post covers a step-by-step tutorial for How to make a Snowman Ornament, How to make a Penguin Ornament and How to make a Santa Claus Wood Slice Ornament!
If you're looking for a simple Christmas decoration for kids to make themselves, then this Snowman Peg Ornament is the one for you.
With just a few basic steps to follow, kids can craft till their heart's content; using their creativity to add personality and colour to their snowmen.
A simple adaption will make it easy for these dolls to be hung up on the Christmas Tree, adding that special charm that only comes with kid-made crafting.
This simple and effective Christmas Ornament Art for Kids is perfect for the festive season. With a choice of four templates to download and print, kids can play with colour to create the illusion of ornaments glistening on the Christmas Tree.
This is a fun and interesting way for Arty Crafty Kids to play and explore negative space.
La La la the Angels have arrived at Arty Crafty Kids! Transform your little darling into a Paper Angel Christmas Ornament with our adorable downloadable template. The angel can be coloured in, left as it is or even embellished with your child's artistic design.
The simplicity of the craft allows for your Arty Crafty Kids imaginations to take over.
Personalised and unique, the Christmas Ornaments will look charming displayed on the Christmas Tree and will become a treasured keepsake for years to come.
This Christmas, it's been raining glitter. Armed with their shaker pots, my kids have loved adding a little sparkle to most of their crafts (who doesn't love a bit of sparkle?) and these cute glittery clay Christmas ornaments have definitely been a favourite this season.
Super simple, with no baking necessary, these Christmas Ornaments are designed for kids to make themselves.
It's simple. It's fun and will look great hanging on the christmas tree or simply displayed within the kiddies room.
Using pre-made air dry clay, this glitter bombshell of a Handprint Ornament is for keeps and you will not have to worry about it absorbing moisture and crumbling within a few years (I've learnt this lesson the hard way).
And if you have any reservations about the glitter, because let's be real…glitter and kids can be a messy mix!
3D Printable Christmas Characters – Here's a super easy Christmas craft to try with the kids this festive season.
Children have a choice of making a 3D Santa Claus, Rudolph or a cheeky little Elf. The printable templates are available to download in both full colour and black & white, making this a great choice for at home or within the classroom.
Children can add a musical element to their Christmas Ornament with this adorable Musical Popsicle Stick Christmas Tree craft.
This is a super easy craft to try with your child at home or within the classroom. The jingles bells add a fun and engaging dynamic to the craft, which can be used with your child's favourite Christmas carols.
Add this adorable paper plate handprint Christmas Wreath craft to the to-do list this Christmas – A fun and easy Christmas Wreath Craft that kids will love to make!
Children will learn how to fold paper to create what we affectionately call 'Holly Hearts' – a great basis for also creating paper flowers.
For our paper plate Christmas wreath, the holly hearts work beautifully and are super easy for kids to make themselves, which is ideal if you're looking for a simple Christmas craft to try at home or within the classroom.
Recycle your old paper rolls and make this adorable Toilet Paper Roll Snowman craft with the kids! A cute and easy Christmas Craft that could be made alongside our Toilet Paper Roll Elves and Reindeer.
Kids, especially preschoolers and very young children will transforming their recycled paper rolls into a cute little snowman with his very own bed of snow! A perfect craft for at home or school.