Add this adorable paper plate handprint Christmas Wreath craft to the to-do list this Christmas – A fun and easy Christmas Wreath Craft that kids will love to make!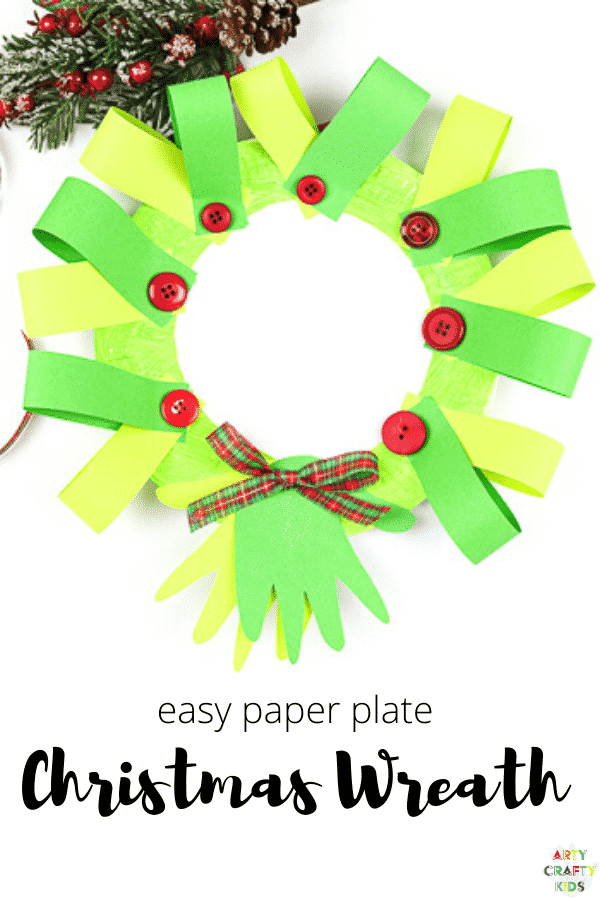 Children will learn how to fold paper to create what we affectionately call 'Holly Hearts' – a great basis for also creating paper flowers.
For our paper plate Christmas wreath, the holly hearts work beautifully and are super easy for kids to make themselves, which is ideal if you're looking for a simple Christmas craft to try at home or within the classroom.
How to Make a Paper Plate Handprint Christmas Wreath
What you need to make a Christmas Wreath:
Paper Plate
Green Paint
Green (two shades) Construction Paper
Red Buttons
Ribbon
Scissors
Glue Stick
Let's Make a Handprint Christmas Wreath!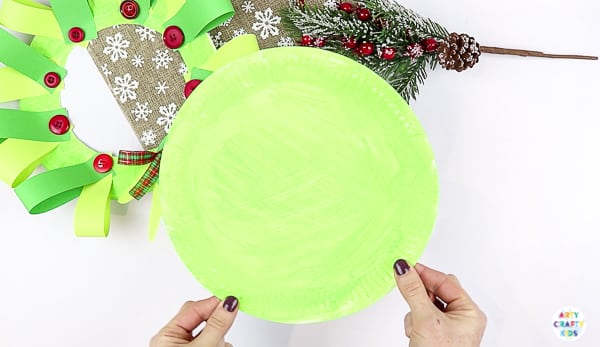 Paint the Paper Plate Green
Step 1: Start by painting a paper plate green.

Leave the paper plate to dry before moving on to the next step.
Cut out the Centre
Step 2: Cut out the centre of the paper plate. If the children are cutting out the centres themselves, I recommend drawing a cross in the centre of the plate. Cut along each line and fold the segments up to make more room for cutting and to make the 'removal area' easier to identify for the child.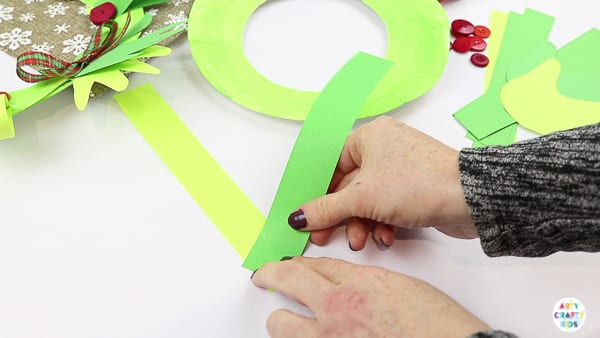 Create Green Paper Holly Hearts
Step 3: Cut two shades of green construction paper into strips (approx 2cm wide). You will need a around 7 strips of each colour (maybe more or less depending on the size of your paper plate and strips)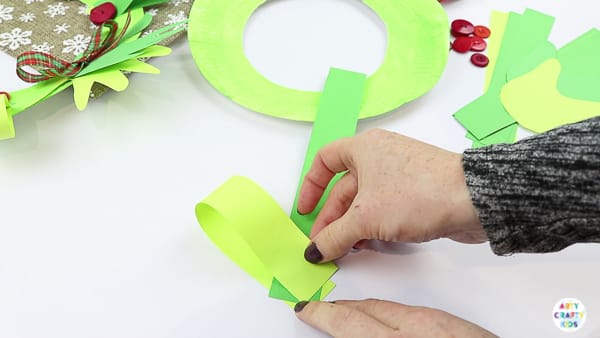 Step 5: We are now going to transform these strips into 'holly hearts'.
Align the bottoms of the strips at a 90′ angle and secure with glue.
Fold one strip of paper over to join the layered paper join and create a loop.
Secure with glue.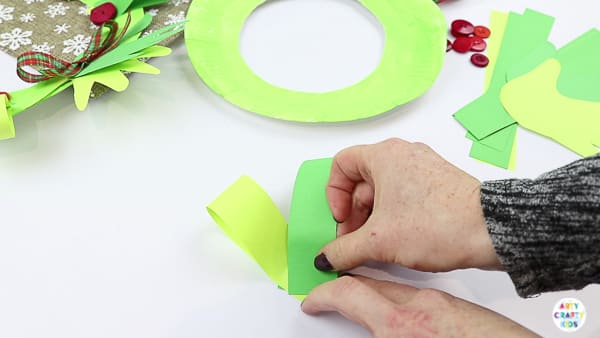 Step 6: Fold the remaining strip of paper over to join the layers of paper.
Secure with glue.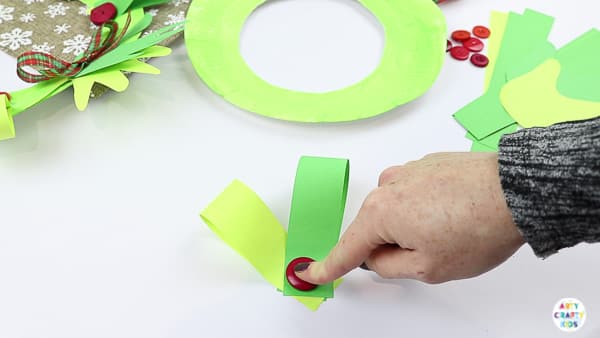 Add a Button the Holly Hearts
Step 7: Complete the holly heart with a red button or two!
Create at least seven more holly hearts.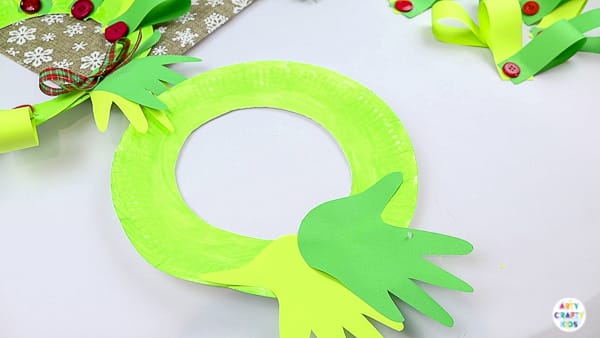 Start with Handprints
Step 8: Ask your Arty Crafty Kids to trace around their handprints on both shades of green construction paper.
Carefully cut out the the handprints and secure them to the bottom of the paper plate.
Surround the Handprints with Holly Hearts
Step 9: Add a decorative ribbon tied in a bow to the handprints.
Surround the handprints with holly hearts!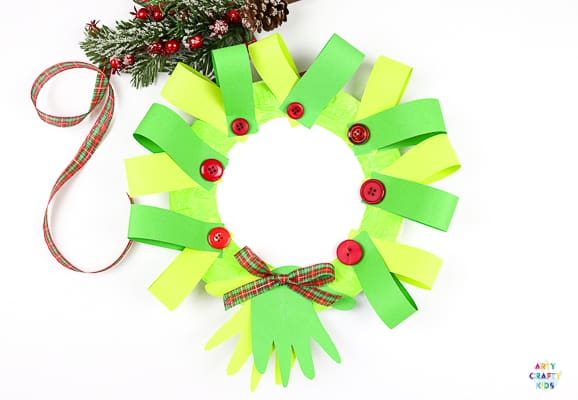 Completing the Paper Plate Handprint
Christmas Wreath Craft
Step 10: Complete the Handprint Christmas Wreath Craft by filling the paper plate with holly hearts.
Add a hanging loop to the back and hang the wreath for Christmas!
More Christmas Crafts for Kids
Paper Plate Santa Craft
The build up to Christmas has begun and we're kick starting the festive season with a NEW Paper Plate Santa Claus craft; swapping the white fluff with a luscious beard of paper ringlets!

https://www.artycraftykids.com/craft/paper-plate-santa-claus/
TP Roll Angel Ornament
Every Christmas tree needs an angel ornament. Ideally one that's recycled, homemade and created by kids! This lovely singing Toilet Paper Roll Angel Christmas Ornament will look glorious hanging from the tree and will be an absolute joy to make.

https://www.artycraftykids.com/craft/toilet-paper-roll-angel-christmas-ornament/
Handprint Santa Craft
A charming printable Santa Handprint Craft for kids to make and gift to loved ones this Christmas.
Simply open Santa's handprint beard to reveal your Arty Crafty Kids festive greeting and photo. A gorgeous keepsake craft that will be treasured for years to come

https://www.artycraftykids.com/craft/santa-handprint-craft/
Happy Crafting!