This adorable Craft Stick Reindeer Ornament deserves top spot on the Kids Christmas Craft to-do list!
I adore the string of Christmas lights entwined within its antlers and here's some good news, this is an incredibly easy Christmas craft to replicate and one the kids will love making.
Once complete, simply add a hooped piece of twine to the back and hang upon the Christmas Tree!
How to Make a Craft Stick Reindeer Ornament
This Christmas craft is perfect to make with preschoolers and above. It may get a little messy with the glue, but that's all part of the fun!
What you Need to Make a Reindeer Ornament
5 Regular sized popsicle sticks
6 Mini sized popsicle sticks
Hot glue gun or all-purpose glue
Pom poms
Black yarn
Marker
Brown paint
Let's Start the Reindeer Craft!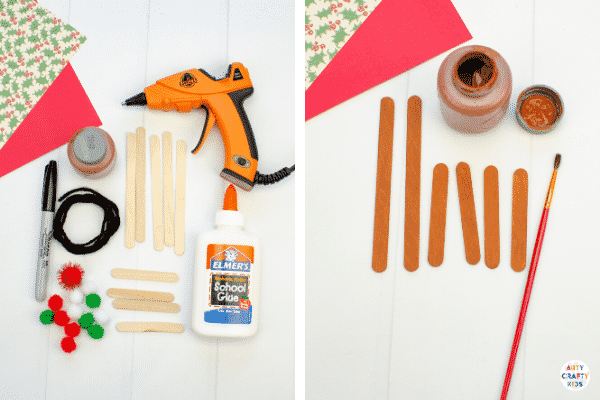 Paint the Antler Craft Sticks
Step 1: First paint two regular popsicle sticks and 4 mini popsicle sticks brown and set aside to dry.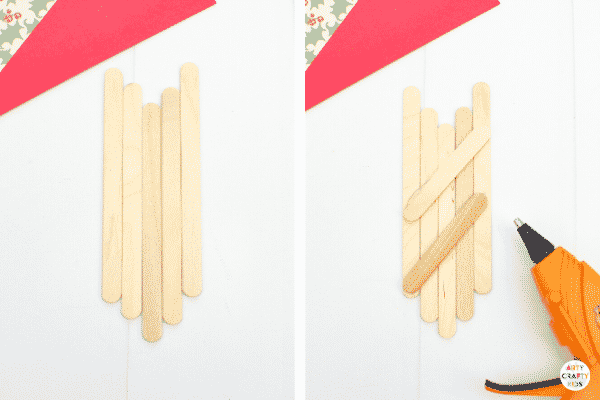 Align and Secure the Sticks
Step 2: Next, line up the other 5 regular sized popsicle sticks in the pattern shown to create the reindeer's head.
Step 3: To secure this head shape, hot glue two mini popsicle sticks across the back.You can use all-purpose glue however, a longer drying time will be needed.
Arrange and Secure the Antlers
Step 4: Now, flip the reindeer head over and glue the two brown regular sized popsicle sticks at the top in a 'V' shape to create the reindeer's antlers. Then glue 2 brown mini popsicle sticks to each antler.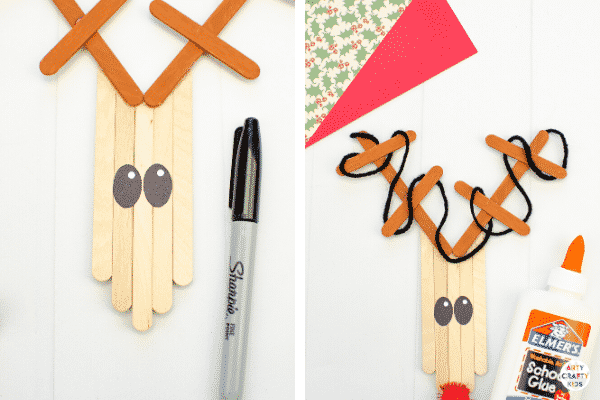 Add a Pair of Eyes and Yarn
Step 5: Next use the marker to draw on the eyes. You can also draw the eyes on paper, cut and glue them on.
Step 6: Then take the yarn and wrap it around the antlers securing the ends with glue.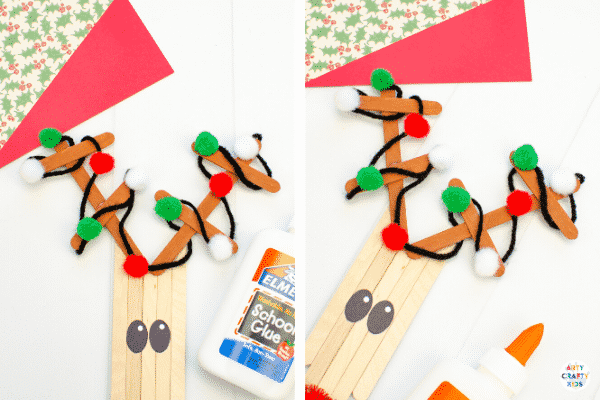 Complete the Reindeer Ornament with
Bauble Christmas Lights!
Step 7: Glue on the pom pom to transform the yarn into a string of holiday lights!
Step 8: Lastly, glue on a sparkly red pom pom for Rudolph's nose.
The popsicle stick reindeer is complete
More Easy Christmas Crafts for Kids to Make:
Christmas is all about simple crafts that kids can actually do, ideally with as little intervention has possible.
Here's a collection of simple Christmas crafts to try with the kids.
Craft Stick Snowman
This craft stick snowman ornament is so easy and fun to make. So if you're looking for an easy Christmas craft to try with the kids this festive season, then give this adorable snowman craft a go.

https://www.artycraftykids.com/craft/craft-stick-snowman-ornament/
Egg Carton Reindeer Ornament
Cute, fun and super easy to make! This adorable egg carton reindeer ornament is the prefect Christmas craft for kids both big and small.

https://www.artycraftykids.com/craft/egg-carton-reindeer-ornament-easy-kids-christmas-craft/
Beaded Candy Cane Ornament
This easy Christmas Craft is made with just pipe cleaners and beads; perfect for little hands to make all by themselves.

https://www.artycraftykids.com/christmas/beaded-candy-cane-ornaments/
Handprint Christmas Cards for Kids
These Handprint Christmas Cards are adorable and a perfect keepsake for kids to make and give at Christmas.

We've created printable elements to transform your child's handprint into a Christmas Tree, Reindeer and Santa, making this a super easy Christmas craft for kids.

https://www.artycraftykids.com/christmas/handprint-christmas-cards/
Happy Crafting!