If you're looking for an easy, cute and fun Christmas Craft for your preschooler, then you're in the right place! This Popsicle Stick Christmas Tree Craft is perfect for little hands and great for encouraging creativity. Using scrap paper and loose parts, kids will love cutting and sticking to create unique and colourful Christmas Trees.
Add a piece of thread and the Popsicle Trees are transformed into gorgeous ornaments.
Add a photo of your Arty Crafty Kids and you have a personalised keepsake.
While simple, this is a wonderfully open-ended activity where kids will create some crafty Christmas magic!
Popsicle Stick Christmas Tree Craft: Materials and Tutorial
This craft may contain affiliate links to recommended products.
With each purchase via these links, Arty Crafty Kids is compensated a few pennies at no extra cost to yourself.
Thank you for your support!
Jumbo Popsicle Sticks
Loose Parts including Buttons, Sequins etc
PVA Glue (or/and Hot Glue Gun)
Paper Clips ( used with PVA Glue)
Scrap Paper/Ribbon/Lace etc
Scissors
Paint (optional)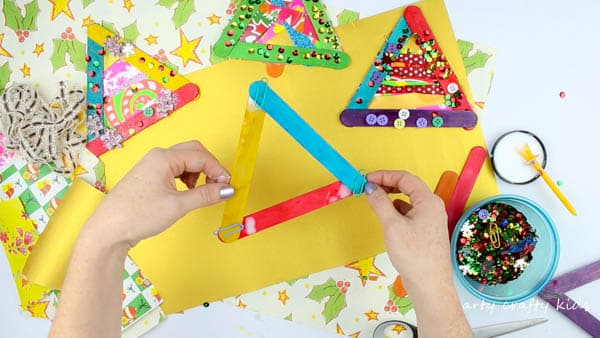 Step 1: Assemble the popsicle sticks into a triangular shape and secure.
If you are using PVA glue, add paper clips to the corners while the glue tries.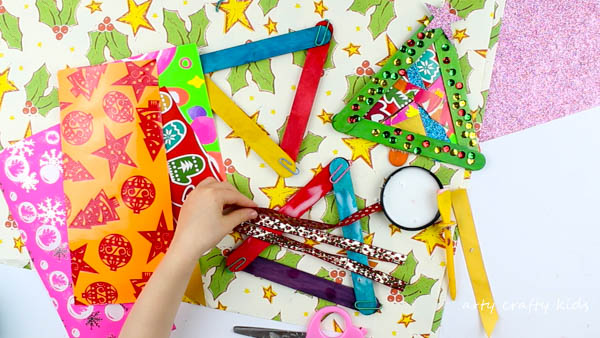 Step 2: Cut up the ribbon and scrap paper, and glue each piece onto the frame, covering the gap.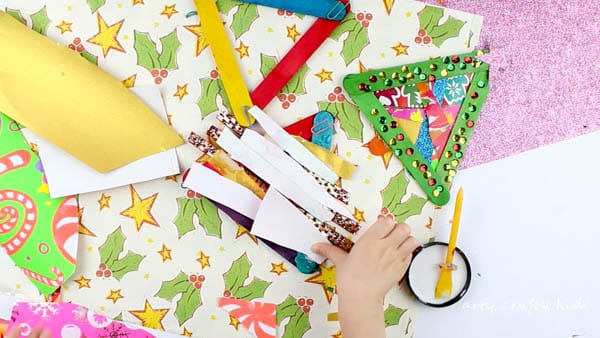 Step 3: Continue this process, mixing and matching the materials until the gap is completely filled and then leave the 'Christmas Tree' to dry.
Step 4: Turn the popsicle frame over and trim the excess paper to the shape of the triangle.
Decorate the frame with loose parts.
And complete by adding a star (either draw this onto a separate piece of paper and cut or use a sticker) and popsicle trunk.
The Popsicle Stick Christmas Tree Craft is now Complete!
For more simple crafts for preschoolers, take a look at our variety of Christmas Paper Plate Crafts, Cardboard Christmas Tree Garland, and Toddler Christmas Trees!
Happy Crafting!
Pin for Later