Here's a toddler craft that's all about the process and my goodness, our toddler Christmas trees have so much to offer! exploration of paint and colour, playing with different materials to decorate their trees and lots of fine motor work to strengthen the hands.
Cakes was so proud of her creations and absorbed from start to finish – I can't wait to see her first Christmas decorations on the tree!
It couldn't be easier for your toddler or preschooler to make their own Christmas trees. With minimal set-up, it's an activity where you can take a step back and let the magic happen.
Toddler Christmas Trees: Materials
An old cardboard box
Paint
An array of different materials for decorating – sequins, pom-poms, tissue paper, yarn etc
PVA Glue
Scissors
Ribbon
Sticky Tape
To get your toddler or preschooler started, simply cut up an old cardboard box into large triangular (Christmas Tree) shapes. Set them up with some paint and step back.
Cakes loved exploring the range of colours and mixing them up. It was fun to watch her master the paint brush and experiment with different techniques.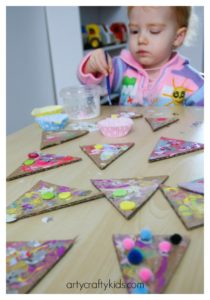 Once the Christmas trees have dried, it's time for phase two – DECORATING!
Cakes was fascinated by the sticky texture of the glue. She carefully selected her decorations and once she grasped how the glue worked, she was away. It was great to see her pincer grip in action and she often took a break from the sticking to sort and arrange the materials available, which is exactly what this craft is all about – exploration, freedom and creativity.
To finish off, attach the ribbon with some sticky tape and proudly display your toddlers gorgeous work!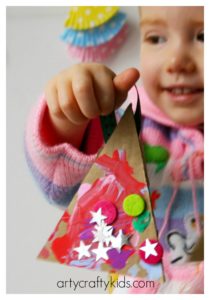 I hope you've enjoyed our toddler Christmas trees and if you're looking for more activities or crafts for your toddler, take a look at our process focussed ideas: Bubble Wrap Stamps and Sensory Art for Babies and Toddlers.