With the aide of a handy printable template, Arty Crafty Kids can easily recreate this gorgeous Fingerprint Christmas Tree Art project. Painted with fingerprints alone, their art will double up as a treasured keepsake for years to come and will be loved by parents and family.
Frame the A4 version and present as a gift this Christmas or download our Christmas Card version to send out to special family and friends.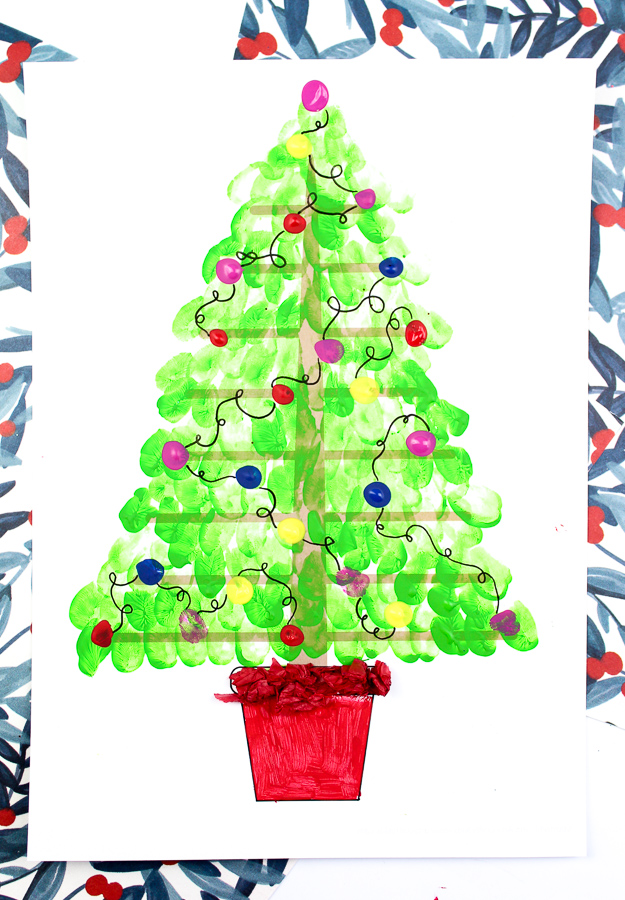 Fingerprint Christmas Tree Art: Materials
White Cardstock
Paint (ideally acrylic)
Black Marker Pen
Tissue Paper (optional)
Ribbon (optional)
PVA Glue
Download the Christmas Tree Template!
A freebie template is available upon sign-up to our regular newsletter – this can be found towards the end of this post. Alternatively, join the Arty Crafty Kids club to access our complete library of art and craft templates!
We're currently in full Christmas mode and have a very exciting collection of Christmas themed finger-puppets and movable paper puppets coming within the next few weeks!
Already a member? login here!
Members can also download a Christmas Card version of this craft, which is exclusive to the Arty Crafty Club!
Fingerprint Christmas Tree Art: Tutorial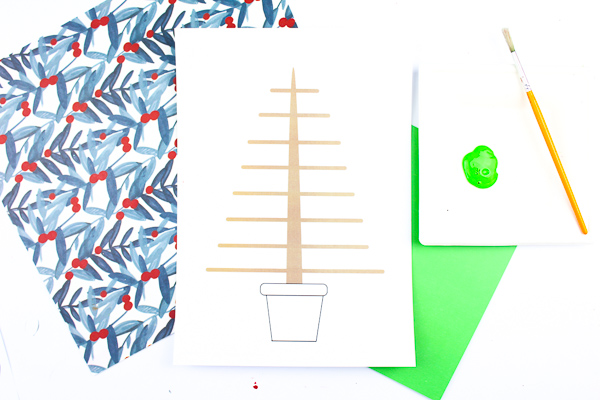 Step 1: Download and print the Christmas Tree template onto white cardstock!

Step 2: Apply paint to your Arty Crafty Kids fingertip(s) with a brush and print along each line of the tree.
To create a layered effect with the prints, start from the bottom and work up.

Step 3: Continue working along the tree.
Avoid applying a fresh coat of paint for every print and use the same application until the prints fade. This will add texture and body to the completed piece, with some prints clearer and bolder than others.

Step 4: Fill the Christmas Tree with and finish with a single fingerprint at the top.

Step 5: Using a variety of bold colours, tip a clean fingertip directly into the paint and again print, this time in a random formation across the tree.
These bright colours will become a chain of pretty baubles (or lights depending on your Arty Crafty Kids perspective!).
Step 6: While the paint dries, paint the the Christmas Tree pot!
To add additional texture, fill the brim of the pot with balls of tissue paper. The motion of tearing, scrunching, rolling and sticking is a great exercise for developing fine motor skills.

Step 7: Once the paint has thoroughly dried connect the baubles with a squiggly trail of black pen.
I would recommend starting from the top of the tree and working down.

Step 8: Older children may enjoy challenging themselves to connecting the baubles in diagonal lines.

Step 9: Continue with the squiggly lines until all the baubles are joined.
They do not have to be connected by the same squiggly line, they also can be separated.

Step 10: Complete the Fingerprint Christmas Tree Art with a pretty bow!
To access the template, sign up to our Arty Crafty Kids Club newsletter, and we'll also keep you posted about other crafts, free templates and offers.
This template, and many others, is also available in our Arty Crafty Kids Club Members Area Sign Up Here
I hope your Arty Crafty Kids enjoy creating their Fingerprint Christmas Tree Art!
For more Arty Crafty Christmas themed projects, check out:
Pin for Later!