Looking for a quick and easy Christmas card to make with the kids this Christmas? With an added photo element, this adorable Photo Christmas Tree Card is fun and easy to make, and doubles up a special keepsake for parents, grandparents and loved ones.
The Photo Christmas Tree Card gives children the creative freedom to make their Christmas cards their own.
Personalised with both a photo AND fingerprints, children can then go to town decorating their Christmas in their own special and unique way; making this a great Christmas craft to try with multiple children in a classroom or group setting.
How to Make a Photo Christmas Tree Card
What you need to make a Photo Christmas Tree Card:
White Cardstock
Yellow and Green Paint
Paintbrush
Photograph
Buttons, Sequins or Scrunched up Tissue Paper
Scissors
Downloading The Printable Christmas Tree Card
The Christmas Tree Card Template is available to members of the Arty Crafty Kids members area and can be downloaded via the following link: https://www.artycraftykids.com/product/photo-christmas-tree-card/
Members will need to log in to access the templates!
Not A Member?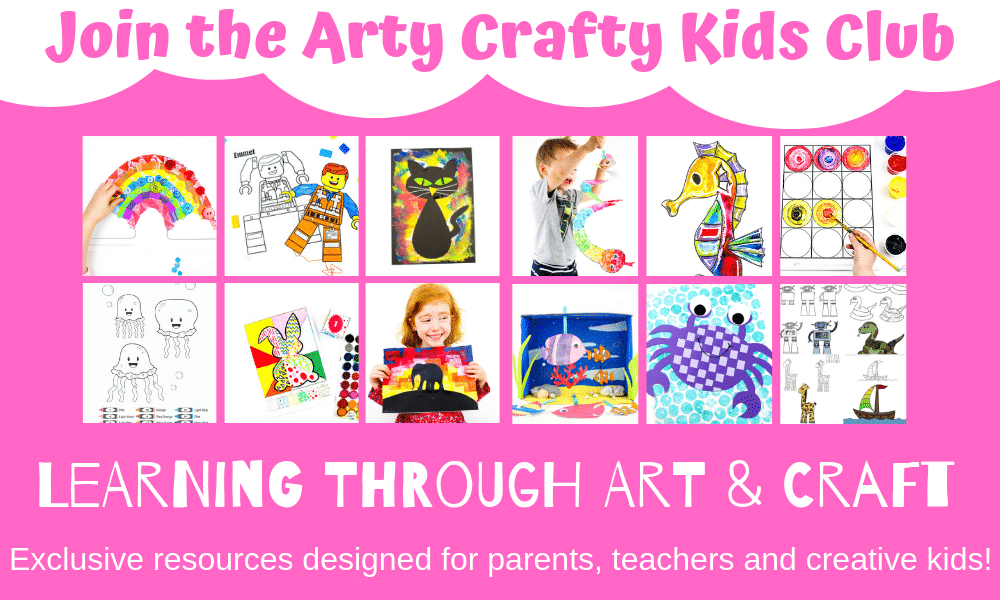 Let's Make a Christmas Card!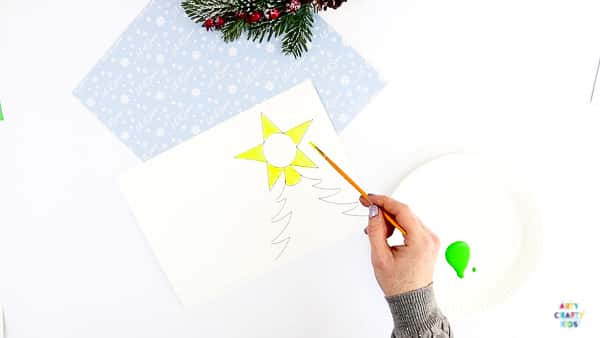 Paint the Star
Step 1: To begin, paint or colour in the star with a marker pen or crayon.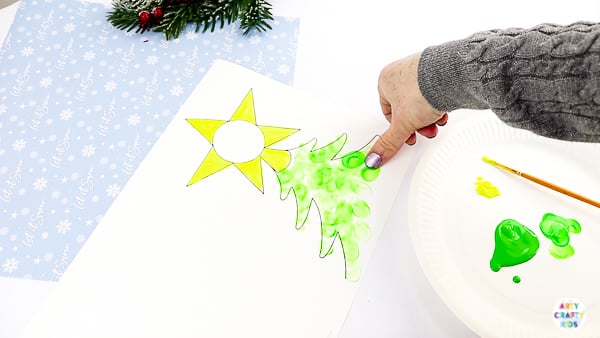 Add Green Fingerprints
Step 2: Dip a thumb into some green paint. Remove the excess paint by creating a print or two onto some scrap paper.
Begin filling the Christmas tree with fingerprints.
Fingerprinting is an effective way to create a Christmas tree. Each print will be unique in shade and quality, adding depth to the completed tree – it's also a beautiful way to personalise a Christmas card!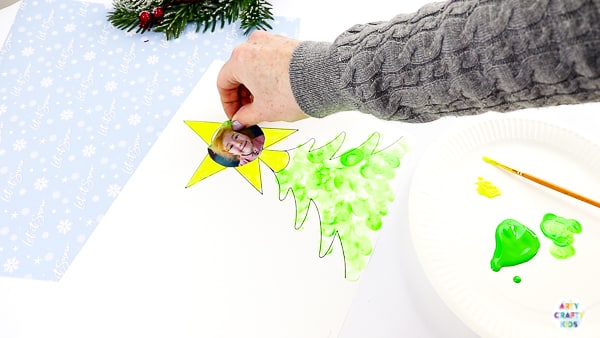 Complete the Star with a Photo
Step 3: Once the star has fully dried, add a photograph to the centre.
Alternatively, children may also draw a doodle self portrait or a drawing of anything significant to the person they're gifting the card to.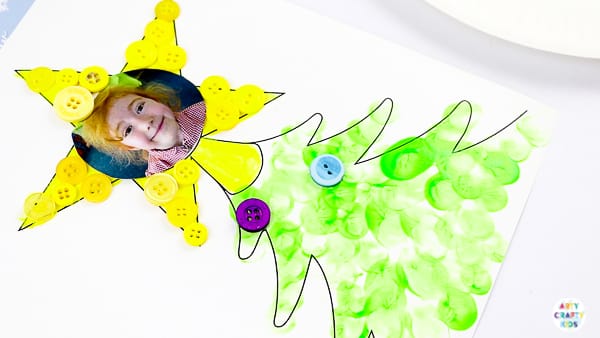 Decorate the Christmas Tree
Step 4: Using decorative materials such as buttons or sequins, decorate the Christmas tree.
In our example, we've added yellow buttons and sequins to the star.
We've used buttons to create baubles and sequins to form tinsel.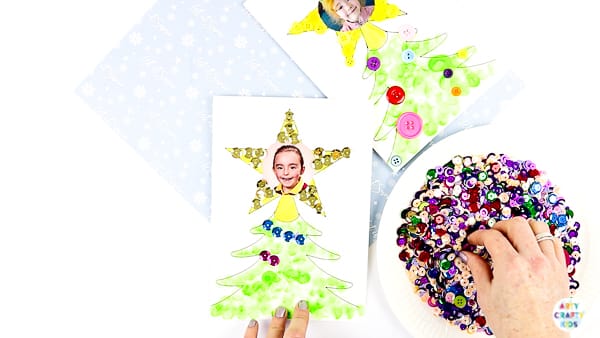 Complete with a Christmas Message
Step 5: Fold the Christmas card in half and add a Christmas message inside.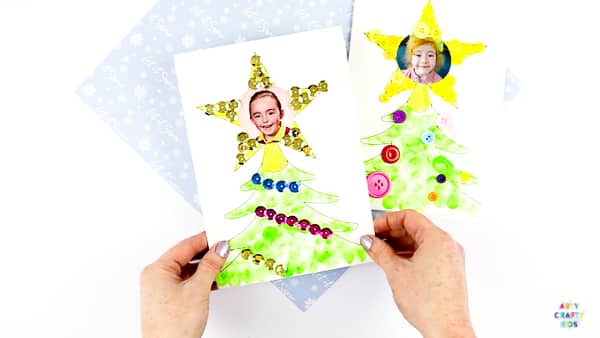 More Printable Christmas Cards for Kids:
Check out our latest collection of printable Christmas cards for kids to make this festive season!
Handprint Christmas Cards
We've created printable elements to transform your child's handprint into a Christmas Tree, Reindeer and Santa, making this a super easy Christmas craft for kids.

https://www.artycraftykids.com/christmas/handprint-christmas-cards/
Winter Animal Christmas Cards
The charming polar bear, penguin and reindeer designs are great fun for children to colour and assemble all by themselves.

https://www.artycraftykids.com/christmas/cute-winter-animal-printable-christmas-cards/
Easy Present Christmas Card Design
Looking for quick and easy Printable Christmas Cards to make with the kids this festive season? Look no further, these adorable present cards are perfect for kids to make and decorate themselves, and are ideal if your children have to make lots of cards for different family members.

https://www.artycraftykids.com/christmas/easy-present-printable-christmas-cards/
Easy Santa and Elf Christmas Card
This Easy Santa Christmas Card design is the perfect choice for anyone making homemade Christmas Cards with the kids this festive season.

Its simple design will encourage children from preschool to kindergarten and children within early years education to make the crafts independently, which is exactly what you want from a DIY Christmas card!

https://www.artycraftykids.com/christmas/easy-santa-christmas-card/
Happy Crafting!