These NO-PREP 5 Dot to Dot Christmas Colouring Pages are designed to reinforce basic counting (1-20) in preschoolers and children up to KS1 (Early Years Education).
Kids will love colouring our hand-drawn and playfully crafted Christmas colouring pages and will have no idea they're learning at the same time!
5 Dot to Dot Christmas Colouring Pages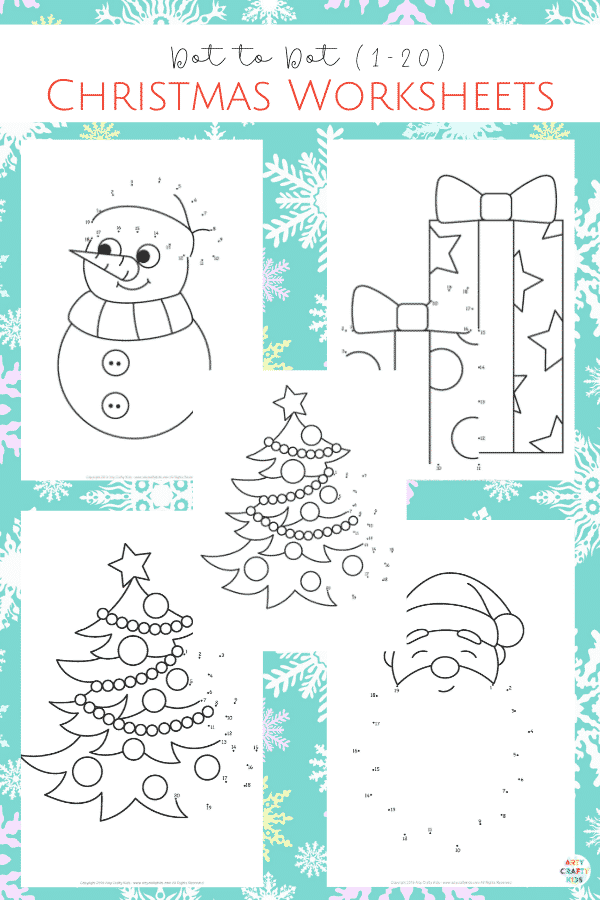 How Can I Use the Dot to Dot Christmas Colouring Pages?
Once complete, the images can be coloured, decorated and put on display. Children can use their creativity to make each Christmas colouring page their own.
Benefits of Dot-to-Dot Activities
Dot-to-dot activities are a great way to reinforce counting, number order and recognition. They also strengthen fine motor skills!
Hand-eye co-ordination also comes into play with dot-to-dot counting activities, which of course supports the fine motor skills for mastering handwriting.
How do I Download the 5 Dot to Dot Christmas Colouring Pages?
The Christmas colouring are available to members of the Arty Crafty Kids online library of art and craft templates.
The dot-to-dot Christmas Colouring Pages can be accessed via this link: https://www.artycraftykids.com/product/dot-to-dot-christmas-colouring-pages/
Members will need to log in to access the templates!
Not A Member?
More Printable Worksheets for Kids
Members to the Arty Crafty Kids Club can also download these engaging and fun number and alphabet resources for use at home or within the classroom.
5 Colour by Number Christmas Worksheets
These NO-PREP 5 Christmas Colour by Number Worksheets are designed to reinforce basic number and colour recognition in preschoolers.

https://www.artycraftykids.com/number-resources/5-christmas-colour-by-number-worksheets/
Alphabet Tracing Worksheets for Kids
Make learning the ABC's fun for your preschooler with these engaging printable A-Z Alphabet Tracing Worksheets.

https://www.artycraftykids.com/alphabet-resources/alphabet-tracing-worksheets/

Alphabet Worksheets
These no-prep letter worksheets include traceable letter writing, letter colouring and super fun letter activities that change from page to page – this will keep children engaged throughout their alphabet practice and reinforce letter recognition and reading.

https://www.artycraftykids.com/alphabet-resources/alphabet-worksheets/