Make learning the ABC's fun for your preschooler with these engaging printable A-Z Alphabet Worksheets.
These no-prep letter worksheets include traceable letter writing, letter colouring and super fun letter activities that change from page to page – this will keep children engaged throughout their alphabet practice and reinforce letter recognition and reading.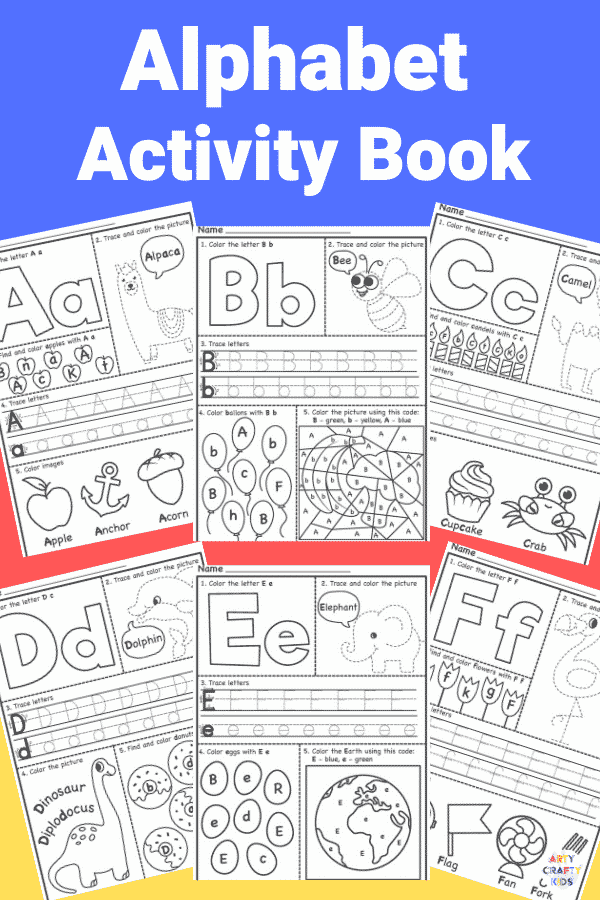 Who are these Alphabet Worksheets for?
The letter worksheets can be used at home or within the classroom and are perfect for preschoolers, children in kindergarten and early years foundation stage.
The worksheets include both upper and lower case letter practice, with little games and extra tracing activities to support their learning.
Each page offers a different letter activity to complete. This is to ensure children stay engaged from start to finish!
How Do I Download the Alphabet Worksheets?
The worksheets can be downloaded as a complete 26 page Alphabet Activity Book from within the Arty Crafty Kids members area.
Members can Log In HERE.
Not a member?
Getting the Most of your Child's Letter Writing Practice:
Each page includes a letter relevant animal to trace either with fingers or a pencil. This is fantastic fine motor practice for pencil grip development.
Laminate the alphabet pages so they can be used and reused with different materials.
Fill the large letters with play dough and attempt to trace the small letters with string, buttons, sequins or simply a white board marker pen.
Extending the ABC Practice
As your child works through their ABC sheets, with each letter ask them name additional animals that begin with same letter OR/AND identify objects within the home or classroom.
To help reinforce letter recognition and learning, add a relevant craft!
Here are a few Letter Craft suggestions: