Kandinsky Inspired Apple Art for kids – A fun and colourful back to school and early Autumn art project for kids.
The apple twist is a playful adaptation of our popular Kandinsky Heart Art project, which encourages children to explore colour creation.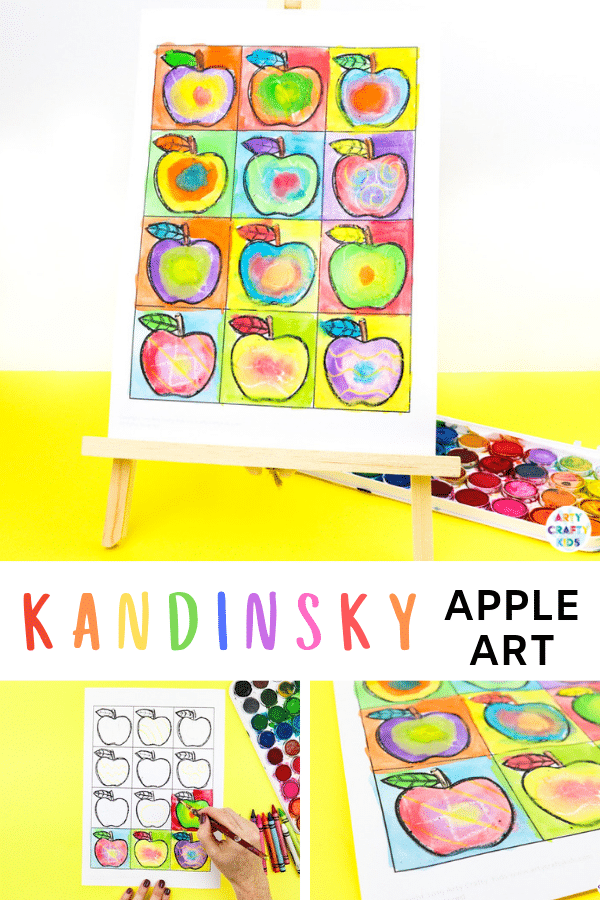 Who is Wassily Kandinsky?
Born in 1866, Moscow, Wassily Kandinsky was considered a pioneer of the abstract movement. Inspired by Monet,
Kandinsky's Squares with Concentric Circles
"Squares with Concentric Circles (Farbstudie – Quadrate und konzentrische Ringe), perhaps, Kandinsky's most recognizable work, is not actually a full-fledged picture. This drawing is a small study on how different colour combinations are perceived that the painter used in his creative process as a support material."

Source: https://www.wassilykandinsky.net/work-370.php
Kandinsky's famous 'squares with concentric circles' painting is a fabulous source of inspiration for kids and is often used by art teachers to explore colour mixing concepts.
Basic Colour Chart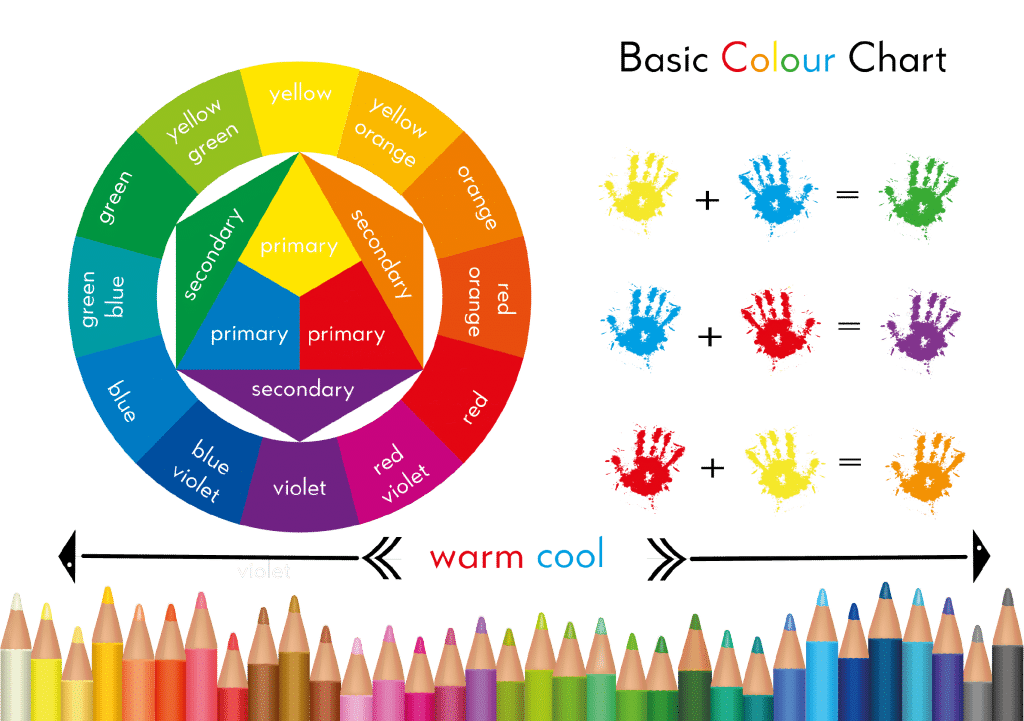 Arty Crafty Kids can refer to this basic colour chart to help create new colours and shades, as well as make colour selections for their apple art!
What is Watercolour Resist Art?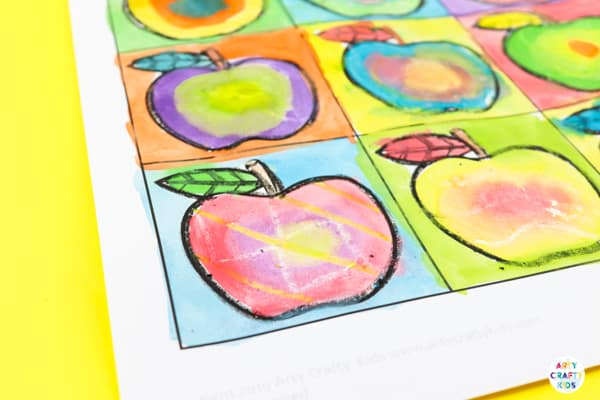 Watercolor resist can be explored with black ( or white)glue, melted crayon, tape,yarn, oil pastel and wax crayon.
Our chosen resist medium for 'Kandinsky Inspired Apple Art' is the humble wax crayon. It's by far the easiest medium for kids and can be enjoyed by the smallest of children.
Kandinsky Inspired Apple Art: Materials
White Card Stock
Crayons inc. Black and White
Watercolour Paints

The art project may also be completed with oil pastels and crayons alone.
Downloading the Kandinsky Apple Template
Arty Crafty Kids members can access the Apple Template here: https://www.artycraftykids.com/product/kandinsky-apple-art/
Not a member? JOIN HERE for instant access to the templates and our full library of art and craft resources, how to draw guides, colouring and activity pages.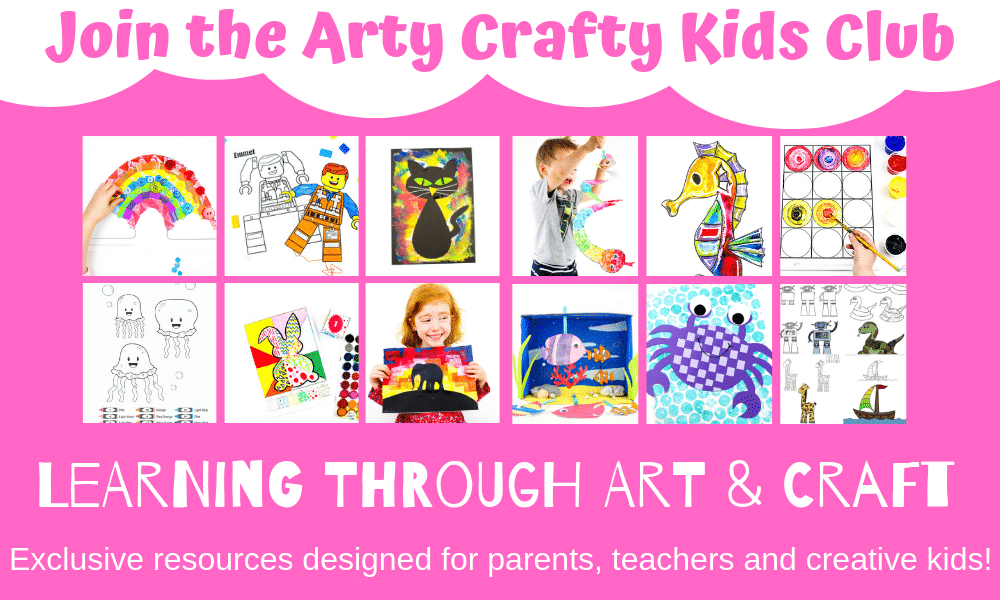 Kandinsky Inspired Apple Art: Tutorial
Printing the Apple Template:
Download and print the Apple Template from the Arty Crafty Kids members area.
The template can be downloaded onto good quality paper or card stock.
If you opt for cardstock, remember to check your printer settings for a recommended weight. Most printers prefer card stock less than 220gsm.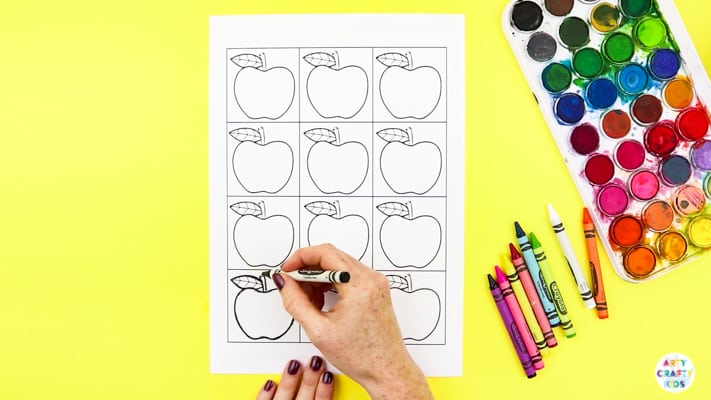 Trace the Apple Outline
Step 1: Using a black crayon (or a colour of your Arty Crafty Kids choosing) trace each apple.
Optional: Also trace the grid!
Add Detail
Step 2: Fill each apple with a fun pattern.
The patterns may take the form of squiggles, zig-zag or wobbly lines, shapes or even letters – perhaps the apples can contain a message or name?
The white crayon is especially fun in this instance as the patterns will not reveal themselves until watercolour paint is added.
Applying the Watercolour Paint
Step 3: Apply the watercolour paints.
If your Arty Crafty Kids are using watercolours, there are a couple of ways to apply the paints.
They can experiment with the wet-on-wet application, whereby a small layer of water is spread across the paper first with the paints mixed on top.
Alternatively, or as well as, they can mix water directly with the paints. The amount of water used will alter the vibrancy of the colour i.e. less water will create bolder colours; more water will produce lighter shades and are more likely to blend with the surrounding colours on paper.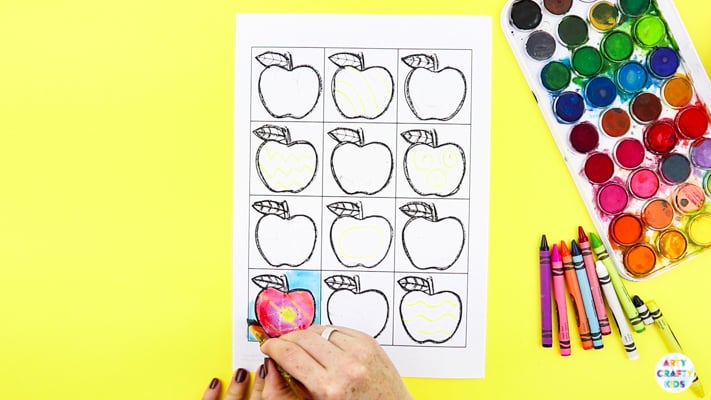 The Kandinsky Element
Step 4: Fill the apples with colour!
Following the outline in a circular motion, try to fill each apple with three colours. They can be similar or contrasting colours.
With each addition, encourage the Arty Crafty Kids to observe how the colours blend. Do they create any new colours?
Step 5: Complete the square with a colour that contrasts with the first colour of the apple.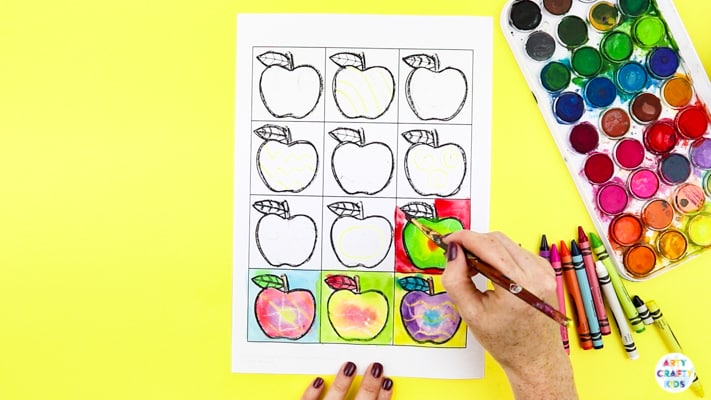 Creating a Colour Study
Use the Kandinsky Apple Template to explore and play with colours. Arty Crafty Kids may find it useful to refer to basic colour chart featured at the beginning of this post.
Maybe start with the primary colours (red, yellow and blue) and see how many colours the children can make.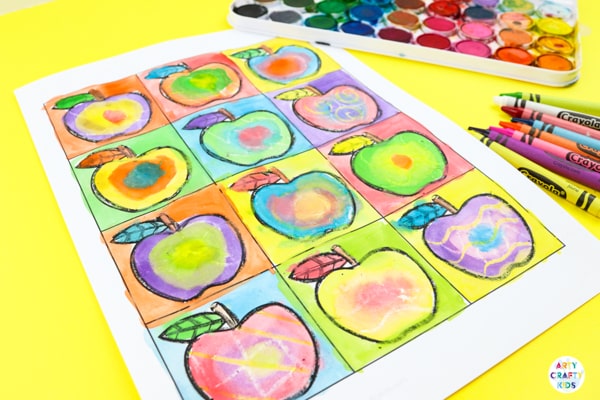 Alternatively, encourage Arty Crafty to choose their favourite colours and challenge them to create different hues and tones. What colours do they look good or bad with?
Throughout the process (if your Arty Crafty Kids are willing) talk.
Talk about the colours they create and see.
Talk about the process of making new colours.
Talk, play and have fun!
More Kandinsky Inspired Projects for Kids:
We love bright and colourful art, and this Kandinsky Inspired Apple Art contributes to our growing library of Kandinsky Art Projects.
Kandinsky Inspired Heart Art:
"Our Kandinsky Inspired Heart Art is all about exploring colour-mixing, playing with light and shade, and the heart feature introduces a seasonal Valentine's Day twist" – Kandinsky Inspired Heart Art
Kandinsky Spooky Tree Art
"To get your Arty Crafty Kids into the spirit of Kandinsky's mindset, try playing music as they paint. Does this influence their painting or mood in any way?" – Kandinsky Spooky Tree Art
Kandinsky Heart Art
"Our Kandinsky Inspired Heart Art is all about exploring colour-mixing, playing with light and shade, and the heart feature introduces a seasonal Valentine's Day twist" – Kandinsky Heart Art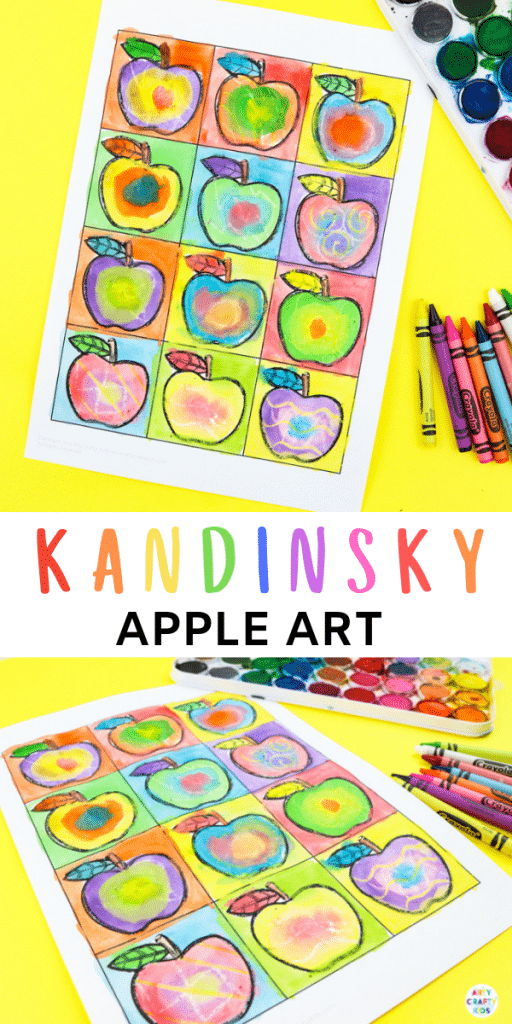 Arty Crafty Kids Club
Join the Arty Crafty Kids Club and gain access to our exclusive collection of art and craft templates and learning resources. Designed with parents, teachers and creative kids in mind, you will never run out of activities for the kids!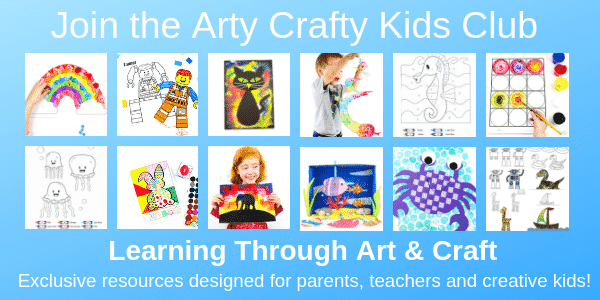 Latest Posts: