The artist Wassily Kandinsky is a favourite here at Arty Crafty Kids and today I have the pleasure of publishing the third instalment to our growing collection of Kandinsky Inspired Art Projects – 'Spooky Tree Kandinsky Inspired Circle Art' .
Farbstudie Quadrate (squares with concentric circles) is one of Kandinsky's most recognisable pieces and was created as a personal colour chart. Kandinsky believed you could express feelings through colours and shapes, and claimed to see lines and colours while listening to music. As such, he often painted to music; squares with concentric circles (and much of his work) is a reflection of that process.
To get your Arty Crafty Kids into the spirit of Kandinsky's mindset, try playing music as they paint. Does this influence their painting or mood in any way?
Spooky Tree Kandinsky Inspired Circle Art: Materials
Choose of Medium ( Paint – Watercolours or acrylic, pencil, oil pastels etc)
Cloth or Tissue Paper
White Cardstock (or mixed media paper)
Spooky Tree Kandinsky Template:
This is offered as a free resource once you sign-up to our regular email (the form can be found towards the end of this post).
Alternatively, gain instant access by joining our online members' area and take advantage of unlimited downloads of all our templates, colouring pages, booklets and how to draw guides!
Spooky Tree Kandinsky Inspired Circle Art: Tutorial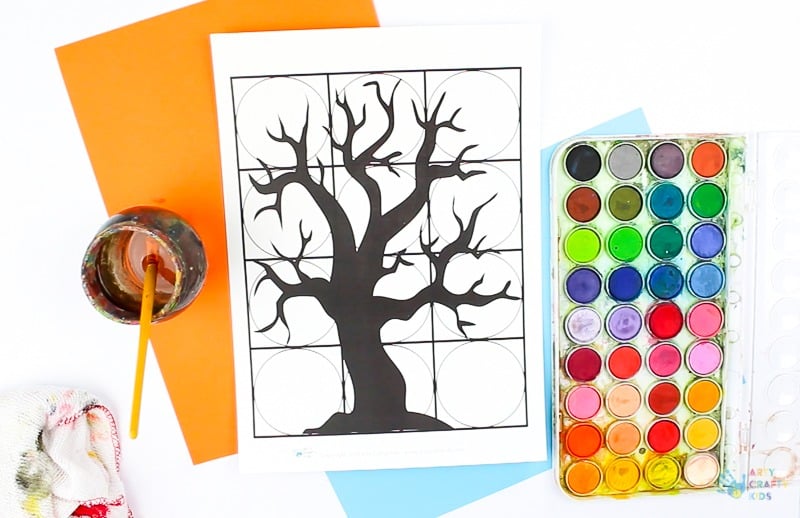 Step1: Download our free Spooky Tree Kandinsky Inspired Template and print on to white cardstock or mixed media paper (depends on your Arty Crafty Kids choice of medium).
Choose a medium!
Watercolours work well with this project and is our choice of medium for this tutorial.
Oil pastels, colouring pencils and acrylic paint are all good options and depending on the age group of your Arty Crafty Kids, they may prefer to challenge their mixing and blending skills (oil pastels) or keep it simple (colouring pencils).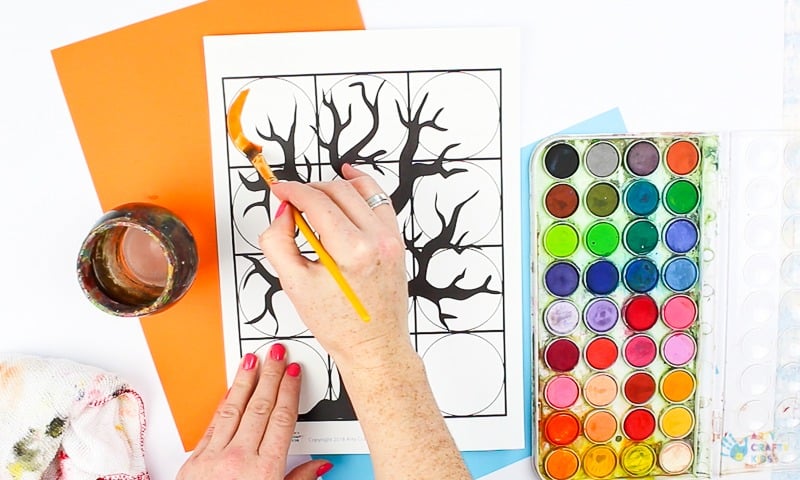 Step 2: Set an aim…
To create a spooky ambience, this project explores and plays with twilight tones and hues; these include red, violet, blue, aqua green, yellow, orange and black.
Alternatively, Arty Crafty Kids may prefer to explore Autumn colours or experimenting with contrasting and complementary colours. It's entirely up to them and it's important to allow the kids to guide the project.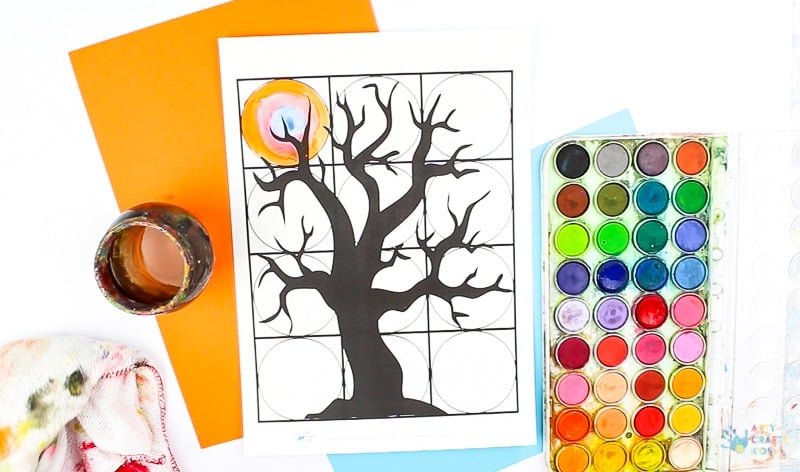 Step 3: Once your Arty Crafty Kids have an aim, let's explore the colour palette!
If the aim is to create a spooky tree, ask them to think about the colours they associate with 'Twilight' or dusk and dawn.
Next, add colour. Using the circles as a guide, create a ring of one colour within the outline and then add a second ring and third with additional colours.
Continue until the circle is complete.
The colours can blend or remain solid and independent.
They can complement or contrast each other – the decision is your Arty Crafty Kids and there's really no right or wrong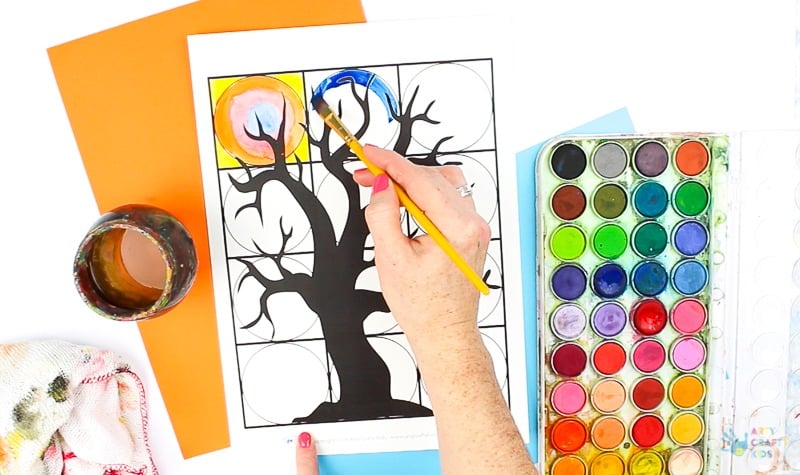 Step 4: Once the circle is complete, fill in the remaining white space with one bold colour and then move onto the next.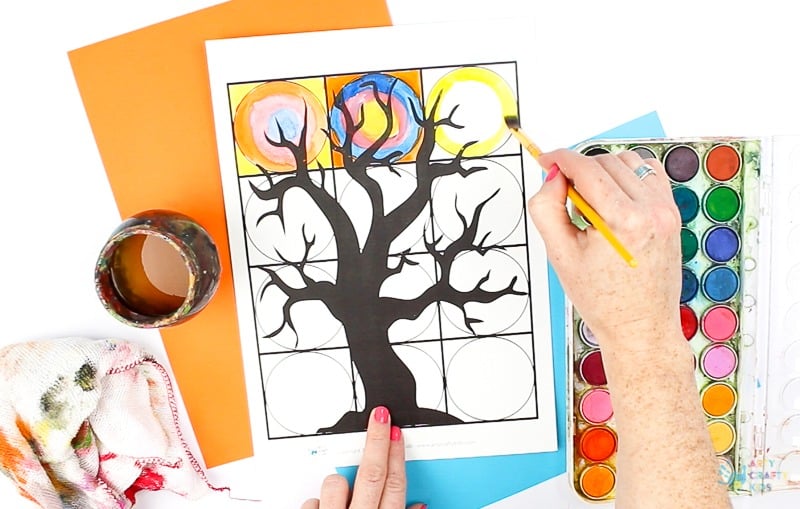 Step 5: Within each circle, encourage your Arty Crafty Kids to explore different colour combinations.
How many different colour combinations can they make?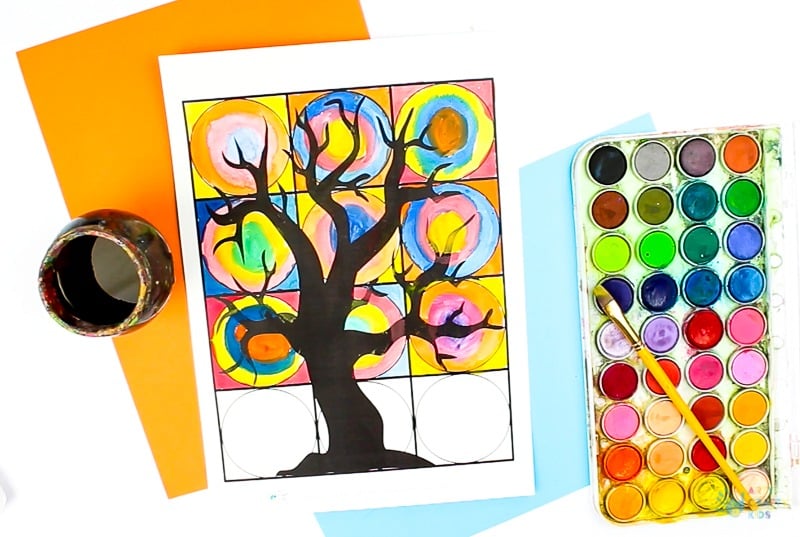 Step 6: Continue painting the circles within the grid until it's full and bursting with colour!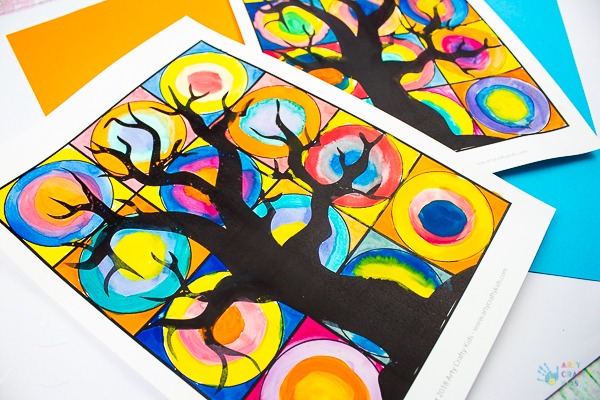 I hope your Arty Crafty Kids have enjoyed creating their own Spooky Tree Kandinsky Inspired Circle Art.
Upon completion (and sometimes throughout the process – this will depend on your Arty Crafty Kids as it's sometimes best not to disturb an artist in the zone!), it's important to chat about the finished piece and the process.
Here are a few conversation starters and discussion points:
Tell me about your art.
How did you choose the colours?
How did you make that shade of …. ?
How would you describe the colours you have used?
What's your favourite colour combination and why?
[fruitful_sep]
To access the template, sign up to our Arty Crafty Kids Club newsletter, and we'll also keep you posted about other crafts, free templates and offers for the Arty Crafty Box!
This template and many others are available in our Arty Crafty Kids Club Members Area Sign Up Here
[fruitful_sep]
Kandinsky is a favourite at Arty Crafty Kids.
Check out our other Kandinsky Inspired Projects:
Pin for Later!