Our Kandinsky Inspired Heart Art is all about exploring colour-mixing, playing with light and shade, and can be a great introduction to Abstract Art for your Ary Crafty Kids.
Kandinsky's famous concentric circles' painting is a fabulous source of inspiration for kids and is often used by art teachers to explore colour mixing concepts. More information about Kandinsky's concentric circles can be found at the bottom of this post!
The completed piece looks amazing framed and will brighten up any wall at home or in the classroom.
And if you're looking for a kid-made gift project, then the Kandinsky Inspired Heart Art can be made for any special occasion – Birthday's, Valentine's day, Mother's Day Christmas or even for 'just because' days.
So let's gather some materials and get arty….
Kandinsky Inspired Heart Art: Materials
Download the template (found towards the bottom of this post)
Printer
Watercolour Paints or a medium of your Arty Crafty Kids choosing
Mixed Media Paper or Cardstock
Kandinsky Inspired Heart Art: Tutorial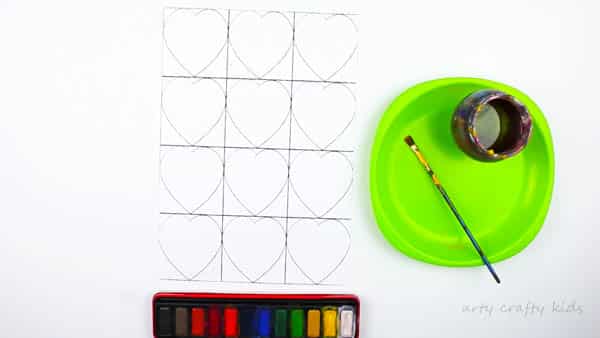 Step 1: Download and print the free Heart Art Template – remember to select 'fit to page' when printing.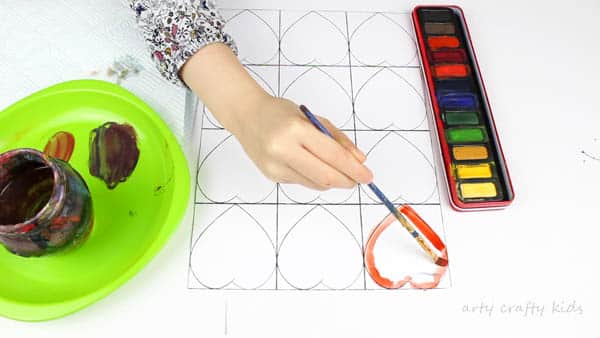 Step 2: Apply the watercolour paints.
If your Arty Crafty Kids are using watercolours, there are a couple of ways to apply the paints.
They can experiment with the wet-on-wet application, whereby a small layer of water is spread across the paper first with the paints mixed on top.
Alternatively, or as well as, they can mix water directly with the paints.
The amount of water used will alter the vibrancy of the colour i.e. less water will create bolder colours; more water will produce lighter shades and are more likely to blend with the surrounding colours on paper.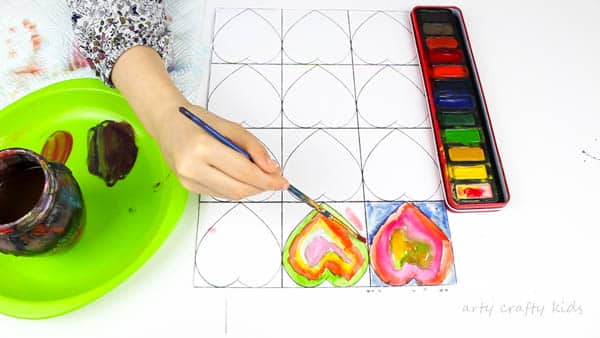 Step 3: Fill the hearts with contrasting colours or/and lighter/darker shades of one.
Fill the empty square space with colour. This could be one block colour or something else.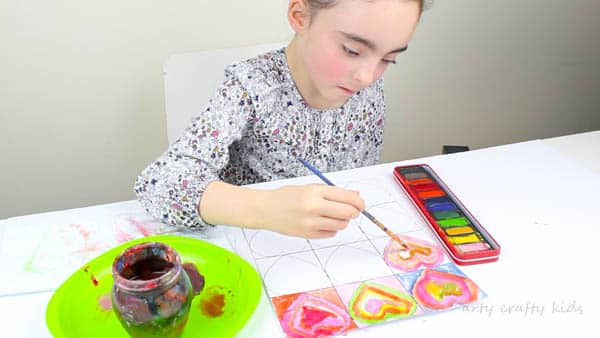 Step 4: Continue filling the entire space with colour and contrast.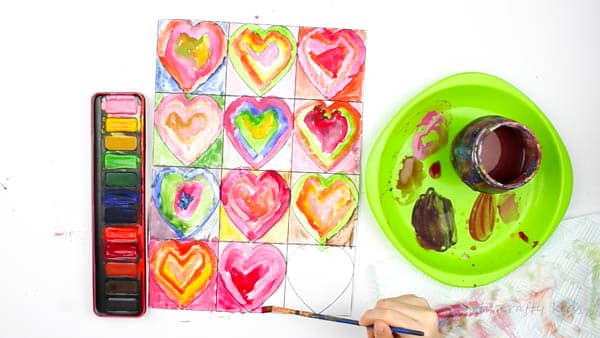 Step 5: While we have used the medium of watercolour paints, crayons, acrylic or even oil pastels could also be used.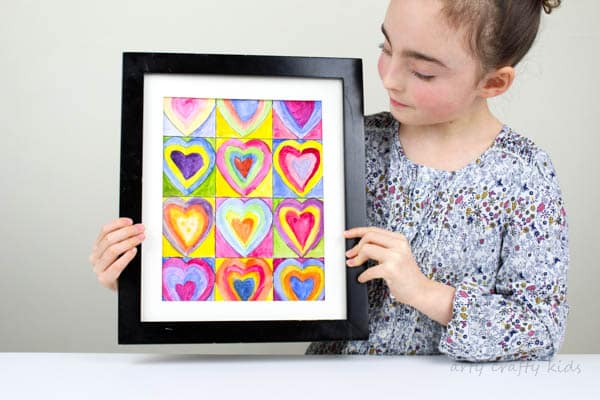 Step 6: Once the kandinsky heart painting has dried, pop it into a frame!
And voila, the art project is complete…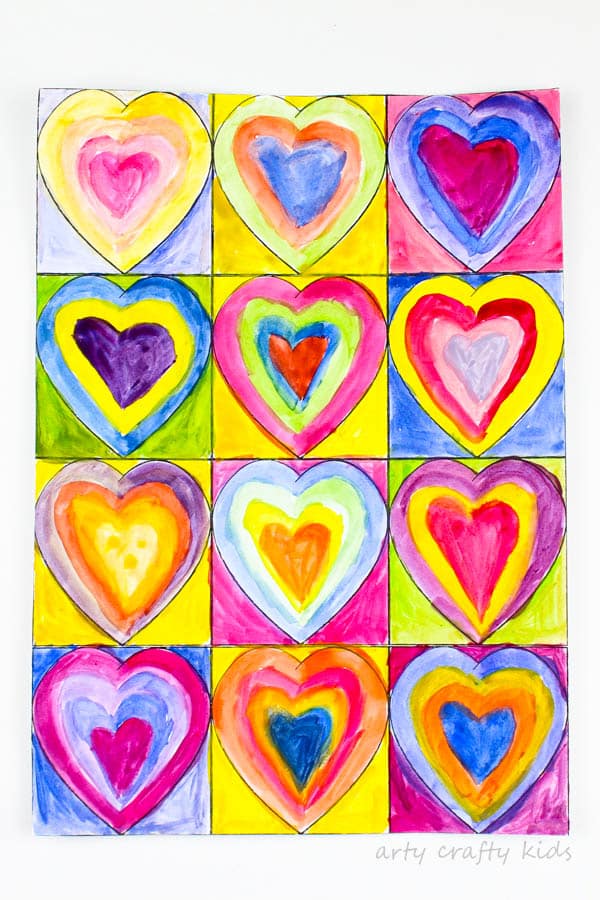 Kandinsky Inspired Heart Art: Template
To access the template, sign up to our Arty Crafty Kids Club newsletter, and we'll also keep you posted about other crafts, free templates and offers for the Arty Crafty Box!
I hope your Arty Crafty Kids enjoy the process of creating their own spectacular Kandinsky Inspired Heart Art paintings.
Kadinsky's Squares with Concentric Circles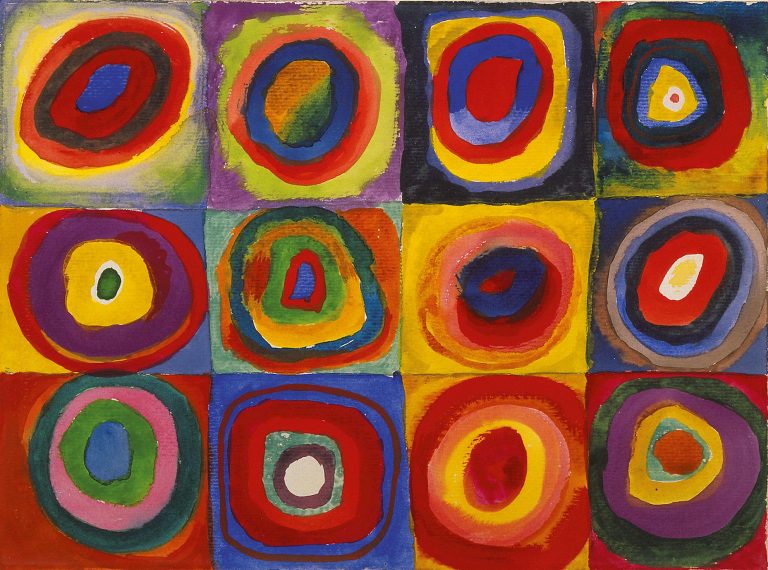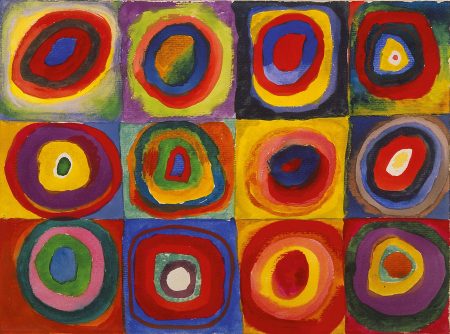 Wassily Kandinsky is generally credited as the pioneer of abstract art.
In 1913 Kadinsky created Squares with Concentric Circles, perhaps, Kandinsky's most recognizable work, is not actually a full-fledged picture.
This drawing is a small study on how different colour combinations are perceived that the painter used in his creative process as a support material.
For Kandinsky, colour meant more than just a visual component of a picture. Colour is its soul.
In his books, he described his own perspective on how colours interacted with each other and with the spectator in detail and very poetically.
Moreover, Kandinsky was a synaesthete, i.e. he could 'hear colours' and 'see sounds.'
For more Arty inspiration…
Check out these Art Projects for Kids:
PIN for later!