I am a self-confessed cat lady and admire their poise and multiple (or split) personalities, for they can be playful, fierce, dopey, aloof and incredibly loving all in one day (or sometimes within minutes). And with Halloween approaching, black cats have been taking over my social media feeds and I couldn't help but notice that for a cat lady, there's a distinct absence of cat crafts on Arty Crafty Kids. Well, not anymore! This Cool Cat Newspaper Art Project for Kids is not just any old cat…
It's a cat with attitude.
A cat with multiple personalities.
A cool cat.
And with its simple shapes made from recycled materials, this cat can strike a pose!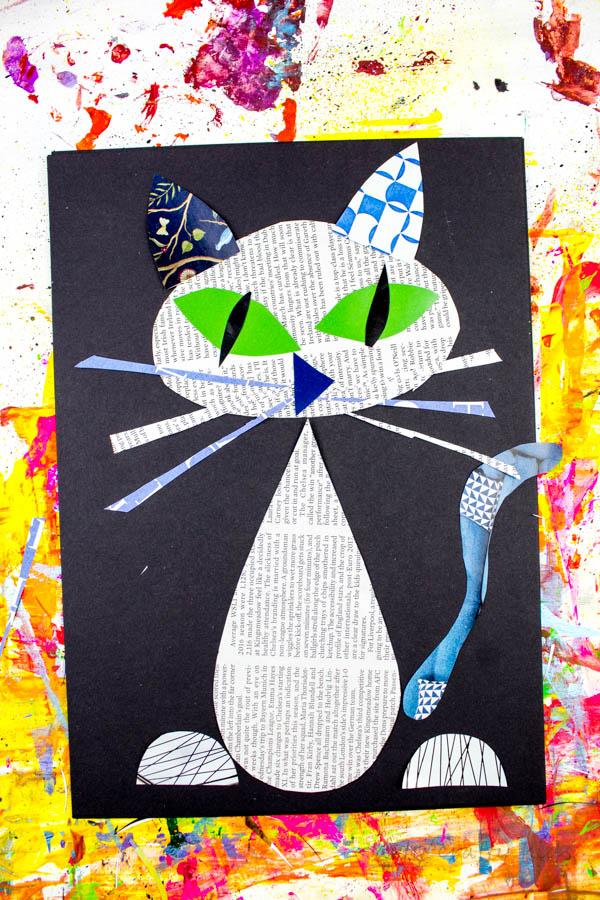 Cool Cat Newspaper Art Project for
 Kids: Materials
 and Tutorial 
This post may contain affiliate links to recommended products.
Newspaper
Magazines
Black Stock CArd (A4)
PVA Glue
Scissors
A White Crayon
Check out the cool cat process with our nifty video below and make sure you sign up to our fabulous new YouTube Channel!
[mv_video aspectRatio="fluid" key="hrwq65uxaprzueyxlzbp"]
STEP-BY-STEP Cool Cat Tutorial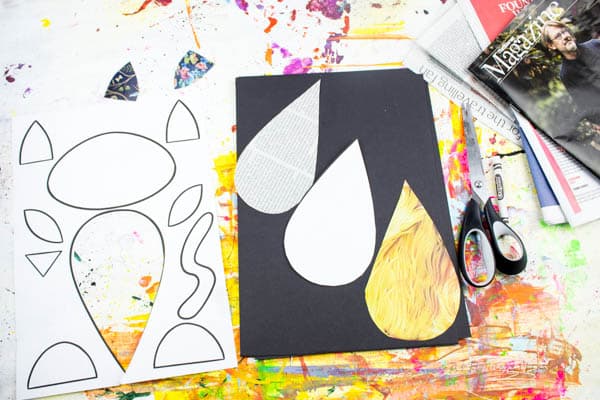 Step 1: Download our free printable found towards the end of the post!
And get the black stock card ready!
Why black card? well, the contrast of the prints and colours will make the cat stand out and I love that it's not a black cat, but can be perceived as an inverted one…especially when the design includes bright green eyes!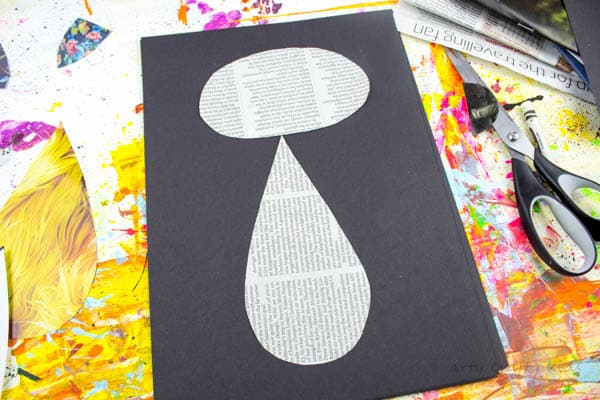 Step 2: Cut out the basic shapes of the template and then trace around the shapes onto newspaper or an old magazine.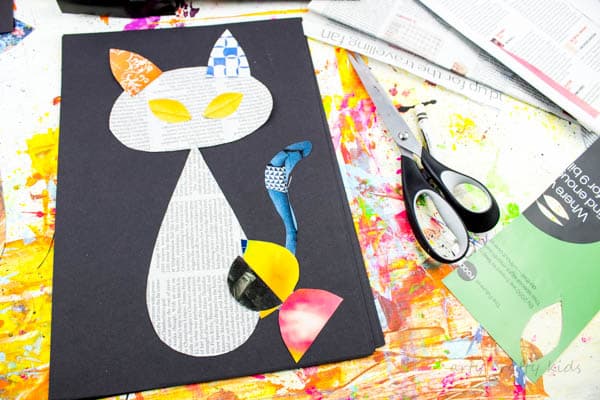 Step 3: Encourage the Arty Crafty Kids to use different coloured paper or prints, exploring patterns and contrasting colours.
Within the magazine, pay attention to the images of sofas and soft furnishings, clothes and nature images. More often than not, amazing textures, patterns, and colours can be found within these items/backdrops, that will depth and vibrancy to the Cool Cat projects.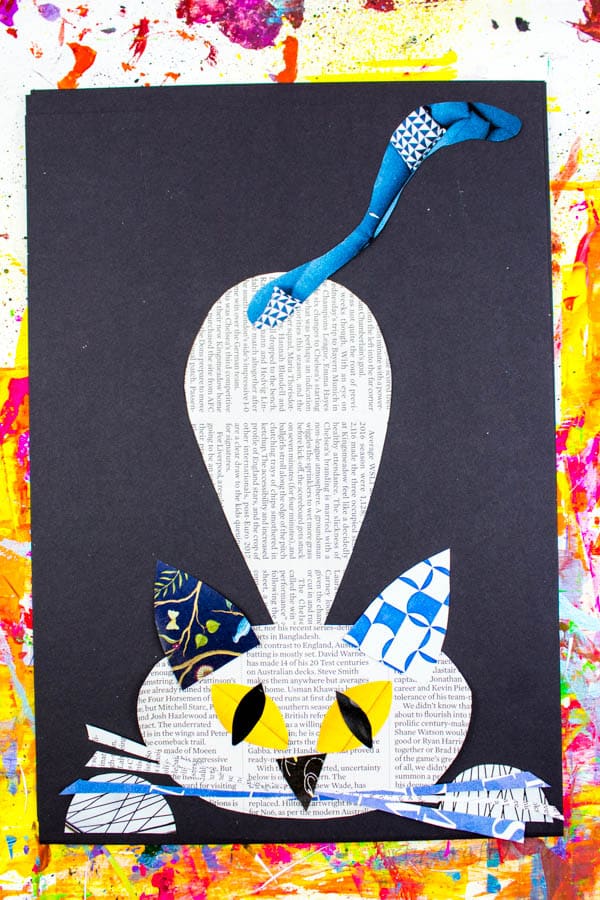 Step 4: Assemble the cool cat onto the piece of black card and secure with PVA glue.
Different poses can be created with a simple twist and turn of the main body and head (see the video above).
Get creative. We've demonstrated how this template can be used to create 4 cat poses, can the Arty Crafty Kids make anymore?
Perhaps they can ditch the template and put together their own cats!
FREE COOL CAT TEMPLATE
To access the template, sign up to our Arty Crafty Kids Club newsletter, and we'll also keep you posted about other crafts, free templates and offers for the Arty Crafty Box!
[convertkit form=733903]
This template, and many others, is also available in our Arty Crafty Kids Club Members Area Free 10-Day Trial – Sign Up Here
Cool Cat Newspaper Art Project for Kids is now Complete
I hope the Arty Crafty Kids love this Cool Cat Newspaper Art Project and if you would like to see more newspaper or collaged art, check out:
If you've enjoyed our cool cat project, then i'm sure you'll also love our Cheeky Monkey and Playful Pup!
The Arty Crafty Box
Did you know that Arty Crafty Kids now has a monthly Art and Craft subscription box, where every box is a creative adventure for kids?
Take a peek inside our boxes and when you order, get 50% off the first box by using 50FIRSTBOX at checkout!
[wcps id="22818″]
The Arty Crafty Box is packed with creative, playful and engaging art and craft projects for kids, complete with all the necessary materials and easy to follow instructions.
In addition to this, every box includes an Artspiration booklet that's filled with how-to-draw tutorials and drawing prompts to enhance your Arty Crafty Kids creativity and FREE access to our online members' area that contains exclusive art and craft templates (just like our Cool Cat project!), colouring pages and more!


Pin for Later!