"Cool Cat Newspaper Art Project for Kids" – With their majestic presence, elegant shapes and expressive personalities, cats are a fabulous subject for children to explore through art and craft. This fun, playful and easy cat art project encourages children to explore their creativity with the use of recycled papers – newspapers, magazines and scap paper, creating cats with varying colors, patterns and textures. Our cool cats also knows how to strike a pose and cat craft video tutorial will demonstrate how to create four different cat poses with just one template.
Our cool cat craft has been used within classrooms all over the world with amazing success and has produced some incredible cat displays; presenting cats with different poses, expressions, colors and more.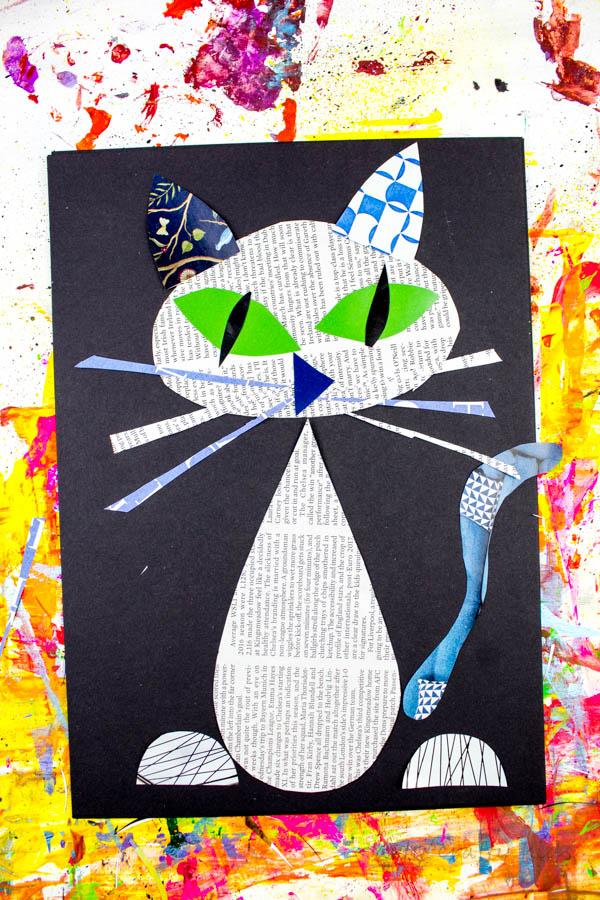 Cool Cat Newspaper Art Project for Kids:
Materials
Newspaper
Magazines
Backing Card Stock
PVA Glue
Scissors
A White Crayon (with the use of black backing card)
How to Download the Cool Cat Template:
The Cool Cat Newspaper Art Project Template is available to members of the Arty Crafty Kids Club. Members can access the template here (remember to login!):
https://www.artycraftykids.com/product/cool-cat/

Members will need to log in to access the templates!
Not A Member?
Watch the Cat Craft Video Tutorial:
This video tutorial demonstrates the versatility of the cool cat craft, presenting a cat with four different poses! The added flexibility will inspire the imaginations of children to make their cats their own.
STEP-BY-STEP Cool Cat Newspaper Art Project Tutorial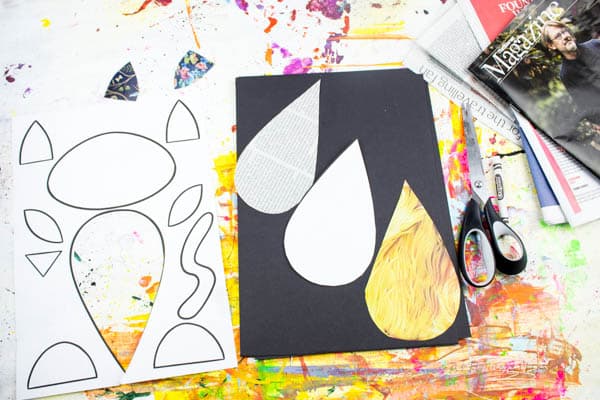 Download the Cat Template and Cut out the Elements
Let's start by cutting out the cats body (the central upside tear drop shape). Trace the shape onto newspaper or colored paper, either from a magazine or a piece of scrap paper.

Much of the charm of this cat craft stems from the use of recyclable materials!
Select a piece of backing card. This can be any color of your Arty Crafty Kids choosing, although here we've used black to create fabulous contrast with our cool cat.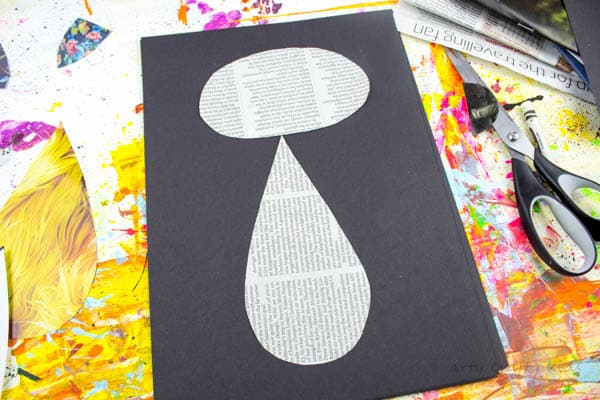 Let's Start Assembling the Cat
Work your through the cat elements from the template, repeating the process of cutting, selecting a piece of recyclable paper, tracing and cutting again.

Gradually position the different elements on the card stock, but do not stick!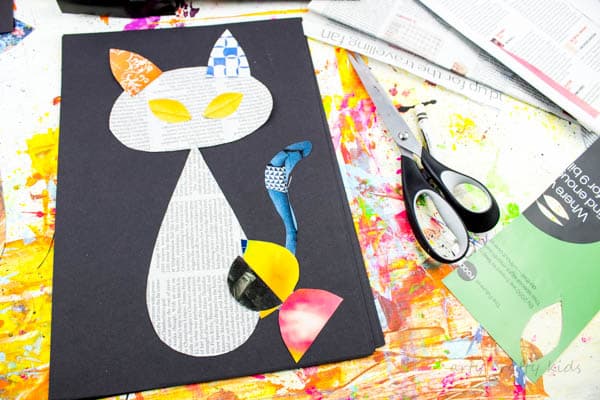 Encourage the Arty Crafty Kids to use different coloured paper or prints, exploring patterns and contrasting colours.
Within the magazine, pay attention to the images of sofas and soft furnishings, clothes and nature images. More often than not, amazing textures, patterns, and colours can be found within these items/backdrops, that will depth and vibrancy to the Cool Cat projects.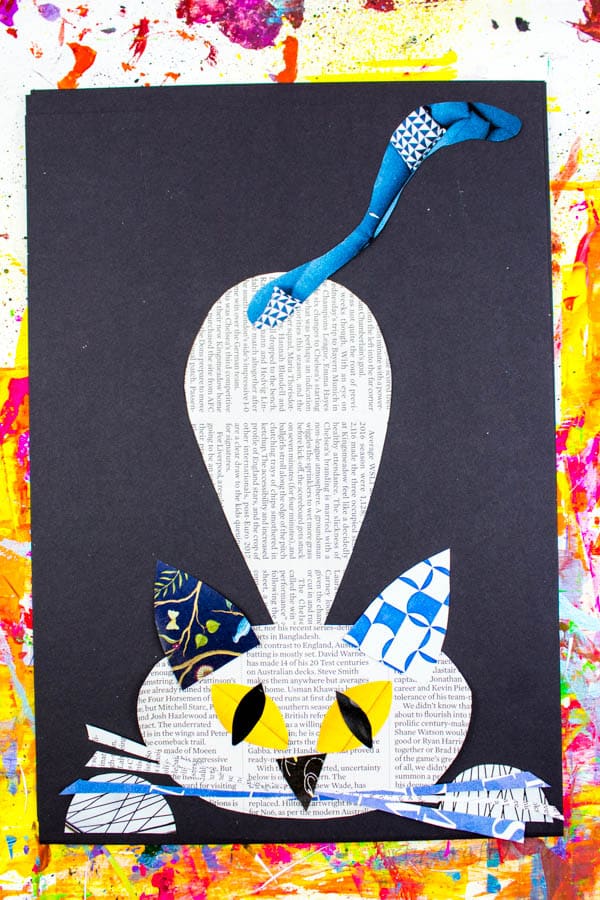 Complete the Cool Cat Newspaper Art Project
Once all the elements of the cat have been cut out, have a play around with the cats pose.

Will your cat by sitting patiently, or poised in a striking pose ready to pounce? Maybe the cool cat will be casually looking over its shoulder or dragging it's nails down a wall!

Can your Arty Crafty Kids create an entirely new pose?
Once you've decided on a cool cat pose, glue all the elements to the backing card. Your cool cat newspaper art project is complete and please do share the completed art works on social media and tag Arty Crafty Kids! We love seeing our crafts in action.

More Recycled Crafts for Kids: