Bleeding Crepe Paper Art produces cool abstract and colourful prints with a wow factor. It's an art idea that can be taken outside during sunny Summer days and falls into the genre of 'process art'.
What is Process Art?
To put it simply, it's all about the creative process rather than the end product. All too often (myself included) it's easy to get fixated on the end result, whereas process art gives children the freedom to create without a preconceived idea of how their craft 'should' look.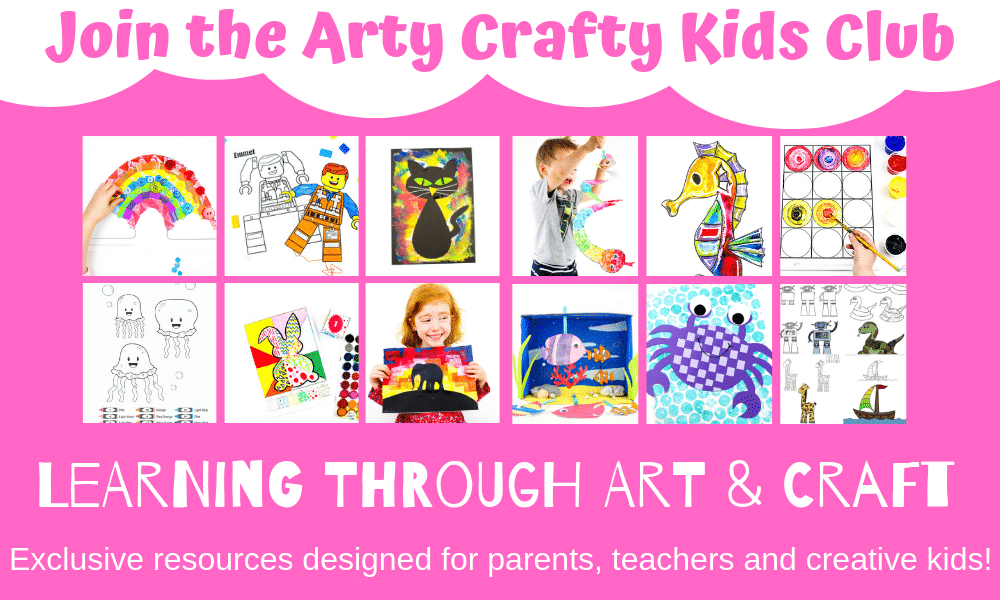 Process art is more of a play, experiment and let's see what happens approach, and this is where the magic happens.
The Benefits of Process Art for Kids
With imaginations captured, children will quickly master their tools, learn cause and effect through experimentation, create unique masterpieces and have a jolly good time doing it!
And from a practical perspective, process art tends not to be material intensive, making it quick and easy to set up – perfect when you're dealing with short attention spans!
So let's talk about Bleeding Crepe Paper Art…
Bleeding Crepe Paper Art: Materials
Stock Card / Watercolour or Mixed Media Paper – needs
Crepe Paper
A Water Spray Bottle or a Jar of Water & Paintbrush
Rolling Pin
Bleeding Crepe Paper Art: Step by Step
Preparing the Water and Crepe Paper
Simply fill a spray bottle with cool water or if you do not have one available, use a jug of water instead. In this instance, generous amounts of water will need to spread with a paintbrush.
Will Tissue Paper Work?
Short answer, YES, absolutely!
Tissue paper does work, however you will need to check that it bleeds (i.e. the colours will run!).
Wet the Paper
Step 1: Lightly spray the watercolour paper with water.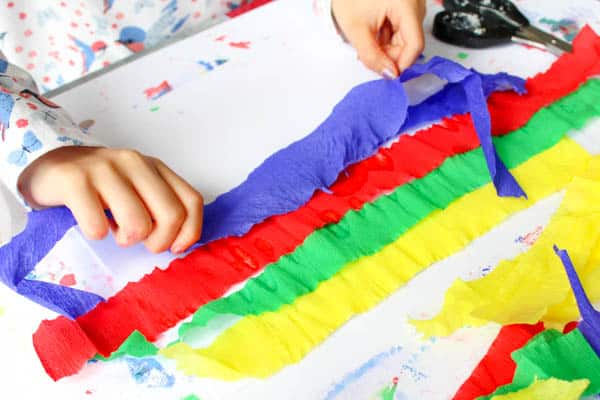 Cut the Crepe Paper into Strips
Step 2: Cut the crepe paper into strips, squares, circles or simply tear it to create random and unusual shapes.
Layer the crepe paper onto the watercolour paper.
Let's Spray
Step 3: Spray the crepe paper until its soaking wet and the colour begin to run.
Let's Roll
Step 4: Gently flatten the crepe paper onto the watercolour paper with a rolling-pin in a slow and even motion to avoid lifting the crepe paper prematurely.
Leave the crepe paper to settle for 5-15min.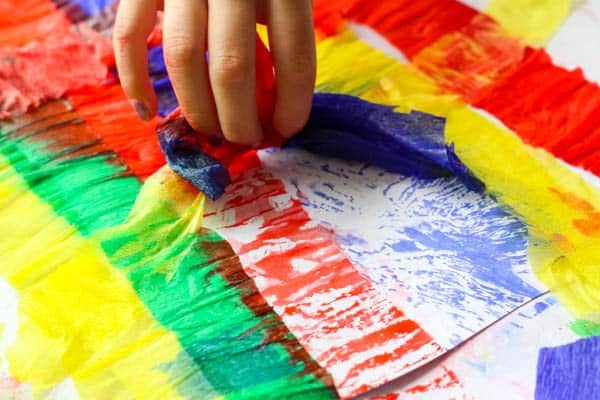 Gently Peel the Crepe Paper Away
Step 5: Carefully remove the crepe paper to reveal the interesting and textured prints underneath.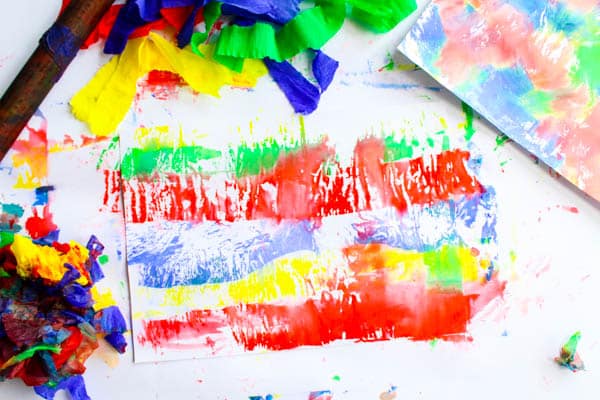 The Big Reveal!
And ta-da, it's as easy as that!
The Arty Crafty Kids should be left with a page full of colourful textured prints from the crepe paper.
The art could be left as it is or reused in other crafts, such as our cool cat concept.
Some Extra Pointers….
Encourage the Arty Crafty Kids to experiment with the water, the amount of crepe paper they use, the colour combinations and the duration they leave the crepe paper to stand before removing it.
Will the colours appear bolder or lighter?
Can they create new colours by layering primary colours?
What will happen if they gather the soggy crepe paper and give it a squeeze?
More Fabulous Art Ideas for Kids
I hope the Arty Crafty Kids love the process and create some spectacular prints.
Yarn Art for Kids

"The Yarn adds texture and its application is a super fun, little bit messy and a rather unpredictable process that my kids adored…" – Yarn Art for Kids
Bubble Wrap Printing for Kids
"Bubble Wrap Printing is a fun and easy art process for kids, with endless possibilities.
Kids can play with colours and patterns to create frame worthy works of art or transform them into snakes, lizards, fish, collages or mosaics. They could be recycled as wrapping paper or used to decorate a plain notebook" – Bubble Wrap Printing
Art for Kids Inspired By Famous Artists:
Picasso Faces – Made Easy for Kids
" This art project has been designed to make drawing cubist Picasso faces easy for kids, with printable drawing guides and templates to encourage all children of any age or ability to have a go at creating their own Picasso styled portrait" – Picasso Faces
Monet Water Lilies
" Our Claude Monet Water Lilies Art Project for Kids is open to breaking the rules. Using a piece of card and spoon for colour mixing, children can recreate their own impressionist water lily painting" – Monet Water Lilies
Kandinsky Hearts
"Our Kandinsky Inspired Heart Art is all about exploring colour-mixing, playing with light and shade, and the heart feature introduces a seasonal Valentine's Day twist.
he completed piece looks amazing framed and will brighten up any wall" – Kandinsky Hearts
Happy Crafting!

Arty Crafty Kids Club
Creative and playful Art & Craft Templates
How to Draw Guides, drawing prompts and pre-writing line work
Colouring pages & Seasonal activity booklets
Perfect for Educators and Parents, with new content added weekly!
Join the Arty Crafty Kids Club and gain access to our exclusive collection of art and craft templates and learning resources. Designed with parents, teachers and creative kids in mind, you will never run out of activities for the kids!