Oh my goodness, I adore how this Oil Pastel Resist Spider Web turned out!
I love the blast of colour that stems from the centre of the web. It puts me in the mind of a glistening web covered in dew.
Much to my surprise, oil pastels work really well as a resist, usually oil and water do not mix! In this instance you achieve an amazing contrast against the watercolour wash that emphasises the bold outline of the oil pastel web.
And do you want to hear the best bit?
Kids love the process!
The reveal of the oil pastel design is so exciting and beyond the web, my girls played "guess the picture" for hours, creating castles, flowers and an ambundance of toddler creations that, well in all honesty needed a little imagination to decipher…
All in all, for such a simple concept, it worked brilliantly.
Before stumbling across Nurturestore's oil and watercolour journaling page on Instagram, I wouldn't have put these two mediums together.
To see how Nurture Store's use this technique check out their online art spark course and gorgeous Paper Ramadan Lanterns.
I'm so pleased I did and I hope you feel equally as inspired to try oil pastel resist with your own kids!
MATERIALS : Oil Pastel Resist Spider Web
This post contains affiliate links – see disclosure for more info
White Oil Pastel (US Link / UK Link)
Watercolour Paper (US Link / UK Link)
Watercolour Paints (US Link / UK Link)
Let's Make It!
Using a white oil pastel, draw your design onto the watercolour paper.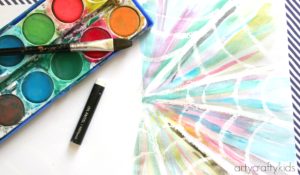 Next it's play time!
With plenty of water to hand, begin sweeping the watercolour paints across the oil pastel design.
Experiment with different strokes and ratios of water to paint for light/dark shades.
Try swirls, scribbles, lines or even fill in each web segment with solid individual colours.
Remember, there's no right or wrong, it's all about the play!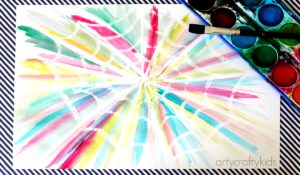 Leave the masterpiece to dry and try a different design.
Try writing your child's name or play "guess the picture" by drawing various images for your child to reveal with watercolour paint.
However our oil pastel resist spider web inspires you and I hope your children LOVE the process as much as my own!
SIGNUP to the Arty Crafty Kids newletter for weekly updates!