Flower Painting Hair Design – Nature Craft for Kids: Kids will love using their imaginations and the process of painting with flowers to create crazy and colourful hair styles.
This tactile nature craft (with three Nature Hair Design printable templates) is perfect for toddlers, preschoolers and children in primary school.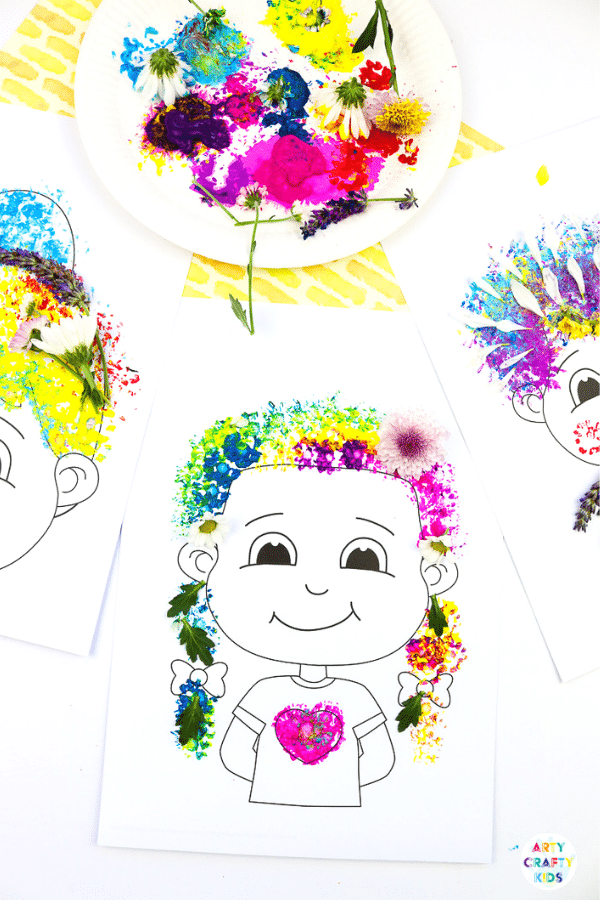 While this Flower Painting Hair Design – Nature Craft for Kids tutorial focuses on hair and flower printing, children can expand and adapt the concept by filling the template entirely with natural materials.
This will involve utilising and re-imagining petals, sticks and leaves to create new facial features.
The twist on the craft would be a great way to involve older siblings and children.
Flower Painting Hair Design – Nature Craft for Kids: Materials
White Card Stock
Flowers / Leaves / Sticks etc
Paint
Download the Nature Hair Design Templates:
Arty Crafty Kids members can access the Nature Hair Design templates here: https://www.artycraftykids.com/product/nature-hair-design/
Not a member? JOIN HERE for instant access to the templates and our full library of art and craft resources, how to draw guides, colouring and activity pages.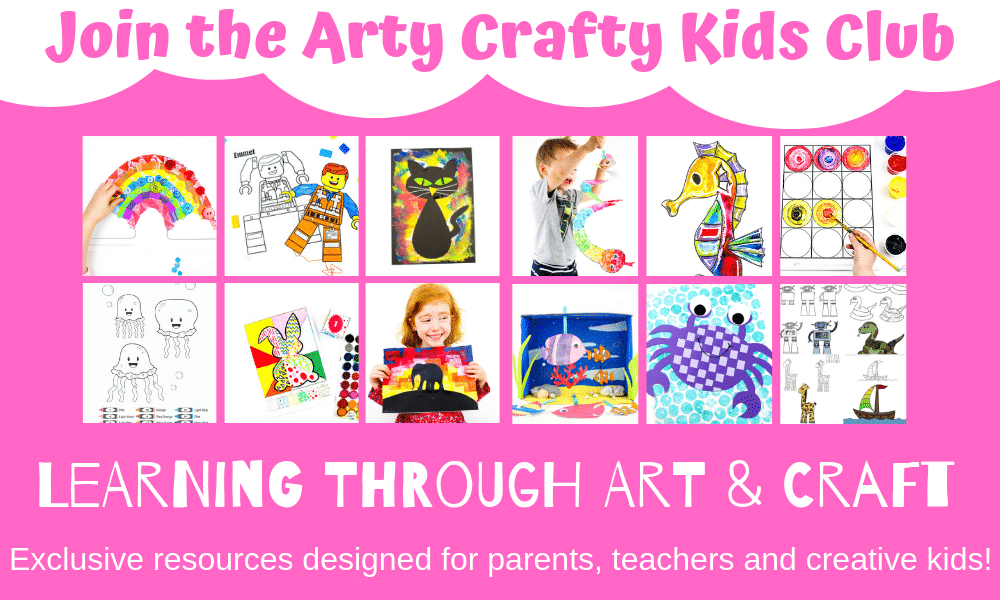 Gathering Natural Materials
On your next walk or gardening session, provide your Arty Crafty Kids with a bucket and ask them to fill it with natural materials.
These could be sticks, fallen leaves or perhaps flowers nearing the end of their bloom and are ready for deheading.
Flower Painting Hair Design – Nature Craft for Kids: Tutorial
Printing the Nature Hair Design Templates:
Download and print the Nature Hair Design Templates from the Arty Crafty Kids members area.
Before hitting PRINT, select FIT TO PAGE.
The templates can be downloaded on to good quality paper or card stock.
If you opt for card stock, remember to check your printer settings for a recommended card weight. Most printers prefer card stock less than 220gsm.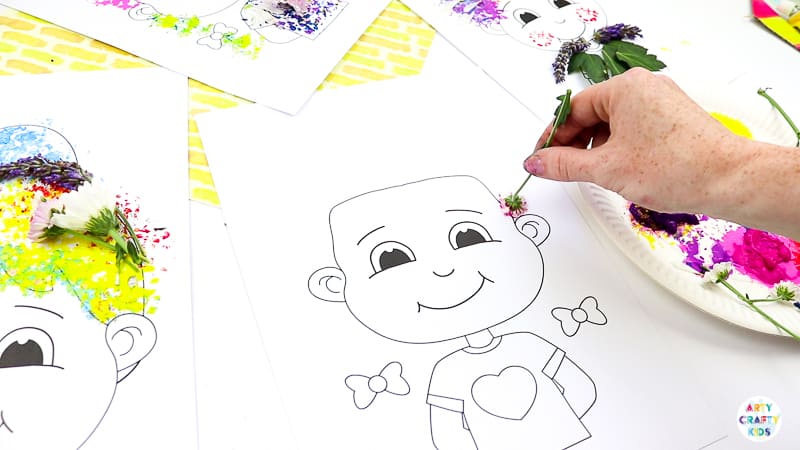 Flower Painting
Apply the flower with paint by simply dipping it directly into paint or by covering the petals with a stroke of a paintbrush.
The dipping method is easier (and probably more fun) for toddlers and preschoolers, however the flowers could be easily overloaded with paint and may leave big splodges rather than prints. In this instance, encourage the Arty Crafty Kids to do the first flower print onto a piece of scrap paper.
Creating Flower Prints
With a loaded flower or leaf, firmly press it down onto the template and swiftly remove to avoid any sticky petals.
Print along the hair line.
Filling the Nature Hair Design Template
Continue filling the template with gorgeous colourful prints, switching materials throughout the process.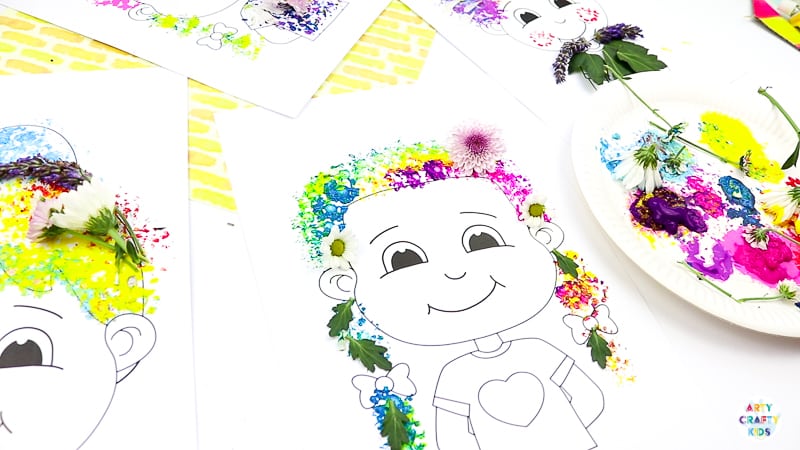 Adding Natural Elements
Once the painting is complete, add some left over natural elements to the design!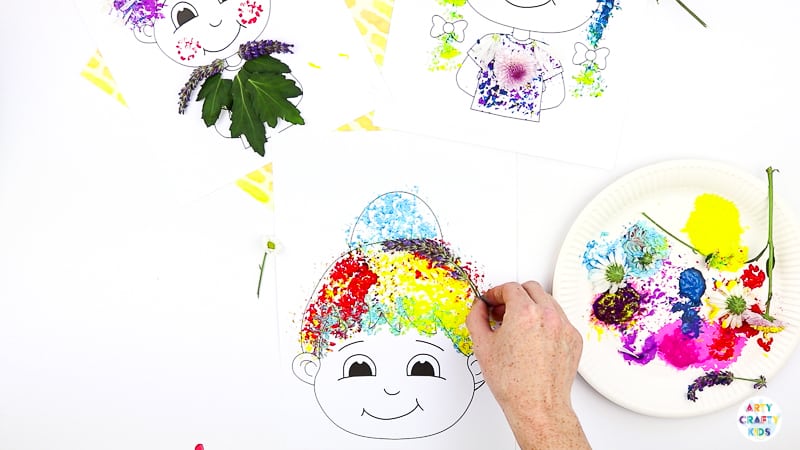 Child with a Bun
This template gives children some added direction. The bun can be filled with a combination of prints and natural elements – perhaps entirely with natural elements!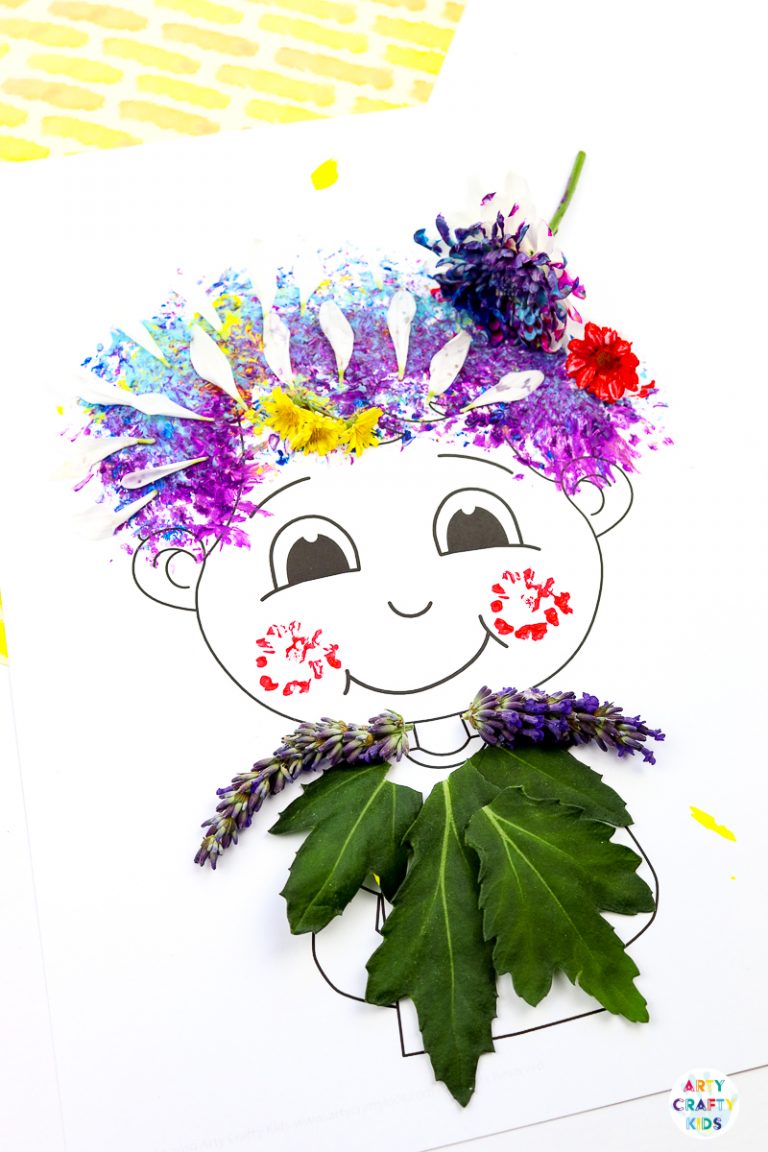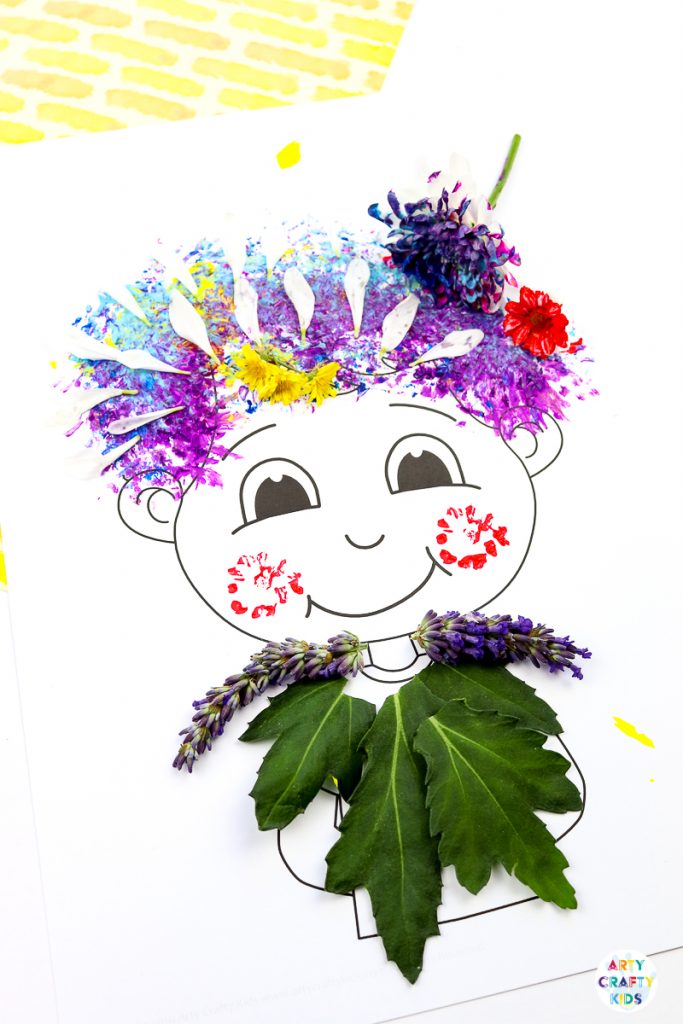 Child without Hair
In contrast to 'Child with Bun' this template is entirely open-ended!
Children can print high, low, with prints and natural materials.
It could even be turned into a self portrait.
I hope your children enjoy the process of Flower Painting Hair Design – Nature Craft for Kids and if you have any left over natural materials, here are few more ideas to try…
More Nature Crafts for Kids:
50 + Nature Crafts for Kids
" Within this collection of 50+ nature crafts for kids, you will find a huge variety of creative, colourful, fun and easy nature crafts all condensed into one handy post! " – 50 + Nature Crafts for Kids
Autumn Leaf Painting for Kids
"This gorgeous Autumn Leaf Painting project is an exploration of basic colour-mixing principles, with the aim to recreate the Autumn hues and shades as observed by Arty Crafty Kids" – Autumn Leaf Painting for Kids
Autumn Leaf Pop Art
"The Pop Art movement began in the 1950s and refers to a simple style that is characterised by brightly painted commercial images, such as Andy Warhol's soup cans and the Shot Marilyns. It's a fun colourful art form that's perfect for children to explore!
Our Autumn Leaf Pop Art project simplifies the style, encourages colour play and aims to create art that literally "POPS" from the page" – Autumn Leaf Pop Art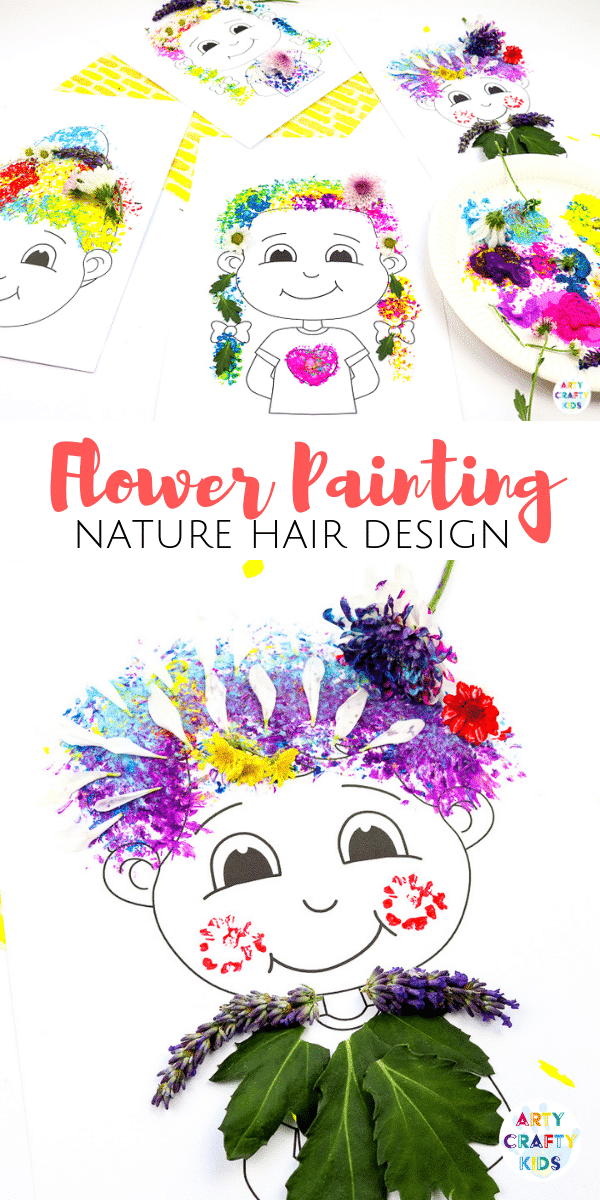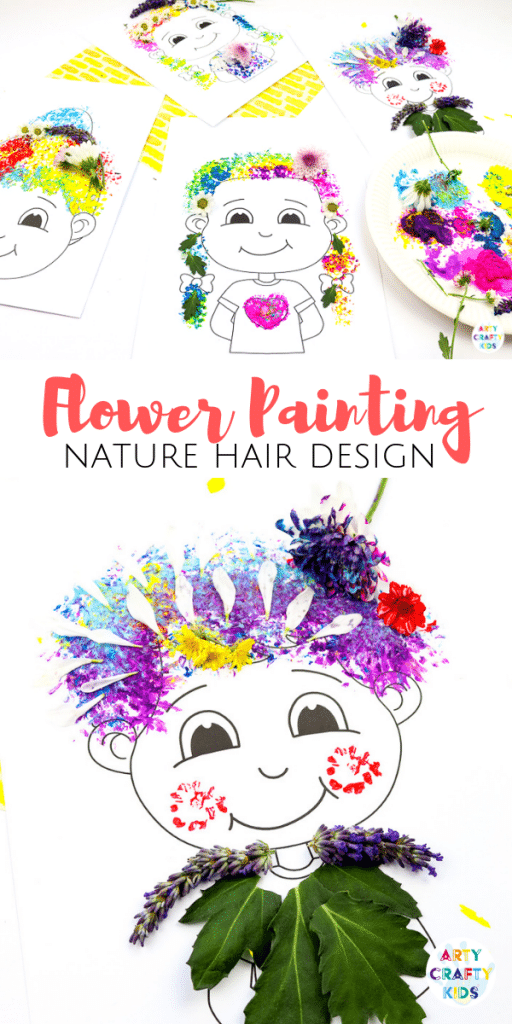 Arty Crafty Kids Club
Creative and playful Art & Craft Templates
How to Draw Guides, drawing prompts and pre-writing Line work
Colouring pages & Seasonal activity booklets
Perfect for Educators and Parents, with new content added weekly!
Join the Arty Crafty Kids Club and gain access to our exclusive collection of art and craft templates and learning resources. Designed with parents, teachers and creative kids in mind, you will never run out of activities for the kids!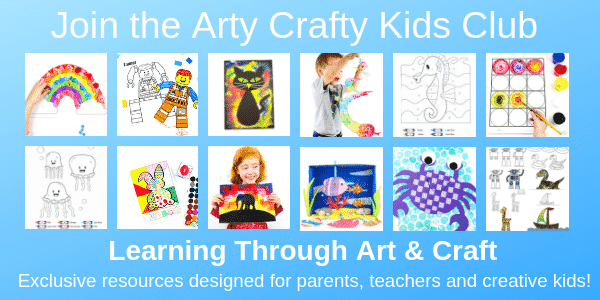 Latest Posts: