Why are sticks and stones so irresistible to kids? Beach, woods, park or a simple walk to shops – it doesn't matter where my children go, they will ALWAYS return home with a pocket or two full of nature treasure.
I can imagine your kids do this too?
What do you do with all this FREE crafting material?
Paint it? Play with it? Create weird and wonderful things?
Within this collection of 50+ nature crafts for kids, you will find a huge variety of creative, colourful, fun and easy nature crafts all condensed into one handy post!
And the key word here is VARIETY.
I want you to be inspired and for some easy reading, I have grouped the crafts into material categories.
Let's start exploring!
Nature Crafts for Kids
Follow each image clockwise starting from the top left
Sticks
We're kick-starting 50+ Nature Crafts for Kids with this wonderfully creative yarn wrapped stick mobile for photos – by Hello Wonderful
Chalk painting is a fun alternative to regular paint – by Meri Cheri
I adore these Nature Paint Brushes – by Messy Little Monster
This is owl stick craft is a unique way to get creative with sticks – by I Heart Crafty Things
Give your sticks some personality and create an entire community of stick people – by Danya Banya
Yarn wrapped sticks is a brilliant process for developing fine motor skills and they look rather pretty too! – by Babble Dabble Do
Our magical sticks wands will transform the kiddies into little wizards – by Arty Crafty Kids
These beautiful twiggy stars would be perfect ornaments for Christmas – by Happy Hooligans
More Nature Stick Ideas for Kids
Beach Drift Wood and Broken Shell Rattles | Red Ted Art
Stick Dragonfly |A Little Pinch of Perfect
Painted Twig Art | Twitchetts
Wood
Create beautiful nature portraits – by Adventure-in-a-box
I love the simplicity of this adorable bark owl – by Fireflies and Mudpies
Why not try painting directly onto bark? – by Tinkerlab
You will never loose your keys again with these painted wooden key chains – by Easy Peasy and Fun
Stones
I love this pendant pebble craft. They could be beautiful gifts or just a sweet way for the kids to transform their treasure into a special keepsake – by Red Ted Art
I adore the process of this wire wrapped stones and they look so pretty! – by Fun at Home with Kids
Add a little science to create these gorgeous crystal stones – Happy Hooligans
I have so much love for this pebble snake. Bag it and take it out to keep the kiddos entertained – by I Heart Crafty Things
Story stones are a wonderful way to enhance imagination and creativity – by Crafts on Sea
Time for some character fun with the mischievous minion stones! – by Mum in a Madhouse
Nature Inspired Pebble Clock: A creative way for kids to learn to tell the time – by Preschool Inspirations
These weather stones are a clever way to introduce 'weather language' and concepts to kids – by The Craft Train
More Stone Nature Craft Ideas
Stack a Stone Rainbow | Adventures of Adam
Ladybug Painted Rocks | Crafts by Amanda
Flowers
Beautiful pressed flower bookmarks – Buggy & Buddy
Oh the fun to be had with this sensory play flower ice idea – Crafts on Sea
Learn and play with symmetry – flower mandala's – Nurture Store
This flower crown is divine and surprisingly easy to make – Willow Day
More Flower Nature Craft Ideas
Nature Art Collage and Colour Hunt | No Time for Flashcards
Flower Print and Scrape Painting | Playful Learning
Dried Flower Bird Craft | Zing Zing Tree
Shells
Add some sparkle and science to your shells to make crystal shells – by Little Bins for Little Hands
Beautiful seashell ornaments – Fun Crafts Kids
Lovely wire wrapped shell pendants – Pink Stripey Socks
This mermaids necklace certainly has the 'wow' factor – by Mama Papa Bubba
More Shell Nature Crafts
Seashell Ladybug Craft| Still Playing School
Seashell Mermaid's Cups| Zing Zing Tree
Shell People | Let's Do Something Crafty
Leaves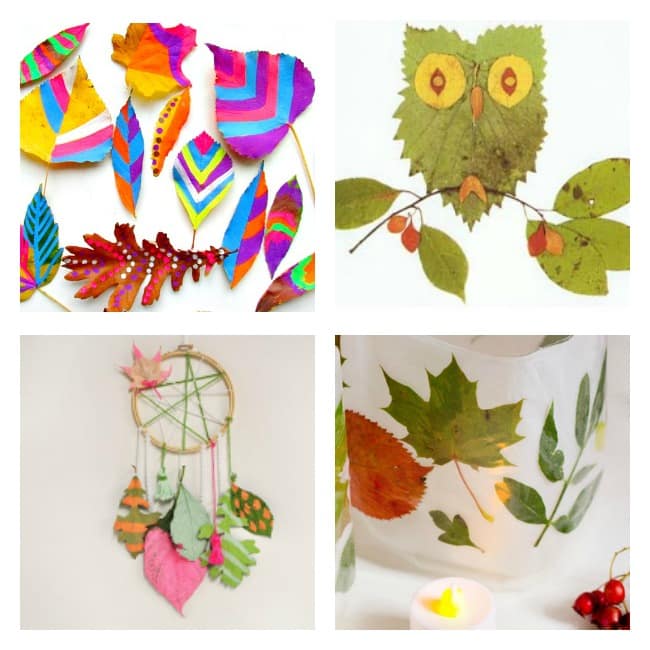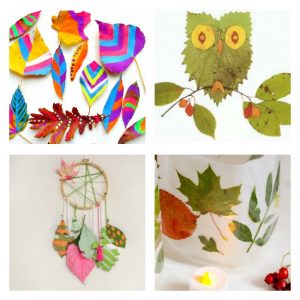 Chalk marker pens are one of my favourite craft supplies and they work superbly on leaves – Leaf Chalk Art – Arty Crafty Kids
This leaf owl is so cute! – by Jarlakans
Beautiful leaf dream-catcher and a great introductory threading exercise for kids – by Land of Nod
You'll be amazed to learn that NO glue is required to make this leaf luminary– by Kids Craft Room
These simple leaf impressions are fun to make and paint – by Paging Fun Mums
Mandala and colour play – by Nurture Store
With a little paint and some imagination, leaves can be turned into leaf critters – Terry Hazel
Explore negative space with our very own Autumn Leaf Painting – Arty Crafty Kids
Pine Cones
Ok, so there's an awful lot of cuteness happening right here!
Pine Cone Hedgehogs – by The Mum in the Madhouse
Assemblage Bush Critters – by The Craft Train
Creepy Crawly Pine Cone Spider – by Fireflies and Mudpies
Pine Cone Rainbow Fairies – by Twig and Toadstool
Nature Inspired Activities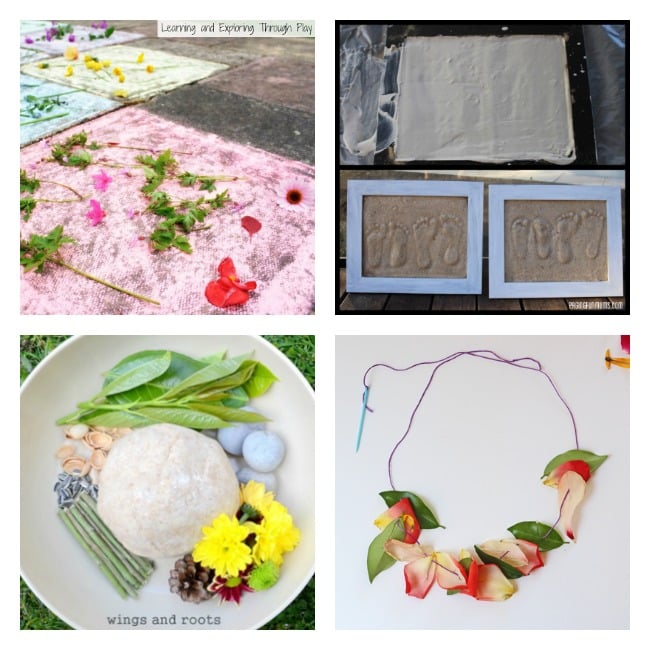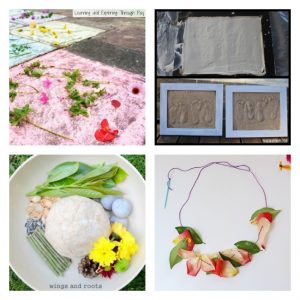 Love the simplicity of this colour matching idea – Learning and Exploring through Play
A beautiful sand footprint keepsake – Paging Fun Mums
An inviting nature playdough experience – Wings and Roots
Nature Threading – Munchkins and Moms
And that concludes the 50+ Nature Craft for Kids round-up!
I hope you've enjoyed this post as much as I have writing it, as well as discovering some awesome new blogs to follow.
Before you go, make sure you pin one or both of the images below for safe keeping!
Follow Arty Crafty Kids on Facebook, Pinterest and Instagram
This post contains affiliate links. Please see our disclosure policy for more information.