This gorgeous Autumn Leaf Painting project is an exploration of basic colour-mixing principles, with the aim to recreate the Autumn hues and shades as observed by Arty Crafty Kids.
Throughout the process, encourage your Arty Crafty Kids to mix their own colours and describe what happens when the colours mix.
Ask questions:
How much Red and Yellow do you need to make Orange?
How do you make different tones of Orange (Yellow, Red, Green)?
How do you make Brown?
Can you make the same colour twice?
Kids will naturally adopt a process of trial and error to create their desired colours, and this simple process has many positive learning outcomes:
Mathematical Thinking

  – Arty Crafty Kids will be mentally measuring and testing paint ratios to create new colours

Problem Solving

– The process of working out 'HOW' to create a new colour and replicate the shades of the leaves they've collected is problem-solving in action.

Language

– Simply talking about their processes and finding appropriate words to describe their new colours helps develop vocabulary.
And all of these outcomes combined stimulate and enhance children's imaginations and creativity!
Autumn Leaf Painting: Materials 
This post contains affiliate links to products used within this post.
Stock Card / Mixed Media Paper
Paint – Primary Colours
Sponge
A Gorgeous Collection of Leaves
Autumn Leaf Painting: Tutorial and Video 
[mv_video aspectRatio="16:9″ key="ln8hxtykhuqxrhnykdry"]
Step 1. Head outside and gather as many leaves as possible.
Variety is key here, so have a good rummage and find different shapes, sizes and colours!
Once your Arty Crafty Kids have a bag or two filled with leaves, start painting!
Using three separate plates, place one of the primary colours on each (Red, Yellow & Blue).  This will allow plenty of room for colour-mixing and painting!
For reference, take a look at our basic colour-mixing chart: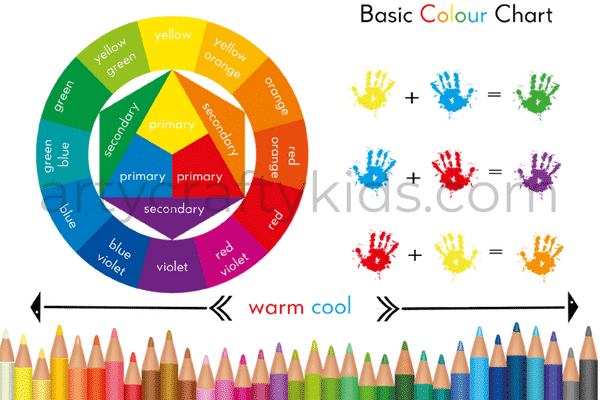 And begin mixing colours.
Sponge painting around the leaves may take a little practice, especially for smaller hands, but there's no rush and the process is all about playing and exploring.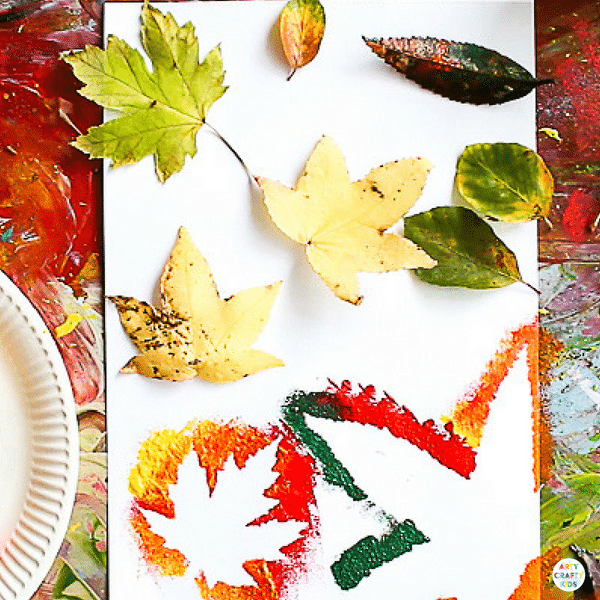 Step 2. Moving on from the play to create a complete piece of leaf art is very easy to do.
Position a number of leaves of different sizes and shapes on top of the canvas.
One by one, begin sponge painting around each leaf, adding different colours and tones as you work around the leaf.
Once complete, gently peel the leaf away to reveal the silhouette.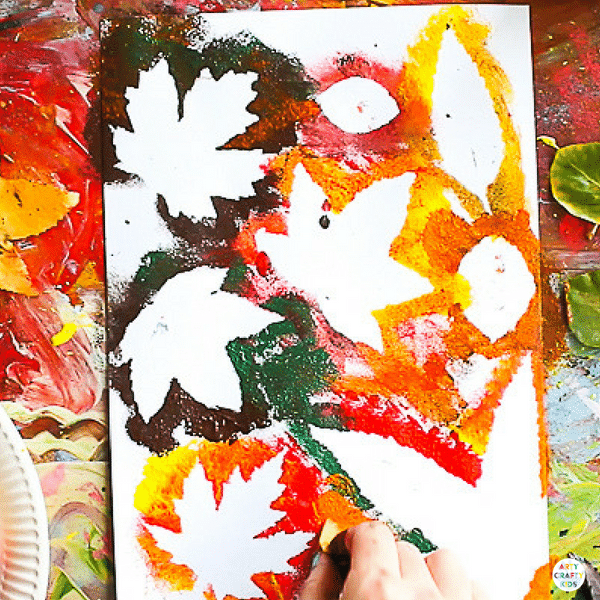 Step 3. Repeat the above process until the canvas is full of leafy silhouettes.
Once complete, begin filling in the remaining negative space with more Autumn colours, layering the paint to create additional depth and texture.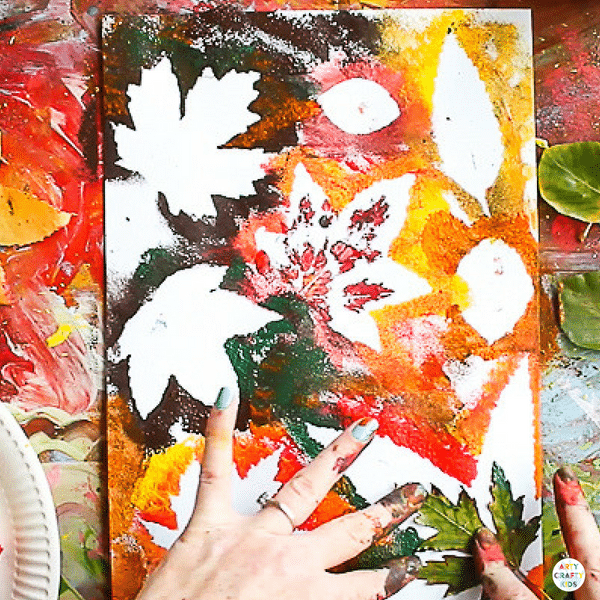 Step 4.  Next, add a leaf print within some of the silhouettes.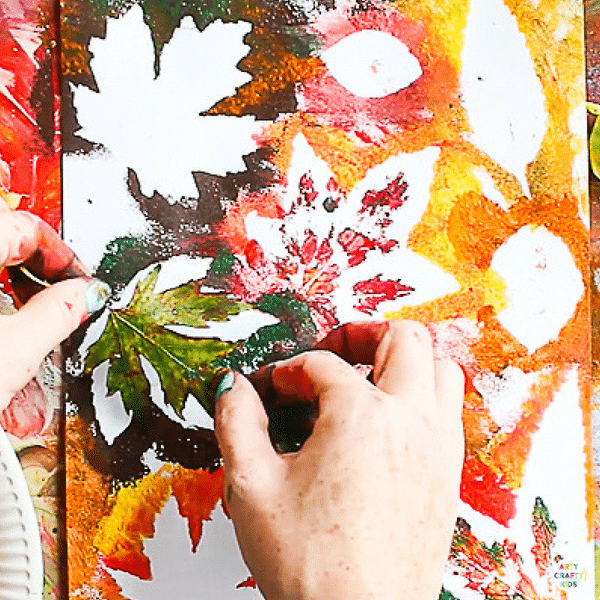 This is a really fun way to play with negative and positive space. In art terms, negative space is the surrounding area of a point of interest. In this instance, our leaves.
The notion of positive and negative space is naturally explored in this project and one your Arty Crafty Kids will consider without knowing the official terminology or theory – they'll be too busy doing!
The Autumn Leaf Painting is now Complete
For more Autumn inspired Art's and Crafts, take a look at our Autumn Handprint Tree, Accordion Leaf Autumn Tree and Bubble Wrap Autumn Tree.
The Arty Crafty Box
Did you know that Arty Crafty Kids now has a monthly Art and Craft subscription box, where every box is a creative adventure for kids?
Take a peek inside our boxes and when you order, get 50% off the first box by using 50FIRSTBOX at checkout!
[wcps id="22818″]
The Arty Crafty Box is packed with creative, playful and engaging art and craft projects for kids, complete with all the necessary materials and easy to follow instructions.
In addition to this, every box includes an Artspiration booklet that's filled with how-to-draw tutorials and drawing prompts to enhance your Arty Crafty Kids creativity and FREE access to our online members' area that contains exclusive art and craft templates, colouring pages and more!