Learn how to make this easy paper bat craft this Halloween!
These adorable paper toy puppets are super easy to make! Even young children from preschool age will be able to colour in and assemble for themselves – making this a great Halloween craft for at home or school.
The playful batty characters will also add a touch of fun to story time, with the movable flapping paper wings delighting young children and encouraging imaginative play.
The paper toy can also be adapted to suit older children, who may enjoy the challenge of assembling their puppet differently. Following the technique we used in our Halloween Puppets, the wings can be strung together and then moved with a pull of the piece of string.
How to Make A Bat Paper Toy:
What you need:
White Card Stock
Craft Stick ( Popsicle Stick)
Glue Stick
Scissors
Colouring Pens/Pencils or Crayons
The Bat Template!
Downloading the Bat Template:
The Bat Template is available to members of the Arty Crafty Kids club. The template can be accessed via the link below: https://www.artycraftykids.com/product/flying-bat-puppet/
Not A Member?
Printing Instructions:
Download and print the template from the Arty Crafty Kids members area.
The templates can be downloaded onto good quality paper or card stock.
If you opt for card stock, remember to check your printer settings for a recommended weight. Most printers prefer card stock less than 220gsm.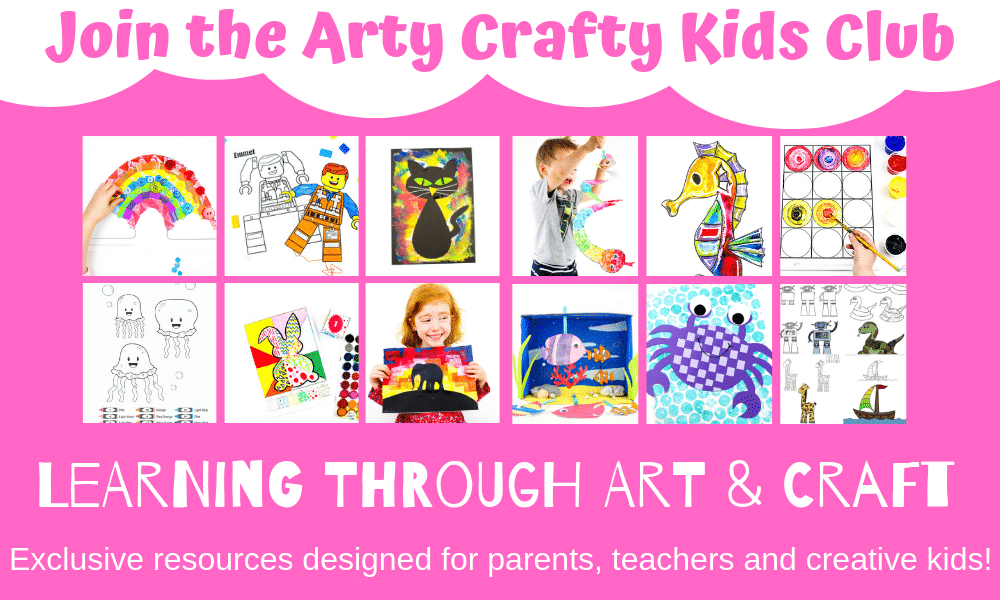 Let's Make: Easy Paper Bat Craft
Colour in the Bat Template
Step 1: Using the Arty Crafty Kids favourite medium, colour in the template!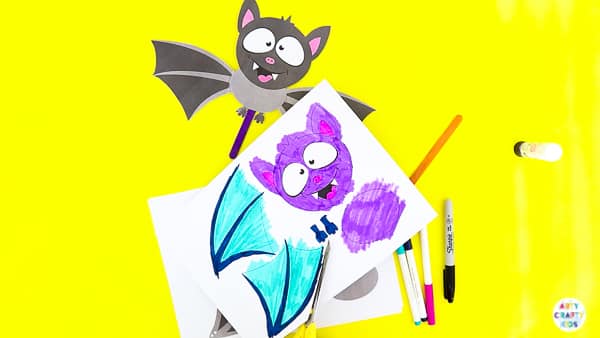 Cut out the Bat Elements
Step 2: Carefully, cut out the elements.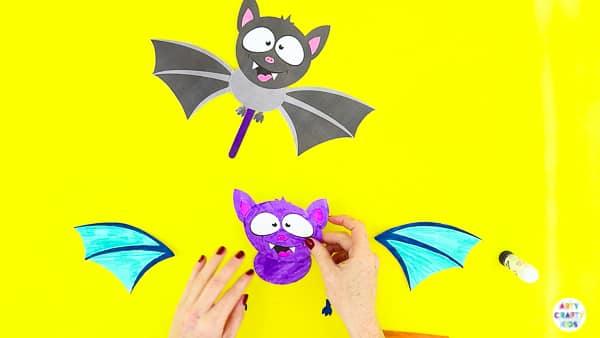 Assemble the Bat Paper Toy
Step 3: Glue the head to the bats body.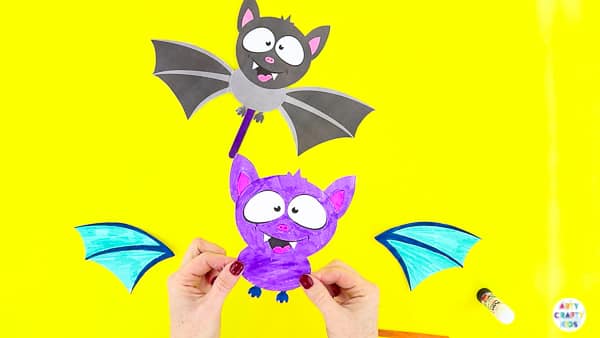 Step 4: And attach the cute dinky feet.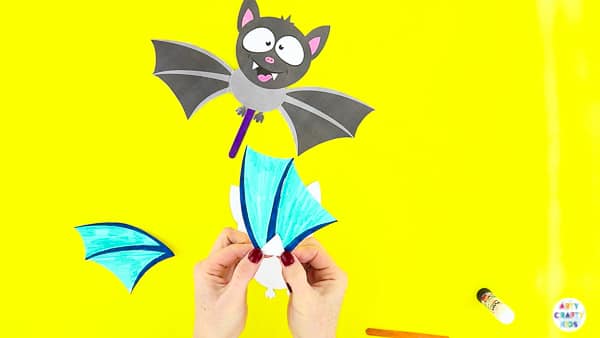 Fold the Bat Wings
Step 5: Fold the corner of the wing towards its coloured side.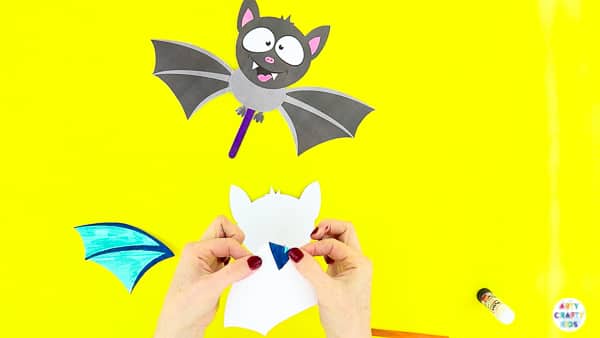 Step 6: And then fold the corner the other way!
This fold will allow the wings to freely flap with movement.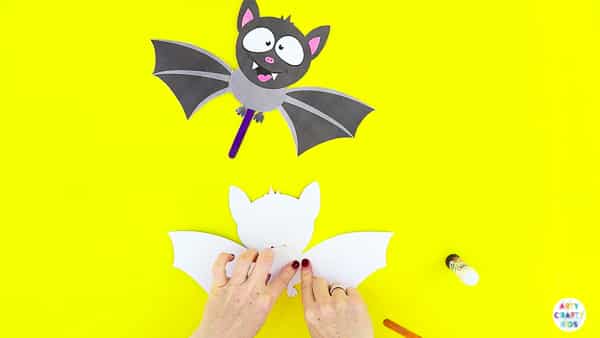 Attach the Wings
Step 7: Attach the bats wings to the body.
Complete the Easy Paper Bat Craft
Step 8: Complete the paper toy by gluing a craft stick (also called a popsicle stick) to the centre of the bats body.
A basic glue stick should secure the craft stick to the bat, however you may want to use a hot glue gun in the event your children get carried away flapping their bats!
Now it's time to play!
Wave the craft stick up and down to flap the bats wings!
Look out for our super fun HALLOWEEN Activity Book when you sign up to the Arty Crafty Kids members area!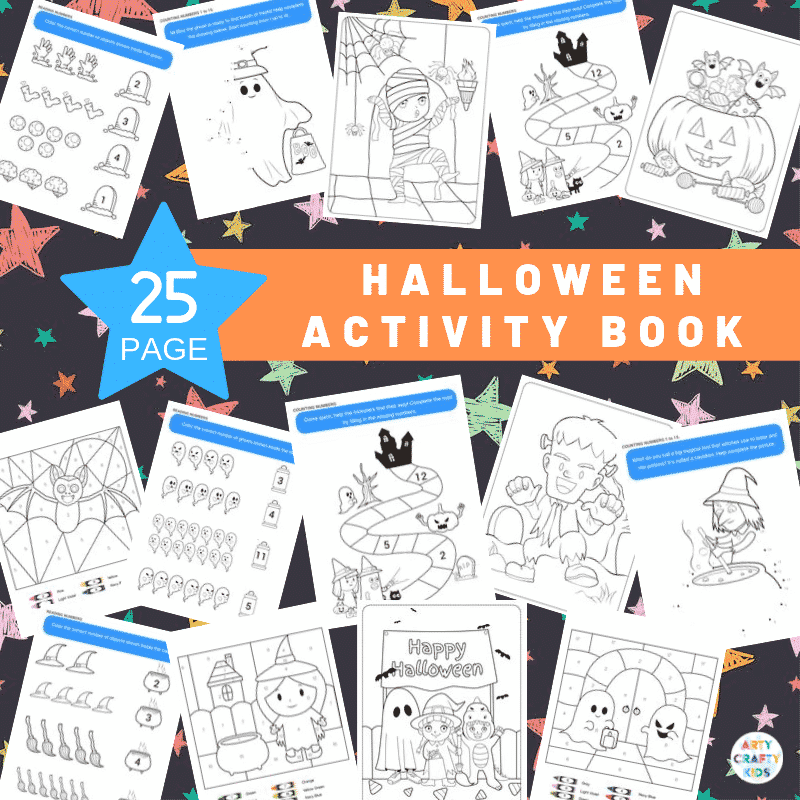 Happy Crafting!