These quirky Halloween Printable Puppets have been designed with play in mind; ditching the spooky in favour of imaginative and fun.
With a choice of three characters (Frankenstein, Zombie & Mummy), Arty Crafty Kids can use their creative flair to personalise their puppets in colours of their choosing.
Once assembled, these puppets can kick, groove and wave their arms, bringing joy to Arty Crafty Kids as they play with their engaging paper toys.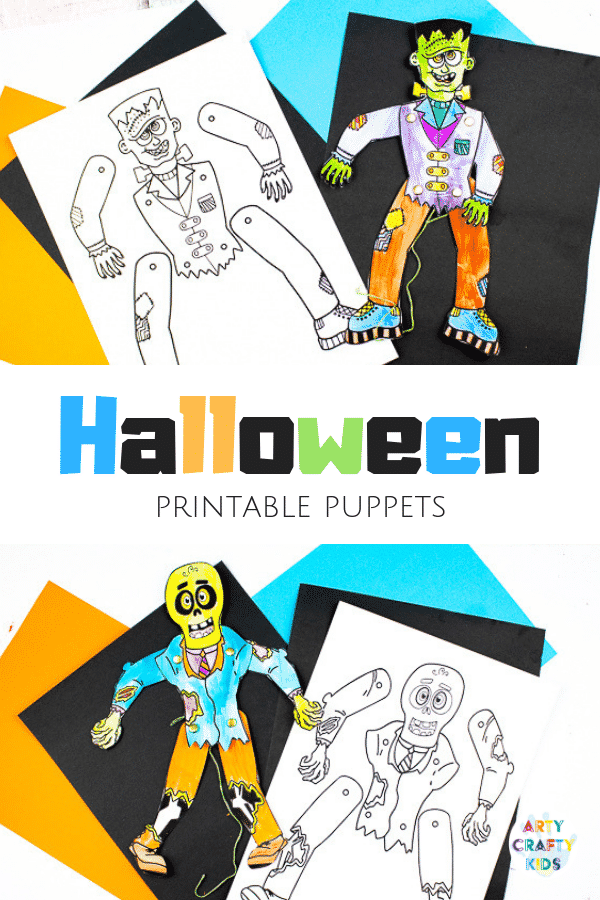 Halloween Printable Puppets: Materials
White Cardstock
Colouring Pencils/ Felt Tips or Paint
Split Pins (Brads/Paper Fasteners)
Hole Punch (not essential)
Needle & Thread (or Twine)
Halloween Printable Puppets:
We have a set of three printable puppets available for download to our members, with a FREEBIE Mummy Puppet!
Head over to the Arty Crafty Kids club to download the set!
Not a member? [fruitful_btn link="https://www.artycraftykids.com/arty-crafty-kids-club/" size="large"]JOIN HERE[/fruitful_btn] to access our complete library of art & craft templates, colouring pages, how-to-draw guides and activity booklets.
Halloween Printable Puppets: Tutorial
Step 1: Download and print the spooky templates on to white cardstock.
Colour in the puppet using a medium of your Arty Crafty Kids choice. In the example above, we've used a combination of Watercolour paint and felt tip pens.
Once your Arty Crafty Kids chosen character is complete and colourful, carefully cut the elements.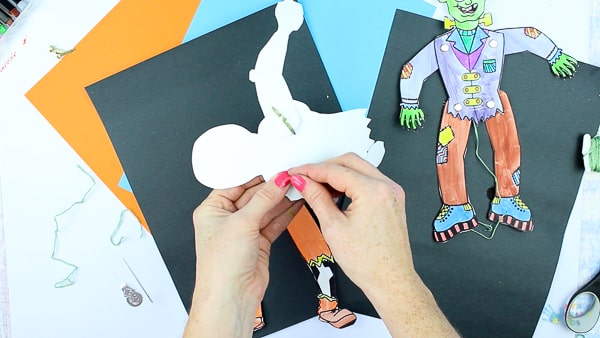 Step 2: Locate the circles on the body, arms and legs, and create holes with a hole puncher.
Place the arms behind the body. Line up the holes and secure with a split pin.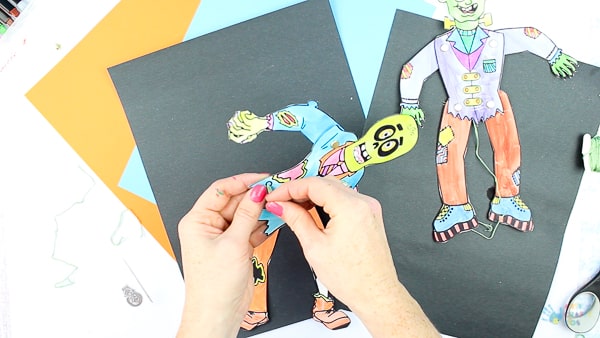 Step 3: Secure all the limbs with split pins and ensure they're not secured too tightly or loosely – the arms and legs need to be able to move with ease.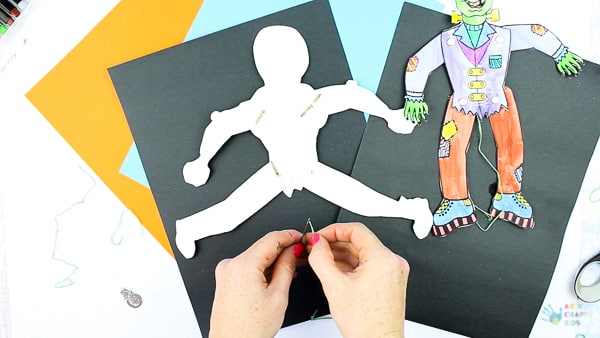 Step 4: Once you're satisfied the arms and legs have a decent level of movement, thread a piece of cotton through the needle and tie a knot at the end.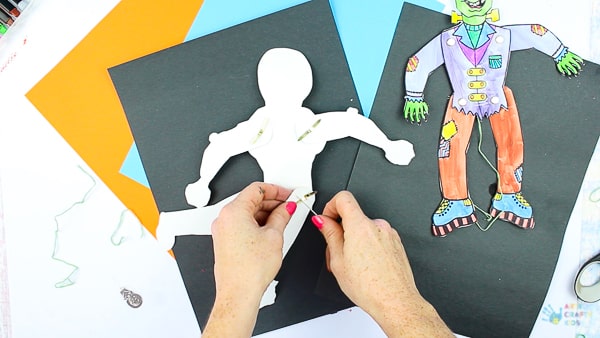 Step 5: Peirce the needle through the top of the leg as shown above and thread the cotton across to the other side.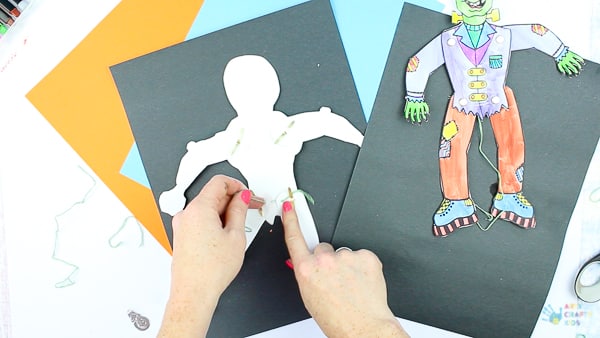 Step 6: Finish off the join with a knot.
The cotton between the legs shouldn't be too tight or too loose. This may take a little trial and error, but you should be aiming for legs that can easily move, with tension still on the thread.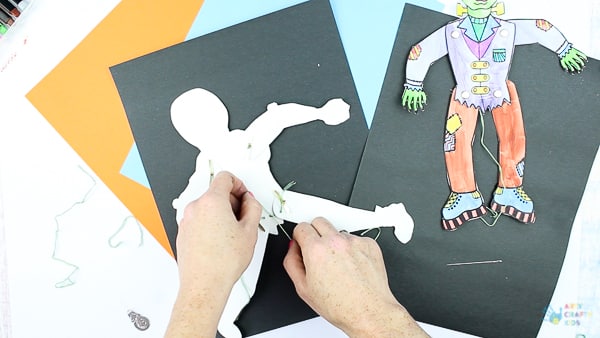 Step 7: Cut off another piece of thread and tie this to the centre of the strand joining the legs together.
Once pulled, the thread should make the legs kick out!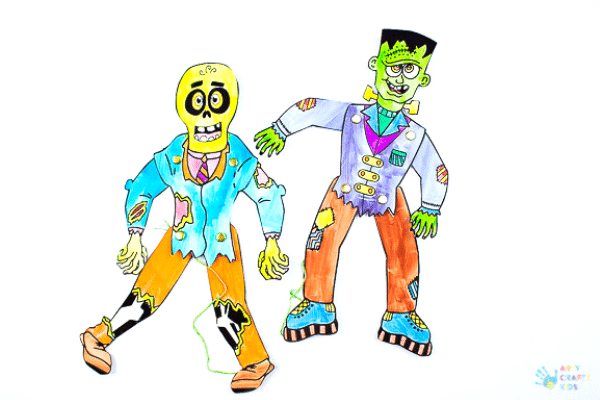 Now, it's time for Arty Crafty Kids to play with their quirky characters!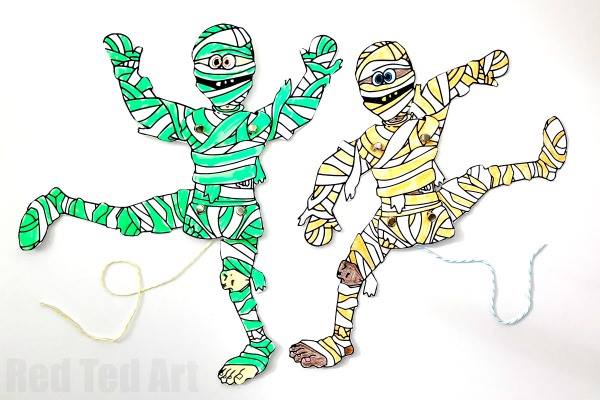 In addition to Mr Frankenstein and Mr Zombie, the lovely Red Ted Art is hosting this playful Mummy character, where you can download this character for free! Maggy will also show you how to attach the arms and legs to the string to make all the limbs simultaneously kick out and groove.
[fruitful_sep]
[fruitful_btn link="https://www.artycraftykids.com/arty-crafty-kids-club/" size=

"large

"]JOIN HERE[/fruitful_btn] to download the set of Halloween Printable Puppets and access our complete printable library!

[fruitful_sep]

For more Halloween inspiration, check out:

Pin for Later!