I love, love, LOVE Spring and Spring Crafts for Kids!
The warmer days, bouncy lambs, budding flowers and cherry blossom trees – what's not to love?
It's a time for new life and today I am delighted to be sharing these new 25 fun and easy Spring Crafts for Kids to get you set up with all your Spring themed arty crafty activities for the kids.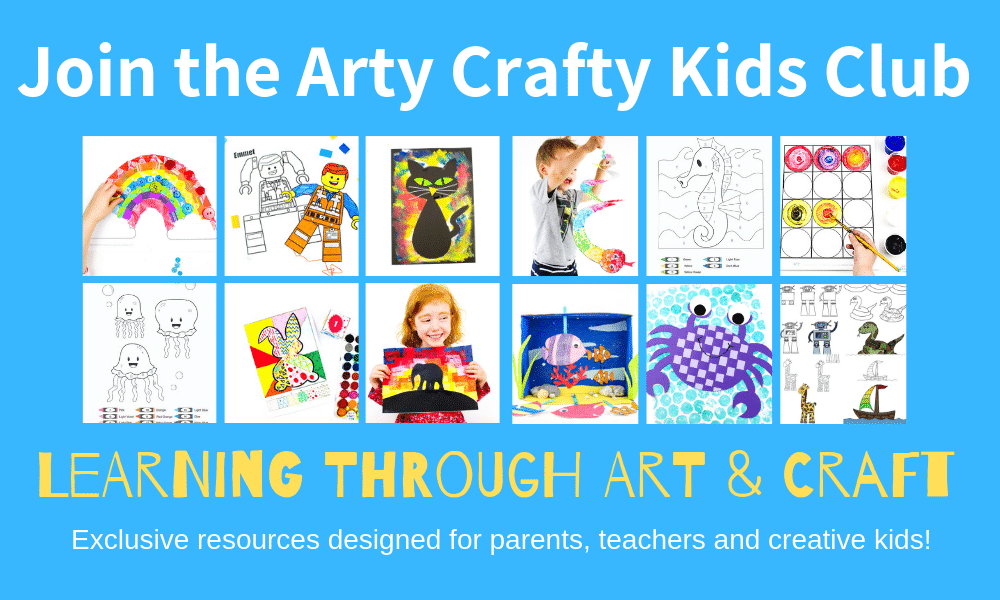 We have vibrant colours, spring flowers, baby lambs and chicks, beautiful bugs, spring shower rainbows, everything associated with the beginning of springtime.
These spring crafts are perfect for toddlers, preschoolers and children of all ages.
Toddlers and preschoolers will enjoy the process of painting and creating and then playing with their crafty creations!
Let's take a look at the spring crafts…
25 Easy Spring Crafts for Kids
Pipe Cleaner Flowers
1. I'm always amazed at the creative ways pipe cleaners can be used, and these pipe cleaner flowers are so so gorgeous!
Pebble Ladybird
2. Simple and sweet pebble ladybird. A great little addition to a plant pot or imaginative bug play.
Bottle Top Stamped Hyacinth
3. Hyacinths are one of my favourite flowers and I just fell in love with this simple bottle top stamped hyacinth!
Cherry Tree Blossom
4. Spring wouldn't be spring without the cherry tree blossom.
Paper Plate Rainbow
5. Spring is all about sunshine and showers, which means rainbows are plentiful this time of year; making this simple yet cheerful paper plate rainbow a must for Spring crafting.
3D Flowers
6. These cardboard tube and tissue paper 3d flowers are lovely and surprisingly easy to make!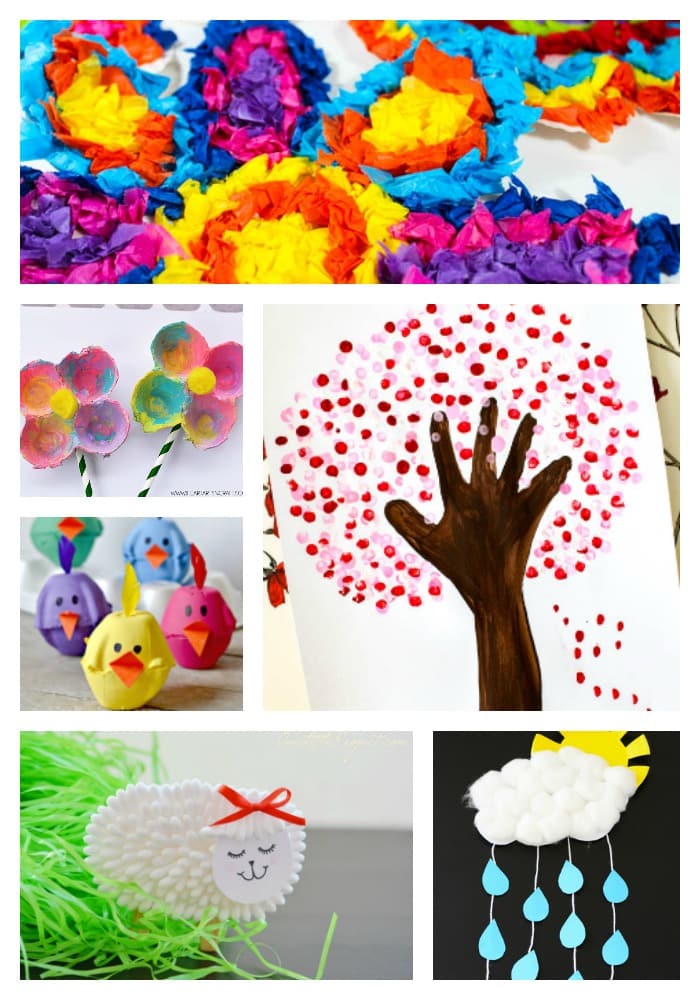 Paper Plate Flower
7. Kids will love the process of tearing, scrunching and sticking to make this stunning paper plate flower!
Egg Carton Flowers
8. Start saving the egg cartons to make these sweet egg carton flowers – a great one for toddlers!
Egg Carton Chicks
9. And once you've made the flowers, why not create these cute little egg carton chicks too!
Cherry Blossom Handprint Tree
10. We love our handprint trees and this cherry blossom handprint tree is a gorgeous addition to our collection of seasonal trees!
Little Lamb
11. This is the sweetest little lamb I've ever seen, can you guess how it's made?
Sunshine & Rain Cloud
12. And come rain or shine, we have a craft for you! check out this adorable sunshine & rain cloud craft.
Doily Butterflies
13. The kids will love the art technique used to make these doily butterflies.
Bunny Craft
14. Transform a cardboard tube to create a sweet bunny.
Lamb Craft
15. Use bubble wrap to make an adorable lamb.
Paper Plate Butterfly
16. You have to love the work of a preschooler and I for one think this paper plate butterfly is just perfect!
Hand and Footprint Bouquet
17. Create a darling hand and footprint bouquet.
Tissue Paper Chicks
18. These little tissue paper chicks are simply adorable!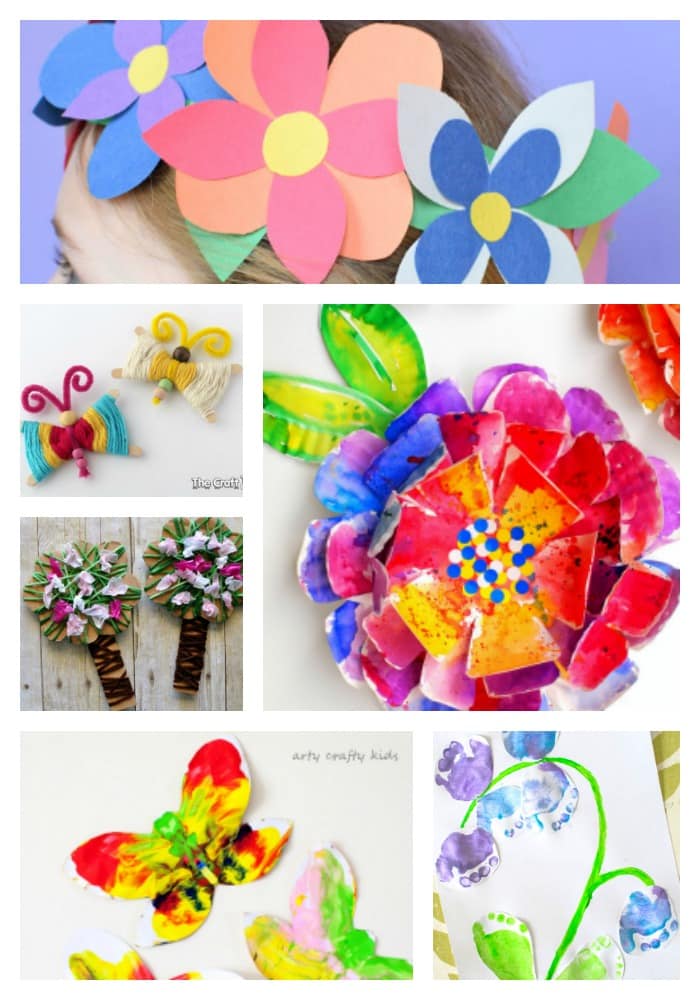 Fingerprint Cherry Blossom Tree
19. Create a cherry blossom tree using fingerprints!
Flower Crown
20. Feel the spirit of spring with an enchanting flower crown – this will be a great craft for inspiring play!
Yarn Wrapped Butterflies
21. These yarn wrapped butterflies are so pretty!
Blossom Tree
22. Yarn wrapping is a great exercise for fine motor skills and this blossom tree is a craft and fine motor workout in one.
Paper Plate Flower
23. Watercolours are one of my all time favourite art materials and this layered paper plate flower totally sells them.
Butterflies Craft
24. Use a classic art technique to make butterflies with your toddler and preschooler.
Bluebell Flower
25. Use fooprints and tootsies to make a darling bluebell flower.
And that concludes our gorgeous collection of Spring themed crafts for kids!
Do you have a favourite?
For Easter inspiration, take a look at our 9 Fun Easter Crafts for Kids and collection of adorable Bunny Crafts for Kids!
Pin 25 Spring Crafts for Kids for Later!


Extra Spring Arts & Crafts for Kids
Spring Meadow Painting for Kids
This Spring Art Project has been put together using a series of creative processes… all without a paintbrush!!!
This is a great project for creativity, with children encouraged to explore different materials, many of which can be commonly found around the home or classroom… read full post here.
3D Spring Lamb Craft
This adorable 3D Spring Lamb Craft plays on the image of new lambs bouncing around the fields at the beginning of Spring.
Its bouncy, wobbly heads adds a playful element to the craft that will be adored by children… read full post here.
Benefits of Arts & Crafts for Kids
Arts & Crafts Improve Coordination
Children carry out art and craft projects using both hands, normally in a controlled and purposeful manner.
This helps develop their bilateral coordination, improves their fine motor skills, which will have the added benefit of helping them with daily activities like doing up buttons and tying their shoelaces, etc.
Arts & Crafts Develop Fine Motor Skills
Fine motor skills are the small movements, controlling hands and fingers when picking up a small object like a pen, fork or spoon.
Similar to coordination, yet fine motor skills are on a micro-level, and when children carry out arts and crafts they are strengthening muscles and tendons in their little hands, and developing the muscle memory to communicate what they are doing from thought to action.
Arts & Crafts Improve Visual Processing
Cognitive development is very important in a child's early years.
Identifying primary colours and mixing to produce new shades of colour, shape recognition and completing an art and craft project boost children's visual processing capabilities.
Arts & Crafts Encourage Creativity
Arts and crafts are a great way for children to express themselves.
A child's imagination has no limits and arts and crafts enable kids to explore their imagination in a constructive way.
Having fun with arts and crafts encourage children to be innovative and creative with their projects, choosing colours and techniques that suit their style!
Arts & Crafts Improve Problem Solving Skills
When doing arts and crafts kids are presented with options, like which colours to use, how to stick the head of a bobble head bug to the body, which shapes make up the petals of a flower, all of which promote good problem solving skills.
For kids the importance of promoting good problem solving skills in a planned and controlled environment cannot be understated, as good problem solving skills also improves executive functioning, which includes focusing attention, controlling impulses and using working memory.
These skills guide planned behavior, and are very predictive of later professional and academic success.
Arty Crafty Kids Members Area