When it comes to simple preschool crafts, the humble toilet roll often takes centre stage – who doesn't have the odd paper roll to hand? Our Easy Preschool Butterfly Craft is perfect for younger children.
They'll love designing their butterflies. Applying colour, creating patterns, sticking and playing with their creations.
Our Easy Preschool Butterfly Craft is also a great activity combined with a butterfly themed book, such as the classic preschool book: The Very Hungry Caterpillar – acting as an invitation to young children to interpret the books in their own way through their butterfly designs.
Easy Preschool Butterfly Craft: Materials
Paper Toilet Roll
Paper Plate
Paint
Googly Eyes
Pipe Cleaner
Pom-Poms
Embellishments – sequins, felt circles, tissue paper etc
Sticky Tape
Stapler
Glue
To get started, simply cut a plate into four parts and shape to create the appearance of wings.
From here, your arty kids can get creative and paint!
Once dry, pair the wings together and staple.
Add some further decorations (if that's what your kids would like to do). I used this as an opportunity to discuss symmetry and patterns.
Attach the wings to the paper roll with sticky tape.
Create two antennae using the pom-pom and pipe cleaner, and stick to the inside of the paper roll using a little sticky tape.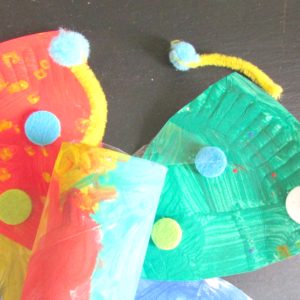 Finish off with a smiley face and googly eyes!
I hope your preschoolers have had fun making their butterflies.
Keep up to date with all our arty crafty activity on Facebook and Pinterest!