With the Unicorn craze in full swing, we're jumping on that sparkly colour filled  bandwagon with a gorgeous round-up of 18 Super Cute Unicorn Crafts for kids.  As always, I subscribe to the 'variety is the spice of life' approach and have chosen an eclectic range of crafts to suit a broad age group. There's even a couple that may tickle your fancy!
So be prepared for lots of bright colours, glitter, sparkle, magic and simply adorable Unicorn craftiness.
Sound good? let's take a look!
18 Super Cute Unicorn Crafts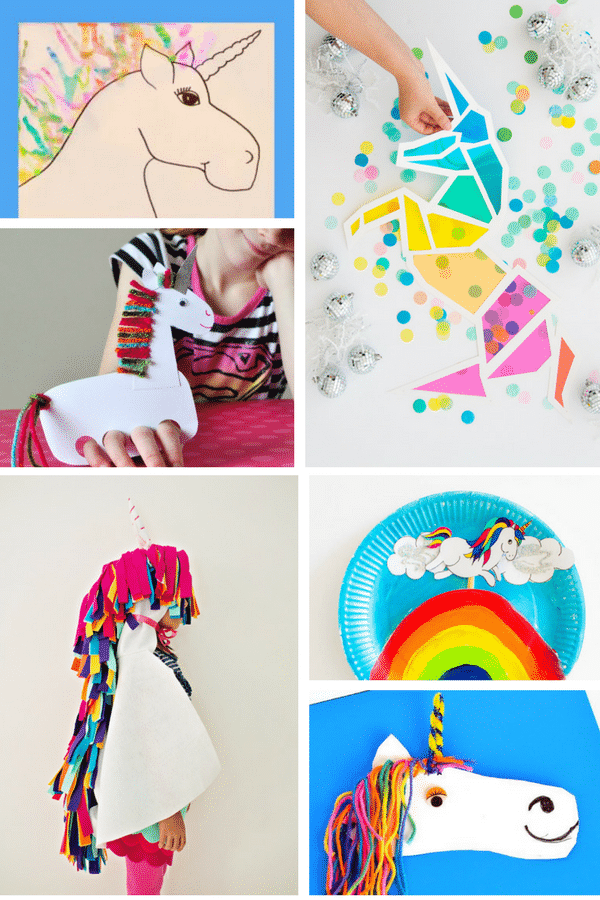 I simply adore how the 'blow paint' technique is used to create the colourful unicorn mane and if you like the Unicorn, then you will be sure to LOVE the other creatures within this 'Blow Painted Creatures' post from The Pinterested Parent.
2. The next on our list is this a very simple, but adorable 'Unicorn Hand Puppet' from I Heart Crafty Things – isn't it cute?
3. This 'DIY Stained Glass Unicorn' from Oh Happy Day ticks all the boxes – beautiful, colourful and easy to make!
4. If your children have a fancy dress party to attend, enjoy dressing up games or if you're thinking ahead to Halloween, then this 'Unicorn Costume' from Hello Wonderful is the one for you. And guess what? it's no-sew!
5. This cute 'Over the Rainbow Unicorn Puppet Craft' is one of ours and comes with a free template! Unicorn's can dance, jump, and slide down the Paper Plate Rainbow.
6. The final craft within this section is a 'Shoe Print Unicorn' from Fun Handprint Art Blog is perfect for small children, especially preschoolers!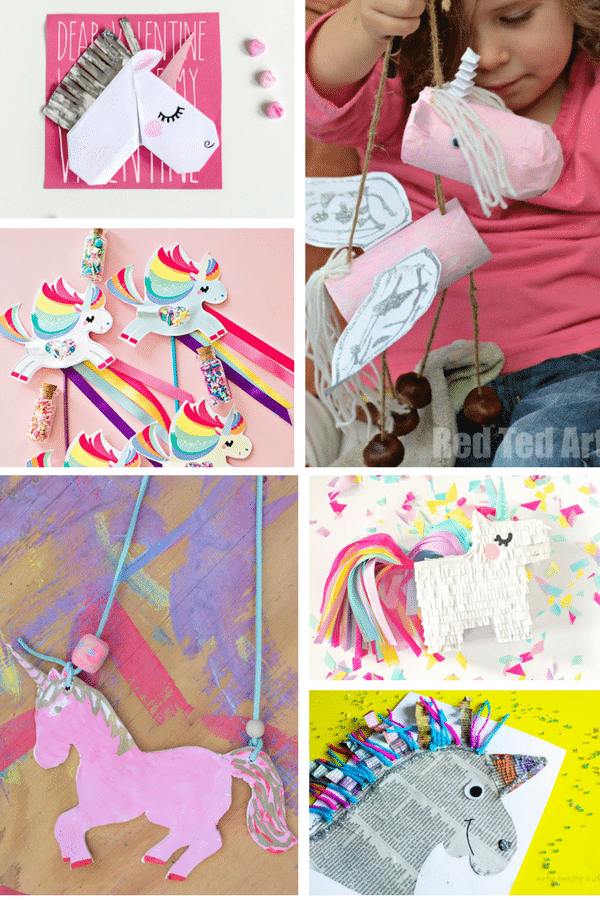 Discover how to make this gorgeous 'Origami Unicorn Bookmark' from the amazing Willow Day.
2. These 'Sprinkle Pooping Unicorns' from Hello Wonderful would be a magical addition to a Unicorn themed party!
3. Create a fun 'TP Roll Unicorn Marionette' with Red Ted Art. I love the conker hooves!
4. We all love a little bling and kids' can accessorize with this cute 'Unicorn Necklace' from Meri Cherry Blog.
5. Continuing with the party theme, why not add a 'DIY Unicorn Pinata' to the festivities. It even comes with a free printable template! (by Hello Wonderful).
6.  This easy peasy 'Mixed Media Unicorn' is the perfect craft for small children and is great way to re-purpose common household materials.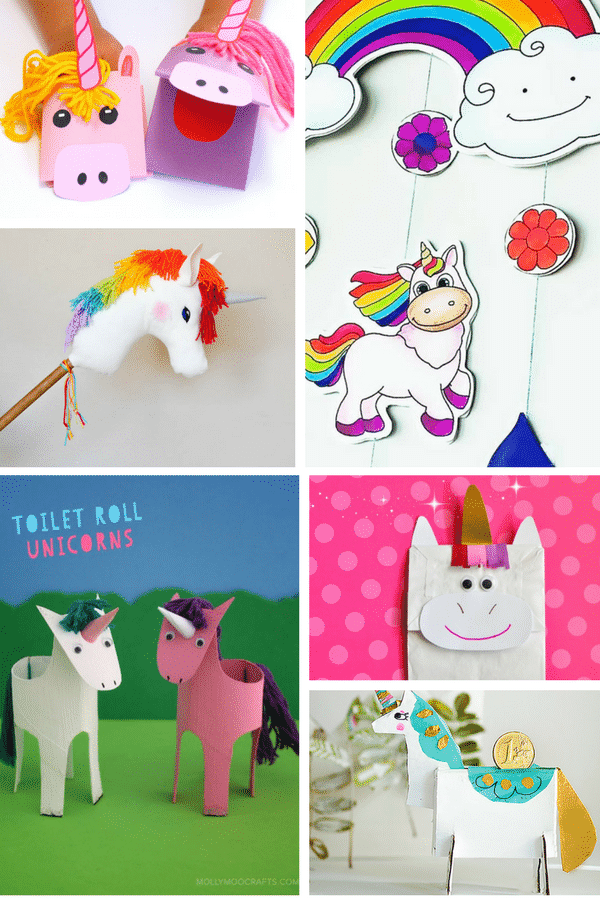 I love interactive crafts and these adorable 'Unicorn Paper Hand Puppets' by Make Film Play will be sure to inspire magical play.
2. Here's another one for you… this 'DIY Unicorn Hobby Horse' by Adventure in a Box is surprisingly easy to make and will become something I'm sure your child will cherish forever.
3. This 'Unicorn Mobile' by Hattifant will look beautiful on display within a childs room or nursery.
4. I love a good ol' paper tube craft and these 'TP Roll Unicorns' from MollyMoo are just amazing!
5.  Here's another simple 'Paper Bag Unicorn' from I Heart Crafty Things.
6. And finally, we're finishing off this collection with a 'Recycled Unicorn Money Box' from Willow Day.
I hope you LOVE and adore each every Unicorn craft featured within this collection 18 Super Cute Unicorn Crafts.
Do you have a favourite?
Pin for Later!