This darling printable Unicorn Heart Craft for kids is super quick and easy, and has an open-ended quality that allows children to enhance and personalise the simple unicorn design.
Kids are free to doodle and colour the unicorn to taste. They can add embellishments of their choosing or explore printing techniques (bubble wrap, scrape painting, splat painting) to make this craft their own.
With a sprinkle of imagination, the possibilities are endless!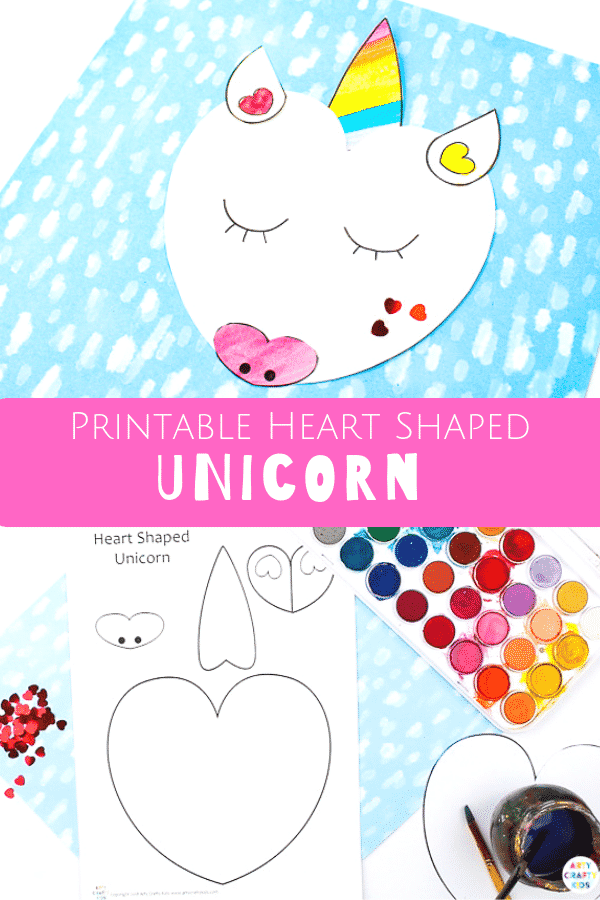 Unicorn Heart Craft: Materials
White Card Stock
Paint or Colouring Pencils/Pens
Black Pen
Glue Stick
Scissors
Sequins (optional)
The Unicorn Heart Template is available exclusively to Arty Crafty Kids Club members.
Join the Arty Crafty Kids club to download the template and access our complete collection of Art & Craft templates, Colouring Pages, How to Draw Guides, Activity Booklets and much more!
Already a member? login here! 
Unicorn Heart Craft: Video Tutorial
Unicorn Heart Craft: Tutorial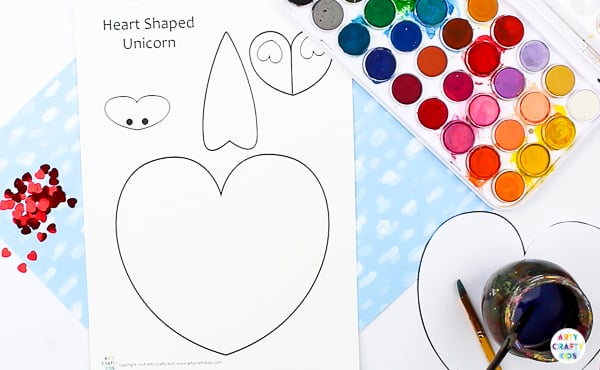 Step 1:
Login into the Arty Crafty Kids club membership area and download the Heart Shaped Unicorn Template.
Print the template onto white card stock.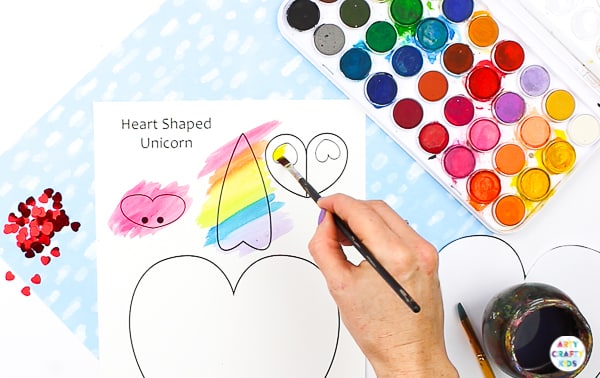 Step 2:
Colour in the unicorn elements with the medium of your Arty Crafty Kids choice.
Step 3:
Carefully cut out the unicorn elements.
Cut the heart with the pair of small hearts in half – these will become the unicorns ears.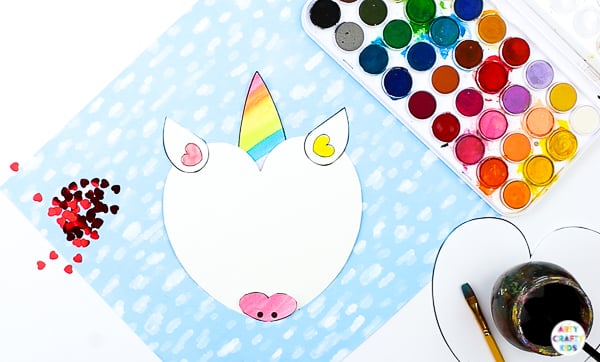 Step 4:
Using a glue stick, attach the ears and nose as shown above.
Stick the unicorn horn behind the central heart join.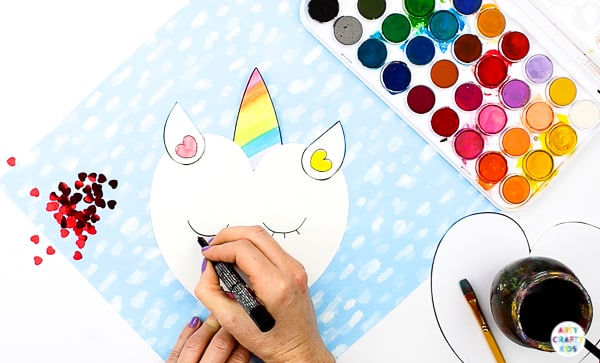 Step 5:
Using a black marker pen, add a pair of sleepy eyes.
Alternatively, use a large pair of wiggly eyes.
Decorate with extra drawings, colours, sequins, buttons and anything else your Arty Crafty Kid fancy's adding to the design.
---
Arty Crafty Kids Club
Creative and playful Art & Craft Templates
How to Draw Guides and Pre-writing Line Work
Colouring Pages & Seasonal Activity Booklets
Perfect for Educators and Parents, with new content added weekly!
---
I hope your Arty Crafty Kids enjoy creating this darling Unicorn Heart Craft. This is the first of a 6 part series and that will also include:
Heart Shaped Fish
Heart Shaped Lion
Heart Shaped Penguin
Heart Shaped Owl
Heart Shaped Jellyfish
Sign-up to the Arty Crafty Kids club to download and print all the templates!
For more Valentine's themed Arty Crafty inspiration, check out these popular posts:
Fingerpint Heart Handprint Tree