Scrape painting is a super art process for colour mixing! using just red, yellow and blue paint the kids created bold and colourful works of art with an amazing range of new colours.
They played with shapes and tried quick scrapes, slow scrapes, light and hard, adding depth and texture to their paintings. Ultimately, they had a blast scrape painting and revelled in the chance to swap the paint brushes for something new – scrap cardboard!
To recreate this activity at home, all you need is paint, cardboard ( an old cereal box) and plain white paper!
This post contains affiliates

To get started, cut up lots of cardboard and simply add small amount of paint directly onto the paper.
Take a piece precut cardboard and drag it across the paper to push the paint in any direction.
Do the same again with a different colour and try scraping it over the previous colour to blend the paint.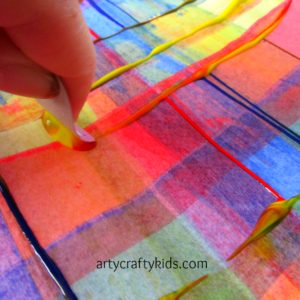 Add more and more colours, criss crossing and swirling to bring the scrape painting to life and make lots of wonderful colours and shapes!
Scrape painting is a simple art process with lots of educational scope that allows kids to freely explore and play.
I hope your children have fun creating their own colourful works of art!