Have a super fun crafty pyjama party with these ADORABLE Printable Unicorn Puppets in Christmas Pyjamas.
Designed with creativity and play in mind; kids can design their own unicorns in pyjamas with our free printable template and then assemble to make them kick, groove and wave their arms!
These engaging paper toys will make imaginations sparkle.
Printable Unicorn Puppets in Christmas Pyjamas: Materials
White Card Stock
Colouring Pencils/Pens or Paint
Split Pins (Brads/Paper Fasteners)
Scissors
Needle & Thread
Unicorn Templates:
A design-your-own FREE unicorn template can be found towards the end of this post (end of tutorial). Simply sign-up to our regular newsletter to be transferred to the FREE unicorn template.
OR
Sign-up to the Arty Crafty Kids Club to download ALL FOUR templates!
Members can also access our library of colouring pages, how to draw guides and prompts and Art & Craft Templates.
Already a member? Login here!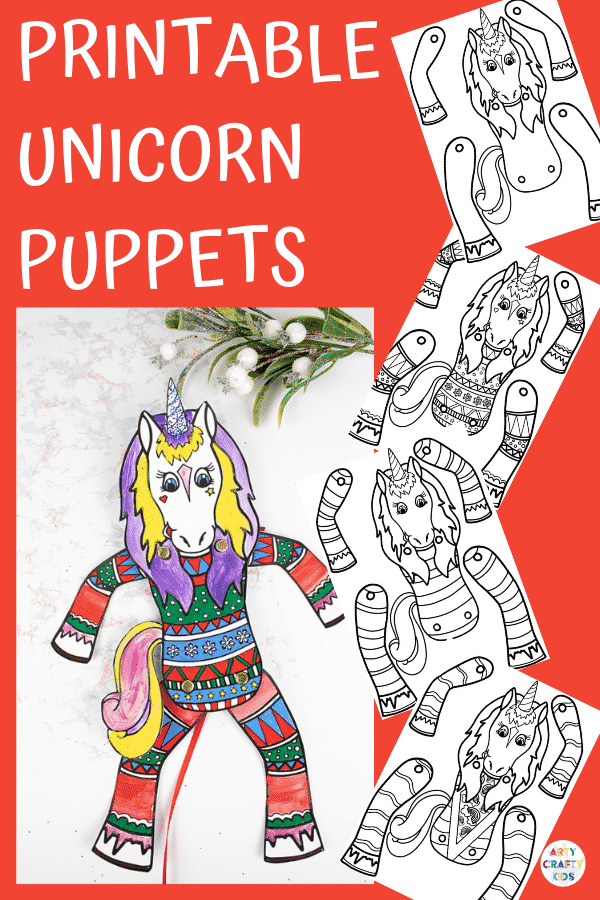 Printable Unicorn Puppets in Christmas Pyjamas: Tutorial
Step 1: Download the Unicorn Templates on to white card stock.
Arty Crafty Kids can start filling in the Design Your Own template with their own funky pyjama design.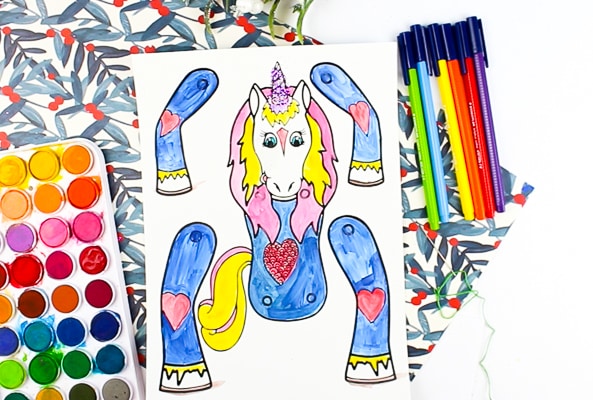 Step 2: Colour in the template with a medium of your Arty Crafty Kids choice.
Here we've used a combination of watercolours, felt tip pens and black fine point pen,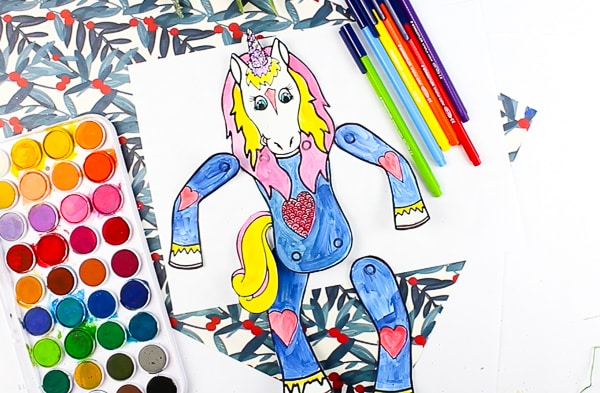 Step 3: Once your Arty Crafty Kids chosen unicorn is complete and colourful, carefully cut the elements.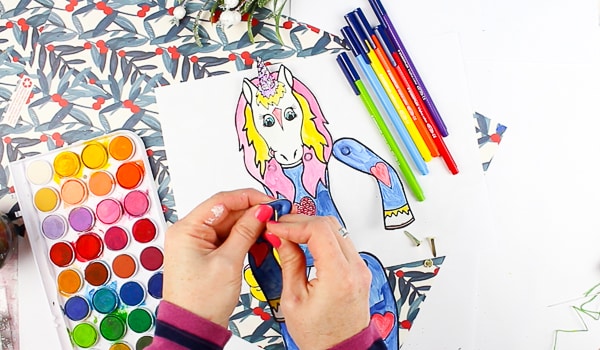 Step 4: Locate the circles on the body, arms and legs, and create holes with a hole puncher OR if you do not have an available hole puncher (like us), simply pierce the holes with the split pins and spin to create a roomy hole.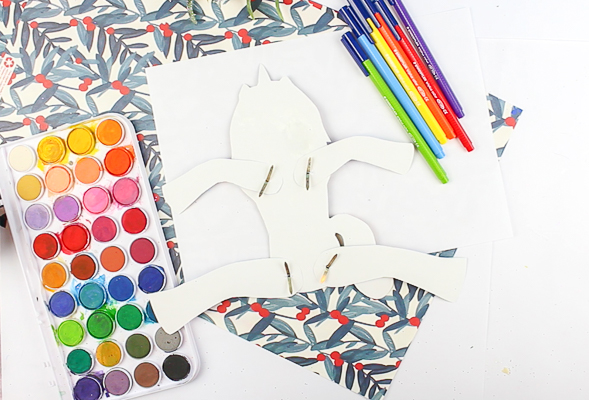 Step 5: Place the arms behind the body. Line up the holes and secure with a split pin.
Make sure they're secured too tightly – the arms and legs need to have free and easy movement!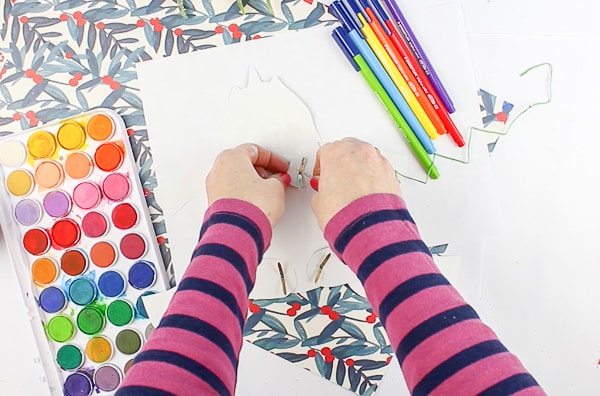 Step 6: Once you're satisfied the arms and legs have a decent level of movement, thread a piece of cotton through the needle and tie a knot at the end.
Pierce the needle through the top of the arm as shown above and thread the cotton across to the other side.
Finish off the join with a knot.
The cotton between the arms shouldn't be too tight or too loose. This may take a little trial and error, but you should be aiming for legs that can easily move, with tension still on the thread.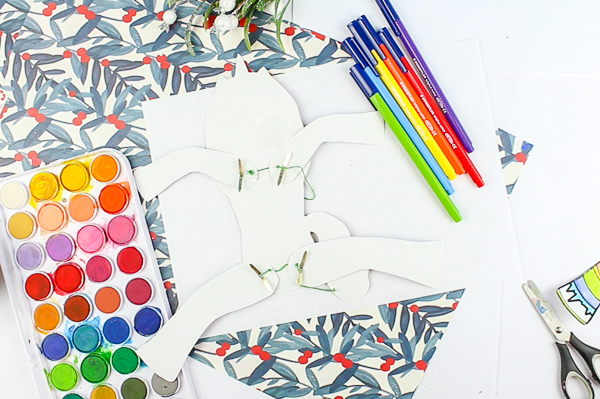 Step 7: Repeat the process with the legs.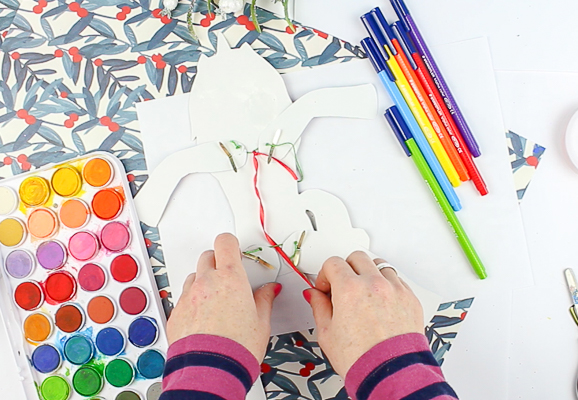 Step 8: Attach a piece of long ribbon to the centre of the strand joining the arms together and then again with the legs.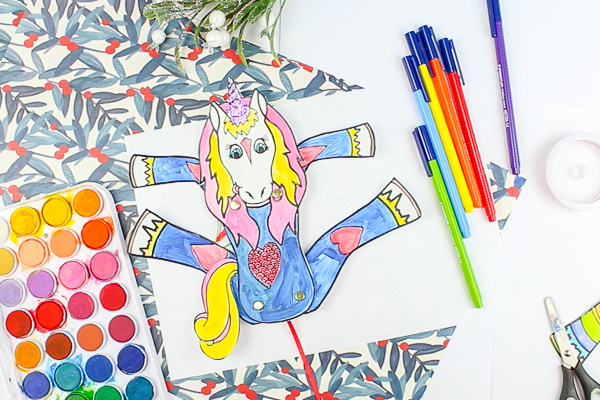 Step 9: Pull the thread and the arms and legs will kick out!
To add a musical element to the puppets, add some jingle bells to the remaining ribbon!
Not only will the kick out and dance, they will jingle all the way too…
[fruitful_sep]
To access the template, sign up to our Arty Crafty Kids Club newsletter, and we'll also keep you posted about new crafts and membership offers (including freebies!)!
This template, and many others, is also available in our Arty Crafty Kids Club Members Area Sign Up Here
[fruitful_sep]
Inspired by the wonderful RED TED ART, you can find more Christmas themed puppets HERE.
For more Unicorn Craft inspiration, check out our most popular Unicorn posts:
Paper Plate Over the Rainbow Unicorn Puppets
Pin for Later!