If you're looking for some fabulously fun Halloween activities, but are feeling a bit uninspired or bored with the same old stuff, then our yarn wrapped monster craft is for you.
Super simple, but super effective, this interactive and tactile craft incorporates coloring, cutting, threading and sticking, so is ideal for pre-schoolers and school early years.
Children can use all of their imagination and creativity to create monsters of their own design – will they be silly or scary?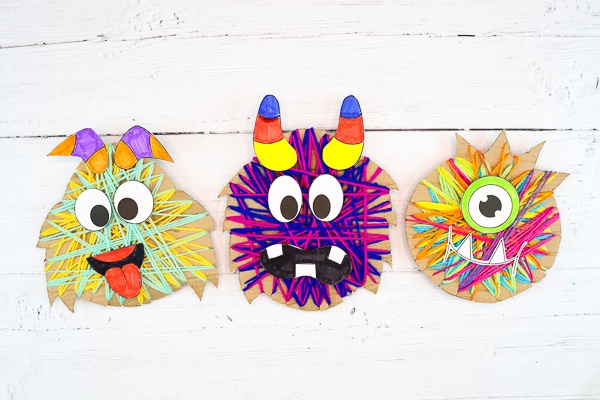 The finished monsters can be used in all sorts of ways; as costume masks, as characters in a puppet show or hung up as fun decorations that won't give you nightmares. And the best bit is that they can all be made from scraps you have lying around the house, so absolutely no extra Halloween costs for you!
How to Make a Yarn Wrapped Monster Craft:
Supplies:
Scrap Cardboard (an old Amazon box is perfect)
White Paper or Cardstock for Printing
Paints, crayons or colored pencils
Different colored yarn or Ribbon
Gluestick or PVA Glue
Pencil
Scissors
How to Download the Monster Templates:
The Monster Templates are available to members of the Arty Crafty Kids Club. Join the members area to access our complete online library of art and craft templates.
Members can access the template here (remember to login!): https://www.artycraftykids.com/product/yarn-wrapped-monsters/
Members will need to log in to access the templates!
Not A Member?

Let's Make Yarn Wrapped Monsters: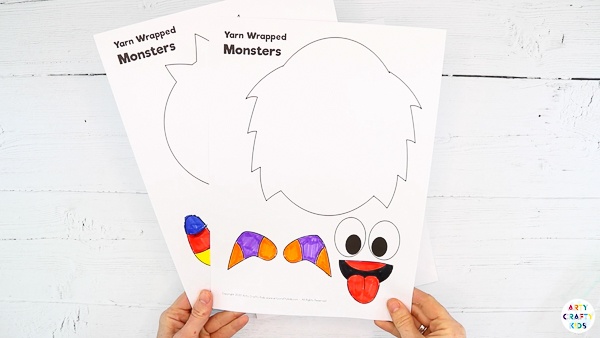 Decorate the Monster Elements
Color in the monster's features; the horns, mouth and eyes. Remember that you don't need to color in the monster's head – we're just using that as a template for the finished piece.
Once the monster features are colored, carefully out all of the elements from the template.
Trace the Monster Head onto Cardboard
Place your monster head onto a piece of thick brown cardboard and draw around it with a pencil. Then cut it out – be careful though, as this kind of cardboard is a little trickier to cut than usual thin cardstock.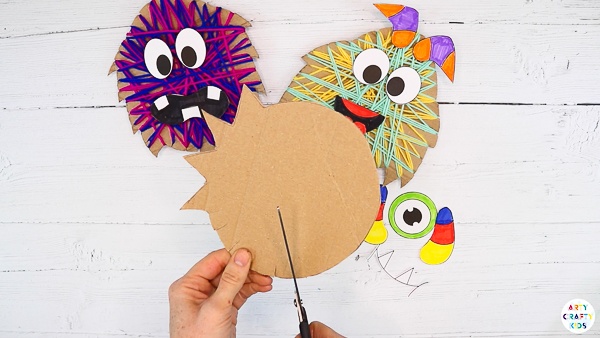 Cut in Wrapping Slits
Now make small slits, about an inch apart, all the way around the edge of the monster's head.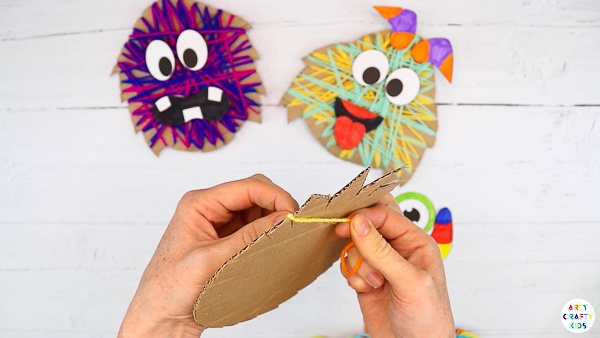 Begin Wrapping
Now it's time to get wrapping! Starting at the top, secure the end of the yarn firmly, and begin to wrap the yarn around the head, working from slit to slit.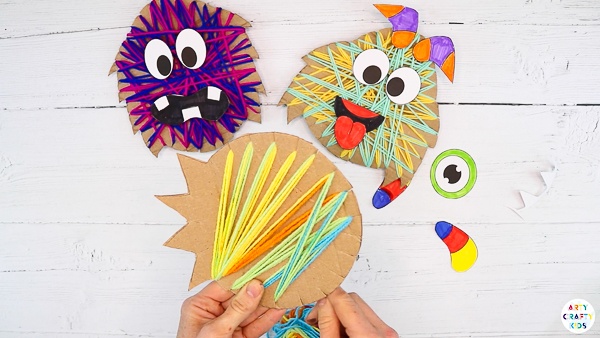 You can use one color of yarn, but we love the effect that you can create by using different colors – we are making monsters, after all!
And because we're making bright and bold monsters, you don't need to worry about your yarn being neat. If you made our yarn wrapped fox, you'll remember that we asked you to wrap the yarn carefully, with all of the strands going in the same direction. With these monsters, we want you to be positively messy! Wrap up, down, left, right – it will all add to the monster effect!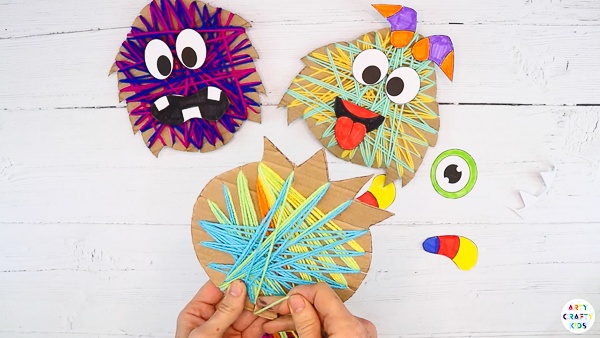 Secure the Loose End
When your monster is all wrapped up, secure the loose end carefully so it doesn't come undone.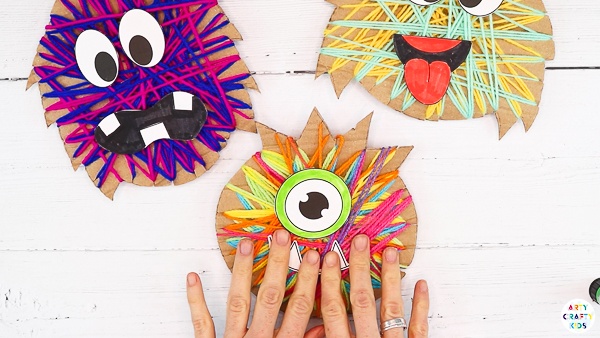 Add Features to Complete the
Yarn Wrapped Monster Craft
Finally, stick on the monster features and give them a good press down so they're nice and secure. And there you have it – colorful, funny, funky monsters that you can use for decoration or for play. Have fun!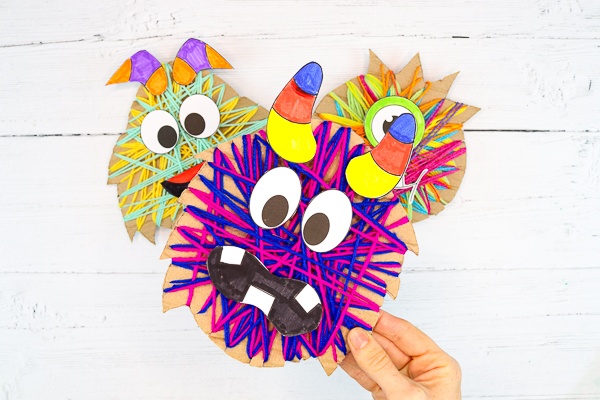 More Monster Crafts for Kids:
Monster Spinner Toy:
If you're looking for an easy independent craft for the kids that can be used in loads of different, but equally fun, ways then our printable monster spinner craft is for you!

https://www.artycraftykids.com/craft/printable-monster-spinner-craft/
Big Hand Monster Craft:
Personalised with your Arty Crafty Kids handprints, they become transformed into real little monsters ( the fun and friendly type of course!), giving your kids the inspiration to indulge in some wonderful creative play as they craft.

https://www.artycraftykids.com/craft/big-hand-paper-monster-craft/
Paper Tube Monster Craft:
Toilet Paper Roll Monster Craft – This is the best craft for monster loving kids this Halloween! With our printable monster templates, the monster craft requires minimal prep (is not messy!) and is super easy for kids make themselves!

https://www.artycraftykids.com/craft/toilet-paper-roll-monster-craft/
Happy Crafting!