If you're looking for an easy independent craft for the kids that can be used in loads of different, but equally fun, ways then our printable monster spinner craft is for you!
Children will have a great time using their imaginations to create funny, silly monster faces and, once they've crafted their spinners, there's hours of fun to be had. They can be used as puppets for storytelling or as a monster fairy wand, and they also make brilliant homemade fidget spinners – I have one on my own desk!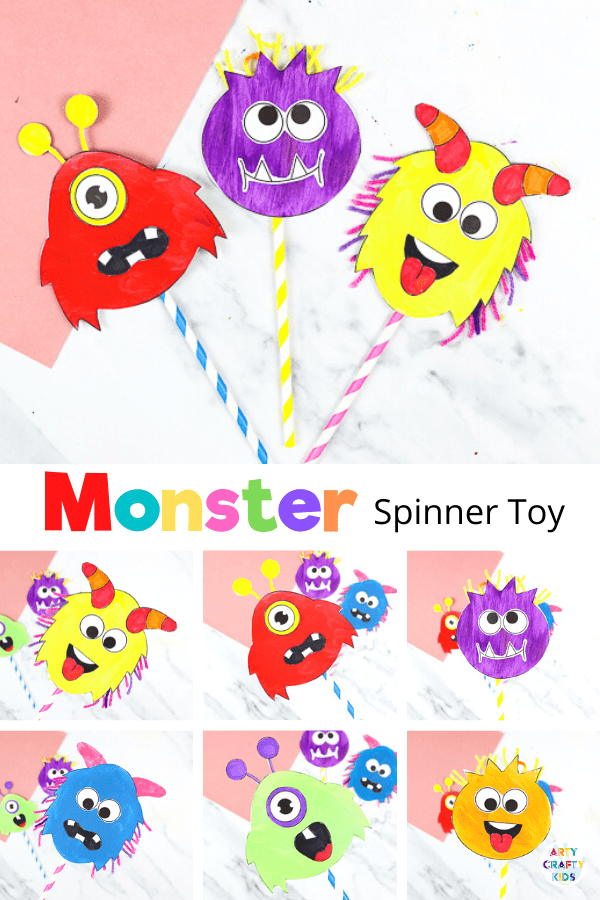 They're great for understanding expressions and can even be used to communicate feelings, especially if kids are having a down day and don't feel like talking.
And since Trick or Treating might not be on the cards this year, it also makes a really playful Halloween Craft with all the fun and none of the spook.
How to Assemble the Printable Monster Spinner Craft
Supplies:
White Cardstock
Paint, Crayons, Pens or Pencils
Scissors
Paper Straws
Yarn (optional extra)
Glue Stick
How to Download the Monster Spinner Templates:
The Monster Spinner Templates are available to members of the Arty Crafty Kids club. Members will need to log in to access the templates: https://www.artycraftykids.com/product/monster-spinner-paper-toys/
Not A Member?
Let's Make the Printable Monster Spinner Craft: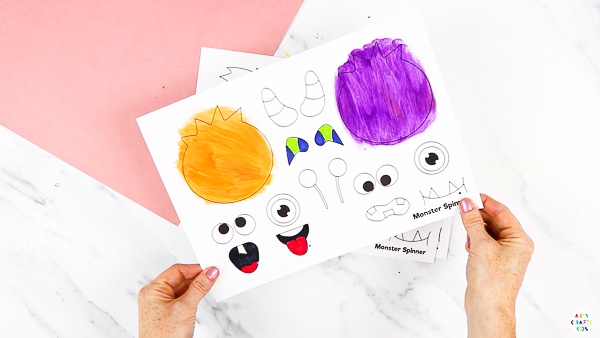 Color the Template
Use your favourite paints, pens or crayons to color in the template. You're making monsters, so remember to use bright colors and fun patterns so they look super silly!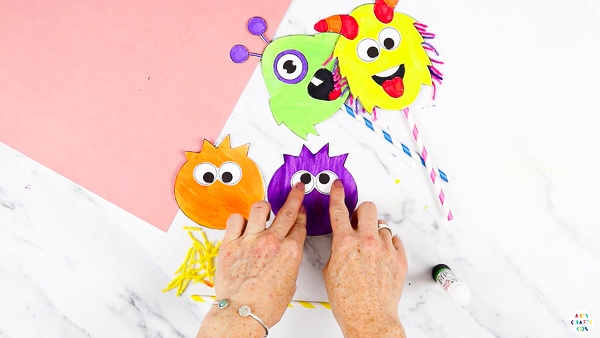 Add Features
Carefully cut out all of the elements from the template and stick some features to each head.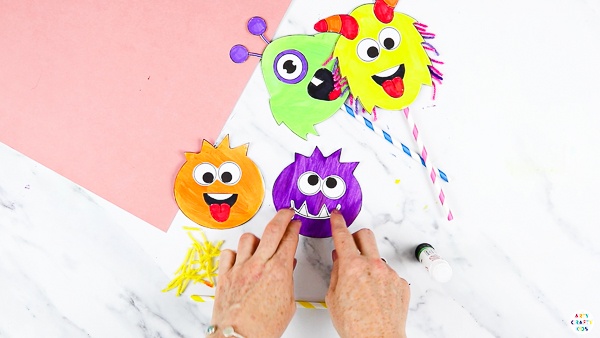 Mix and match different eyes, mouths and horns to create crazy monster faces!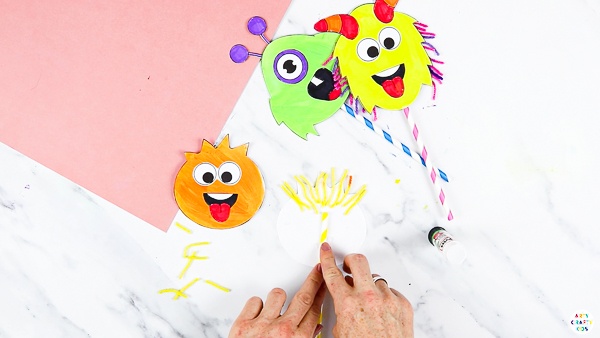 Secure the Straw
Stick a straw to the back of one of the monster faces. Be really generous with the glue to make sure it's secure – you might even want to add a strip of tape.
If you fancy creating a furry, fuzzy monster, you can stick some short lengths of yarn around the sides or top – use your imagination!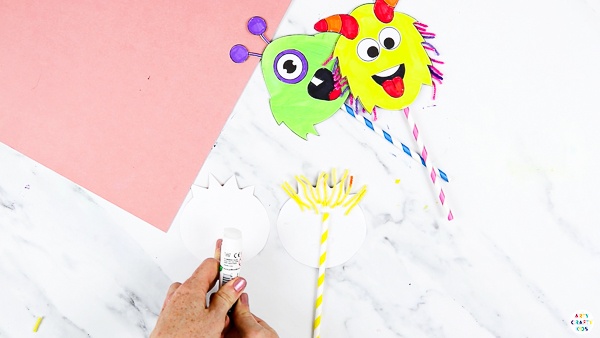 Apply Lots of Glue
Cover the back of the face (with the straw) in glue, and cover the back of a second monster face with glue as well.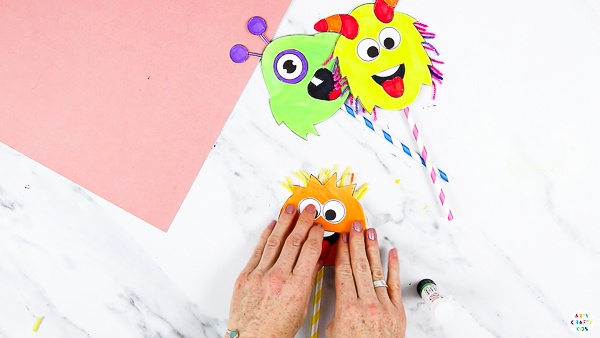 Bring the Two Faces Together
Carefully stick the two monster faces together.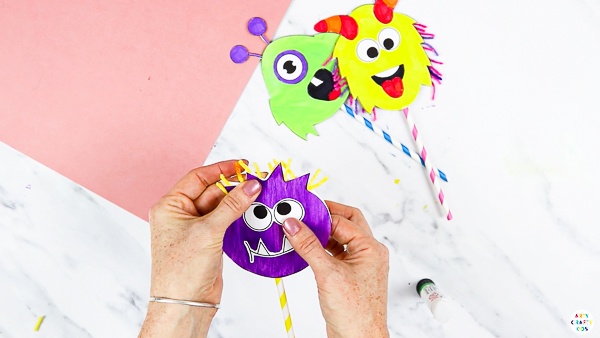 Wriggle to Align
If they're not quite lined up, give them a little wriggle or slide them into place – then make sure you give them a really firm press together so they stay in place.
Once they're dry, it's time to have fun: spin, wave and be silly!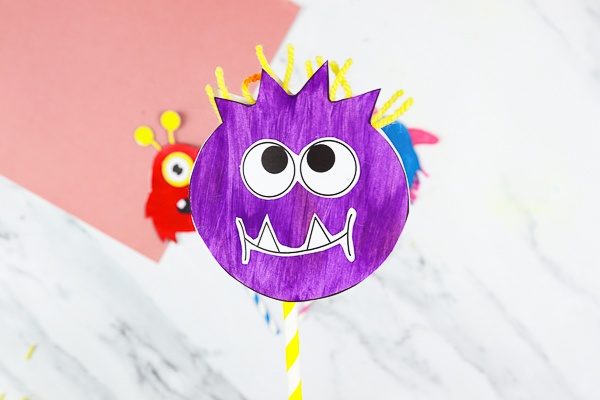 More Fun and Interactive Halloween Crafts for Kids:

Big Hand Monsters:
Personalised with your Arty Crafty Kids handprints, they become transformed into real little monsters ( the fun and friendly type of course!), giving your kids the inspiration to indulge in some wonderful creative play as they craft.

https://www.artycraftykids.com/craft/big-hand-paper-monster-craft/
Bobble Ghost Craft for Kids:
Easy Bobble Ghost Halloween Craft – With ghostly characters that playfully wobble above their haunted house, this fun, not spooky Halloween craft is one that kids will love!

https://www.artycraftykids.com/craft/easy-bobble-ghost-halloween-craft/
TP Roll Monster Craft:
This is the best craft for monster loving kids this Halloween! With our printable monster templates, the monster craft requires minimal prep (is not messy!) and is super easy for kids make themselves!

https://www.artycraftykids.com/craft/toilet-paper-roll-monster-craft/
Happy Crafting!