Toilet Paper Roll Monster Craft – This is the best craft for monster loving kids this Halloween! With our printable monster templates, the monster craft requires minimal prep (is not messy!) and is super easy for kids make themselves!
Children as young as preschool age will love the process of cutting and sticking to creating their monsters, which of course is great practice for fine motor skills!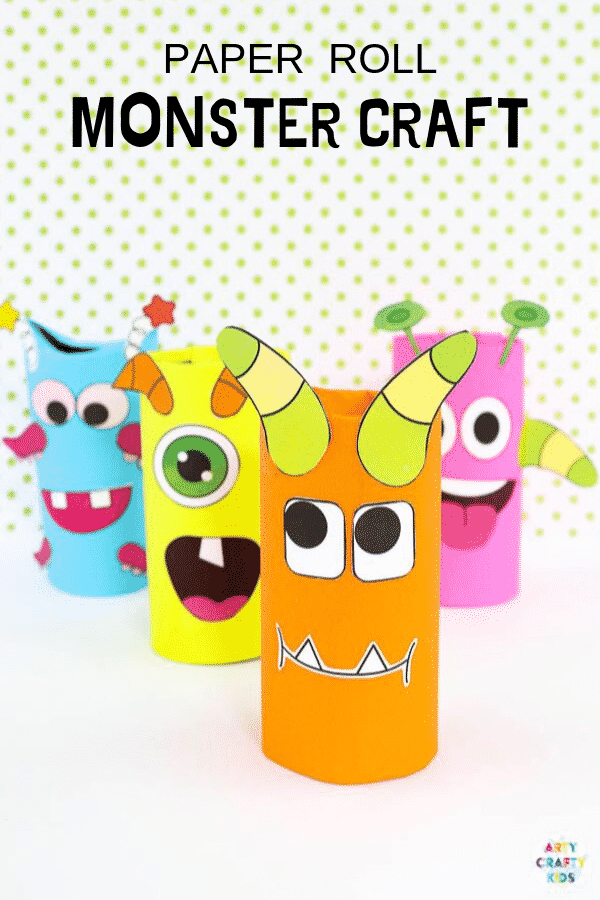 Parents and teachers have the choice of downloading our full colour printable monster template, which is a great option for a quick and easy craft session OR the template can downloaded in black & white for kids to colour in themselves.
How to a make a Toilet Paper Roll Monster Craft
What you need:
Paper Rolls (or Small Cardboard Box)
Coloured Paper
Colouring Pens/Crayons or Pencils
Scissors
Glue Stick
Download the Monster Features Templates
The monster templates are available to members of the Arty Crafty Kids club. The templates can be accessed via the link below: https://www.artycraftykids.com/product/monster-features-cut-stick/
Not A Member?
Printing Instructions:
Download and print the Templates from the Arty Crafty Kids members area.
The templates can be downloaded onto good quality paper or card stock.
If you opt for cardstock, remember to check your printer settings for a recommended weight. Most printers prefer card stock less than 220gsm.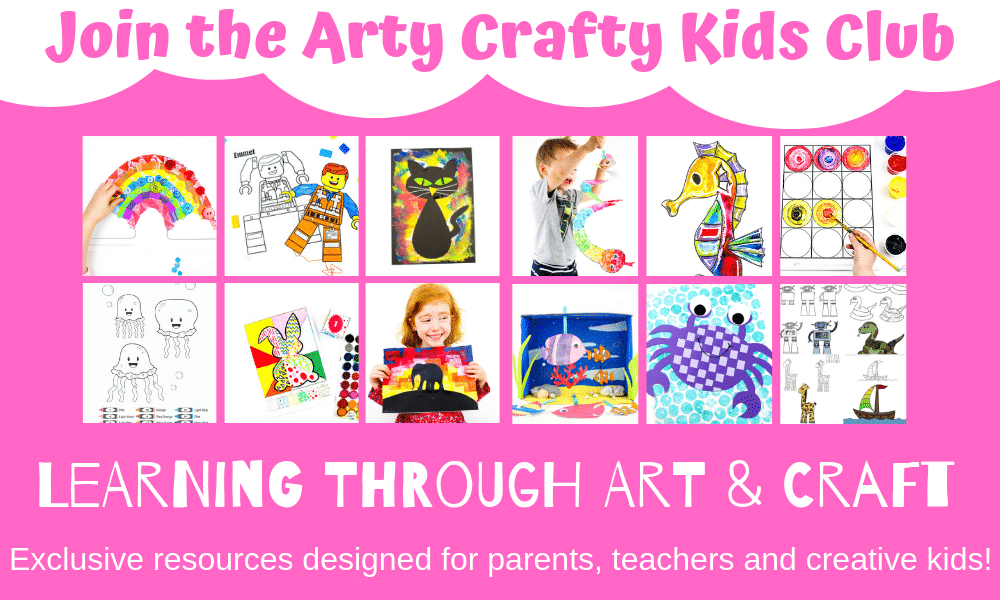 Let's make a Toilet Paper Roll Monster Craft: Step by Step Instructions
Printable Monster Templates
The monster features are available in two formats: Colour and Black & White.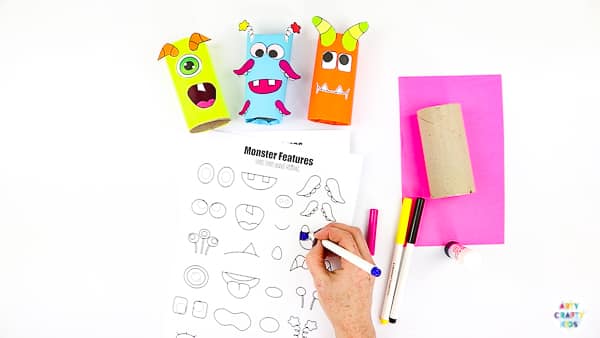 The black and white version can be coloured in with your Arty Crafty Kids favourite medium and is a great way to personalise the monsters.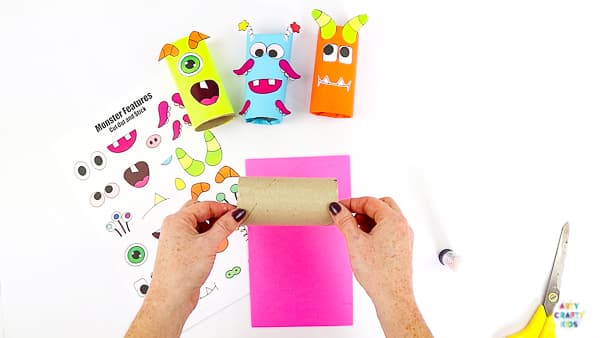 Wrap the Toilet Paper Roll in Paper
Step 1: Cut a piece of paper to the approximate size of the paper roll.
Ideally, it will be slightly taller than the roll.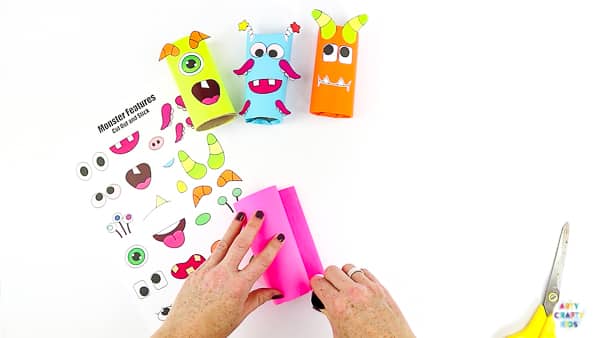 Step 2: Apply glue to one edge of the paper.
Place the paper roll on top of the gluey area and begin to wrap the paper roll.
Secure the other end with glue.
Step 3: Fold any excess paper over the edges and into the paper roll.
This will keep the monster craft nice and tidy.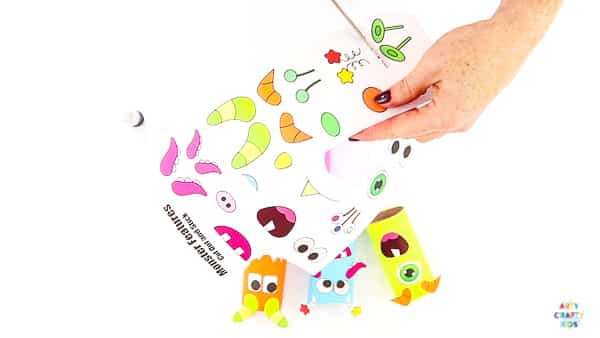 Cut out the Monster Features
Step 4: Select a set of eyes, a mouth, a nose (optional) and some monster extras.
Carefully out the monster features.
Some features have fine lines, simply add some white space and cut the general shape of the feature (check out the swirly stars on the blue monster as an example).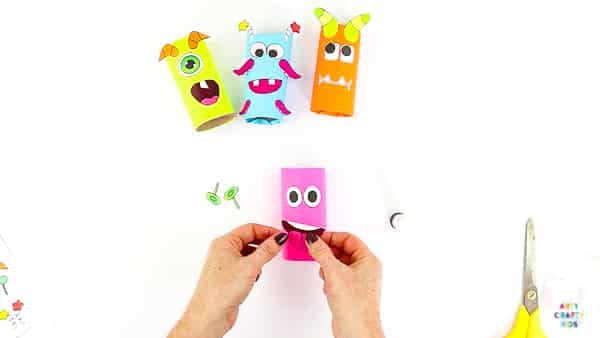 Assemble the Monster Craft
Step 5: Glue the features to the paper roll.
Repeat the process over and over until all the features have been used up!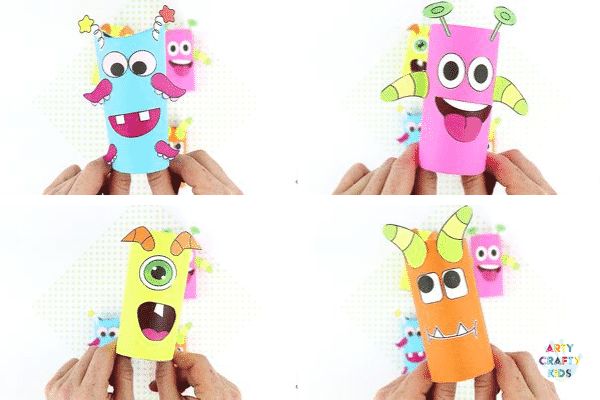 The Toilet Paper Roll
Monster Craft is Complete!
I hope your Arty Crafty Kids enjoy creating their own Toilet Paper Roll Monsters!
More Halloween Crafts for Kids:
The Arty Crafty Kids members is filling up with lots of exciting new and engaging printable crafts for kids to complete this Halloween!
Check out these popular Halloween crafts:
Bobble Halloween Spider Craft:
Our Bobble Halloween Spider Craft is perfect for parents or educators who are looking for a fun, not spooky Halloween craft for kids.
With its added bobble, kids will delight at how the spider appears to move and wobble on its colourful web; bringing an interactive and engaging quality to the craft.

https://www.artycraftykids.com/craft/bobble-halloween-spider-craft/
Surprise Black Cat Craft:
This surprise black cat printable craft is a must for Halloween. It's fun and super easy for kids to make, who will delight at uncovering the big friendly spider who just wants a hug!

https://www.artycraftykids.com/craft/surprise-black-cat-printable-craft/
Printable Halloween Puppets:
These quirky Halloween Printable Puppets have been designed with play in mind; ditching the spooky in favour of imaginative and fun.

https://www.artycraftykids.com/craft/halloween-printable-puppets/
Happy Crafting!