This Big Hand Paper Monster Craft is a playful and fun-filled Halloween craft for kids. These monsters can move and groove with a wave and jig.
Personalised with your Arty Crafty Kids handprints, they become transformed into real little monsters ( the fun and friendly type of course!), giving your kids the inspiration to indulge in some wonderful creative play as they craft.
With four Big Hand Monster templates available, your Arty Crafty Kids can choose the monster that suits them best!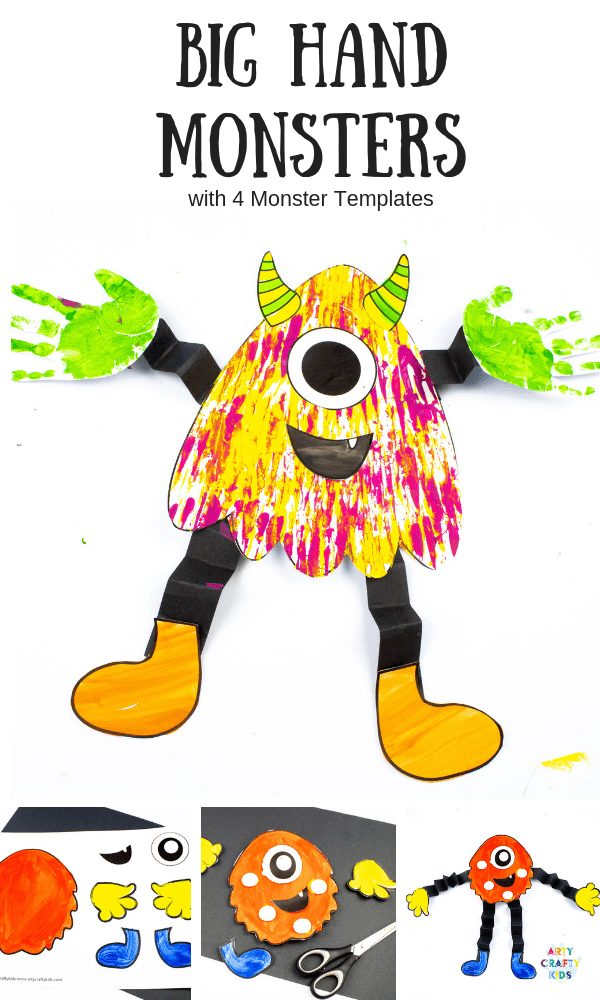 Big Hand Paper Monster Craft: Materials
Black Construction Paper
White Card Stock
Fork
Paint
PVA Glue
Scissors
Monster Template:
A freebie Monster Template can be found towards the end of this post by signing up to our regular newsletter!
Alternatively, access ALL four templates by signing up to the Arty Crafty Kids online membership area, where you can download our full collection of art & craft templates, colouring pages, how-to-draw guides, activity booklets and Arty Crafty Box how-to booklets,
Big Hand Paper Monster Craft: Tutorial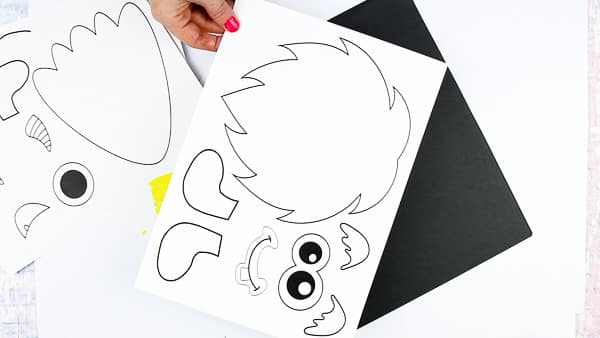 Step 1: Download and print a monster template onto white cardstock.
NB: A freebie Monster Template can be found towards the end of this post by signing up to our regular newsletter!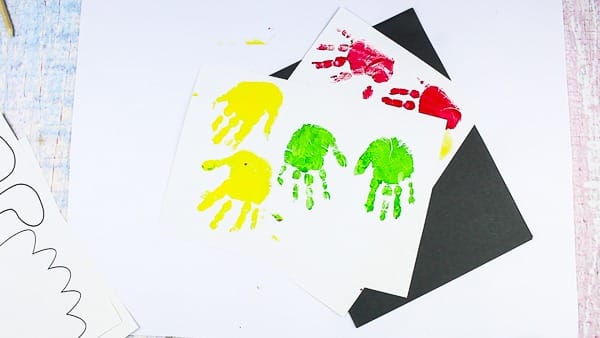 Step 2: Create some monster handprints!
For best results, layer your Arty Crafty Kids hand with a thin layer of paint (acrylic works best for prints and colour vibrancy) using a paintbrush or sponge and then press down firmly onto a piece of good quality paper or cardstock.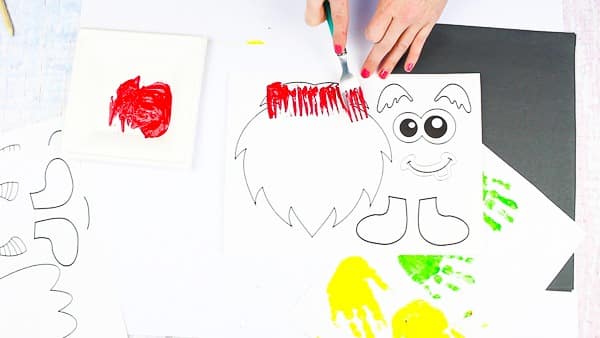 Step 3: Fork Printing!
Using a fork, spread the paint on the palette to create a flat even layer of paint.
Wipe any excess paint from the fork and place the bottom of the fork within the paint.
Once the fork is covered and not so covered its filling the gaps in between, start printing!
Rock the fork back and forth with each application to achieve an even print.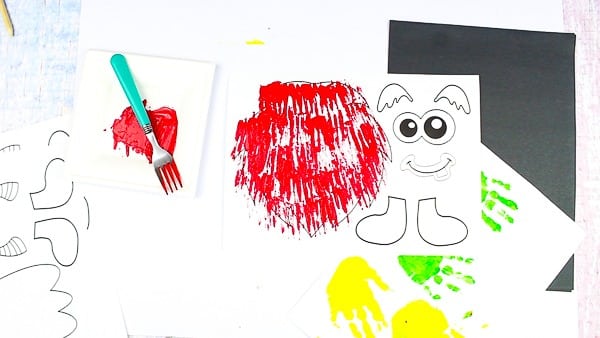 Step 4: Fill the Monster's body with fork prints to create a cool furry effect!
Paint the remaining monster elements with a paint brush.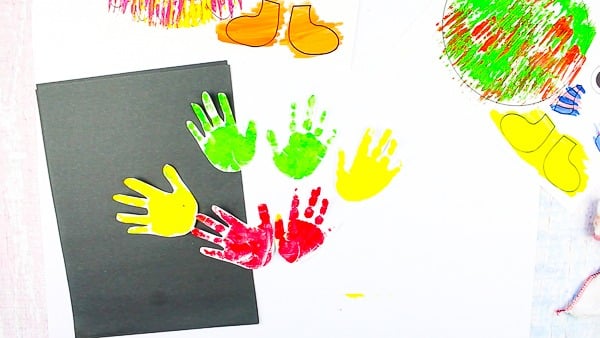 Step 5: While the template is drying, cut out the Arty Crafty Monster's handprints.
Step 6: Once the body and monster elements have thoroughly dried they're ready to be cut out.
Stick the Monster elements to the body to form a friendly monster face.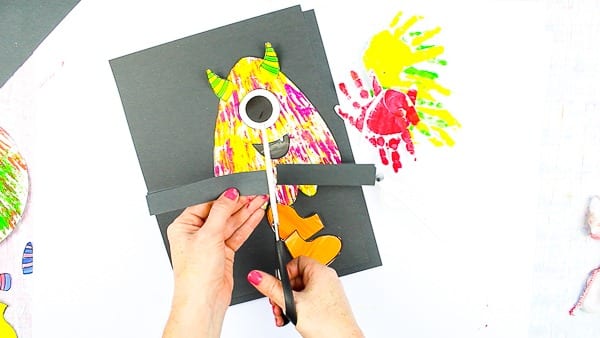 Step 7: Cut two strips (width length) from your black construction paper and cut the strips in half. zig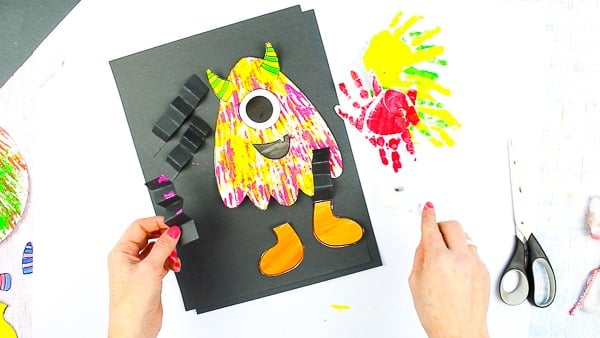 Step 8: Fold the paper forwards and backwards on itself to create a zig-zag (or accordion) fold.
Repeat this process with each piece of paper.
Glue two boots to the bottoms of two zig-zag papers and repeat with the handprints.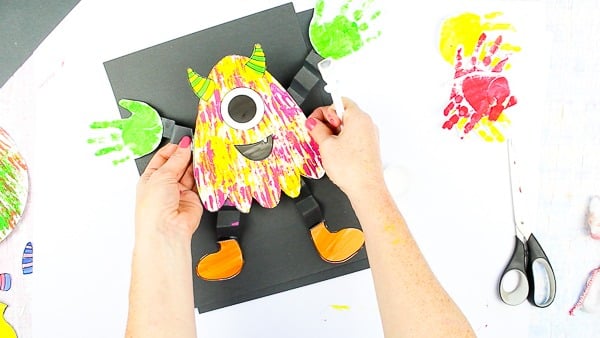 Step 9: Complete the Big Hand Paper Monster Craft by glueing the zig-zag papers in appropriate places to the back of the monster body.
Once dry, the zig-zag papers will give the monster movement.
Make it dance and wave!
[fruitful_sep]
To access the template, sign up to our Arty Crafty Kids Club newsletter, and we'll also keep you posted about other crafts and templates!
This template and many others are available in our Arty Crafty Kids Club Members Area Sign Up Here!
[fruitful_sep]
Enjoy creating Big Hand Monsters with your Arty Crafty Kids!
For more Halloween craftiness, check out some of our popular posts:
Pin for Later!