Yarn Wrapped Bird Craft: Here at Arty Crafty Kids, we love encouraging children to think about the environment, and a great way to do that is through crafts that use recycled materials. And this easy craft for kids does just that.
Kids can play with color and texture, as well as explore their creativity and versatility through only being able to use scraps!
The combination of considered cuts and yarn-threading is a great fine motor activity for pre-schoolers and school early years, and the craft makes a good alternative to threading beads.
Why not pair with our yarn wrapped owls and hang them up to create a gorgeous colorful display?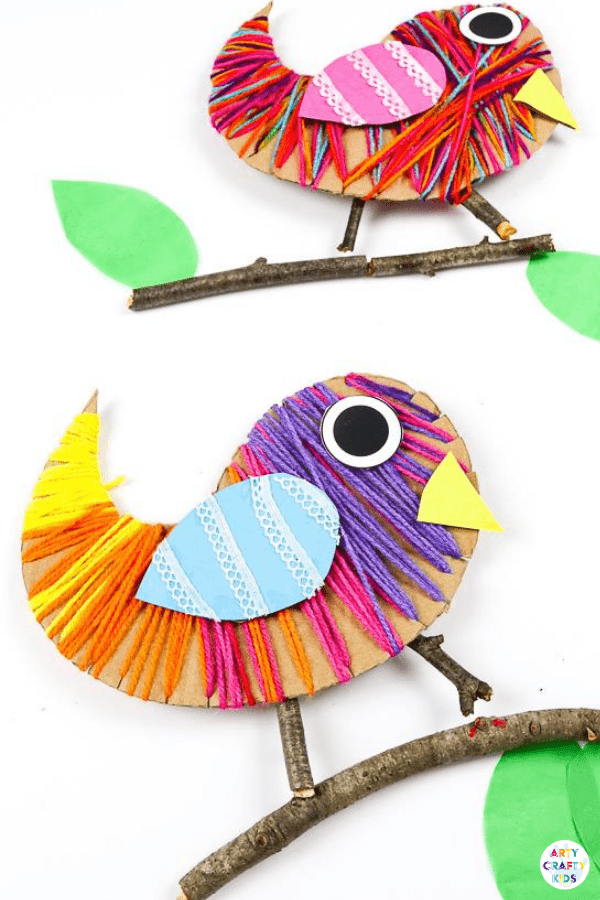 How to Make the Yarn Wrapped Bird Craft:
What you need:
Scrap Cardboard
Yarn
Coloured Paper
PVA Glue
Scissors
Sticks
Download the Bird Template:
The Bird Template is available to members of the Arty Crafty Kids Club. Join the members area to access our complete online library of art and craft templates.
Members can access the template here (remember to login!): https://www.artycraftykids.com/product/yarn-wrapped-bird/
Members will need to log in to access the templates!
Not A Member?
Let's Make a Yarn Wrapped Bird!
Cut out the Bird Elements
Carefully cut out all of the bird elements from the template.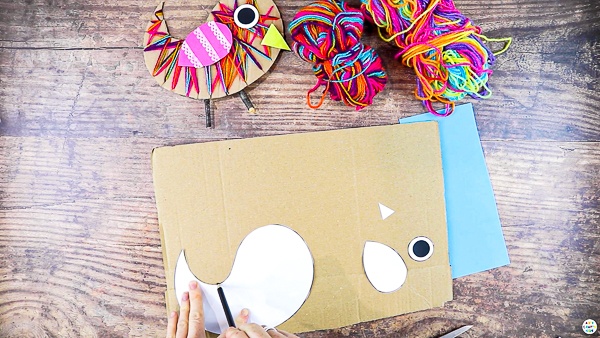 Trace the Bird Elements
Draw around the different bird elements onto thick brown cardboard. Then cut them out – the card will be a little trickier to cut than paper or thin card, so be slow and careful.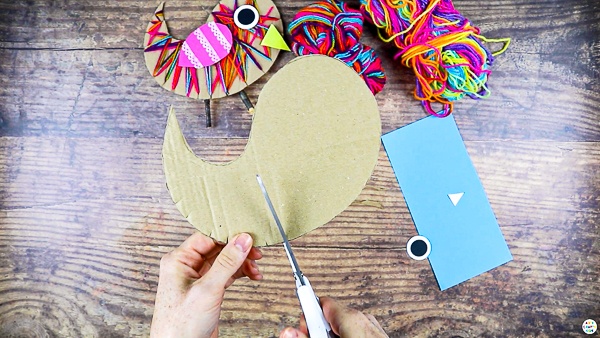 Cut in Threading Slits
Cut little slits, about an inch apart, all along the bottom of the birds body.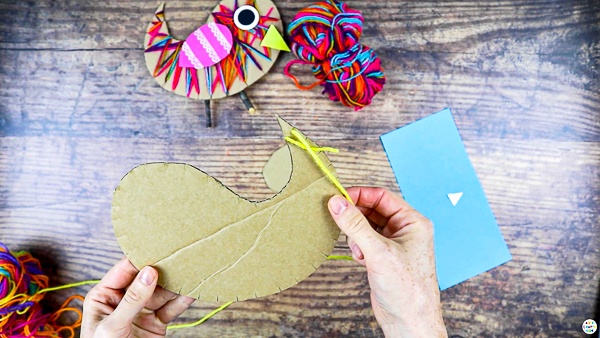 Thread the Yarn
Secure the yarn at the start of the tail, using the first slit.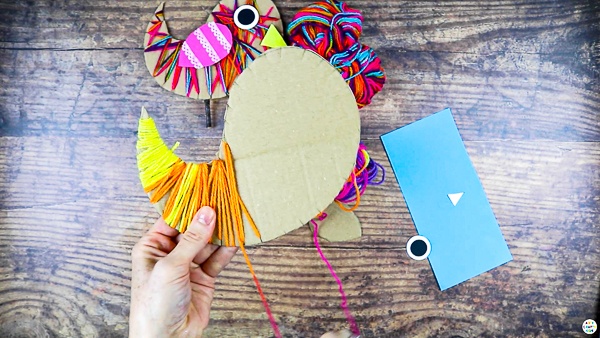 Wrap the Yarn Around the Cardboard Bird
Now it's time to build the bird's colorful feathers by wrapping the yarn around the bird, slotting it into the slits as you go to keep it in place.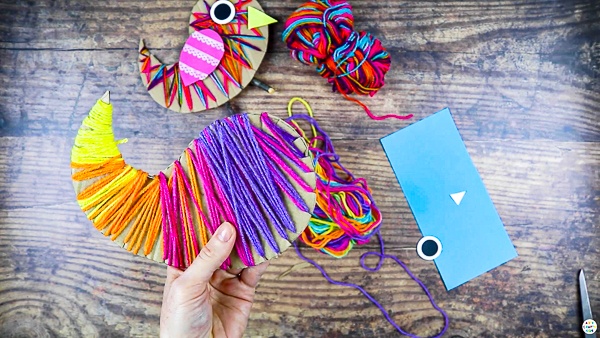 Tie the Loose Strand
Once you've wrapped the whole bird and reached the other side, tie off the loose end so your yarn doesn't unravel.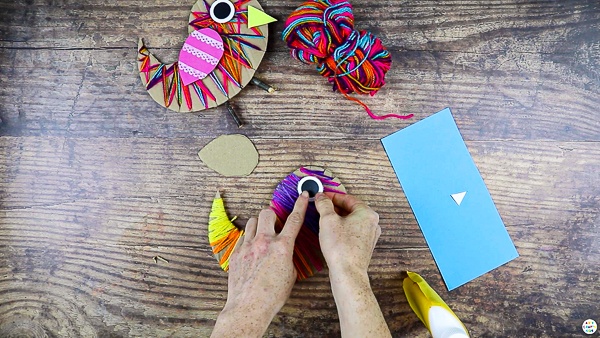 Add an Eye and Beak
Now stick on the bird's eye and pointy beak.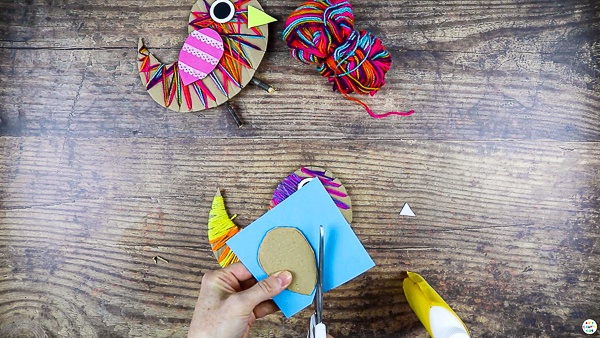 Create a Cardboard Wing
To make a colorful wing, draw around the template onto some colored paper or card and carefully cut it out.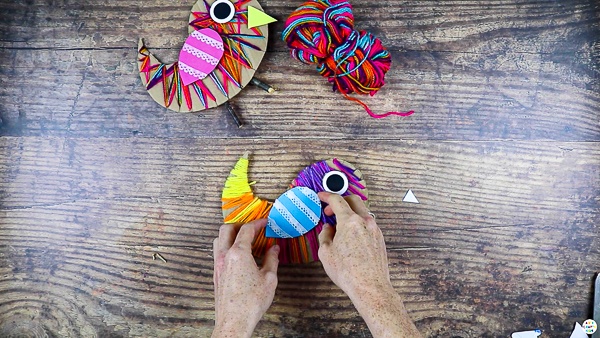 Decorate the Wing
Then decorate the wing so it looks as pretty as the bird's body. You can use anything you can find – eco-friendly glitter, stickers, lace trim, ribbon, buttons… use your imagination!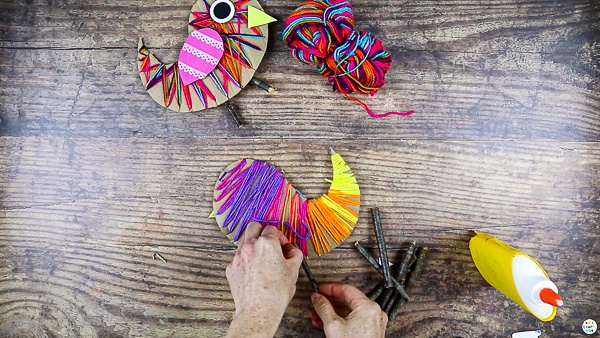 Add Sticks for Legs
Finish off by bringing a touch of nature to your craft. Collect some little twigs and sticks from your garden, or when you're out walking at the park, and stick them on to make two little spindly bird legs.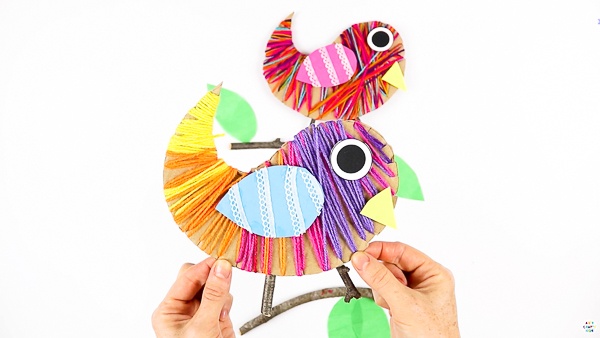 The Yarn Wrapped Bird is Complete
Now you have a gorgeous brightly colored and textured bird to play with or display!
More Cardboard Crafts for Kids:
Cardboard Apple Craft for Kids:
Apple season has arrived and today I have an incredibly easy Apple Collage Craft to show you that's perfect for very young children and preschoolers. Offering a fine motor work out with lots of painting, sticking, cutting and gluing, with the added benefit of encouraging children to explore and create with different textures within the theme of 'the colour Red or Green'.

https://www.artycraftykids.com/art/easy-apple-collage-craft/
DIY Cardboard Stamps for Pop Art:
If you've already tried our brilliant art project inspired by Henri Matisse, you'll know how important art – and the history of art – is to us here at Arty Crafty Kids. But involving children in art at a young age is much easier than you think. Activities like this DIY Stamp Pop Art will inspire them and have them learning all about contemporary art without even realising it!

https://www.artycraftykids.com/art/diy-stamp-pop-art/
Cardboard Penguin Crafts for Kids:
Recycling and reusing in the name of craft is a great way for kids to rethink 'waste', and cardboard is one of our favourite materials to repurpose. It's durable, textured and works well with collaged pieces. We're particularly fond of transforming cardboard into animals and I just adore how this Cardboard Penguin Craft turned out.

https://www.artycraftykids.com/craft/cardboard-penguin-craft/
Happy Crafting!