Easy Matisse Art Project for kids: Here at Arty Crafty Kids we're passionate about art, and we think it's important to encourage children, not just to take part, but to learn a bit about its history too! So we've developed an easy art project for kids inspired by the famous modern artist Henri Matisse.

The project can be adapted or extended to suit children of all ages (and any adults needing an outlet for some self-expression!) and helps them to explore colour and shape in a really fun, free and spontaneous way.
Who is Henri Matisse?
Henri Matisse was a French artist, born in the late 19th century. He was well known for his bold use of colour and distinctive, fluid painting technique. Although he was also a printmaker and sculptor, he's primarily known as a painter and is widely thought of, along with Pablo Picasso, as one of the artists who helped to develop, and really revolutionise, the visual arts throughout the first half of the 20th century.
In the first few years of his career, his innovative style earned him notoriety as one of the Fauves ("wild beasts") – a group of early 20th century modern artists who left the realism of Impressionism behind to focus on expression and intensity of colour. However it's believed that many of his finest works were created in the decade or so following, as he developed his own unique style that emphasised flattened forms and decorative pattern.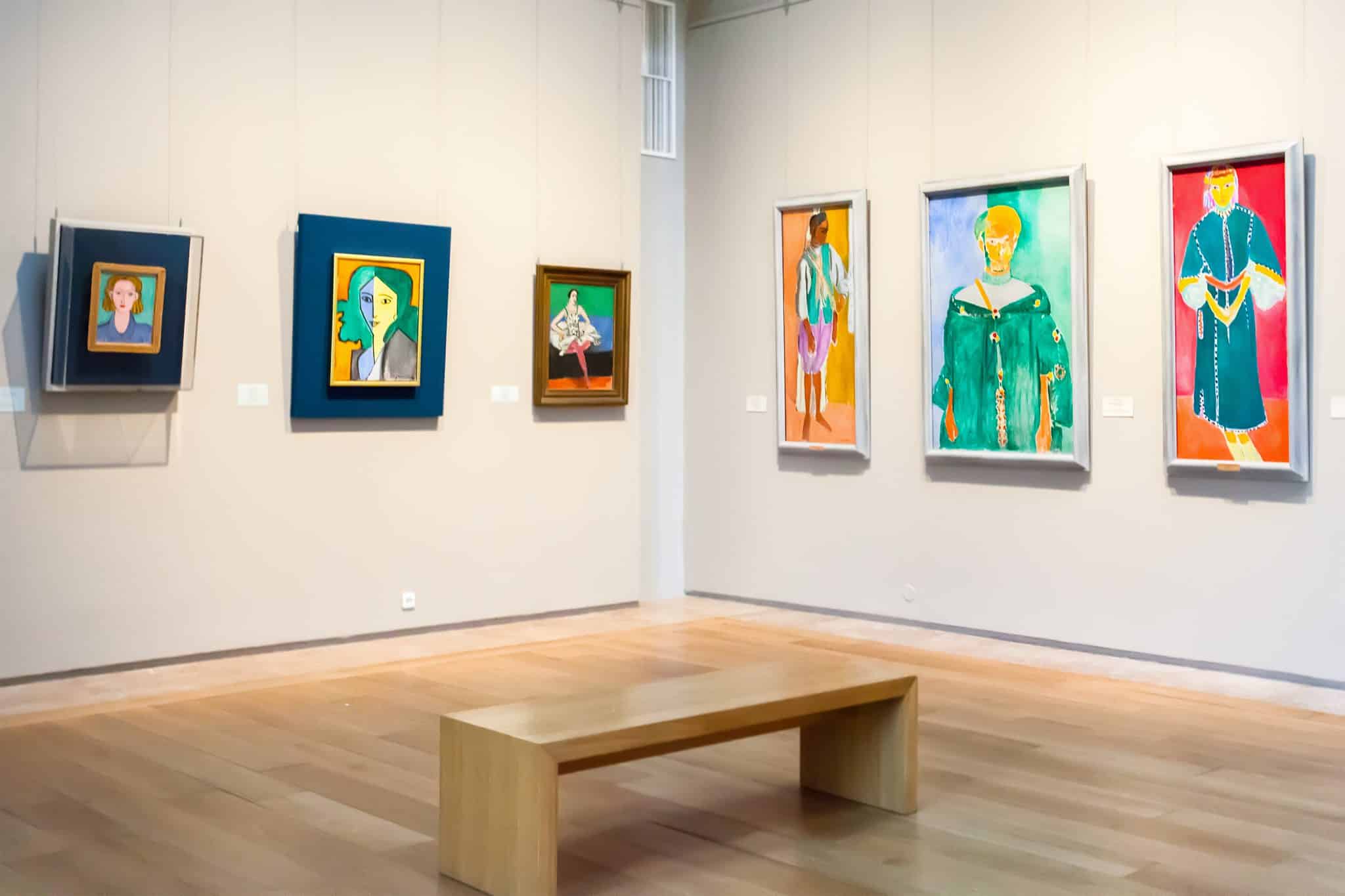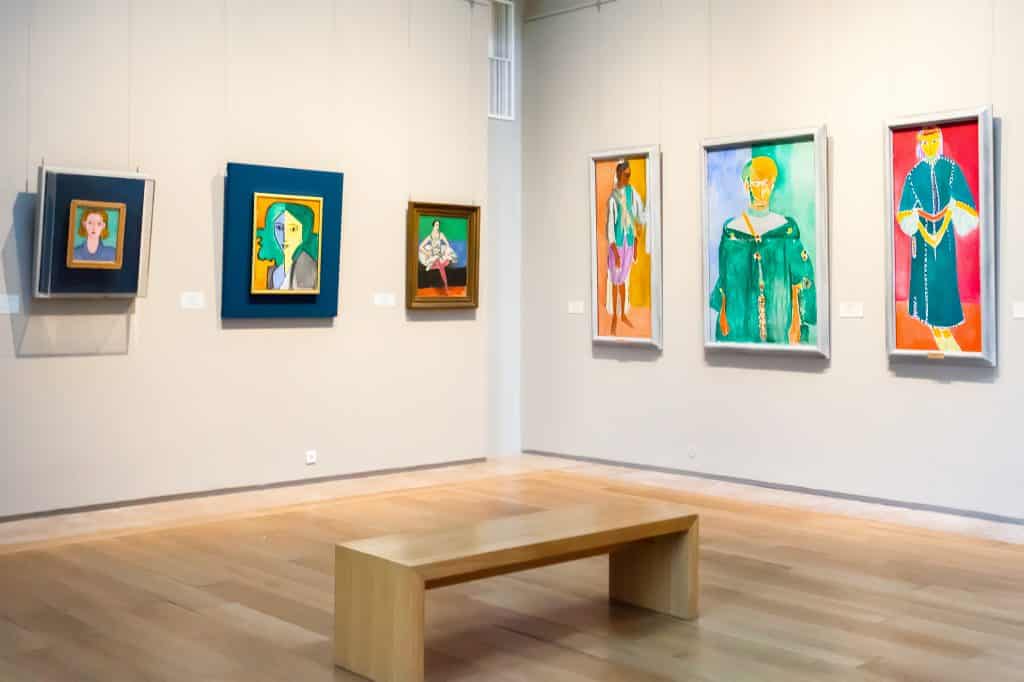 His work became more relaxed still when he moved to the wealthy, suburban French Riviera and this more classical style of painting gained him further critical acclaim. Ill health in the years before his death in 1954 saw him unable to paint, but he continued his contribution to the art world, nonetheless, through paper collage.
Matisse is still widely regarded as a leading figure in modern art.
Henri Matisse: A short Biography
Occupation: Artist, Painter
Born: December 31, 1869 in Le Cateau-Cambrésis, France
Died: November 3, 1954 in Nice, France
Famous works: The Dinner Table, Woman with a Hat, The Desert: Harmony in Red, The Red Studio
Style: Fauvism, Modern Art
Henri Matisse: What is Fauvism?
Fauvism is the name applied to the work produced by a group of artists (which included Henri Matisse and André Derain) from around 1905 to 1910, which is characterised by strong colours and fierce brushwork.

https://www.tate.org.uk/art/art-terms/f/fauvism
Towards the beginning of his career in the early 1900's, Matisse started to develop a new style. Likely influenced by his youth, newfound passion for art and his exciting, free-thinking peers, he began to paint with bright color and free, bold strokes. He paid little attention to realism, instead using color and shape to explore emotion and self-expression.

In 1905 Matisse and his fellow artists, Maurice de Vlaminck and Andre Derain, showcased their new style in Paris. At first people were shocked, leading one critic to declare them "fauves", which meant "wild beasts"! Unfortunately, or perhaps fortunately, the critique stuck and their new style of art was coined Fauvism.
"Cutting directly into color reminds me of a sculptor's carving into stone."— Henri Matisse
Easy Matisse Art Project for Kids: 3 Techniques
Inspired by the creativity of Matisse, we've developed three different ways you can explore color, shape and style, meaning this project can be used for any age, ability or setting.

We've created some easy, ready-made shapes for you that can be cut out to create a collage or make stencils, but we've also included an inspiration page to encourage older children to draw freely and create their own shapes.

Technique 1: Cutout Collage
Technique 2: Simple Stenciling
Technique 3: Experimental: Playing with colour and positive/negative space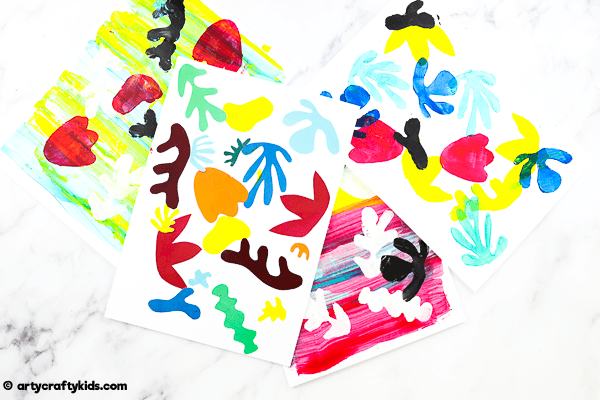 What you need:
White cardstock for painting and printing.
Paint
Paintbrushes or Sponges
Cardboard (for scrape painting)
Download the Henri Matisse Starter Templates:
The Matisse Inspiration Templates are available to members of the Arty Crafty Kids Club and can be accessed via the following link: https://www.artycraftykids.com/product/matisse-inspiration-shapes/
Members of the Arty Crafty Kids clubs will need to LOG IN to access the templates:
Not A Member?
Technique 1: Cutout Collage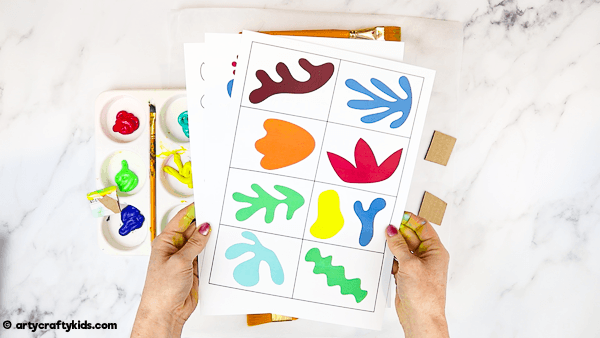 Cut Out the Shapes
Start by carefully cutting out each of the different shapes.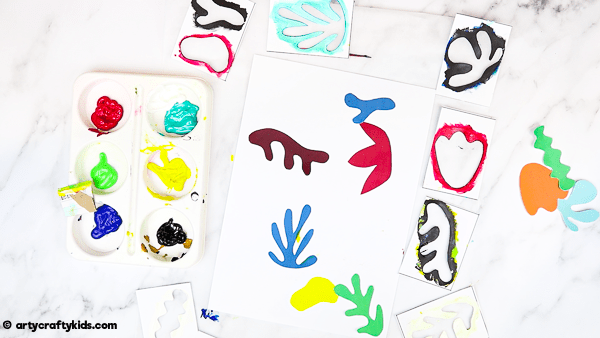 Stick the Cutouts
Start to think about color and design and stick the first few shapes onto your paper. Are you creating an abstract picture? Perhaps you're expressing an emotion?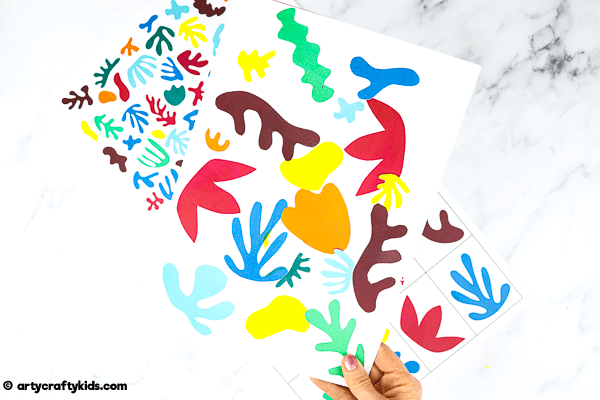 Secure all the Pieces, Layer and Collage
Stick the rest of the shapes onto your paper, layering up, to create your own unique Matisse-inspired collage.
Technique 2: Simple Stenciling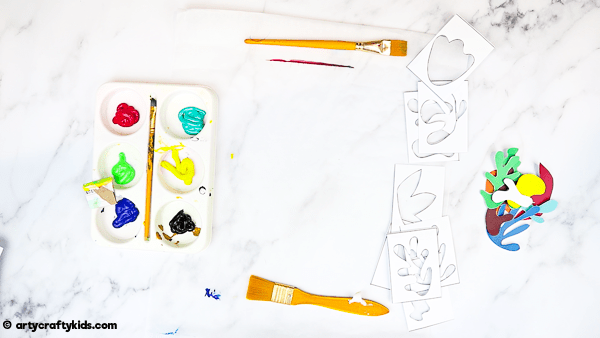 Create Henri Mattisse Stencils
If you made sure to cut out your shapes super carefully, you're left with some perfect Matisse stencils to paint with!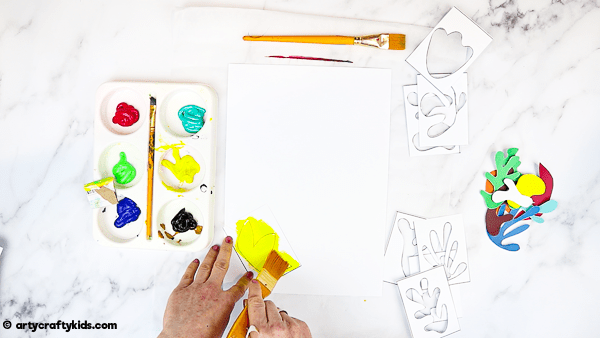 Fill with Paint and Carefully Remove
Choose a stencil, place onto a fresh sheet of paper and paint your shape – remember that Matisse used fun, bright colours!

Slowly lift your stencil, taking care not to smudge the edges.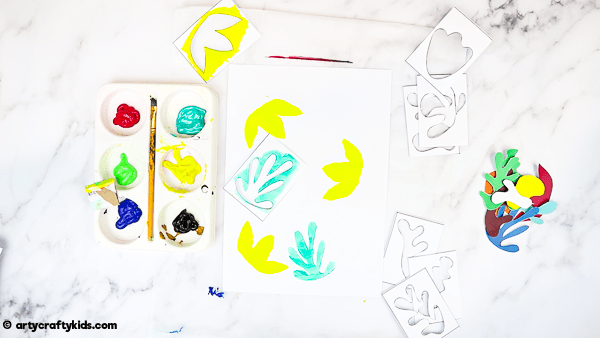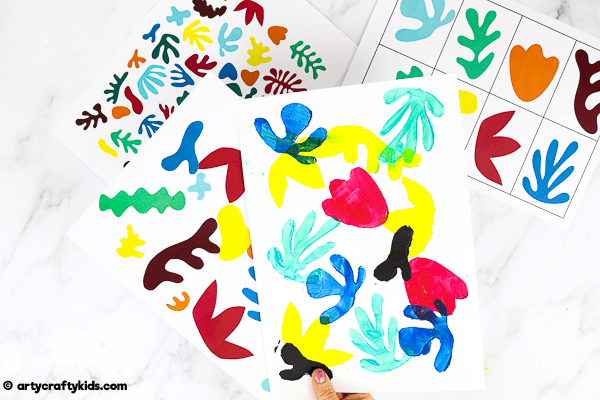 Layer the Shapes
Layer up different colours and shapes to create a simple stencilled masterpiece that Matisse would be proud of!
Technique 3: Experimental: Playing with colour and positive/negative space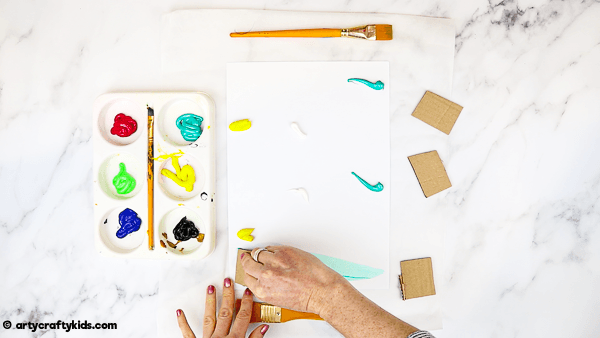 Apply Paint to White Cardstock
This is a fun one! Start by putting blobs of different colored paint down each side of a fresh sheet of card.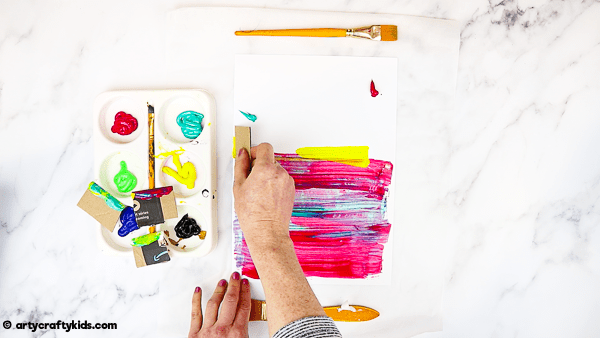 Scrape the Paint
Using a square of cardboard, scrape the paint across the card. Think about how the paint blends together and how you can create bold, vibrant colours. Sweep the card slow, then fast – does it make a different pattern?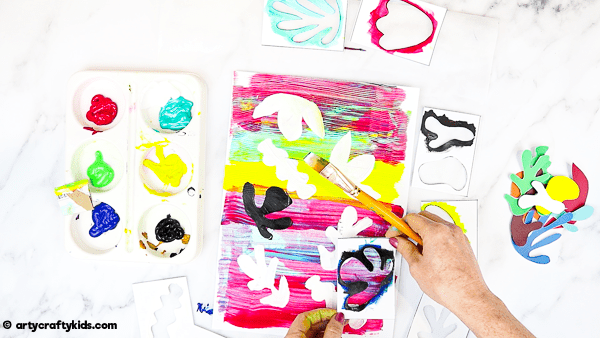 Use the Stencils to Create Layers
Now you have a striking, colorful background – this is called Positive Space. Once dry, overlay the stencils and use black and white paint to create a layered design – this will be your Negative Space. How does this change the feeling of your art, the texture, depth and color?
More Famous Artist Inspired Art for Kids:
Picasso Inspired Art for Kids
This art project has been designed to make drawing cubist Picasso faces easy for kids, with printable drawing guides and templates to encourage all children of any age or ability to have a go at creating their own Picasso styled portrait.

https://www.artycraftykids.com/art/picasso-faces-easy-art-for-kids/
Van Gogh Blossom Tree Art for Kids
Welcome Spring with this gorgeous Vincent Van Gogh inspired Blossom Tree – Spring Art project for Kids!

https://www.artycraftykids.com/art/van-gogh-inspired-blossom-tree-spring-art-project-for-kids/

Mondrian Heart Art for Kids
This Mondrian Heart Art Project for kids has been designed to suit children of all ages; from a simple colour and stick project for preschoolers, to designing Mondrian inspired art; along with hints and tips for taking the project a step further with geometric and colour play.

https://www.artycraftykids.com/art/mondrian-heart-art-for-kids/