Welcome Spring with this gorgeous Vincent Van Gogh inspired Blossom Tree – Spring Art project for Kids!
Large blossom branches […] against a blue sky were one of Van Gogh's favourite subjects. Almond trees flower early in the spring making them a symbol of new life. Van Gogh borrowed the subject, the bold outlines and the positioning of the tree in the picture plane from Japanese printmaking.

https://www.vangoghmuseum.nl/en/collection/s0176V1962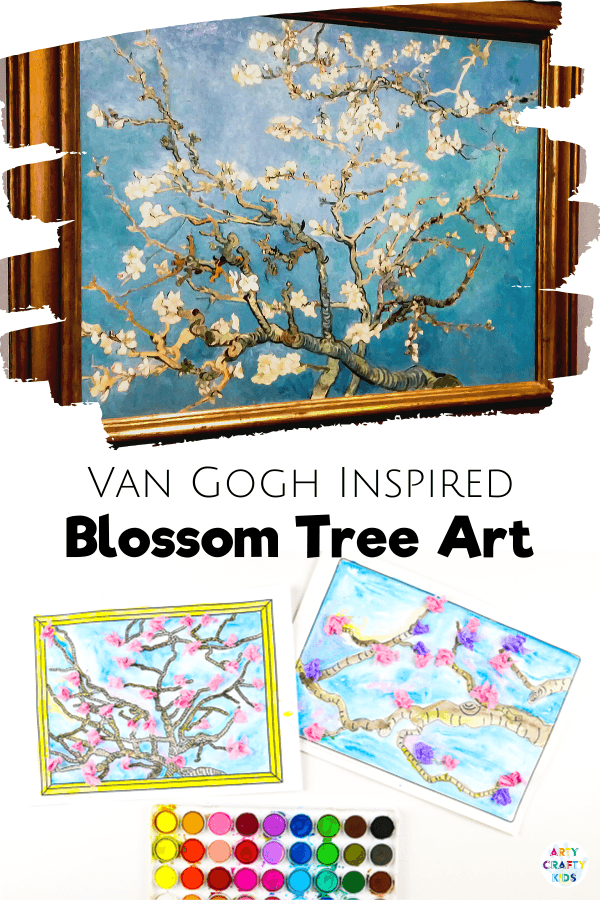 Children of all ages will love recreating this charming work of art, adding mixed media and perspective to their completed paintings.
This spring art project can be adapted to suit children of all ages; with templates designed to allow teachers and parents to tailer the project as desired.
Vincent Van Gogh – Who is he?
Van Gogh is one of the world's most famous artists. While he remained relatively unknown within his lifetime, in modern day his paintings have inspired artists worldwide and are some of the most valuable in the world.
A Short Biography:
Full Name: Vincent Van Gogh
Born: March 30, 1853 in Zundert Netherlands
Died: July 29, 1980 in Auvers-sur-Oise, France
Famous Works: Almond Blossoms (1880), Sunflowers (1888), Starry Night (1889), Self-Portrait with Bandaged Ear and Pipe (1889)
Van Gogh Inspired Blossom Tree – Who is it for?
This Van Gogh inspired art project has been carefully designed to inspire artists of all ages.
Van Gogh for 1st, 2nd and EYFS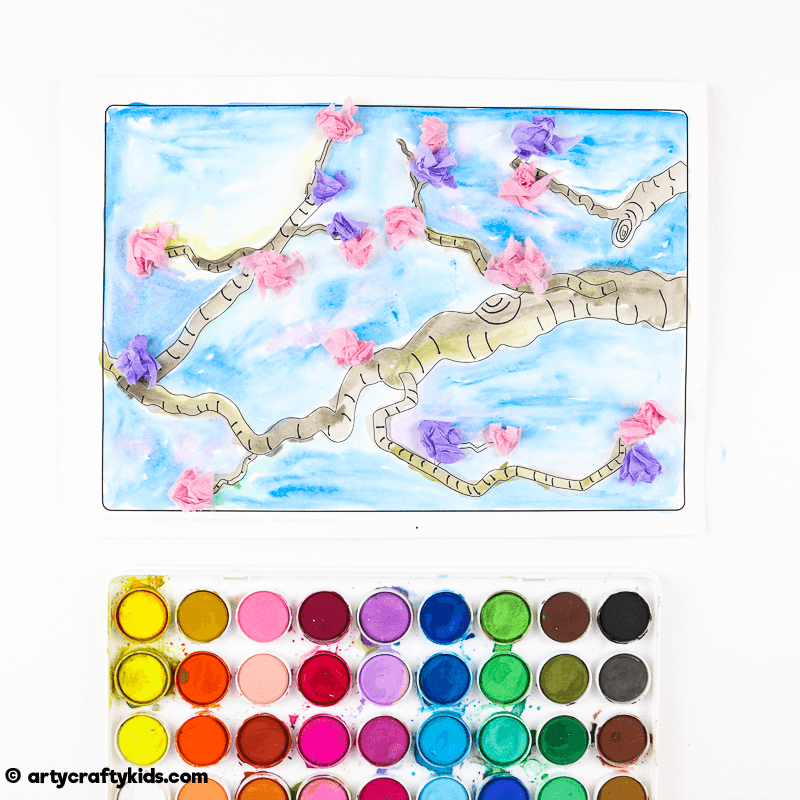 This simplified version of the blossom tree will give children the space to freely explore colour and texture, without worrying too much about the detail.
Van Gogh for 3rd, 4th, 5th Grade and Beyond..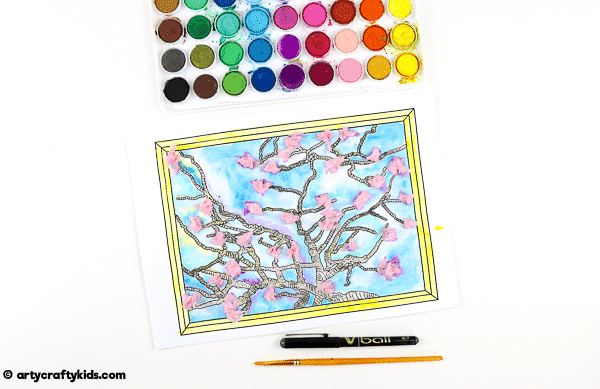 The 2nd template offers a fuller version of Van Gogh's Blossom Tree for children to complete and can be downloaded with and without the frame.
For completeness and to give your Van Gogh lesson plans options and flexability, we have also designed a complete Blossom Tree Colouring Page, along with templates with blossom outlines for children to paint.
Of course, children can also use the templates as inspiration and design their very own blossom tree!
How to Make Van Gogh Inspired Blossom Tree – Spring Art for Kids
Watch the Video:
What you need:
White Cardstock or Mixed Media Paper
Watercolour Paints (or Pencils/ Pastels etc)
Tissue Paper (Pink, White, Lilac)
Glue
Black Fine Tip Pen
Downloading the Van Gogh Inspired Blossom Tree Templates:
The Vincent Can Gogh inspired Blossom Tree Templates can be downloaded individually or as a complete ' Blossom Tree Bundle'.
Members of the Arty Crafty Kids clubs will need to LOG IN to access the templates: https://www.artycraftykids.com/product/van-gogh-blossom-tree-bundle/
Not A Member?
Introducing the Wet on Wet Technique for Watercolours:
The easiest watercolour painting technique for kids to try!
Very simply, start by brushing a light layer of clean water across the page. Next, apply the watercolour paint onto the wet paper. Add a second (or however many you like) colour to the paper and watch the paint mix, creating gorgeous watery patterns as the colours meet.
Kids will be mesmerised by this process.
Start with Clean Water
Step 1: Brush a layer of water across the area the arty crafty kids would like to paint first.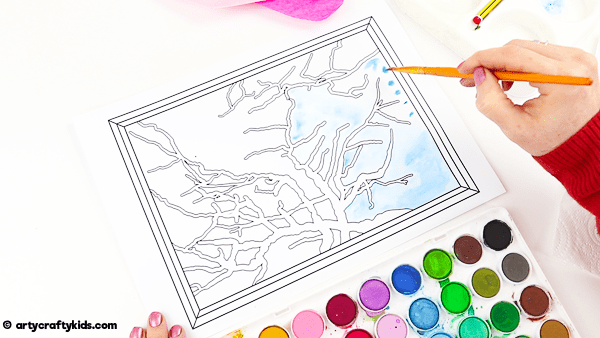 Add Watercolour Paint
Step 2: Add a few drops of watercolour paint to the layer of water.
The paint will begin to travel and spread within the water.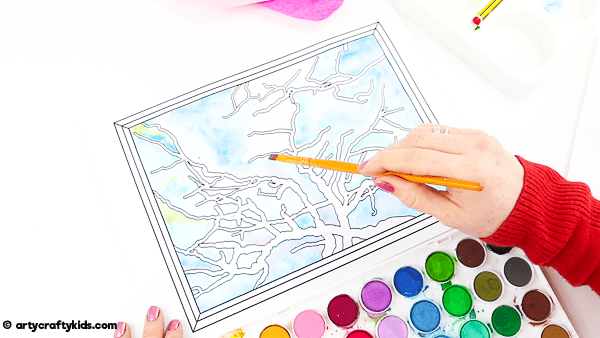 Step 3: Use the paintbrush to gently spread and direct the paint.
Add second or third colours and allow the paint to spread out and merge.
This will produce a gorgeous watery, blended and a somewhat marbled effect that's perfect for sky background.
To see the process in action, scroll up and watch the video!
Paint the Branches
Step 4: To create the textured sky, we used the wet on wet watercolour technique. For the branches, apply the paint directly to create solid colours.
Allow the painting to dry before moving on to the next step.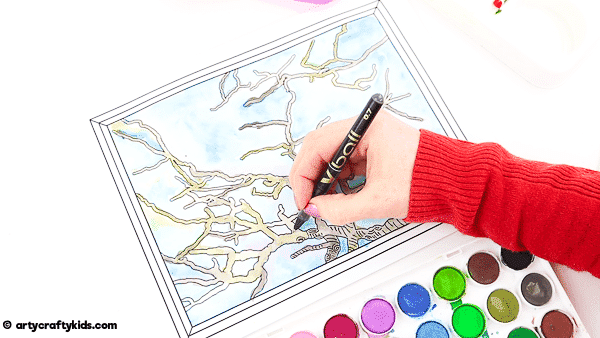 Add Detail to the Branches
Step 5: This step is optional.
Once the painting has thoroughly dried, use a fine tipped black pen to draw a series of lines and circles along the branches of the blossom tree.
This will add definition and perspective to the branches.
Step 6: Add fine lines to all the branches of the blossom tree.
Key Points for Arty Crafty Kids to consider during this process:
What happens to the appearance of the branch when the lines are curved vs straight?
How does the perspective change when the lines are spaced out vs close together?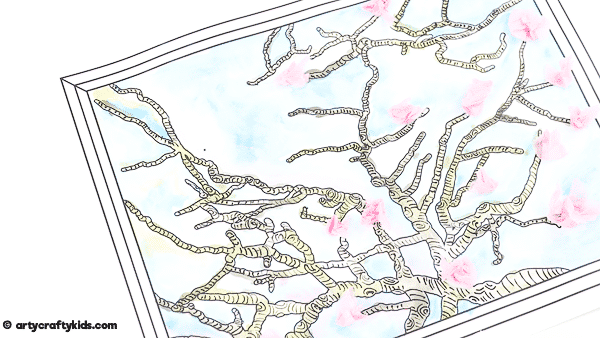 Add Blossom
Step 7: Using small pieces of scrunched up tissue paper, complete the Van Gogh Inspired Blossom Tree – Spring Art for Kids project by filling the tree with blossoms!
Secure each piece of tissue paper with glue.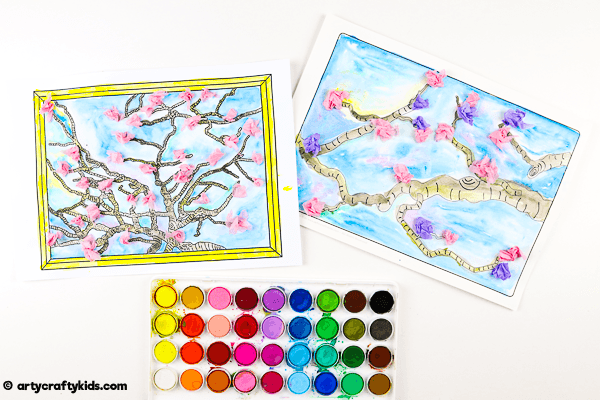 More Easy Art Projects for Kids:
If you're looking for more easy art ideas for kids, take a look at these popular ideas. Each project can be used with our art templates found within the Arty Crafty Kids club.
Mondrian Heart Art for Kids
This Mondrian Heart Art Project for kids has been designed to suit children of all ages; from a simple colour and stick project for preschoolers, to designing Mondrian inspired art; along with hints and tips for taking the project a step further with geometric and colour play.

https://www.artycraftykids.com/art/mondrian-heart-art-for-kids/
Picasso Faces – Easy Art for Kids
This art project has been designed to make drawing cubist Picasso faces easy for kids, with printable drawing guides and templates to encourage all children of any age or ability to have a go at creating their own Picasso styled portrait.

https://www.artycraftykids.com/art/picasso-faces-easy-art-for-kids/
Kandinsky Hearts
Our Kandinsky Inspired Heart Art is all about exploring colour-mixing, playing with light and shade, and can be a great introduction to Abstract Art for your Ary Crafty Kids.

https://www.artycraftykids.com/art/kandinsky-inspired-heart-art/
All About Me – Drawing Prompts for Kids
The All About Me book is filled with fun drawing activities for kids that focuses on emotions, self image, drawing facial features, clothing design and crazy hair play.

https://www.artycraftykids.com/art/all-about-me-drawing-activity-for-kids/
Happy Crafting!