The All About Me book is filled with fun drawing activities for kids that focuses on emotions, self image, drawing facial features, clothing design and crazy hair play.
Designed to suit children of all ages, this collection of templates can be used for lesson planning at the beginning or end of the school year.
The All About Me templates invite children to engage in various art and craft techniques; keeping the process fun and exciting!
Suggested Art and Craft Materials:
These printable All About Me pages can be completed with as little as a single pencil or with every item of your Arty Crafty Kids craft box; making this activity pack the perfect resource for both the classroom and at home!
A few Ideas…
Pencil / Colouring Pencils
Felt Tipped Pens
Watercolour Paint
Ready-Mix Paint
Chalk / Chalk Pastels
White & Black Card Stock
Coloured and Patterned Paper
Fabric
Yarn
Googley Eyes
Buttons, Sequins & Loose Parts
Play Dough
Check Out the Video:
All About Me Book:
The All About Me printable pages can be downloaded from the Arty Crafty Kids Members Area and assembled to create a complete 'All About Me Book' or used as individual pages.
All ready a member? Sign in HERE.
If you are printing these pages onto white card stock (recommended if children are using paint), remember to check the printer settings for a suggested card stock weight – most printers like the card to weigh below 160gsm.
How to use the All About Me Book with different age groups:
The All About Me Book can be adapted for the use of children of all ages, from Preschoolers and Pre-K, to Kindergarten and Early Years Foundation Years, to First Grade and beyond.
Preschoolers and Pre-K:
Our ready-made templates are ideal for very young children (Preschoolers and Pre-K), who will enjoy the tactile experience of using loose parts and play dough to create 'crazy hair' and fill in the 'Complete the Face' and 'Complete the Clothes' pages.
Fine Motor Activity with Loose Parts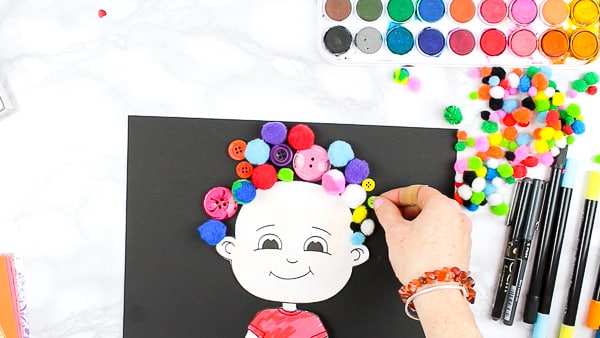 Kindergarten and Early Years Foundation Stage (EYFS):
By the time children are attending Kindergarten (Early Years Foundation Stage) they are likely to extend the use of the All About Me activity pages with drawing simple self portraits with a mirror and exploring the craft materials to create patterns and designs.
First Grade, Second Grade and Beyond:
Children in First Grade, Second Grade and beyond will begin to pay closer attention to symmetry and layer the materials to create depth and texture.
Mixed Media Self Portraits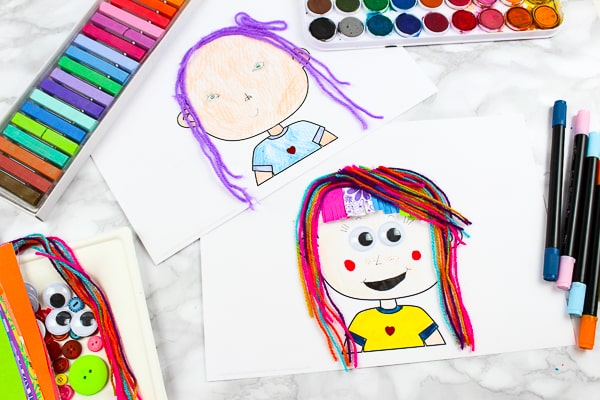 What's in the All About Me Book:
The All About Me Book consists of 7 templates that can be adapted to suit various learning objectives and lesson plans:
Recognising and Drawing Emotions – Self and Others
Creating characters for a story
Drawing Portraits and understanding symmetry
Using favourite colours and patterns to design clothes
Using play dough and loose parts to develop fine motor skills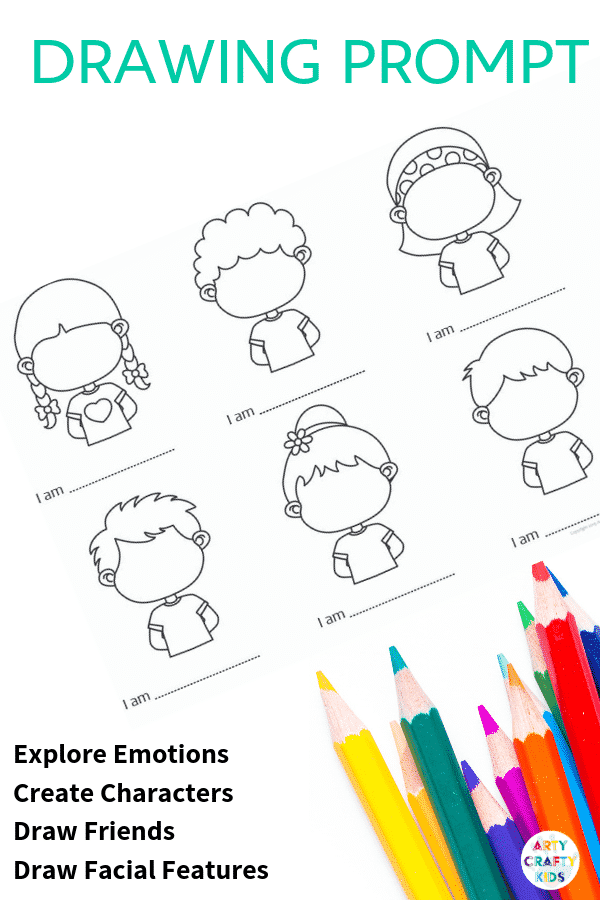 Feelings Drawing Idea for Kids:
Help children understand their own emotions.
Are they feeling happy?
Why do they sometimes feel sad?
How else do they feel? e.g. when there is a special occasion approaching, or maybe when they stub their toe!
Use these drawing prompts to better understand how their-own facial expressions show their feelings on the outside, and what may trigger these feelings and emotions.
Start by having a chat with your Arty Crafty Kids about feelings (Happy, Sad, Mad etc) and pull a few funny faces in the mirror.
Ask them to show you how they look when they're happy, sad, thinking and so on.
This is a really fun and engaging way for children to begin recognising their own facial expressions and how they portray emotion.
Let's Draw!
The next step is to have a go at drawing emotions by filling in each character with a different expression.
Children also have the option to write the emotion underneath.
Laminate the template for repeated use.
Story Telling
Using the theme of 'emotion', give the children a scenario i.e. losing a favourite toy and finding it again, and ask them to work through the emotions they may feel in this particular situation. The children can then use the template to relay these series of emotions in picture form.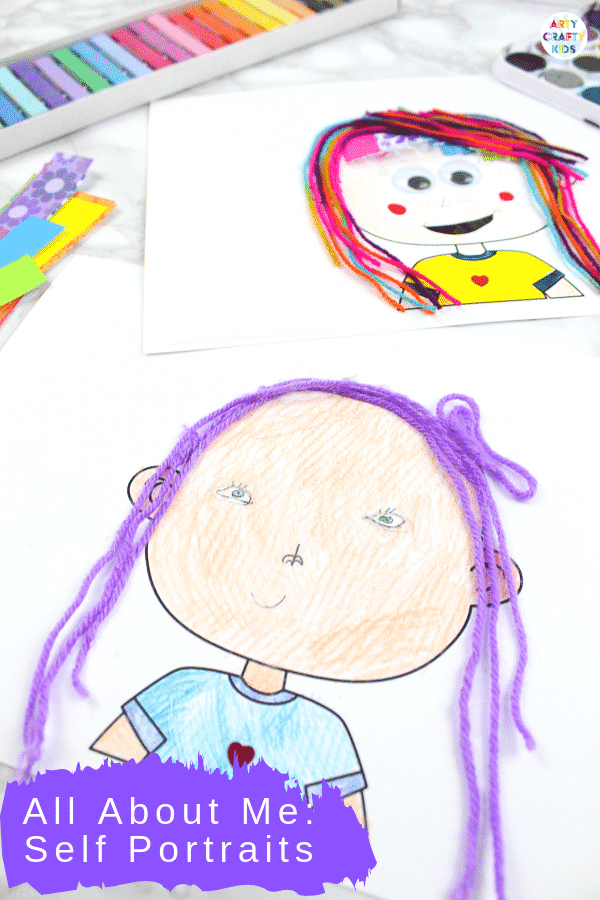 Self Portrait Drawing for Kids:
Self-portraits are wonderful for creativity and can be created with many different mediums, from pencils to paint, cut up elements from a magazine (creating a Picasso effect), to yarn and loose parts.
Children can look in the mirror and draw themselves or a friend/sibling opposite.
Some will draw gigantic mouths and teeny tiny eyes. Big sharp teeth, big lips and noses.
This is a great activity to see how a child sees themselves. And to develop fine motor skills from their vision and mental view of themselves to translating that on to the page.
Using different mediums and art techniques helps to show that faces and features come in all shapes, sizes and beautiful colours!
The activity will produce some fun results and is worth revisiting year after year, or even at the beginning and end of a school year – kids will love to see their progress over the time and how their perception and style has evolved.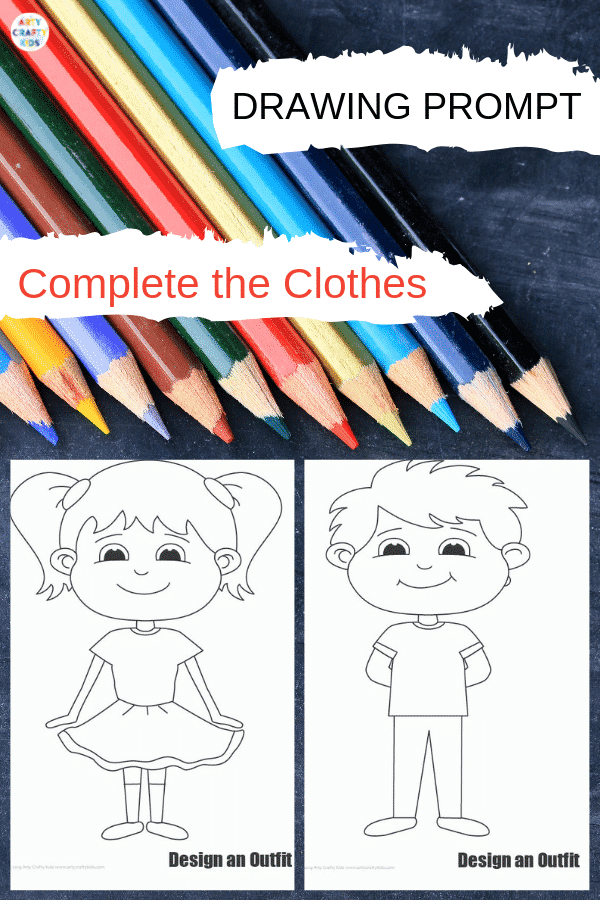 Complete the Clothes Drawing Idea for Kids:
When it comes to clothing, kids will always have their own ideas.
This 'complete the clothes' prompt has been designed to encourage children to engage their inner designer; exploring colours and patterns to portray their style and what they like to wear.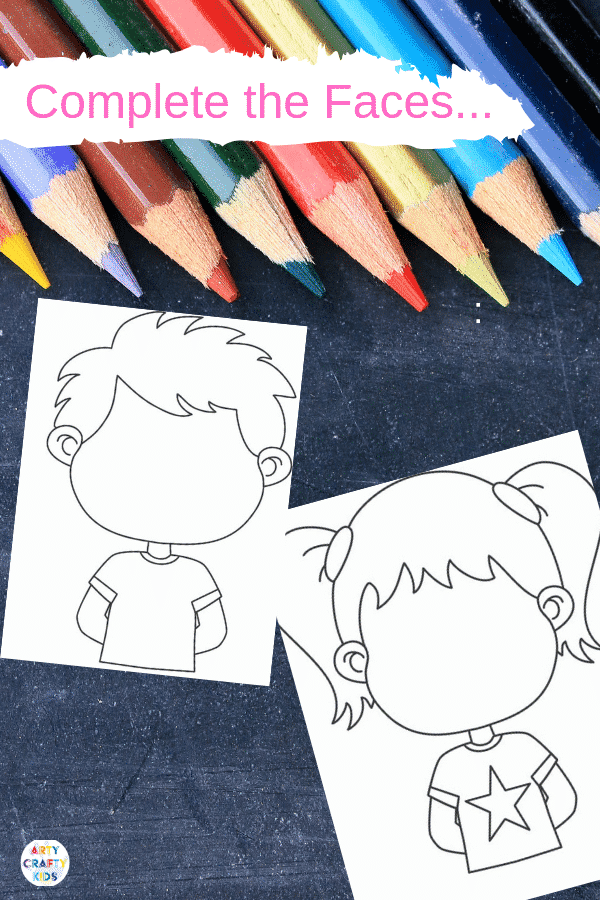 Complete the Face Drawing Activity for Kids:
This drawing prompt invites children to add features to the girl and boy templates.
It's a great way to practice creating faces, working on expressions, symmetry and perfecting people drawing.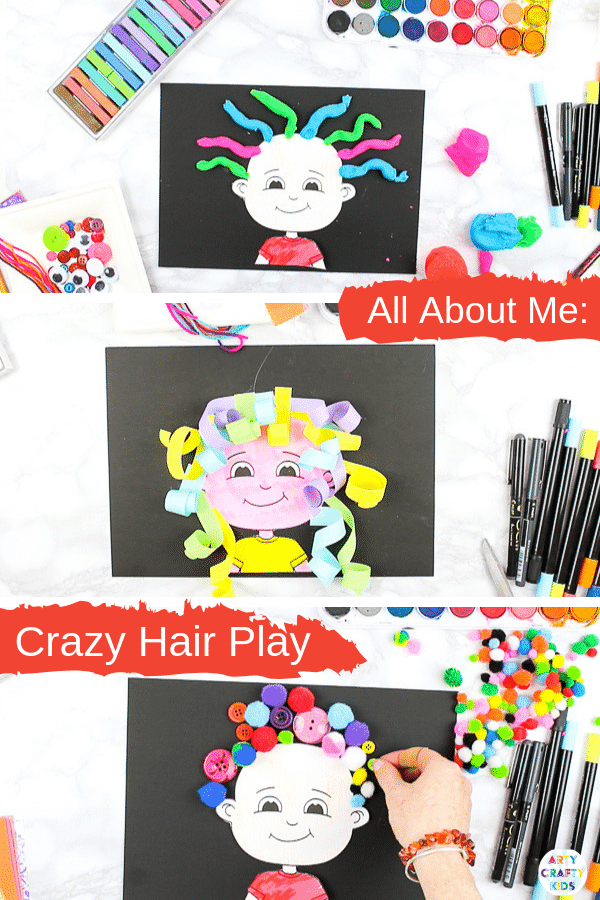 All About Me Crazy Hair Play:
Loose parts and play dough are perfectly matched to the Crazy Hair template, and is particularly good for young children who need to practice their pincer grips and cutting skills.
The template can be coloured and laminated for repeated use.
How to create paper curly hair for 'About Me Crazy Hair Play':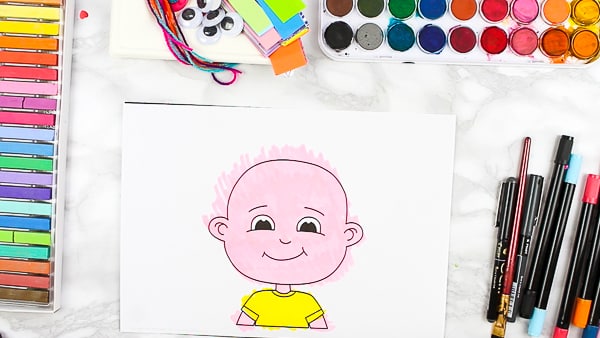 Step 1:
Colour in the template and carefully cut it out.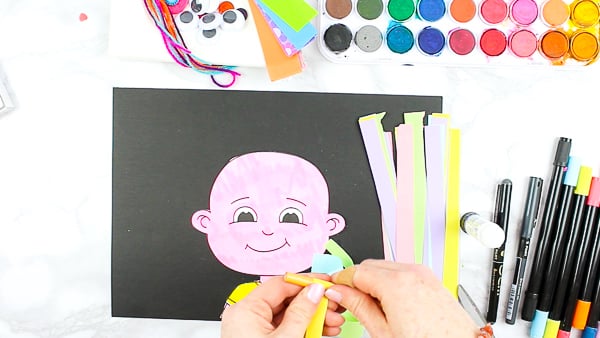 Step 2:
Glue the template to a sheet of black card stock – this is great for creating contrast!
Cut some paper in the even strips.
Gently roll a piece of paper around a pencil.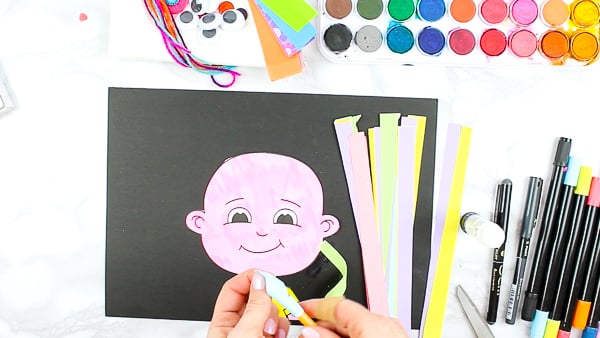 Step 3:
Slip the paper off the pencil, holding one end tightly.
Once removed, paper should have a nice bounce and curl.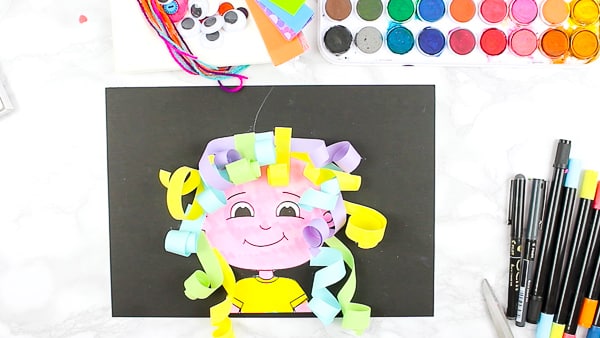 Step 4:
Attach the paper curls around the head, creating 'Crazy Hair'.
More Art Ideas to use with All About Me Activity Pack:
We've covered a few creative techniques to try with the All About Me Activity Book, however we have many more art ideas for your children to explore with these templates.
For creating hair, try straw blowing, cling film art and splat painting.
OR fill the 'complete the clothes' templates with paper to create a collage or painted with watercolours against a resist material.
How to download the All About Me templates:
Join the Arty Crafty Kids Club to gain instant access to our full library of art of and craft templates!
Arty Crafty Kids Club
Creative and playful Art & Craft Templates
How to Draw Guides, drawing prompts and pre-writing Line work
Colouring pages & Seasonal activity booklets
Perfect for Educators and Parents, with new content added weekly!
Join the Arty Crafty Kids Club and gain access to our exclusive collection of art and craft templates and learning resources. Designed with parents, teachers and creative kids in mind, you will never run out of activities for the kids!
Happy Crafting!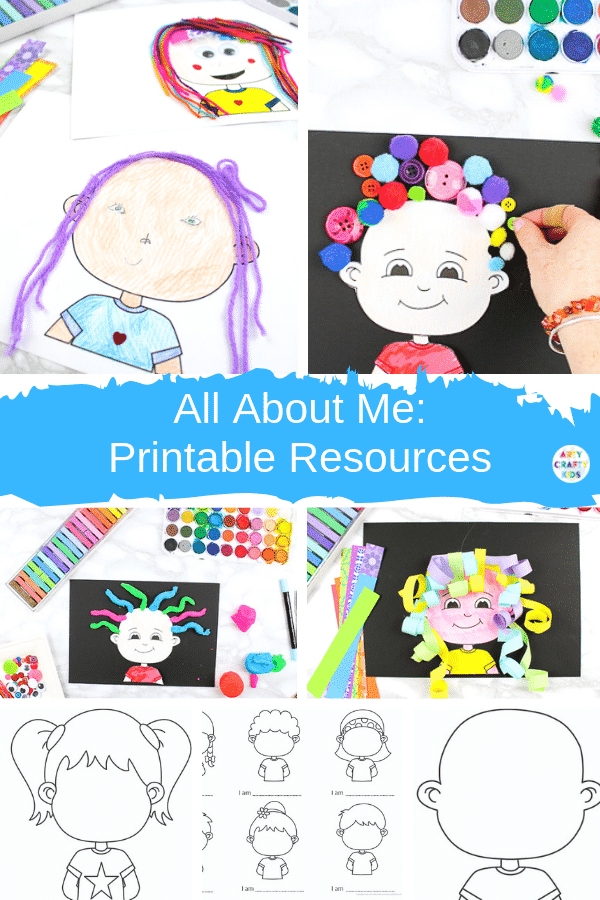 Arty Crafty Kids Latest Posts….