If you've already tried our brilliant art project inspired by Henri Matisse, you'll know how important art – and the history of art – is to us here at Arty Crafty Kids. But involving children in art at a young age is much easier than you think. Activities like this DIY Stamp Pop Art will inspire them and have them learning all about contemporary art without even realising it!
In this easy pop art for kids, they can play with pattern, color and shape, and really explore them in different ways to express their creativity. Children can learn about contrasting and complimentary colors, and how to use them to create differing effects.
It's an easy art project for kids of all ages – it would make a great color and shape recognition activity for preschoolers; could be tied to pattern making and counting for school early years; and can be extended out to a full art study for older children. Or what about turning it into an interactive piece of art – paint the grid and then two players can use different shaped stamps for a game of tic tac toe!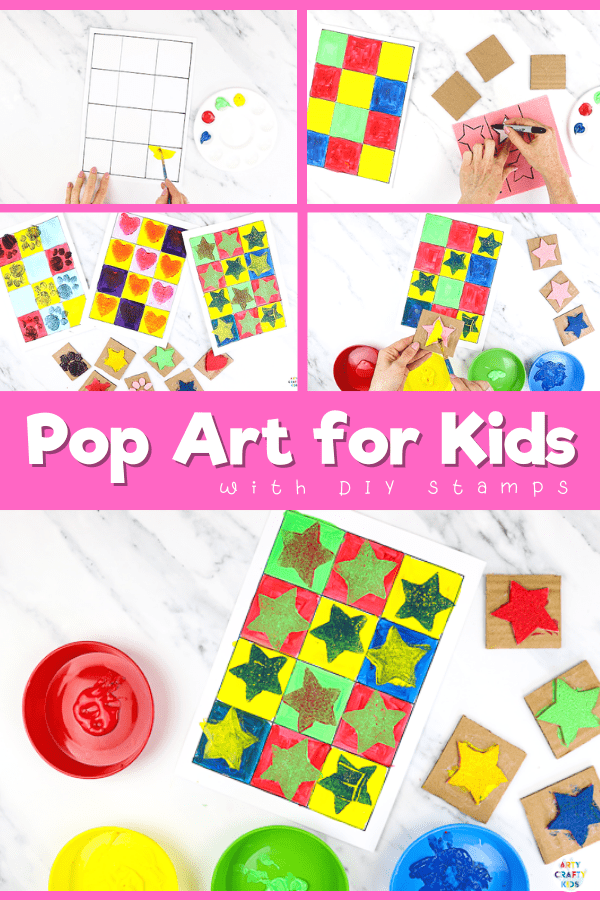 What is Pop Art?
Beginning in the 1950's, but really flourishing in the 60's and 70's, Pop Art is a movement that saw young artists reject the norm and express themselves using popular culture.
Finding the images and inspirations in traditional art outdated, artists like Andy Warhol and Roy Lichtenstein used everyday items from advertising and product packaging to Hollywood movies, pop music and comic books to create bold, brash and instantly recognizable pieces of art.
But Pop Art shouldn't be underestimated: despite their casual appearance, pieces often made powerful political or social statements.
What you need for DIY Stamp Pop Art
White Cardstock
Black Pen
Ruler
Paint
Cardboard
Sponge
Glue

DIY Stamp Pop Art: Step by Step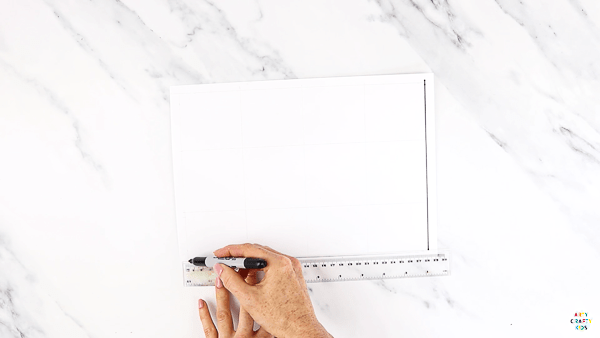 Create a Grid
Our DIY stamp pop art activity can be completed with or without templates.
If you haven't downloaded the template, or fancy giving older children a bit of a maths challenge, start by creating a grid of 12 equal squares on a sheet of plain A4 card or paper.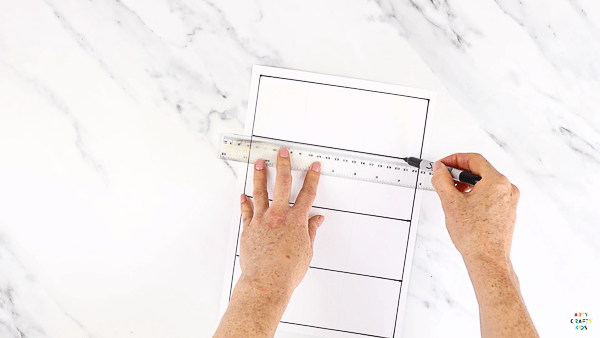 Add Bright Colours
Once the grid is complete, fill in the squares with paint. Obviously you can use any color you like, but since we're going for a pop art look, think primary or bright, bold colors.
You can paint the grid in a pattern like we have (reds on the diagonal, then yellows on the diagonal, etc) or go completely random. The only important thing is that you don't have the same colors next to each other horizontally or vertically.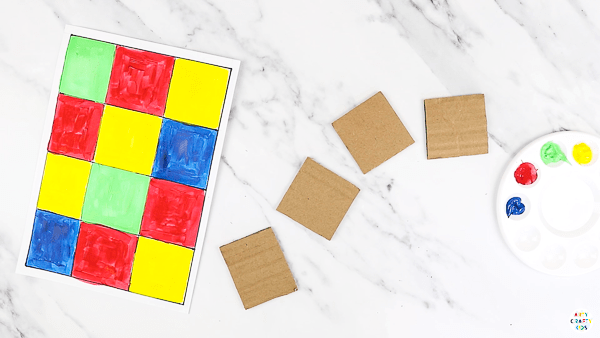 Cardboard Squares
Now cut out some cardboard squares, a similar size to the squares on your grid. Chunky cardboard, like from a delivery box, is perfect for this as it gives you more strength in the stamp than a thin cardboard like a cereal box.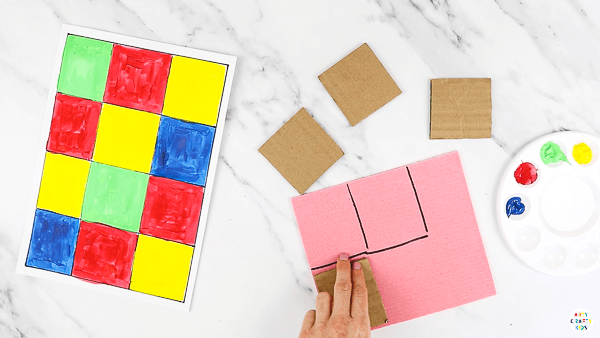 Measure Out the Sponge
Then use one of your cardboard squares as a template to measure out sections on the sponge.
Draw or Trace Shapes
What shaped stamp will you choose first? We started with a star. Cut out your chosen shape and trace around it inside each section on your sponge. This means you'll have a clean sponge for each color of paint.
Make a Stamp
To complete the stamp, glue the sponge shape onto the middle of the chunky card backing.
Paint the Stamp
You can use a paintbrush to cover the stamp in a thin and even layer of paint, or you can decide to go down the messy route and just dip it directly into your paint – if you do this though, just be careful to keep the paint only on the raised sponge, and not the card, to achieve the best effect.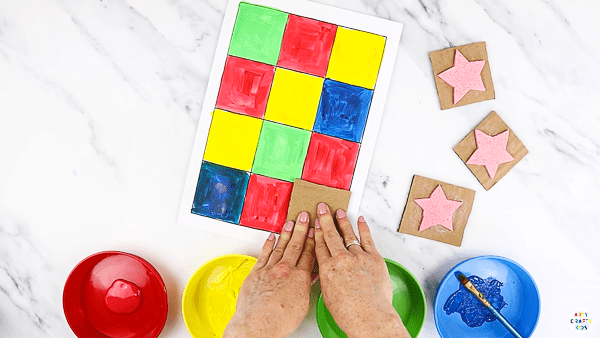 Printing
Now it's time to print! If you created a pattern when painting your grid, you can follow that with your stamps, or stay random and choose colors and positions that you think look great. Have fun expressing yourself through color, pattern and shape!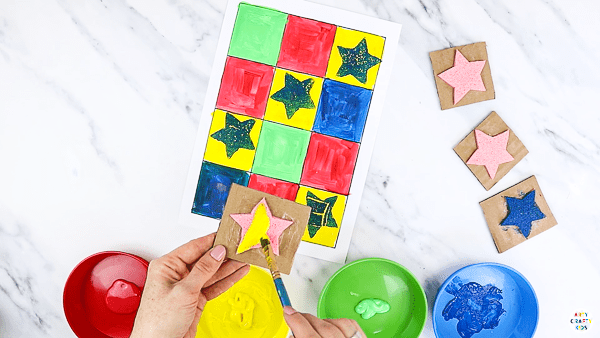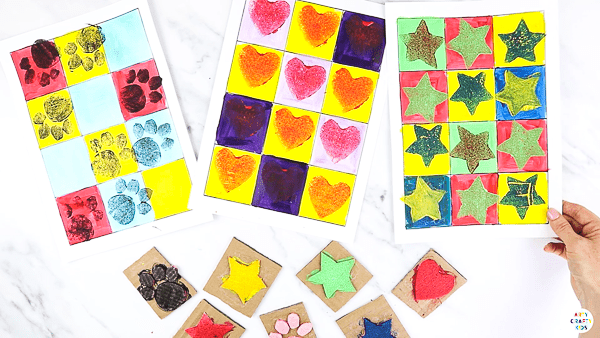 More Fun Art Ideas for Kids
I hope your Arty Crafty Kids enjoy our DIY Stamp Pop Art concept. For more art ideas to try at home or within the classroom, take a look at these popular posts:
Picasso Faces – With Printable Drawing Guides
This art project has been designed to make drawing cubist Picasso faces easy for kids, with printable drawing guides and templates to encourage all children of any age or ability to have a go at creating their own Picasso styled portrait.

"Every child is an artist. The trouble is how to remain an artist once he grows up" – Pablo Picasso

https://www.artycraftykids.com/art/picasso-faces-easy-art-for-kids/
Mondrian Heart Art
This Mondrian Heart Art Project for kids has been designed to suit children of all ages; from a simple colour and stick project for preschoolers, to designing Mondrian inspired art; along with hints and tips for taking the project a step further with geometric and colour play.

https://www.artycraftykids.com/art/mondrian-heart-art-for-kids/
Flow Drawing for Kids: Paint along Cat
Our cat design is simple to draw, but gives a great effect, especially as children are encouraged to play around with a mixture of mediums.

And we've chosen to enhance that playfulness and personality by combining our colorful cats with bold geometrics. With the help of Arty Crafty Kids, you won't just learn how to draw a cat – you'll learn how to turn your cat into an avant-garde work of art!

https://www.artycraftykids.com/art/flow-drawing-for-kids-how-to-draw-a-cat/