This super cute Penguin Heart Craft is fun, easy and fits into both Winter and Valentine's Day themed crafts!
Simply download and print the Heart Shaped Penguin Template and leave the rest to the kids.
The large shapes encourages little hands to have a go at cutting, tracing and assembling the shapes themselves. Arty Crafty Kids will need to use their problem solving skills and imagination to work out where the shapes are best placed.
As an optional extra, Arty Crafty Kids may enjoy creating a frosty Arctic backdrop (as seen in our 3D Paper Polar Bear) and sticking their completed penguin on top!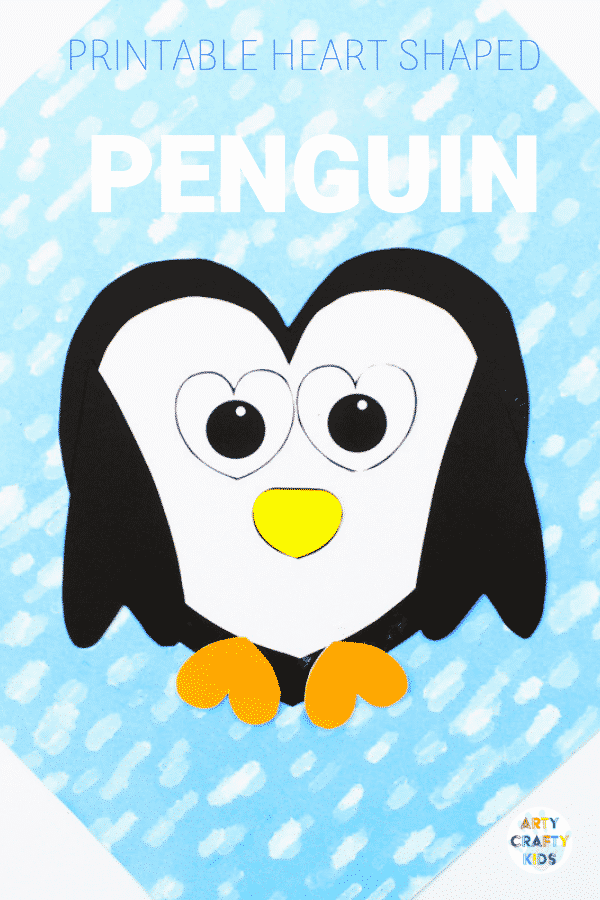 Penguin Heart Craft: Materials
White Paper
Black Card Stock
Scissors
PVA Glue / Gluestick
Pencil
The Penguin Heart Template is available exclusively to Arty Crafty Kids Club members.
Join the Arty Crafty Kids club to download the template and access our complete collection of Art & Craft templates, Colouring Pages, How to Draw Guides, Activity Booklets and much more!
Already a member? login here!
Penguin Heart Craft: Tutorial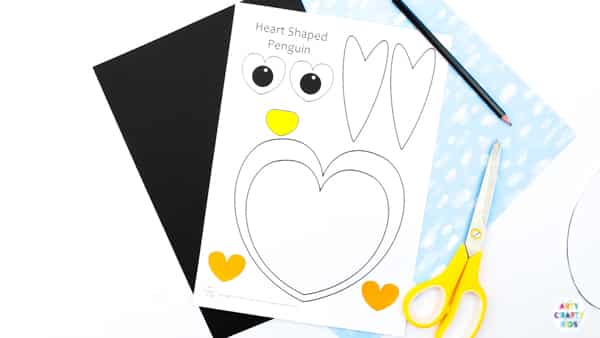 Step 1:
Download and print the Penguin Heart Template on to white paper.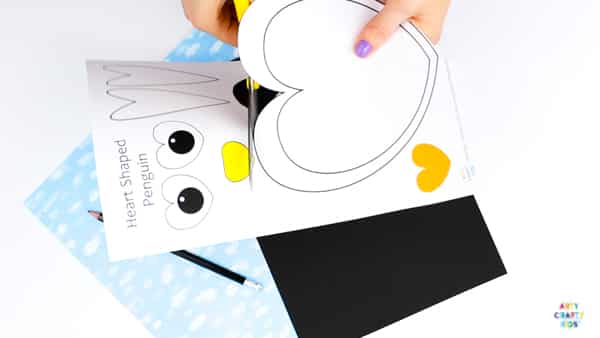 Step 2:
Cut out the large heart element.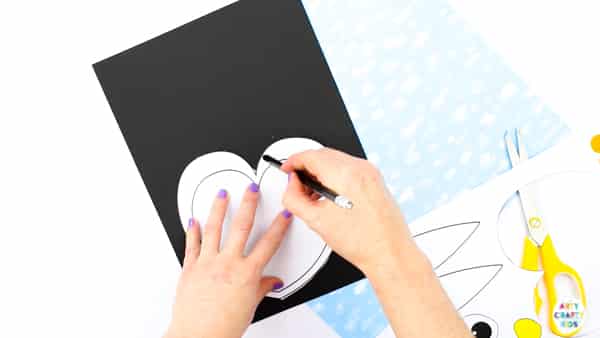 Step 3:
Using black card stock, trace around the large heart element.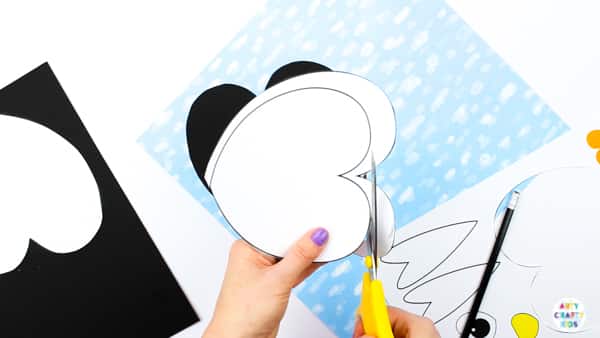 Step 4:
Once the Arty Crafty Kids are finished with the large heart, carefully cut out the second heart element.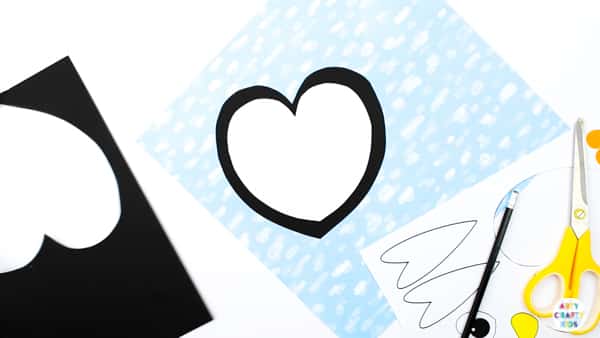 Step 5:
Stick the second heart element onto the large black heart.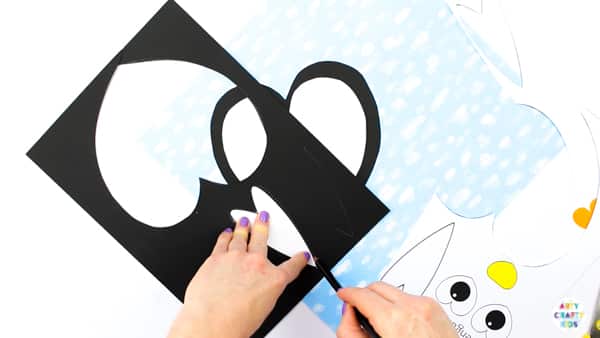 Step 6:
Cut out heart shaped wings.
Using the remaining black card stock, trace the wings and carefully cut out the elements.
Step 7:
Attach the heart shaped wings.
As you can see from the image above, we've opted for upside down heart, however we may turn those wings around for future versions!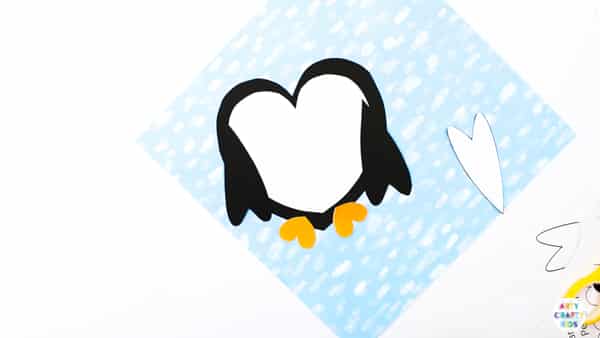 Step 8:
Cut out and attach the orange heart shaped feet.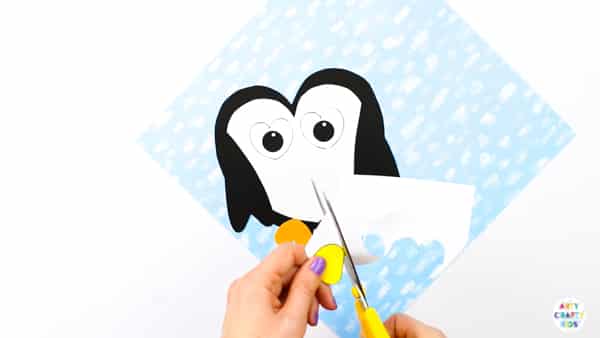 Step 9:
Cut out facial elements.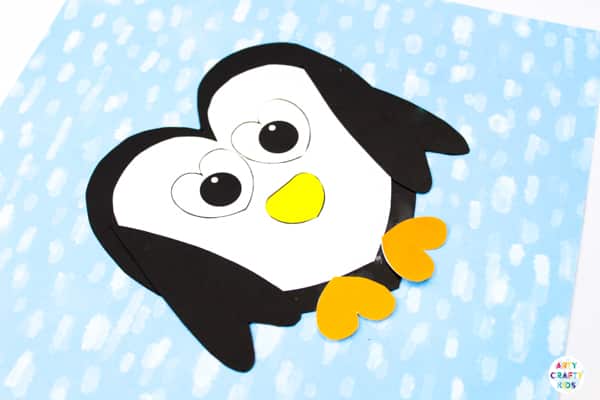 Step 10:
Attach the remaining elements to the penguin's body to complete the Penguin Heart Craft!
---
Arty Crafty Kids Club
Creative and playful Art & Craft Templates
How to Draw Guides and Pre-writing Line Work
Colouring Pages & Seasonal Activity Booklets
Perfect for Educators and Parents, with new content added weekly!
---
I hope your Arty Crafty Kids enjoy creating this darling Penguin Heart Craft. This is the first of a 6 part series and that will also include:
Heart Shaped Fish
Heart Shaped Lion
Heart Shaped Owl
Heart Shaped Jellyfish
Sign-up to the Arty Crafty Kids club to download and print all the templates!
For more Valentine's themed Arty Crafty inspiration, check out these popular posts:
Fingerpint Heart Handprint Tree