This wonderful 3D Polar Bear Winter Craft uses a technique first seen in our Bouncy Rudolph Craft to create a polar bear that wobbles and pops from the page.
It's wobbly head and 3D effect adds a playful element to the creative process that kids will love.
Arty Crafty Kids will need to use their problem solving skills to assemble the shapes, considering measurement and space during the creative process.
Fine motor skills are also given a thorough workout! The large shapes are easy to navigate and handle, and the paper folding aides co-ordination and dexterity.
This is a great all in one craft that's incredibly fun to make and challenges creativity!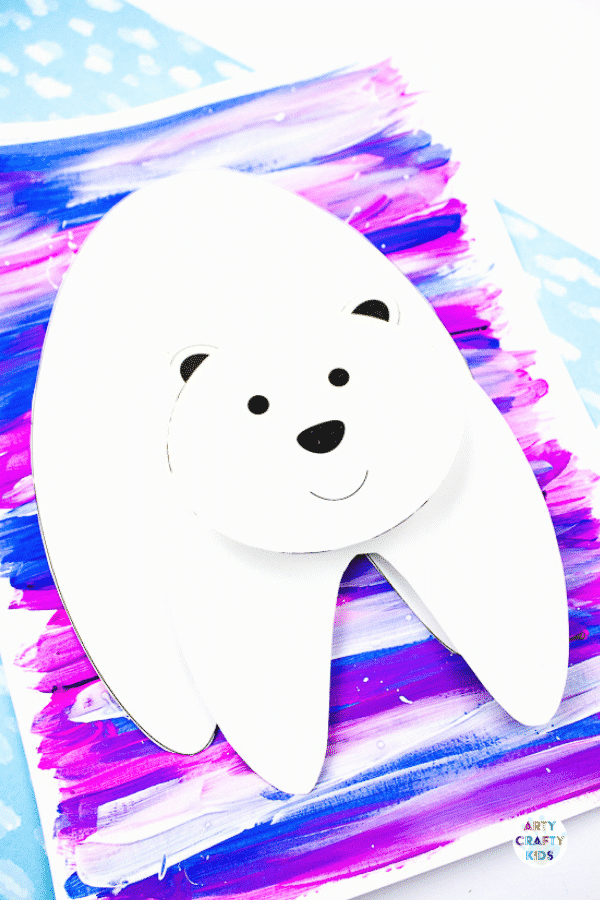 3d Polar Bear Winter Art: Materials
White Card Stock x2
Paint
White Paper
Glue Stick
Scissors

The Polar Bear Templates are exclusively available to Arty Crafty Kids Club members.


Join the Arty Crafty Kids club to download the templates and access our complete collection of Art & Craft templates, Colouring Pages, How to Draw Guides, Activity Booklets and much more!
Already a member? login here!
3D Polar Bear Winter Craft: Video Tutorial
[mv_video key="fwf1ui8sxhqo8hkmowol" volume="70″ sticky="true" ratio=""]
3D Polar Bear Winter Craft: Tutorial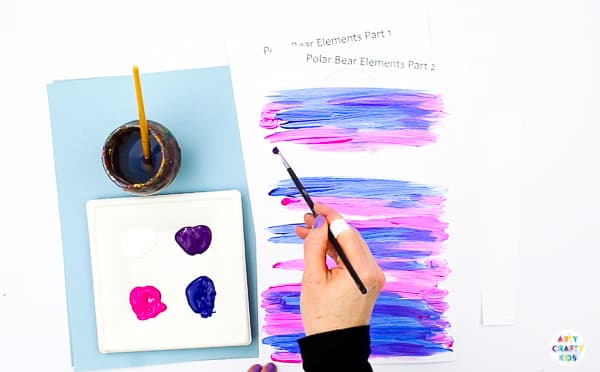 Step 1:
Create a colourful Arctic backdrop with the medium of your Arty Crafty Kids choice. Consider using paint, colouring pencils, oil pastels or even chalk on black card.
Here we've used regular ready-mix paint, layering blue, pink and purple across the white card stock.
Step 2
Blend the blue, purple and pink by adding layers of white paint.
Optional Extra – To create a snowy effect, use our controlled splatter technique to create white splats.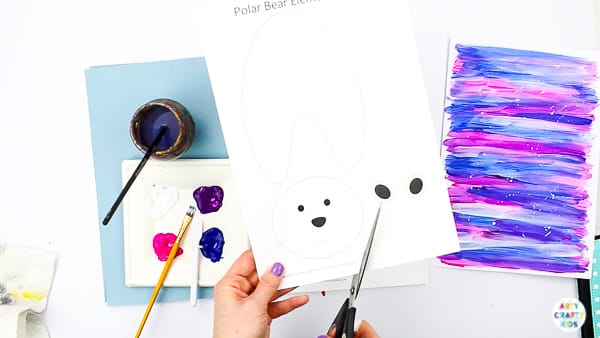 Step 3:
Leave the Arctic backdrop to dry and cut out part one and two of the polar bear elements.
Login to the members area to download the template.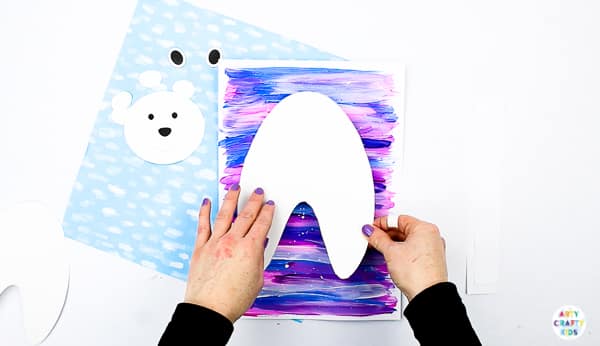 Step 4:
Stick the large body element to the backdrop.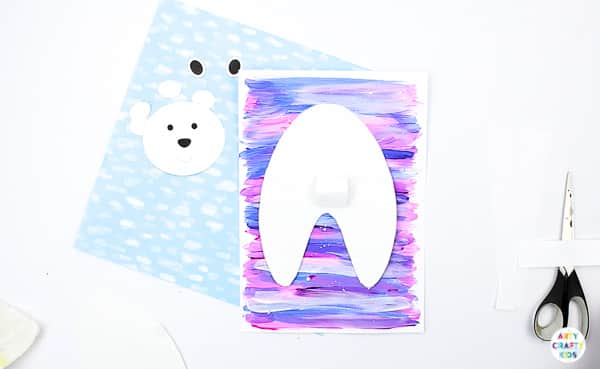 Step 5:
Cut a strip of white paper from the short end of a piece of A4 paper.
Cut this strip in half.
Fold the strip round and stick the two ends together to form a tube.
Stick the tube to the centre of polar bear's body (as shown above).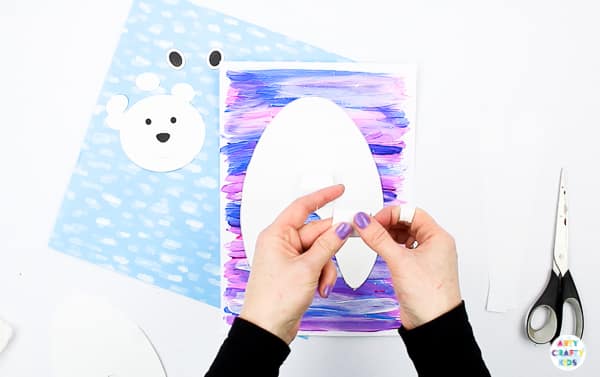 Step 6:
Use the second strip to create another tube.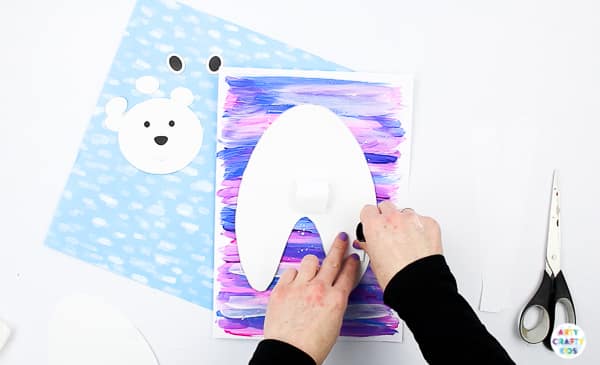 Step 7:
Stick this tube to the leg (as shown above).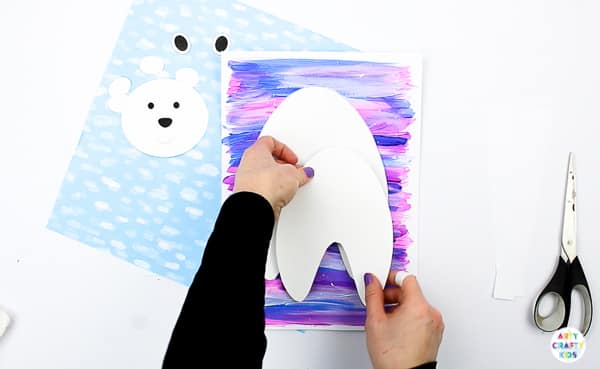 Step 8:
Add glue to the back of the second body element and place it on top of the two tubes.
Press down gently to secure.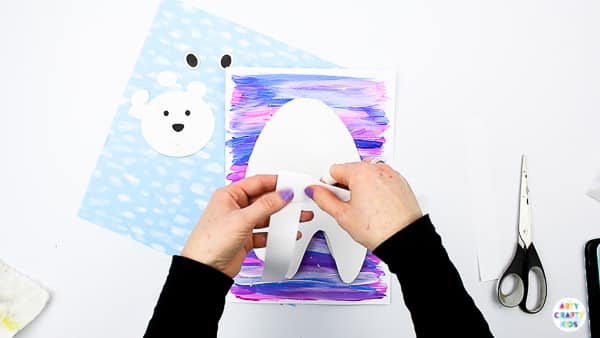 Step 9:
Using scissors or a paper cutter, cut out two even strips of white paper – ideally, the strips will be fairly wide and for length, I would recommend cutting the paper from the shortest side of an A4 piece of paper.
Take the two strips and position them in a 90° angle as shown above. Glue the connecting papers together.
Simply fold the bottom strip over the top and crease the fold along the edge. This will make the accordion fold tight!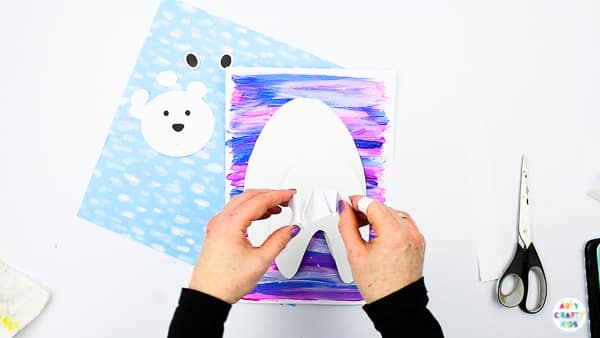 Step 10:
Keep alternating the strip folds until you run out of paper and seal the ends with glue.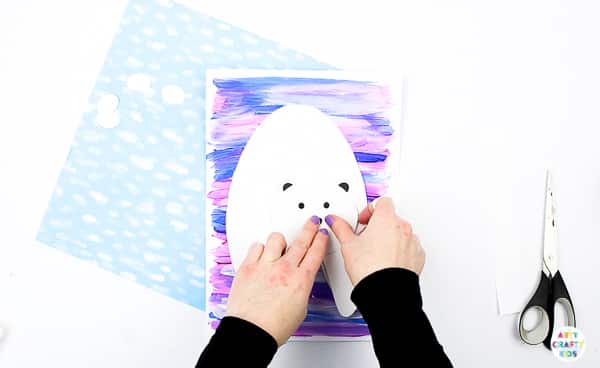 Step 11:
Stick one end of the accordion fold to the upper body element and glue the head on top.
Complete the head with a pair of ears.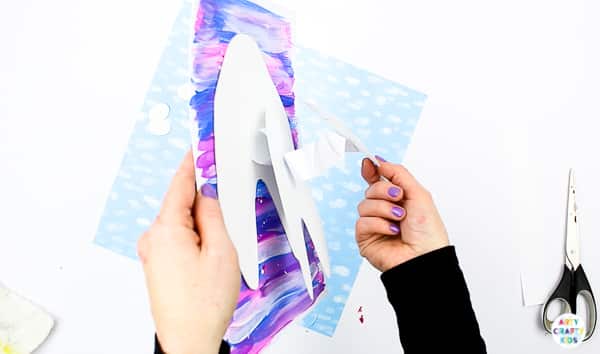 Step 12:
With the polar bear now complete, the head will stretch and wobble, while the body parts can gentle bounce on touch.
---
Arty Crafty Kids Club
Creative and playful Art & Craft Templates
How to Draw Guides and Pre-writing Line Work
Colouring Pages & Seasonal Activity Booklets
Perfect for Educators and Parents, with new content added weekly!
---
I hope your Arty Crafty Kids enjoy creating their 3D Polar Bear Winter Craft!
For more Arty Crafty Winter inspiration, check our popular Winter crafts:
Tissue Paper Polar Bear Winter Art
Fingerprint Winter Handprint Tree
Pin for Later!