Learn how to make a 3D Polar Bear: Whether you're looking for a winter-themed craft, or one to support a Winter school project, this cheerful friendly polar bear craft is guaranteed to bring a smile to children's faces. And it's a great way to demonstrate that there are different ways to create depth! Kids will love building the bear's body up and watching him grow – then making him pop even more with a colorful, contrasting textured background.
Using simple lifts to create depth and perspective, children will delight at how the polar bear progressively pops from the page to create a 3D effect. And if perspective wasn't enough, we've added a wobbly head and engaged in the power of movement to bring the polar bear to life.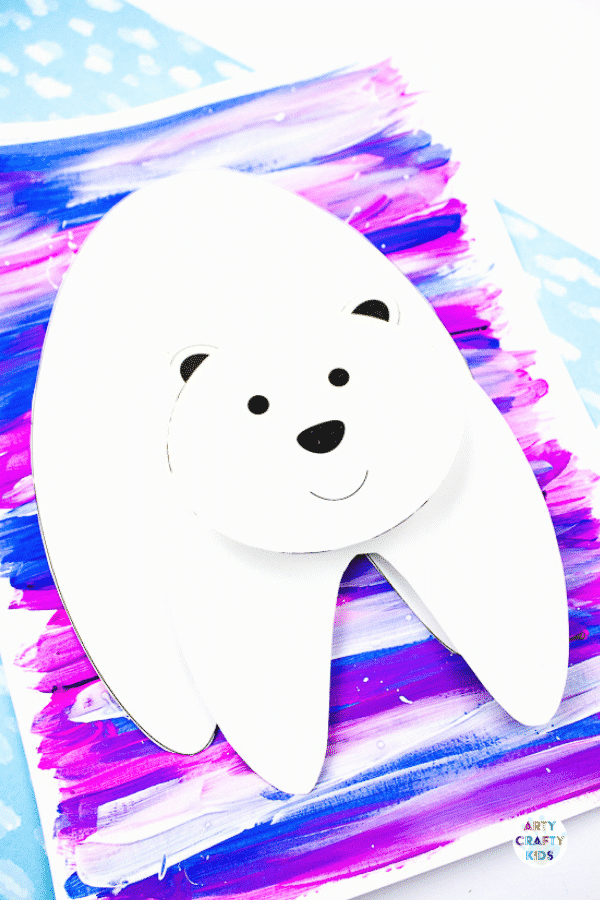 To make the 3D polar bear, we have created a handy template that can printed off. It consists of simple shapes to encourage young children to cut the elements for themselves. While the polar bear is very much a cut and stick exercise (perfect for honing fine motor skills), the background engages a child's artistic side; using a blend of purple, blue and white paint or paper in any form to create a gorgeous wintery backdrop for the polar bear.
Who is the Polar Bear Craft for?
With or without the template, this polar bear craft can be adapted to suit children of varying ages, from preschool to early years environments and beyond. Preschoolers will need some assistance with cutting, however instead of making paper loops a paper roll cut into strips will work just as well and allow preschoolers to enjoy the 3D element of this polar bear craft. This is just one example of how this polar bear craft can be fine tuned to preschoolers.
How to Make a 3d Polar Bear
Materials:
White Card Stock x2
Paint
White Paper
Glue Stick
Scissors
Download the Polar Bear Template:
The templates are available to members of the Arty Crafty Kids club.
Members will need to log in to access the templates:

https://www.artycraftykids.com/product/3d-polar-bear/
Not A Member?

Let's Make a 3D Polar Bear!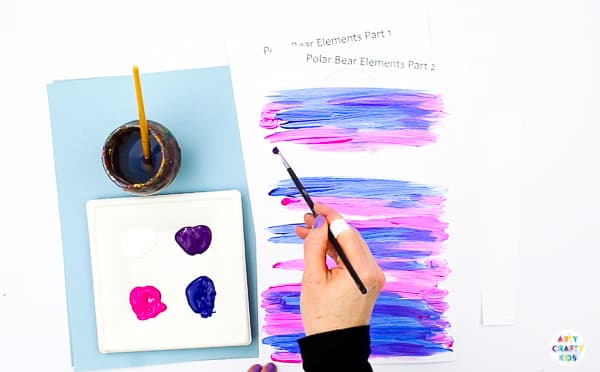 Create an Arctic Background
Create a colourful Arctic backdrop with the medium of your Arty Crafty Kids choice. Consider using paint, colouring pencils, oil pastels or even chalk on black card. If you would like to avoid paint, try tearing up strips of paper in blue, purple and pink shades, and layering.
Here we've used regular ready-mix paint, layering blue, pink and purple across the white card stock.
Add Snowy Splats
Blend the blue, purple and pink by adding layers of white paint.
Optional Extra – To create a snowy effect, use our controlled splatter technique to create white splats.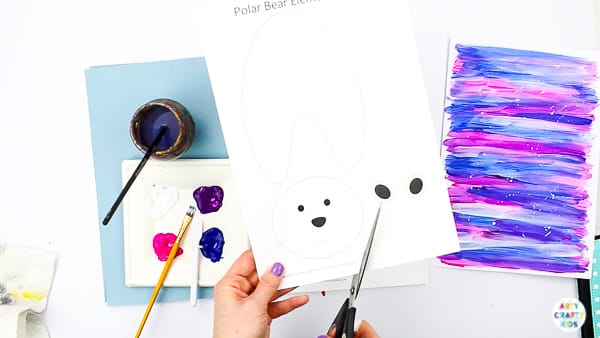 Cut out the Polar Bear Elements
Leave the Arctic backdrop to dry and cut out part one and two of the polar bear elements.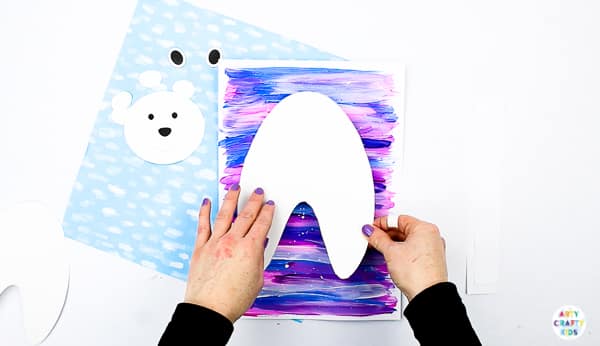 Let's Start Assembling the Polar Bear's Body
Affix the large body element to the backdrop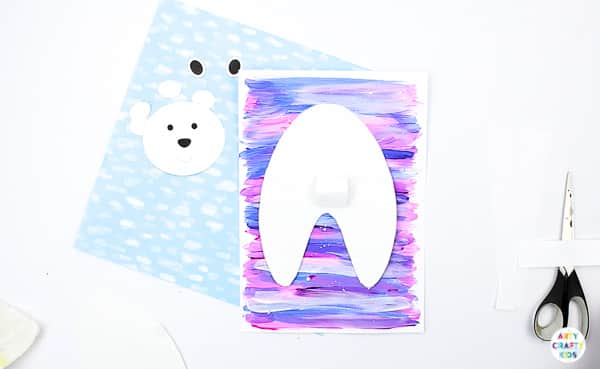 Create a Paper Loop to make the 3D Polar Bear
Cut a strip of white paper from the short end of a piece of A4 paper.
Cut this strip in half.
Fold the strip round and stick the two ends together to form a tube.
Stick the tube to the centre of polar bear's body (as shown above).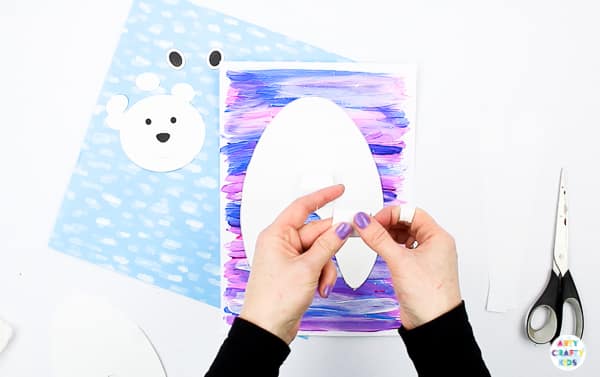 Create a 2nd Paper Loop
Use the second strip to create another tube.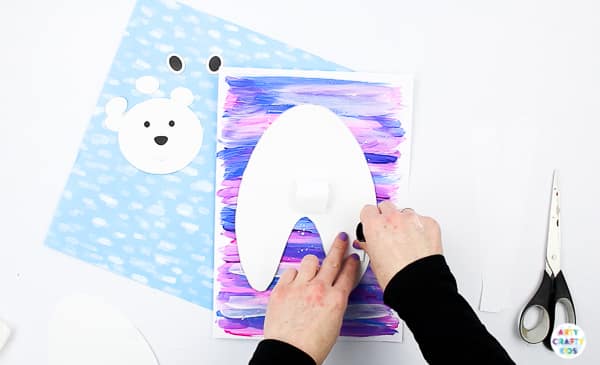 Affix the 2nd Paper Loop
Stick this tube to the leg (as shown above).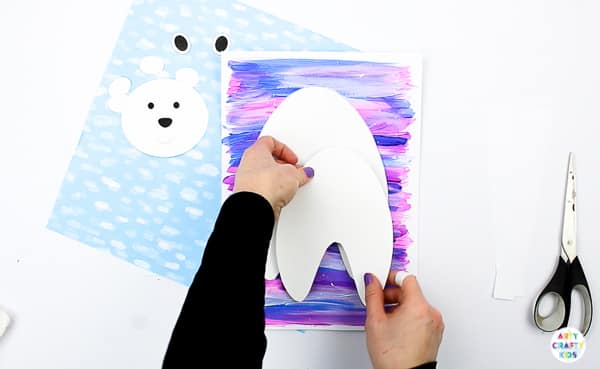 Affix the 2nd Layer of the Polar Bear
Add glue to the back of the second body element and place it on top of the two tubes.
Press down gently to secure.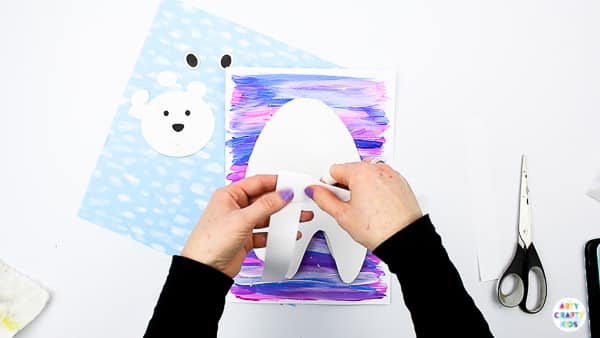 Let's Make an Accordion Fold (also referred to as a Spring)
Using scissors or a paper cutter, cut out two even strips of white paper – ideally, the strips will be fairly wide and for length, I would recommend cutting the paper from the shortest side of an A4 piece of paper.
Take the two strips and position them in a 90° angle as shown above. Glue the connecting papers together.
Simply fold the bottom strip over the top and crease the fold along the edge. This will make the accordion fold tight!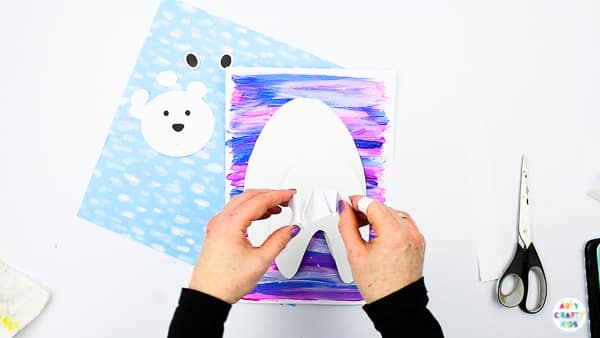 Secure the Ends with Glue
Keep alternating the strip folds until you run out of paper and seal the ends with glue.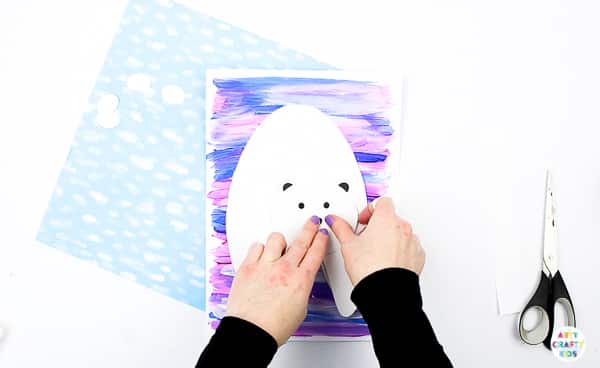 Complete the 3D Polar Bear by Affixing its Head
Stick one end of the accordion fold to the upper body element and glue the head on top.
Complete the head with a pair of ears.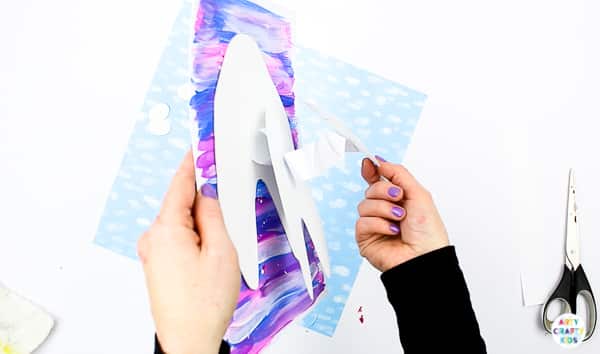 Now its Playtime!
With the polar bear now complete, the head will stretch and wobble, while the body parts can gentle bounce on touch.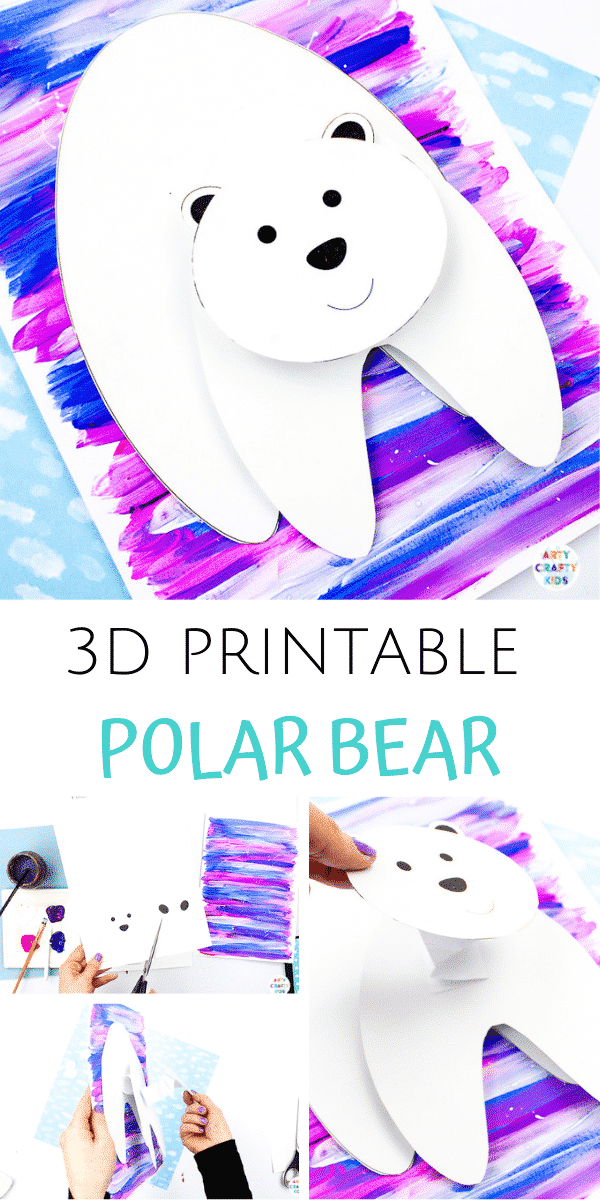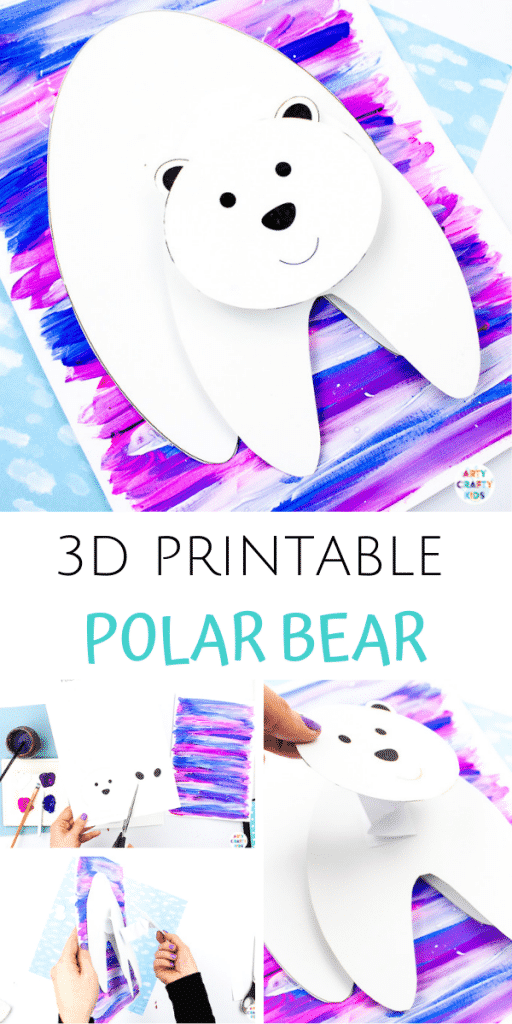 More Winter Crafts for Kids:
We love our Winter themed crafts at Arty Crafty Kids and in addition to this bouncy 3D Polar Bear, we also have penguins, Winter blooms and winter snowmen crafts to enjoy!