Christmas is one of the busiest times of the year, so if you're looking for an easy activity for kids that you don't have to supervise, our cutesy Christmas coloring pages are perfect. Get out the paints, crayons – and maybe even a bit of glitter! – and they'll be happily entertained.
Suitable for pre-schoolers and school early years, these coloring pages will bring a bit of Kawaii-inspired cuteness to Christmas. Featuring adorable small animals (including a dog, cat, squirrel, rabbit and hedgehog) dressed in their festive best, as well as classics Santa, Snowman and Rudolph, our cutesy designs are totally unique and guaranteed to please.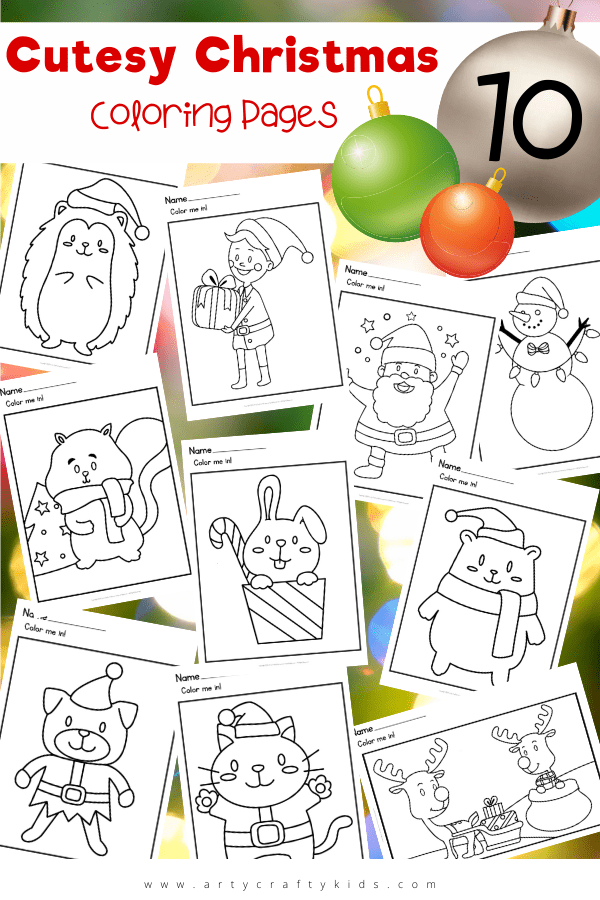 Great for the home or the classroom, our coloring pages will deliver big festive smiles; then cut them out and you have decorations that will bring joy the whole month through!
How to Download the FREE Cutesy Christmas Coloring Pages:
To spread some festive cheer and as a gift from us, this Christmas Coloring Pack can be downloaded by all for free. All you have to do is sign up to our regular email that will keep you up to date with all our latest arts, crafts and membership offers!
More Christmas Craft for Kids:
For more Christmas activities to try with your kids during the festivities, take a look a at these popular Christmas Crafts for Kids!
Moving Eyes Santa Craft:
his easy Christmas craft is easy enough to be enjoyed independently, with only simple cutting and painting, and the interactive element brings an extra dimension of play, meaning it's ideal for pre-schoolers and school early years.

https://www.artycraftykids.com/craft/moving-eyes-santa-craft/
Moving Eyes Elf Craft:
This engaging paper craft is simple to make, but its interactive element of play makes it double the fun. Perfect for pre-schoolers and school early years, the craft is nice and easy, meaning children can enjoy it with minimal supervision, and all they need to make it is some card and crayons.

https://www.artycraftykids.com/craft/moving-eyes-elf-craft/
How to Draw Santa Tutorial:
With our flow draw Santa, children can start to study faces and understand proportions, but also have some fun with it, as they supersize features like Santa's nose. It's a great opportunity to talk about the difference between realism and cartoon-style or caricature, and children can start to understand which techniques sit with which styles of art.

https://www.artycraftykids.com/christmas/flow-drawing-how-to-draw-santa-claus/
Paper Plate Santa Craft:
The build up to Christmas has begun and we're kick-starting the festive season with a NEW Paper Plate Santa Claus craft; swapping the white fluff with a luscious beard of paper ringlets!

https://www.artycraftykids.com/craft/paper-plate-santa-claus/