Moving Eyes Elf Craft: Have you been dragged into the Elf on the Shelf craze? Are you desperately looking for new ideas of what that cheeky elf could get up to next?! Well we've got you covered – your little house elf can leave out the template for this fun craft for your little ones to enjoy!
This engaging paper craft is simple to make, but its interactive element of play makes it double the fun. Perfect for pre-schoolers and school early years, the craft is nice and easy, meaning children can enjoy it with minimal supervision, and all they need to make it is some card and crayons.
And once the elf has been crafted, there are lots of opportunities for play.
Children absolutely love our moving eye crafts – why not have a go at Santa too and make festive decorations, masks, or even a Christmas puppet theater!
How to Make the Moving Eyes Elf Craft:
Supplies:
White Cardstock
Colored Cardstock
Paint, Coloring Pencils or Crayons
Scissors
Glue Stick
How to Download the Moving Eyes Elf Template:
The Elf Template is available to members of the Arty Crafty Kids Club. Members can access the template here (remember to login!): https://www.artycraftykids.com/product/moving-eyes-elf-craft/
Members will need to log in to access the templates!
Not A Member?
Decorate the Elf Template
Color in the Elf template using your favorite paints, crayons or pens. You could give him a red nose or rosy cheeks; what about adding some extra festive details to his hat?
Cut Out the Template Elements
Once you've finished coloring in your Elf and everything is dry, carefully cut out the elements from the template.
Then cut one strip lengthwise from a sheet of green A4 card – it needs to be the same thickness as the rectangle eyes on the template.
Finally, cut two more thin strips of card, each three or four inches long.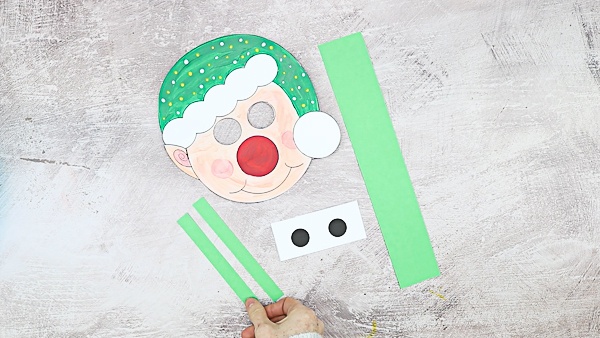 Now you have everything you need ready to assemble your Elf!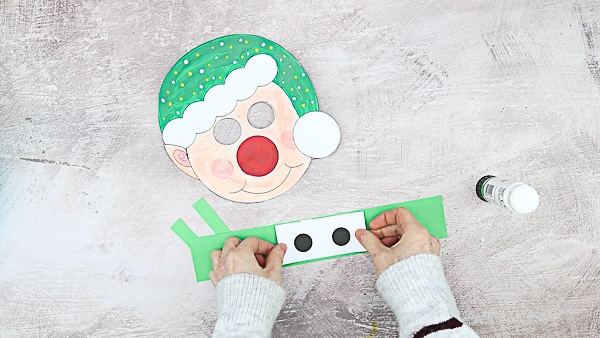 Secure the Eyes to a Paper Strip
Stick the rectangle eyes into the middle of the strip of green card.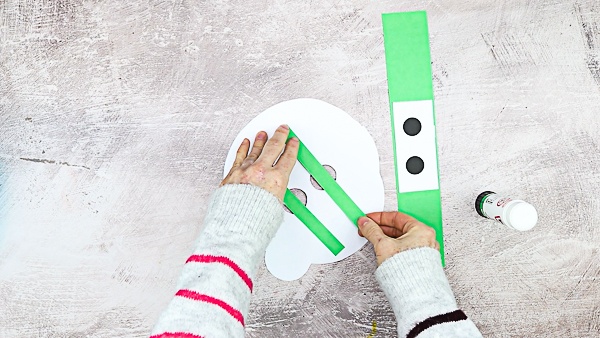 Let's Secure the Eyes
Turn your Elf over. Now stick one of the thinner card strips vertically over the left eye – this will support his moving eyes. Stick the other strip in the same way over the right eye.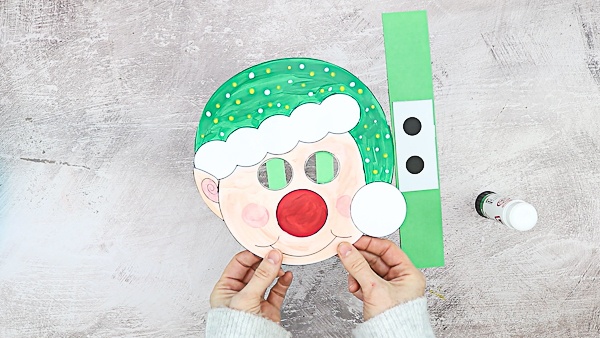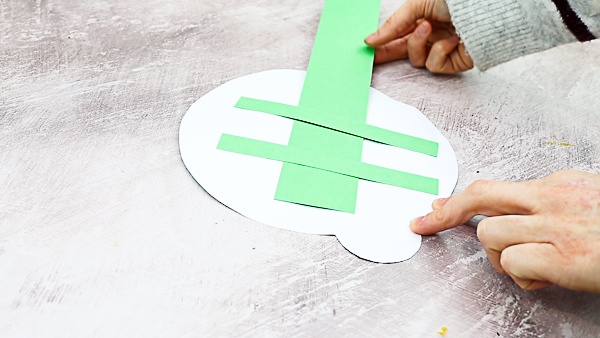 Thread the Eyes
Now carefully slide the strip of eyes underneath the two thin support strips – be gentle!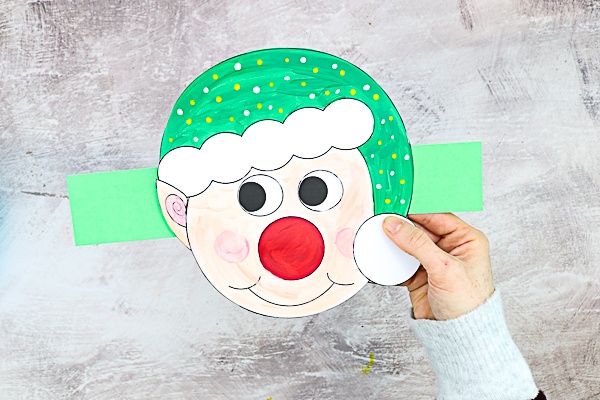 The Moving Eyes Elf is Complete
This cheeky elf is ready to play! He's looking here, there and everywhere for festive treats and other cheeky elves to have fun with!
Share your pictures and tag us on social media – they always bring us festive cheer!
More Elf and Christmas Crafts for Kids:
DIY Elf Christmas Card :
This Easy Santa Christmas Card design is the perfect choice for anyone making homemade Christmas Cards with the kids this festive season.

https://www.artycraftykids.com/christmas/easy-santa-christmas-card/
Paper Plate Elf Craft:
Every Santa needs some little helpers and this Paper Plate Christmas Elf Craft can be perfectly paired with any Santa Claus craft you might be planning over the Christmas season.

https://www.artycraftykids.com/christmas/paper-plate-christmas-elf-craft/
Paper Roll Elf Craft:
Cute with a pinch of cheekiness; exactly how an Elf should look!

https://www.artycraftykids.com/craft/cardboard-tube-christmas-elf-craft/