Moving Eyes Santa Craft: December has finally arrived and here at Arty Crafty Kids, we're really getting into the festive swing of things! So if you're ready to join in the fun with a simple but interactive craft, our moving eyes Santa craft is perfect.
This easy Christmas craft is easy enough to be enjoyed independently, with only simple cutting and painting, and the interactive element brings an extra dimension of play, meaning it's ideal for pre-schoolers and school early years.
Perfect for a group session to create a display for the classroom, or as part of a festive crafting afternoon at home, this craft takes minimal effort and supplies, but creates maximum fun!
Why not make one yourself, to remind the kids that Santa's got his eye on which kids have been naughty and nice this year!!
How to Make the Moving Eyes Santa Craft:
Supplies:
White Cardstock
Colored Cardstock
Paint, Coloring Pencils or Crayons
Scissors
Glue Stick
How to Download the Moving Eyes Santa Template:
The Santa Templates are available to members of the Arty Crafty Kids Club. Members can access the template here (remember to login!) : https://www.artycraftykids.com/product/moving-eyes-santa/
Members will need to log in to access the templates!
Not A Member?
Decorate the Santa Template
Color in the Santa template using your favorite paints, crayons or pens. Why not give him a jolly red nose, just like Rudolph? You could even use some glitter to give an extra shimmer to the trim of his hat!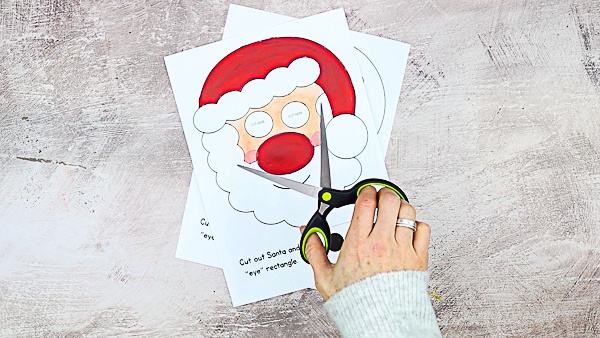 Cut Out the Template Elements
Once you've finished coloring Santa in and everything is dry, carefully cut out the elements from the template.
Then cut one strip lengthwise from a sheet of red A4 card – it needs to be the same thickness as the rectangle eyes on the template.
Finally, cut two more thin strips of card, each three or four inches long.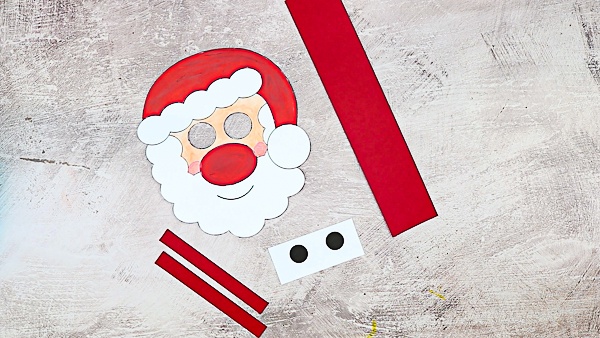 Now you have everything you need ready to assemble Santa!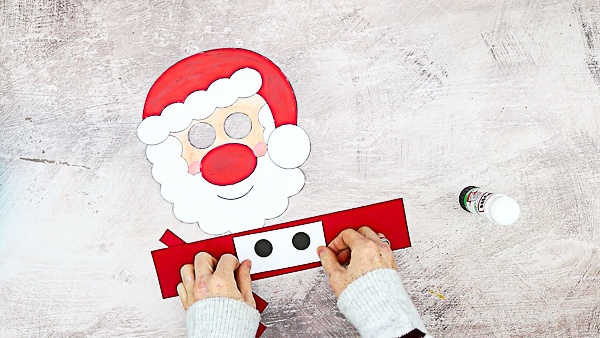 Secure the Eyes to a Paper Strip
Stick the rectangle eyes into the middle of the strip of red card.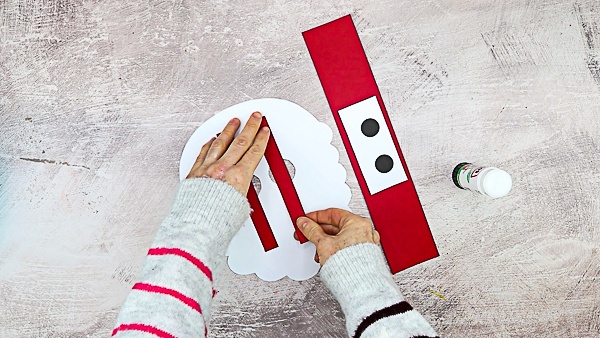 Let's Secure the Eyes
Turn Santa over. Now stick one of the thinner card strips vertically over the left eye – this will support Santa's moving eyes. Stick the other strip in the same way over the right eye.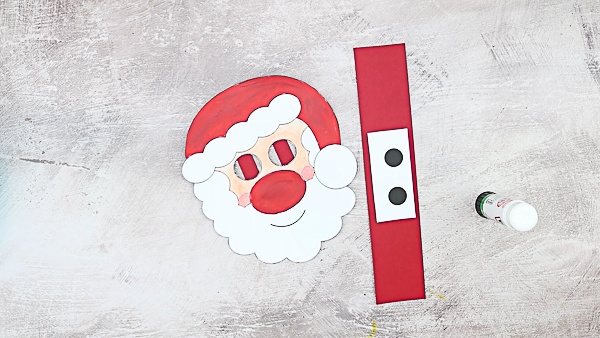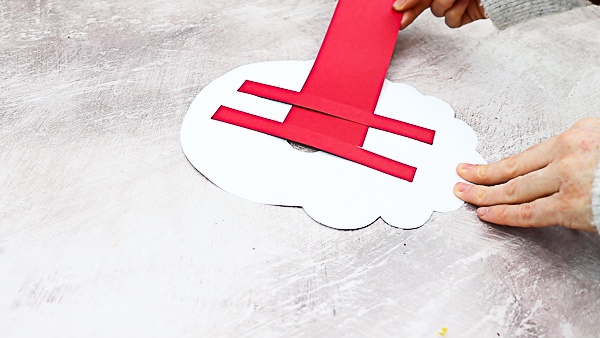 Thread the Eyes
Now carefully slide the strip of eyes underneath the two thin support strips – be gentle!
The Moving Eyes Santa is Complete
It's time to play! Do you think Santa is looking around to see if anyone spotted him coming down the chimney?! Have fun making silly Santa faces and don't forget to share your pictures and tag us on social media!
More Santa Craft for Kids to Make:
It's the season to be Jolly! We a variety of fun and easy Santa Crafts for your kids to make at home this Christmas.

Check out these popular Christmas Crafts!
Oops, Santa's Stuck Down the Chimney!
Our Santa's Stuck! craft will have kids of all ages – and parents too! – going ho ho ho with laughter, as Santa's bottom wiggles and jiggles as he struggles to get down the chimney.

https://www.artycraftykids.com/christmas/santas-stuck-in-the-chimney-a-funny-christmas-craft/
Paper Plate Santa Craft with a Curly Beard
As well as fun, this craft offers children a brilliant fine motor workout, and with just a few materials, this is a great Christmas craft to try at home or within a preschool/ school setting.

https://www.artycraftykids.com/craft/paper-plate-santa-claus/


Handprint Santa Christmas Card
Simply open Santa's handprint beard to reveal your Arty Crafty Kids festive greeting and photo. A gorgeous keepsake craft that will be treasured for years to come.


https://www.artycraftykids.com/craft/santa-handprint-craft/
Happy Crafting!