Learn how to draw Santa with our easy to follow step-by-step 'How to Draw Santa Claus' tutorial.
Our flow drawing technique makes drawing Santa super easy for kids and beginners. We encourage the use of simple lines and shapes that naturally flow through repetition. Starting with a supersized nose, the Santa drawing quickly evolves into a festive cartoon styled caricature.
The drawing tutorial allows children to have heaps of fun with their Santa Claus design, which also gives them the opportunity to learn about facial proportions and the difference between realism and caricature; making the 'how to draw Santa' a fabulous Christmas art project for the classroom or at home.
How to Draw Santa Claus:
What is Flow Drawing?
Flow Drawing is a new art technique developed by us to encourage children (and adult beginners too!)​ to understand shapes and create illustrations, in a much 'freer' way. By removing restrictions, flow drawing encourages children to fully engage in the moment and discover their natural flow, making every line count and bringing mindfulness to their creative process.
You can think of the flow drawing technique as a 'how to draw' guide with a difference – children won't just draw a picture, they'll create a Uunique work of art, right from their soul.
Flow Drawing Benefits:
Although the process of flowing more naturally in art might seem a little alien to children at first, it's really worth encouraging them to have a go. Flow drawing has so many benefits and helps little hands and minds to:
Explore simple shapes and how they work together to create larger forms
Discover their natural flow and rhythm through repetitive movements
Learn how to combine mediums, with a fun and easy approach
Build confidence in their own creative ability
Combat 'perfection-seeking' in art, providing a much needed alternative to rigid 'how to draw' guides
Bring mindfulness to the creative process and boost mental health
Foster a love of art and self-expression.
Flow Drawing: How to Draw Santa Claus
Supplies
White Cardstock
Black Crayon/Chalk Pastel or Oil Pastel
Paint
Acrylic Pens
Download the Santa Claus Step by Step Tutorial:
The printable download includes a step-by-step flow drawing guide for "How to Draw Santa Claus" and a completed Santa Claus for children to color – a great option for those who would like to explore painting techniques and application.
The Flow Santa Templates are available to members of the Arty Crafty Kids club. Members will need to log in to access the templates: https://www.artycraftykids.com/product/flow-drawing-and-paint-along-santa-claus/
Not A Member?
Watch the Video Tutorial:
Watch the Santa tutorial in action! This guide will not only take you through all the practical steps of drawing, but also how to enhance the portrait with artistic finishing touches. Children will learn how to use mixed mediums, create texture and color application to make the Santa art project pop!
Let's Draw Santa!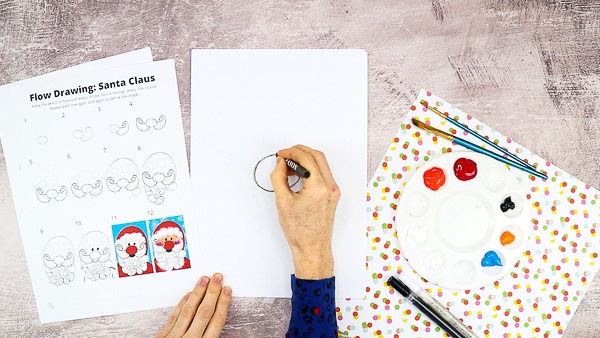 Begin with Santa's Large Central Nose
We're going to start in the middle of the page and work out from there, so begin by drawing a medium-sized circle right in the middle of your sheet of paper. This will be Santa's nose.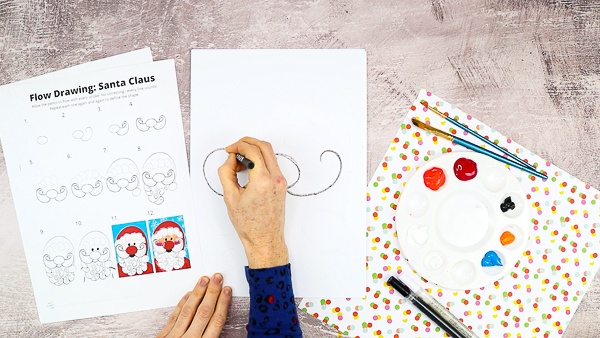 Add a Moustache to Santa's Nose
Santa is known for his beard, so let's start by drawing him a curly moustache.

From the bottom of his nose, sweep out – nearly all the way to the edge of the page – and curl up. Then draw down again and back to the nose, re-joining it towards the top this time.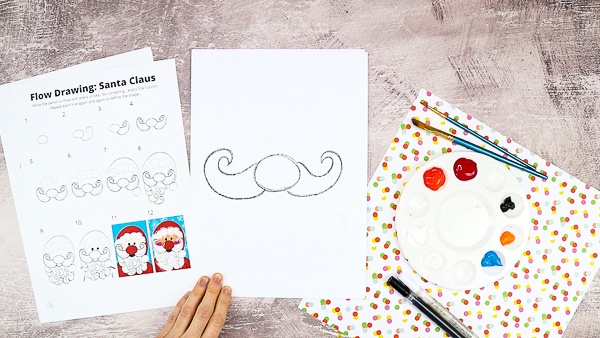 Then do exactly the same on the other side.
Frame Santa's Head with Circles
Now we're going to frame the top of Santa's head by drawing the fluffy edge of his hat.

Start by drawing a circle at the tip of Santa's curly moustache on the left hand side. Then draw another circle on top of that, and another and another in a semi-circle shape until you reach the tip of his moustache on the right hand side.
More Circular Forms to Create Santa's Hat
Starting at the first circle again, draw a large sweeping semi circle up to the top of the page and down, past Santa's moustache on the right hand side. Draw a large circle at the bottom to complete the hat.
Layer Swirls to Draw the Beard
Now back to Santa's bushy beard!

Starting underneath the moustache on the left, draw curls all the way down to the bottom of the page. Then do the same beneath his moustache on the right, and join them together with more curls in the middle, so you have a basic beard outline.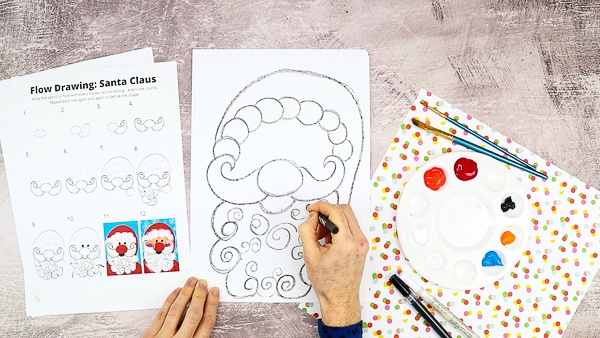 Then fill the space in the middle with curls as well, to create the effect of a full, soft and curly beard.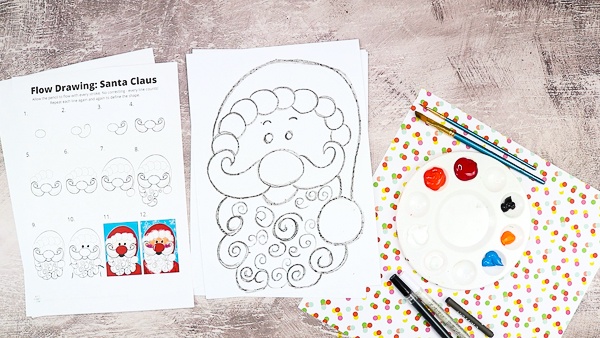 Add Facial Features to Santa's Face
Finally, let's give Santa some features! He definitely needs eyes and a big jolly smile – and what about some perky eyebrows or rosy cheeks?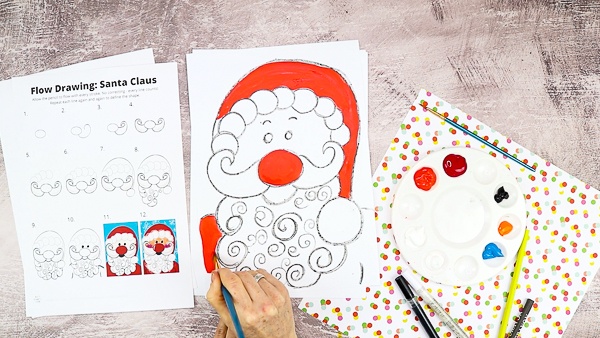 Paint Santa Bold and Bright!
Now it's time to paint! Use a dry brush and thick application to create a really bright and bold look for Santa.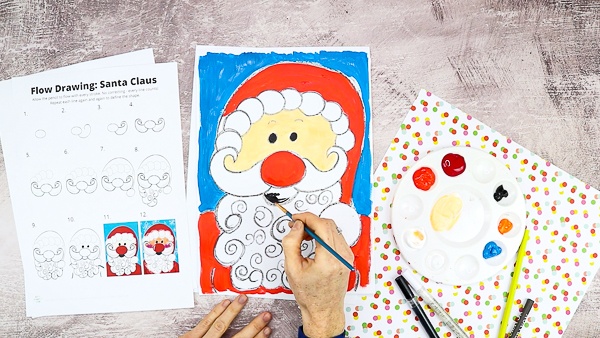 Add details, like the eyes and mouth, with a fine brush to give Santa extra personality.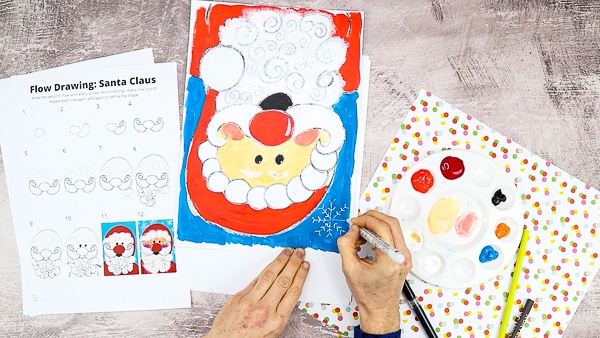 Draw Snowflakes and Detail with Acrylic Markers
Once your base colors are dry, why not experiment with acrylic marker pens – you could add glistening snowflakes to the sky, or create a fuzzy effect on the trim of Santa's hat. acrylic marker pens are a great tool to add detail to your artwork and really make your painting pop!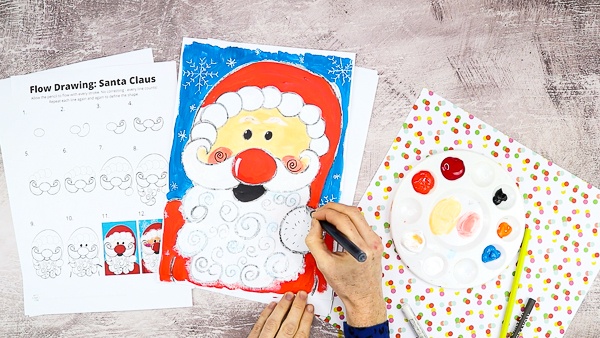 The " How to Draw Santa Claus" Tutorial is Complete
Now your jolly portrait is complete – you have successfully drawn Santa Claus! Why not leave it out for the man himself on Christmas Eve, he's sure to love it!
More Santa Crafts for Kids:
Are you looking for more Christmas crafts to try with the kids during the festive season? Why not take a look at these well loved and popular crafts! Here you will find a wobbly stuck in the chimney bottoms, 3D Santa's with bobbly noses and how to make a handprint Santa card.
Oops, Santa's Stuck in the Chimney:
Our Santa's Stuck! craft will have kids of all ages – and parents too! – going ho ho ho with laughter, as Santa's bottom wiggles and jiggles as he struggles to get down the chimney.

https://www.artycraftykids.com/christmas/santas-stuck-in-the-chimney-a-funny-christmas-craft/
3D Santa Craft:
This series is all about playful creativity, with interactive elements to make the characters pop from the page!

https://www.artycraftykids.com/craft/printable-paper-santa-craft/
Handprint Santa Christmas Card:
A charming printable Santa Handprint Craft for kids to make and gift to loved ones this Christmas.

Simply open Santa's handprint beard to reveal your Arty Crafty Kids festive greeting and photo. A gorgeous keepsake craft that will be treasured for years to come.

https://www.artycraftykids.com/craft/santa-handprint-craft/
Happy Crafting!