Keeping the kids entertained, especially at the moment, is all about variety and balance. We'll leave the active time to you (!), but to support you with that all-important downtime, we've developed some lovely color by numbers pages. Inspired by the ocean, they're perfect to encourage calm and concentration – and they make an engaging alternative to screen time.
But as always with Arty Crafty Kids, there's some stealth learning in there too! Colors, numbers, shapes, sea creatures and more – there's plenty of topics to explore. So choose your favourite sea creature, and dive in!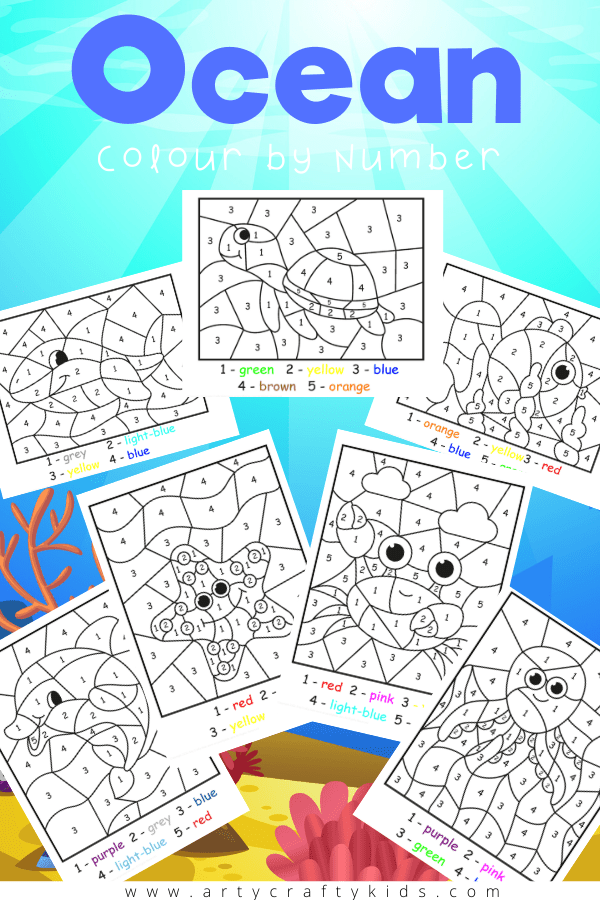 Who are the Color by Numbers Pages for?
Everyone! As the huge rise in adult coloring books proves, everyone loves coloring! It's a brilliantly easy mindful activity that can help to reduce stress and inspire calm.
Color by numbers pages are particularly good for preschoolers. Our ocean themed color by numbers pages are great for reinforcing color recognition and number identification.
They encourage attention to detail (have they spotted all the number one segments before they move on to number two?), and provide an opportunity to explore basic math (How many number three segments are there? How many number four? Can they add them together?)
The structured approach to coloring the pages also helps children to learn outcomes – they can visually see how the image emerges as they use different colors in different places.
And as our hand drawn color by numbers sheets include all of the best ocean favourites, there's lots of opportunity to talk about their names, where they live, and what makes them so special.
How to Download the Ocean Color by Numbers Pages:
The Ocean Coloring Pages are available to members of the Arty Crafty Kids Club. Join the members area to access our complete online library of art and craft templates.
Members can access the space coloring pages here: https://www.artycraftykids.com/product/ocean-color-by-number-pack/
Members will need to log in to access the templates!
Not A Member?
More Educational Printable for Kids:
All About Me Drawing Prompts:
The All About Me book is filled with fun drawing activities for kids that focuses on emotions, self image, drawing facial features, clothing design and crazy hair play.

https://www.artycraftykids.com/art/all-about-me-drawing-activity-for-kids/
Alphabet Activity Pages for Kids
Make learning the ABC's fun for your preschooler with these engaging printable A-Z Alphabet Worksheets.

These no-prep letter worksheets include traceable letter writing, letter colouring and super fun letter activities that change from page to page – this will keep children engaged throughout their alphabet practice and reinforce letter recognition and reading.

https://www.artycraftykids.com/alphabet-resources/alphabet-worksheets/