Make learning to count fun with these roarsome Dinosaur Number Coloring Pages for kids!
If your children are anything like mine, they sometimes need a bit of extra encouragement when it comes to getting excited about numbers. So we've designed the perfect solution, and combined counting with the thing all kids love…. dinosaurs! And we've thrown some coloring in for good measure too! Print off our super cute dinosaur coloring pages and you'll have the kids happily doing their homework in no time!
There are so many ways that you can use our dinosaur counting coloring pages. They're perfect for reinforcing counting and number recognition in a fun, visual way. And children can also use the large numbers to trace and write, which really helps with number formation.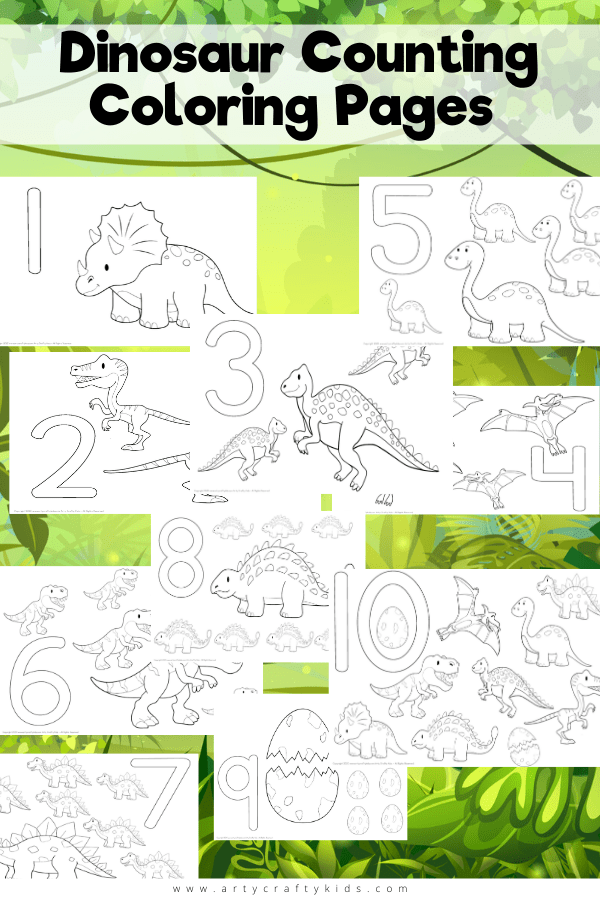 Once they're all beautifully colored in, you can then use the ten sheets to create a variety of basic math games. Can the children add the number of pterodactyls to the number of eggs? Try setting the pages out in order, but make one mistake – can the children identify it?
And let's not forget the best bit – the dinosaurs! The pages are a great jumping off point for dino discussions! How many can the children name? Which is their favourite? What are their features? Are they a meat-eater or a veggie?
From the T-Rex to the Stegosaurus to my personal choice, the Triceratops, the pack includes all the best dino favorites for hours of fun, guaranteed!
How to Download the Dinosaur Number Coloring Pages
The Dinosaur Counting Coloring Pages are available to members of the Arty Crafty Kids Club. Join the members area to access our complete online library of art and craft templates.
Members can access the coloring pages here: https://www.artycraftykids.com/product/dinosaur-counting-coloring-pages/
Members will need to log in to access the templates!
Not A Member?
More Educational Printable for Kids:
All About Me Drawing Prompts:
The All About Me book is filled with fun drawing activities for kids that focuses on emotions, self image, drawing facial features, clothing design and crazy hair play.

https://www.artycraftykids.com/art/all-about-me-drawing-activity-for-kids/
Alphabet Activity Pages for Kids
Make learning the ABC's fun for your preschooler with these engaging printable A-Z Alphabet Worksheets.

These no-prep letter worksheets include traceable letter writing, letter colouring and super fun letter activities that change from page to page – this will keep children engaged throughout their alphabet practice and reinforce letter recognition and reading.

https://www.artycraftykids.com/alphabet-resources/alphabet-worksheets/