Bugs Preschool Activity Book: Looking for engaging homeschool activities? Not to worry, because Arty Crafty Kids have got you covered! Interactive exercises and games are one of the best ways you can help to encourage active learning. So we've put together a fabulous mini pack for pre-schoolers, including three different activity pages to help them explore numbers, shapes and colors, plus two bonus coloring pages!

There are lots of different ways to play and learn with our brilliant bug activity book: it's the perfect resource to help support and strengthen little ones' learning (and keep them entertained for a few hours, too!)
Bugs Preschool Activity Book: What's Inside
Ladybug Counting
Our ladybug counting activity is a great visual guide to numbers, helping with number recognition and ordering, as well as with attention to detail and following instructions – children can't count in any direction, they have to match the number on the counters to the number of dots on each ladybug.
And encouraging them to be really careful when they stick the counters on, making sure to place them on the outline, will help with spatial awareness, fine motor skills – and might also help them get to grips with coloring within lines too.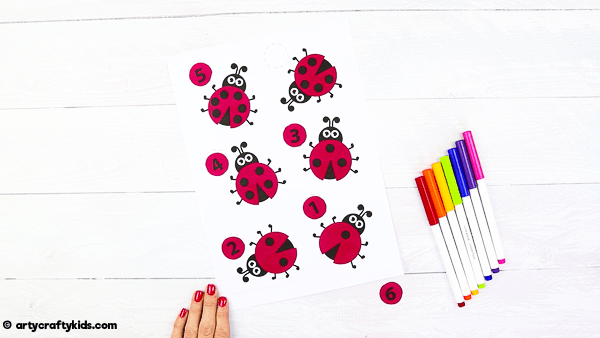 How to Complete the Ladybug Counting Activity
Carefully cut out the number counters. Count the spots on the first ladybug and stick the corresponding number onto the outline next to it. Keep counting and sticking until you've completed all six ladybugs!
Match the Shapes
Our butterfly activity is so flexible and can be used to explore color, numbers and shapes in lots of different ways. Discuss the shapes, their names, and how many sides they have. Can the children spot any similarities, or order the shapes by the number of sides? Can they explain which are the rounded shapes and which have straight edges? Try doing a quick fire quiz – what's the name of the yellow shape, how many shapes have four sides, what color is the oval?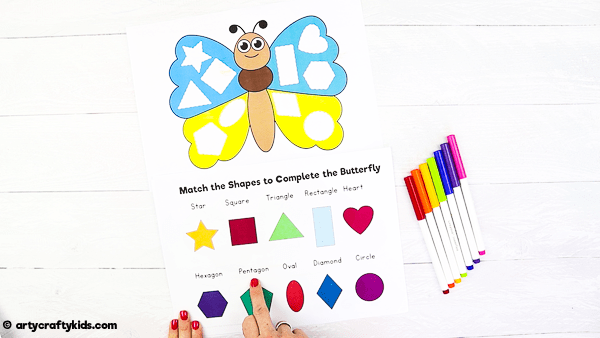 How to Complete the Butterfly Shape Matching Activity
Carefully cut out the shapes. Match the shapes to the correct spots on the butterfly.
Caterpillar Colour Matching
Our caterpillar activity is a lovely fun way to help strengthen color recognition, the link between color and word and introduce some simple reading. Can the children start to sound out the words (y-ell-ow) to help them identify the correct colors for the caterpillar's boots?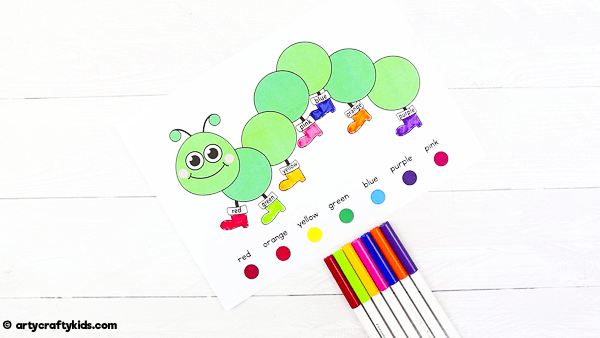 How to Complete the Caterpillar Color Activity
Read the word above the color dot. What color is it? Spot the same word written on one of the caterpillar's boots. Color the boot in the right color. Can you correctly color all seven boots?
How to Download the Bugs Preschool Activity Book:
The Bug Activity Book is available to members of the Arty Crafty Kids online library of art and craft templates.
The worksheets can be accessed via this link: https://www.artycraftykids.com/product/bug-preschool-activity-book/
Members will need to log in to access the templates!
Not A Member?
More Preschool Worksheets:
Alphabet Activity Book:
Make learning the ABC's fun for your preschooler with these engaging printable A-Z Alphabet Worksheets.

These no-prep letter worksheets include traceable letter writing, letter colouring and super fun letter activities that change from page to page – this will keep children engaged throughout their alphabet practice and reinforce letter recognition and reading.

https://www.artycraftykids.com/alphabet-resources/alphabet-worksheets/
Butterfly Life Cycle Activity
Introduce the life cycle of a butterfly with this cute and simple, colour and stick Butterfly Life Cycle Craft.

We're finally saying goodbye winter, hello spring, and it has us here at Arty Crafty Kids thinking about the changing seasons and nature's different life cycles. And what better transformation is there than the humble caterpillar into the beautiful butterfly!

https://www.artycraftykids.com/craft/butterfly-life-cycle-craft/
Dot to Dot Bugs (1-20)
Including a butterfly, ladybug, bee, caterpillar and spider, these fun spring themed activity pages do double duty as coloring sheets and dot to dot.

https://www.artycraftykids.com/number-resources/5-bug-dot-to-dot-coloring-pages/