5 Dot to Dot Coloring Pages: If you're feeling a little crafted out after a busy Easter, or are perhaps looking for an activity that kids can do solo whilst you grab 5 minutes peace, why not download our fab bug activity pages!
Including a butterfly, ladybug, bee, caterpillar and spider, these fun spring themed activity pages do double duty as coloring sheets and dot to dot.
Once the designs are complete and colored, why not encourage children to take their bug activity pages out into the garden and use them to help spot the real life versions! Explore their different habitats – where did they find the bugs? Did they find all five?
5 Bug Dot to Dot Coloring Pages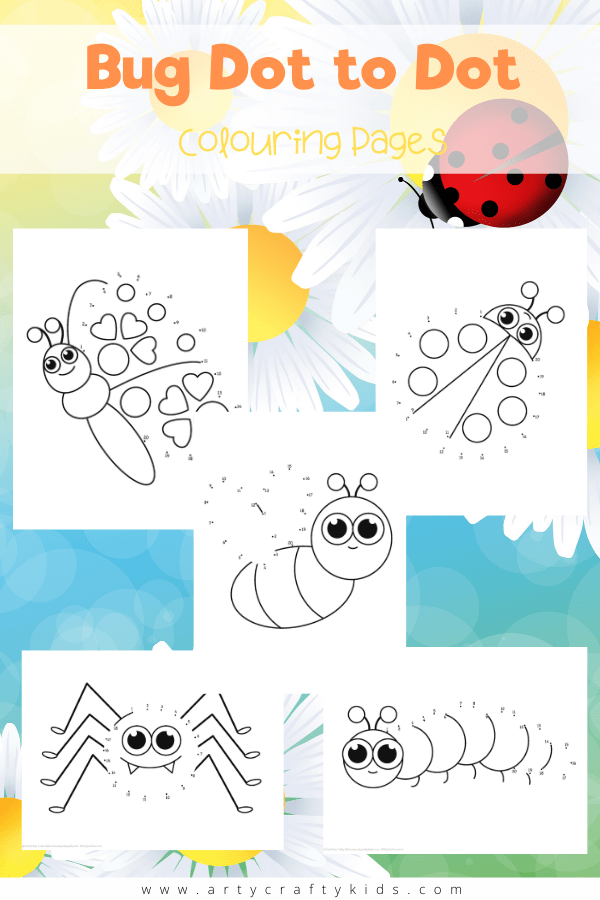 The Benefits of Dot to Dot Activities:
Our Arty Crafty Kids bug activity pages are brilliant education aids for pre-schoolers, too. Line making with intent is great for developing fine motor skills and hand-eye coordination.

And following the process of dot to dot is a fun and engaging way to help children learn to count and understand basic math. Not only do dot to dots help with number recognition, but they allow children to explore number order, forward and back, in a really visual way, encouraging them to feel more comfortable with numbers.
How to Download the Bug Dot to Dot Coloring Pages
These mini-beast coloring pages are available to members of the Arty Crafty Kids online library of art and craft templates.
The dot-to-dot buggy coloring pages can be accessed via this link: https://www.artycraftykids.com/product/5-buggy-dot-to-dot-colouring-pages/
Members will need to log in to access the templates!
Not A Member?
More Printable Worksheets for Kids
Members to the Arty Crafty Kids Club can also download these engaging and fun number and alphabet resources for use at home or within the classroom.
Alphabet Tracing Worksheets for Kids
Make learning the ABC's fun for your preschooler with these engaging printable A-Z Alphabet Tracing Worksheets.

https://www.artycraftykids.com/alphabet-resources/alphabet-tracing-worksheets/
Alphabet Worksheets
These no-prep letter worksheets include traceable letter writing, letter colouring and super fun letter activities that change from page to page – this will keep children engaged throughout their alphabet practice and reinforce letter recognition and reading.

https://www.artycraftykids.com/alphabet-resources/alphabet-worksheets/