In the Garden – Symmetry Drawing for Kids: This adorable printable book of In the Garden Symmetry Drawings are designed to introduce children into the art of creating balance within their drawings.

Symmetry drawing helps to improve fine motor skills, hand-eye co-ordination and observational skills. Our symmetry templates are designed with young children in mind, who are just beginning to hone their drawing skills, thus using simple shapes and bold lines as a gentle introduction into the concept of creating symmetry in art.
Mirror imaging is such a fun way to encourage children's creativity and these fun designs will certainly get children on their way with thinking about symmetry, which of course can also be applied to math. As children begin exploring symmetry in their drawings, they will also begin to recognize shapes, identify their halves and how they apply in the real world.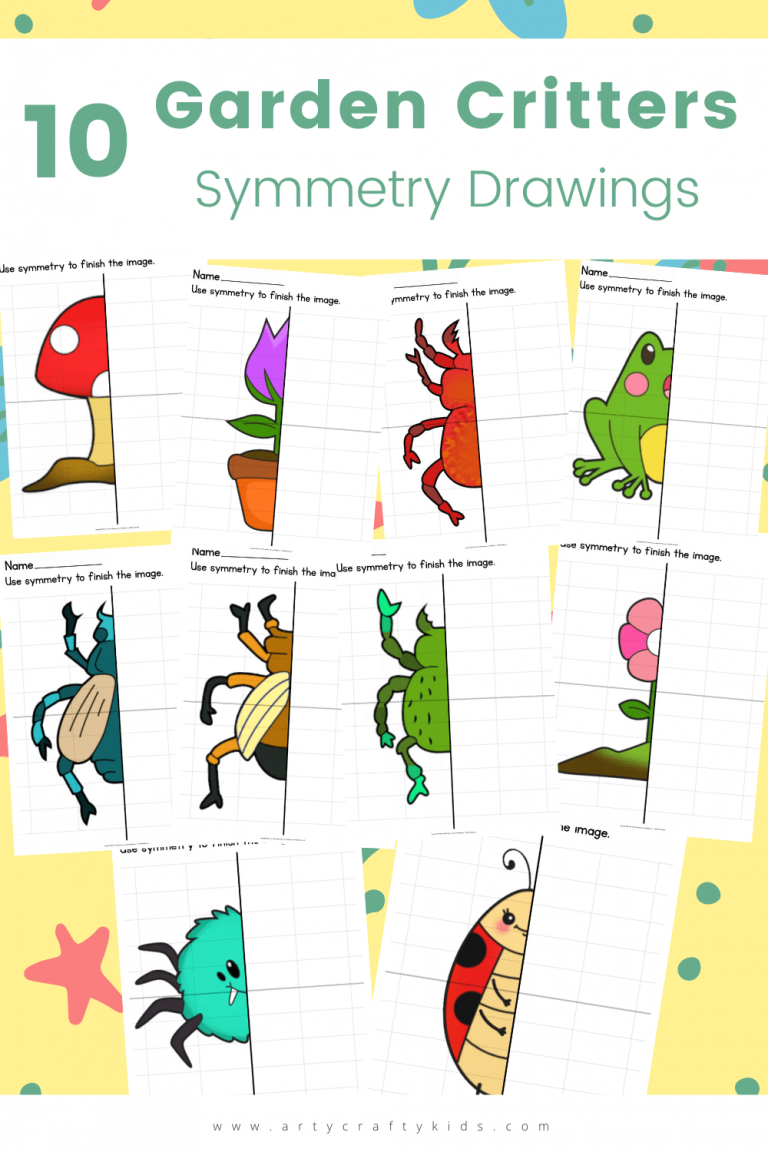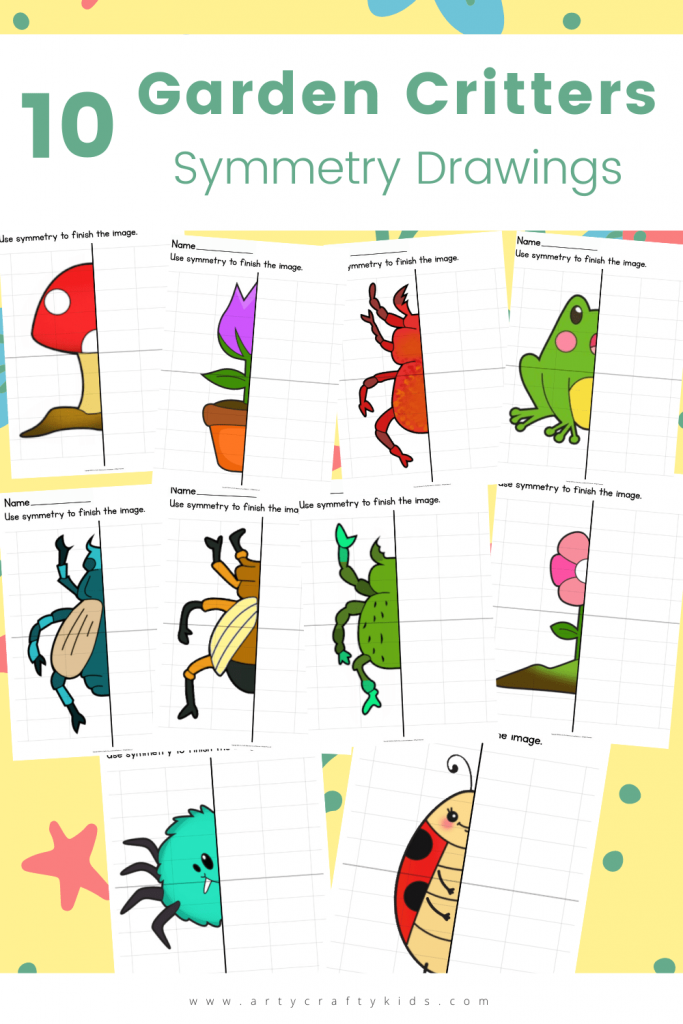 Our half images of bugs, mushrooms and flowers are placed within a faded grid, to provide children with a little structure as they begin their drawings. The other half of each image can be carefully drawn within the grid, where children can also count the squares and points during the process of creating their mirror image. To further explain the concept of symmetry, they could begin by placing a mirror on the middle line to see how the other side may look.
Once children have used these symmetry drawings for practice, they can turn their hand to creating their very own symmetrical and beautiful bugs! Or maybe that could find a few examples of symmetry in every day life. Don't forget to color these fun pages in for the finishing touch!
How to Download: In the Garden – Symmetry Drawing for Kids
Symmetry Drawing Templates are a brand new resource to Arty Crafty Kids and to celebrate, we're offering the In the Garden Printable Symmetry Drawing Prompts for free!
Simply click on each image to download!
Let's explore the Garden Symmetry Prompts!
Green Beetle Symmetry Drawing Prompt:
The green beetle, known as the Rose Chafer, is native to Britain and can often be found spending its days sitting on garden flowers. The green is actually metallic in color, making this beetle a spectacular bug for children to study in their art – how can children portray its metallic quality in their coloring of the completed beetle symmetry drawing? Once children have mastered their green beetles, they can also learn how to draw a rose!

The second beetle, our Stag Beetle, is characterised by impressively fearsome looking jaws that are used for wrestling other stags. Stag beetles are entirely dependent on decaying wood, so if you have an old tree stump in the garden – it might be best to leave it alone!
Blue Bottle Fly and Spider Symmetry Drawing Prompts
Welcome to our next pairing of In the Garden Symmetry Drawing Prompts – the Blue Bottle fly and Itsy Bitsy Spider. Perhaps not the friendliest or most welcome double act, with both being common residents of the garden and sometimes the home. Which one would you prefer to see?
Flower Symmetry Drawing Prompts
No garden would be complete without a flower or two. Here we have a pair of lovely flowers for children to explore in their symmetry practice. Once complete, ask the children to examine the mirror image results. What do they think? What could be improved? Critical thinking takes practice and is essential for learning and development.
Red Beetle and Lady Bug Symmetry Drawing Prompts
Let's appreciate the reds of our garden critters! While all children are likely to be familiar with the lovely lady bug, how many varieties of red beetles can your children name? to get them started, here are a few red beetles to explore: Red Cardinal Beetle, Red Lily Beetle and the Red Flour Beetle.
Toadstool and Frog Symmetry Drawing Prompts
Does your garden have a dark shady spot? if so, search carefully and stay very quiet as you might be lucky enough to find a wondering frog or toad. We love our frogs at Arty Crafty Kids and perhaps this symmetrical drawing prompt could be paired with a frog life cycle activity or froggy themed craft.
This concludes are first collection of symmetry drawing prompts for kids – I hope you find them useful and fun!
More Drawing Guides and Bug filled fun for Kids: